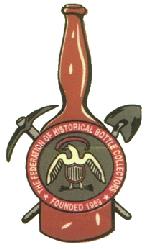 Delmarva Antique Bottle Club

The club was founded in 1992 by Ferdinand (Ferd) Meyer, a member of the Baltimore Antique Bottle Club, who on his travels to the beach area on a regular basis, found a need for such a club to serve the lower eastern shore area of Delaware, Maryland, and Virginia. The club has about 65 members and meets regularly on the third Friday of each month from 7:00 to 10:00pm at the Beacon Middle School, in Lewes, Delaware. The club is also a member of the FOHBC.
For more information contact: Matt Greig, Club President / Phone (302) 684-4499, e-mail: did2roty@aol.com
The club publishes a newsletter for its members and exchanges newsletters with many clubs around the mid-eastern region. Membership is open to all those interested in the hobby of Antique Bottle Collecting and Related Items (including Sea Glass). Annual dues are $10 for an individual and $15 for a family.
Make check payable to and mail to:
Delmarva Antique Bottle Club
Charles D. Watson, Treasurer
32196 Robin Hood's Loop
Millsboro, DE 19966-6206
E-mail: cdwent@aol.com
The club sponsors a Bottle Show and Sale yearly in September. The next show is Sunday, SEPTEMBER 12, 2010 from 9 am - 3 pm at the Beacon Middle School, Route 24, Lewes, DE. Dealer setup time is Sunday, Sept. 12 at 6:30am.
For table contracts and general information, contact: Kathy Moon E-mail: kdmoon@verizon.net or Michele Buckler 302-645-0576 gemwrap@comcast.net

You can also become a fan of the Delmarva Antique Bottle, Sea Glass, and Collectibles on Facebook.
---
This web page hosted by Antique Bottle Collectors Haven