Greensboro NC Antique Bottle, Insulator, & Collectibles Show & Sale
Sunday November 9, 2003
The first Greensboro show has been held and was a success. To see a write-up with pictures of the show, check out the December 2002 issue of the Southeast Bottle Club newsletter. The 2nd show is scheduled for Nov 9, 2003. We will also be adding insulator dealers as we do a joint show with the Blue Ridge Insulator Club.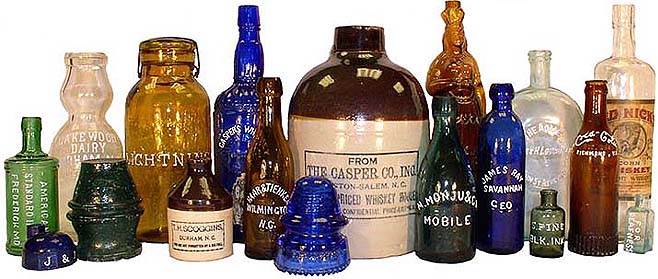 2nd annual Greensboro Antique Bottle, Insulator, & Collectibles Show & Sale on Sunday Nov 9, 2003. Indoors at the Greensboro Farmer's Curb Market on 501 Yanceyville St in Greensboro, NC. Public admission 9am-3pm for only $1. Free appraisals from our many bottle experts. Dealer setup 6am-9am, 5 ft table $15, 10 ft table $25. Early buyers $10 7:30am. Info: David Jackson (336) 288-2677 or Reggie Lynch (919) 789-4545, PO Box 13736, Durham, NC 27709. Email: greensboro@antiquebottles.com
Here are the documents for the show:
Dealer Package: If you need a dealer package mailed to you, contact Reggie (see above). The dealer package simply includes the documents listed above. So if you can view/print them for yourself, then you will save us the time and postage.
Directions: can be found on the Map to Show and the Show Flyer. Another great way to get driving directions is to go to Mapquest at www.mapquest.com, click "Driving Directions", then enter your starting point as the "Start Address", and enter "End Address" as Address/Intersection: 501 Yanceyville St, City: Greensboro, State: NC. Click "Get Directions" and MapQuest will give your written directions and a map.
Sponsors: The Greensboro Bottle, Insulator, & Collectibles Show & Sale is sponsored by the Southeast Bottle Club and Blue Ridge Insulator Club.
---
These web pages hosted by Antique Bottle Collectors Haven