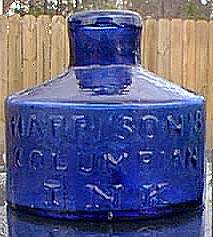 Antique Ink Bottles

An ink bottle was made of glass and typically sat on a desk. The writer would dip the pen (or quill) into the bottle to put more ink on the pen. Because they set on a desk, ink bottles were often decorative. Ink wells (as opposed to "ink bottles") were typically metal with a glass insert, often ornate, and sat on a desk. The larger master ink (pint or quart size) was used to store ink and refill the smaller ink wells. Ink bottles were shaped so they were hard to tip over.
Inks come in many different shapes:
Cone inks were used from the early 1800s to early 1900s. They often come in a variety of colors as shown in photo below:

Umbrella inks were a "fluted-cone stand", with eight connecting panels to form the sides; they were used from 1820s to 1880s. Pontilled umbrella inks in fancy colors are some of the most expensive inks sought by collectors.
Hexagonal and octagonal ink bottles were used 1835-1865.
Igloos (or Turtles) were used 1865-1895. See Lucy Faulkner's newsletter article on Turtle Inks.
Barrel shaped ink bottles were used 1840-1900. The barrel shape is bigger in the middle than the ends, like an old wine/beer barrel.
Square shaped ink bottles were used after 1860.
After 1900, most inks were cylindrical (like a spool of thread), square, or rectangular shaped.
Burst lip English inks were produced from 1860s to 1930s. The invention of the ball point pen in the 1930s signalled the end of ink wells.

The "T & M" bottle classified as an ink in Covill's Ink book has since been discovered to contain a product called "Bear Grease Pomade" that was put out by a firm called Taylor and Moore. This info provided by Emmett Baker, Email: inkwells@webtv.net who is a long time ink collector and was a friend of the late William Covill.

A sander was used before blotting paper was invented. The old paper didn't absorb ink rapidly and the dip pens often left much ink, so to dry the ink and keep it from smearing, a fine sand was sprinkled on the ink. After absorbing and drying the ink, it was poured back in the sander to be used again. That is why sanders have a bowl like top. Click here to view a sander bowl owned by Ed & Lucy Faulkner.
---
Links to other sites about Ink bottles:
---
This web page hosted by Antique Bottle Collectors Haven