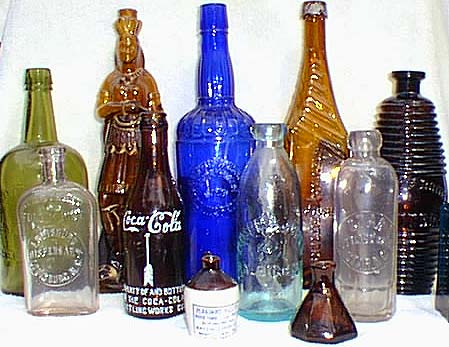 Raleigh Bottle Show
Sat Apr 27, 2002


The club will hold its 2nd Antique Bottle Show on Saturday April 27, 2002 9am-3pm in the Holshouser Building on the NC State Fairgrounds in Raleigh, NC. This will be a big event with 127 dealer tables and 6 display tables. There will also be a Flea Market on the Fairgrounds the same weekend. This will be a great selling event for dealers and a great opportunity for buyers.
Tables Left: we still have some dealer tables remaining. Email the show chairman to reserve one or call at (919) 789-4545. You can pay for table when you arrive to setup.
Friday Setup: By popular demand, a Friday April 26th 4:00-7:00pm

dealer setup time has been added to allow our dealers more time to setup and do buying/selling. Displayers and show officials are also allowed in at this time, but no early buyers till Saturday at 7:30am.
Check these pages out for more info on the show:
For more info on the club, or just to get on the Email list about future meetings and shows, contact Reggie at:
Reggie Lynch, Email: raleigh@antiquebottles.com
P.O. Box 13736, Durham, NC 27709
Phone: (919) 789-4545
---
Welcome visitor
since March 20, 2002
This web page hosted by Antique Bottle Collectors Haven

Return to Raleigh Bottle Club page.