 Raleigh Bottle Show
Nov 3 2001 NC State Fairgrounds


The proposal has turned into a plan with approval of the proposal by club members during the Aug 3 meeting. I've talked with Joan Long (phone 467-8810), manager of the fairgrounds flea market, and got her approval of our plans. Found it is also okay for us to sublease to non-members. But each dealer must obtain a Sales and Use Tax Registration. A free application will be included with each dealer package.
The flea market leases 10'(wide)x20'(deep) spaces for $16 each. We can lease blocks of these spaces on the two islands. The available spaces are the X's marked on the map (shown later in this document). The map also shows how we can fit 4 dealer tables (8'x2.5') in 17'x20' sections. 6 dealer tables will fit in 17'x30' sections. On island 1, there are 22 spaces along the front and 22 spaces along the back. Allowing for a 5' buffer by the road side (so people can step up off the road), the front part is 20' deep and the back part is 30' deep. We have permission to go 3 tables deep on the back side. We have permission to go 3 tables deep on the front side in aisles where we miss the water spigots (there are 5 evenly spaced across the front). That gives us a 220'x20' area on the front 220'x30' area on the back. With a nice area in the middle where picnic tables are positioned. We can fit 13 of our 17'x20' sections in the front 220'x20' area, which allows us 13x4=52 tables on the front We can fit 13 of our 17'x30' sections in the back 220'x30' area, which allow us 13x6=78 tables on the back. Total front+back = 130 tables on island 1.
And if we want to grow further, we can use the 16 spaces along the front of island 2, which provides a 160'x20' area where we can fit 9 of our 17'x20' sections, for a total of 9x4=36 tables. On both islands, we have the capacity for 130+36=166 dealer tables. Plus we can squeeze in a few extra tables (maybe 6) on front section of island 1 (in between the water spigots).
On Friday Nov 2 by 1:00pm we will decide if event is go or no-go and publish this info on our web page and on Reggie's voice mail (919) 789-4545. If we decide to declare a "rain out", then rain date would be the following Sat on Nov 10. Dealers would be allowed a full refund in case of a rain out. I would post a voice mail message on my 919-789-4545 number that people could call to check whether event is on or not. Plus we could post status on the club web page: http://www.antiquebottles.com/raleigh/.
That day between 1:00-4:00 we pay (by money order) the flea market for all spaces we are going to use. Flea Market only has 15 tables (not nearly enough), so we will rent from United Rent-All (876-4095) that provided our April show tables. Tables can be delivered on Friday after 1:00pm and before 7:00pm. Tables can be picked up Saturday after 5:00pm and before 7:00pm. After 5pm, may have to use gate 11 entrance on Blue Ridge Rd since other gates will be locked.
Dealers can start setting up at 6:00am and are allowed to park right beside our island for easy loading/unloading, but must then move their cars to parking area.
We cannot put up a banner during the Oct State Fair. But we can put up a banner on Friday Nov 2 and leave it up thru Sat. We suggest we put one on fence facing Hillsborough Rd, and another on fence facing Blue Ridge Rd. Have also asked flea market if we can participate in some of their big newspaper ads.
If we sell all 130 dealer tables on island 1 at $20 each, then our table income is 130x20=$2,600. From that, we must pay the flea market for 22+22=44 spaces at $16 each, for a total of 44x16=$704. 8' tables rent for $6 each, so 130 tables is $780. That gives us $2600-704-780=$1116 from which to pay for chair rentals (we may want to require dealers to bring there own chairs), advertising, and other show expenses. But I estimate we should add about $700 to our show treasury, which may give us enough to rent out the Scott Building one day for our indoor show. Note that $100 downpayment to Armory has not been paid yet, so we still have time to change our minds if we want to change location for the Spring Show.
Tables rent for $20 to club members and $25 to non club members.
Dealers can get in to setup at 6am using the Trinity Road entrance (see map). All gates open at 7am. Flea Market is officially open to public from 9am-5pm on Sat on Sun, but as many of us know (yeah, you Pem, JB, Jack, ...), the public always starts arriving before 9am.
Some dealers may want to consider setting up on their own on Sunday, but they will need to provide their own table and rent space directly from the flea market.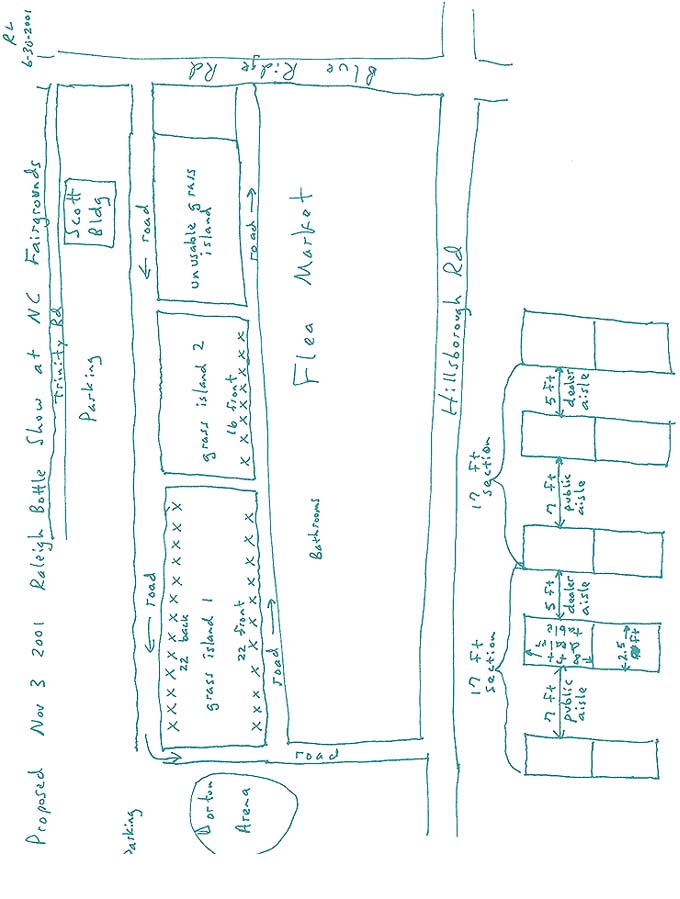 The Sat Nov 3 date is chosen because it is the first day the flea market reopens after the fair ends. This helps guarantee a huge built-in crowd, in addition to the bottle collectors we can attract. Advertising will be free listing in bottle magazine calendars, Email (also free), postcards ($150), and posters displayed in area antique shops and wherever else (Food Lion allows non-profit groups to put posters in their stores). We will skip paid advertisements in the newspaper and magazines. We may want to put up a banner at the October State Fair to advertise the show.
The Nov 3 date avoids any conflicts with area bottle shows. Our nearest conflict is Richmond VA on Oct 6, but that's a whole month earlier so not considered a conflict. I also confirmed this was not a conflict with Judy Foles, the Richmond show chairman.
There is however a conflict with the Metrolina Expo in Charlotte Nov 1-4 (one of their 3 big spectaculars held each year). So we may want to consider Nov 10. NC State football has away games for Nov 3 and Nov 10.
The islands are grass, which lessens the chance of a bottle breaking if it falls from a table. But could also make things muddy if it has rained recently.
No displays for this show since it is outdoors. No admission can be charged at the flea market, which simplifies the work we need to do.
---
Back to Raleigh Bottle Club page.

Welcome visitor
since August 3, 2001.
This web page hosted by Antique Bottle Collectors Haven