Raleigh Bottle Club - February 2001 Newsletter
The club meets the first Tuesday of each month. Next meeting: Mar 6, 2001
Meeting will be at same location - see details below
Presentation: David Jackson on Bitters and NC bottles.
Topics in this Newsletter Issue: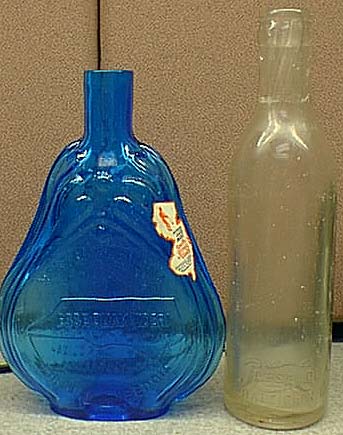 The Raleigh Bottle Club is a non-profit organization that provides a forum for area antique bottle collectors to get together, talk bottles, buy/sell/trade, and just have fun. The club sponsors an annual Bottle Show and Sale - next show April 28, 2001. President: Jack Murdock, Vice-president and Co-Show Chairman: David Tingen, Secretary/Treasurer and Show Chairman: Reggie Lynch. Info: Reggie Lynch, Web: www.antiquebottles.com/raleigh/.
Meetings are open to the public, so drop by and check us out. We hope you'll consider joining the club. Club members receive the monthly newsletter, run free ads, and participate in all the fun/benefits the club has to offer.
Business
19 people attended the February 6 meeting. We added 2 new paying members in Jan/Feb: Bobby Edwards and Jerry Cromer. Total paid members: 52. Dealer tables sold so far: 52 (44 remaining). Display tables signed up so far: 4 (2 remaining). January minutes were approved.

Raffle bottles for March 6 meeting: Raleigh script Pepsi, cobalt blue scroll flask commemorating NC First In Freedom, plus other bottles to be added later.

The Show Package was mailed to all members and some select dealers in the NC/VA/SC/TN/GA/AL/FL/PA/MD area. The package included the Dealer Contract, Show Flyer, Souvenir Show Program Ads Form, show table layout, area maps, and hotel/restaurant info. The club directory was included along with the Jan newsletter. All members should now have the directory - contact Reggie if you missed it.

Thanks to Joseph Webb for helping with color copies of the Show Flyer. Remember to get out and post these flyers in public areas to help advertise our new show. Let Reggie know if you need additional flyers. Additional dealer packages will be distributed by hand (save postage costs) at the Columbia SC and Baltimore MD shows.

Reggie asked members to bring in bottles that can be given as gifts to kids that attend the show. A special table will be setup across from the admission table where these bottles can be distributed.
Remember that April 1 is the deadline for receiving ads to run in the Show Program. All dealers and displayers signed up as of April 1 will also be included, along with the current list of club members. The Show Program would be a good opportunity to advertise what you collect/sell and support the club. Also need someone to write a feature article to be published in the Show Program on any area of NC bottle collecting.
Reggie presented Dave Tingen's latest list of show activities. We had sign ups in every area except a Display Chairman to organize the display tables, order ribbons, pick judges, and award ribbons. Anyone interested?
Idea of doing a club dig was presented. Anyone have a good spot?
Pem Woodlief showed off his "A.W. FRAPS / RALEIGH, N.C." blob beer that he found recently at the flea market. This is only the 2nd example of this bottle that we know of.
Reggie showed a color copy of a 1907 Casper's invoice that sold recently on eBay for $75. Invoice shows color examples of 6 different Casper bottles. You can view the invoice on a new web page created for Casper's Whiskey bottles: http://www.antiquebottles.com/caspers/.
Reggie talked with John Wolf, who is one of the leading Cure Bottle Collectors in the country. John would like to purchase mint examples of the Hick's Capudine Cure (must be mint and must have the CURE word). Label and/or box would be a bonus. John would also like any history on the bottle and company. This would be great for the club too- we could post the info in the newsletter. John has also agreed to do a future article for our newsletter on two very rare NC Cure bottles he has. One is "Farrar's Ague Cure / Wilmington NC" and other is "Clutz's Chill Cure / Salisbury NC". Pictures would be included in the article. If you have any other rare NC cures, John would very much like to document them for a Cure Book he is working on. To contact John, see his Want Ad at the end of this newsletter.
One club member recently won this gallon size Warrenton NC Dispensary bottle on eBay. Phil Perkinson submitted info on the Warrenton Dispensary bottles that Reggie shared at the meeting. While Phil has found pieces of a gallon Warrenton, the pattern was different the one pictured. There seems to be some controversy over whether this jug is authentic. Anyone know for sure?
The club raffle saw lucky members walk away with a labeled Mullen's Hornets Nest Liniment from Charlotte and a script straight-sided Coke from Durham. An identical Mullen's is currently on eBay at $48 with 2 days to go on the bidding, so someone (way to go Chuck) got a great deal.
Club members are encouraged to bring in bottles for the raffle we will have at each meeting. The raffle is fun for everyone and helps add money to the club treasury. For nicer bottles, the club treasury can reimburse the wholesale cost to the donator. Contact the treasurer (Reggie) before the raffle to make arrangements.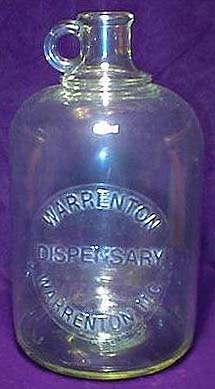 Members are also encouraged to bring bottles into meetings for show and tell. These bottles are good candidates for pictures and maybe stories in our newsletter.
Here are some upcoming presentations. Dave Tingen has agreed to do a program on bottle cleaning April 3. Robert Delius is looking into showing a 1939 movie about Coca-Cola bottles (shows an old Coke hutch plant). Reggie can do 3 more presentations as a standby: 1: Bitters and Whiskeys, 2: Sodas (mostly blob, some crown), and 3: Medicines. Looking for other people to sign-up for presentations at future meetings, so let us know what you would be willing to present. Presentations can be 5 to 60 minutes in length.
---
Presentation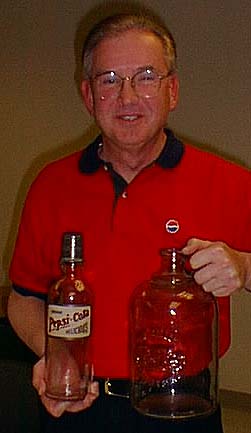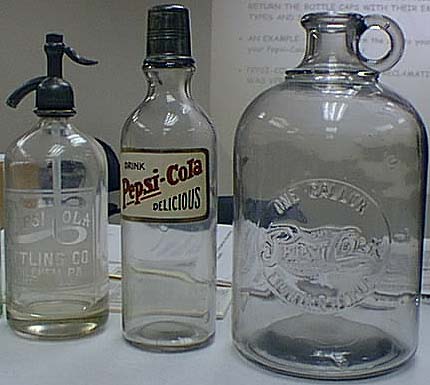 Sterling Mann gave a wonderful presentation on Pepsi bottles from his collection. He began with a video on Pepsi and distributed copies of his booklet entitled "A Date With Pepsi" that shows key dates in the evolution of Pepsi bottles. At right Sterling holds two of his prize Pepsi bottles. The label under glass back back bar bottle is one of only 5 known examples. The jug is also rare and comes in two variants: ring on left and ring on right. These bottles are also shownalong with a Pepsi seltzer bottle.

Pictured below is an amber Pepsi from Wilson, NC. Questions were raised about the possible existence of an amber Pepsi from Wilmington NC. Rumours abound, but no one can provide an example or just a picture. Below is a bowling pin shaped Pepsi from Richmond, VA. The best Raleigh Pepsi's are the circular and diamond slug plate versions. Below is a near mint example of the hutch-style Pensacola FL Pepsi, the only hutch style Pepsi and very hard to find in such excellent condition.

Sterling described how Pepsi moved from New Bern to Richmond, where Pepsi purchased the old Taka-Cola building. Before coming out with their own bottles, they shaved off the sides of Taka-Cola bottles. These shaved bottles are hard to find.

The double drum was the first attempt to standardize the style of Pepsi bottles. The pinched-waist bottle was a second attempt.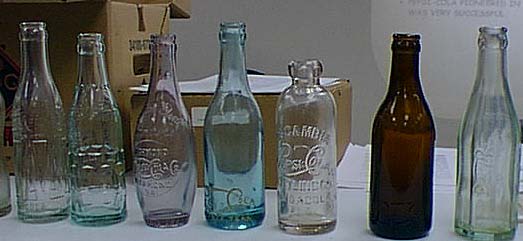 12 oz bottles started in 1933. Pepsi used old beer or other 12 oz bottles till they came out with their own design in 1939. The first Pepsi 12 oz was red/white/blue ACL with "2 Full Glasses" paper label around the neck. See example below - 4th from left.
"War bottles" had a label saying to return cap because of metal rationing during WWII. See example below - 2nd from left.
1948 went to 8 oz bottle with red/white label. 1948 also saw introduction of the cone top can- example below: front left. 1948 also saw the first throw away bottle. 1951 went from double to single dot. 1958 came out with the spiral neck bottle.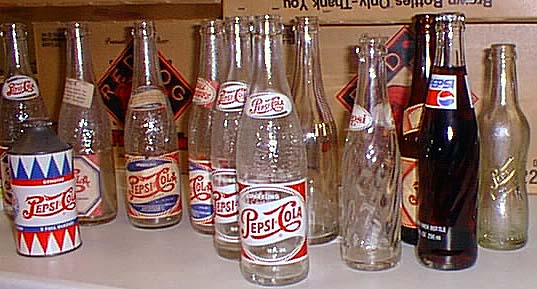 Sterling showed an example of the pink prototype bottle. About 30 were made by Wheaton in 1953, but most were destroyed. Pink bottle was abandoned because pink clashed horribly with the brown color of Pepsi.
The first plastic bottle was tested in Las Vegas during the early 1960s, but it leaked badly.
Sterling showed a "graveyard" bottle with Coke on the front half and Pepsi on the back half. Produced in early 1970s by the graveyard shift in Leone Glass plant of Bridgeton, NJ. This bottle is the only known example.
Sterling concluded by mentioning there were many good books on Pepsi, especially the one on Pepsi Bottles by James Ayers. There is also an excellent Pepsi display at the UNC-Charlotte library. Everyone enjoyed coming up afterwards to see Sterling's bottles and chat.
---
Next Meeting Location
The next club meeting is Tuesday Mar 6, 2001 7-9pm at Clancy & Theys Construction Company where club member John Arnold works. Company is located at 516 W. Cabarrus Street in downtown Raleigh (near the AmTrak station). Park in back of building. Some signs should be posted to help you find it. Call John Arnold on his mobile phone at (919) 427-0334 if you get lost.

Directions from the 440 Beltline: Take Glenwood Ave exit and head in town (away from Crabtree Valley Mall). Cross bridge over Wade Ave and turn right to "clover leaf" onto Wade Ave heading downtown. Merge right onto Capital Blvd heading downtown. Capital Blvd becomes N. Dawson St. Continue 0.7mi and turn right onto W. Cabarrus St. Cross railroad tracks, and just pass the Amtrak Station on right is #516 "Clancy & Theys Construction Co" - park behind building.

Directions from I-40: Take S. Saunders St exit and head North into downtown Raleigh. S. Saunders will turn into S. Wilmington St. Go pass Memorial Auditorium, then 2 blocks later turn left on W. Davie St., left on Dawson St, and right on W. Cabarrus St. Cross railroad tracks, and just pass the Amtrak Station on right is #516 "Clancy & Theys Construction Co" - park behind building.

You can also see directions on the Internet via MapQuest by entering the "516 W. Cabarrus St, Raleigh, NC" address.
---
Agenda for the next meeting
Wear name tags.
Treasurer report. Approve report and previous minutes.
Request articles for upcoming newsletters.
Collect ads to run in the next newsletter.
Confirm location/date of next meeting.
Distribute meeting flyers for members to post in area antique shops/malls.
Have someone solicit News & Observer to do article on new club and upcoming show. Would like article to run early April.
Show report by show committee. Decide on committees to organize for upcoming show (advertising, dealer refreshments, raffle tickets, dealer contract sales, early buying admission, club display table, sign construction/placement, ...).
Meeting presenters - sign-up people to do presentations of their collections at future meetings.
Open discussion, announcements, digging stories, show & tell, latest bottles aquired, show reports, ...
Setup/announce any raffle bottles. The club can reimburse a nominal amount for nicer bottles - see treasurer in advance.
Setup/announce any auction bottles. The seller can set a minimum bid with the amount above the minimum going to the club. So please bring any bottles you want to auction (limit 5 per seller).
Sell raffle tickets ($1 each) while presentor gets ready. Also a good time to examine the auction and raffle bottles.
Presentation.
Auction any bottles being offerred.
Draw winning tickets for the raffle. 1st winner gets first choice and so on till all bottles are gone.
Conclude with Swap Meet - each person is encouraged to bring bottles for sale/trade. Please limit yourself to a 2 box maximum. Tables will be provided where bottles can be displayed for show or sale.
---
Joining
To join the Raleigh Bottle Club, please use this Membership Application web form or contact Reggie for a printed copy. Printed copies of the newsletter will have a blank application form on the last page.
---
Member Ads
Ads are posted here free of charge to club members. Submit ad info to club secretary (Reggie) for inclusion in next newsletter. Ads run for 2 months, then must be renewed to continue.
Wanted: Mt Vernon Springs Mineral Water bottle from Ore Hill, NC. Paying top dollar for any size. Contact Tom Kleeberg at (336) 570-1997 (and ask for "Tom").

Wanted: "HICK'S CAPUDINE CURE" in mint condition, label+box a plus. Contact John Wolf, (937) 275-1617, 1186 Latchwood Ave, Dayton, OH 45405.

Wanted: newsletters from the old Raleigh Club to use as historical reference for upcoming club newsletters. Loan to Reggie or any club officer and we will make copies and return originals to you.

Wanted: any rare pre-machine Raleigh NC bottles (not "Rawleigh"). Especially whiskies, sodas, beers, etc. Contact Jack Murdock, (919) 779-9914, 8517 Crowder Rd, Raleigh, NC 27603.

Wanted: quality fruit jars, fruit jar ring boxes, and NC milk bottles. Contact J.B. Young, 1012 Davis Drive, Apex, NC 27502, Phone (919) 362-6596.

Wanted: NC blob top beer bottles in undamaged condition, especially amber colored examples. David Tingen, Email: tingen@interpath.com, Phone: (919) 848-4387.

Wanted: NC straight-sided Coca-Cola and script Pepsi bottles in undamaged condition. Reggie Lynch, Email: rlynch@antiquebottles.com, phone: (919) 789-4545.
Check out my bottles for sale on the Internet http://www.antiquebottles.com/rl/ and in booth 615 at Granddaddy's Antique Mall in Burlington, N.C.
---
Upcoming Shows
Also see Antique Bottle Shows.
Feb 10, 2001
Sarasota, FL
Sarasota-Mannatee Antique Bottle Collectors Association's 15th Annual Indoor Show & Sale, Sat 9am-3:30pm at the Sarasota County Fairgrounds, 2890 Ringling Blvd, Sarasota, FL. Info: Ed Herrold, PO Box 3105, Sarasota, FL 34230, (941) 923-6550.
Feb 16-17, 2001
Columbia, SC
South Carolina Antique Bottle Club's 27th annual Show & Sale Fri/Sat. Last year was a great show with 135 tables. Same number of tables expected to be sold this year. Will be held at the Boys' and Girls' Club of Cayce, West Columbia, SC (same location as last year). Show flyers will be mailed after Christmas. Email Eric Warren SCbottles@aol.com, 238 Farmdale Dr, Lexington, SC 29073, Phone (803) 951-8860.
Mar 4, 2001
Baltimore, MD
Baltimore Antique Bottle Club 21st Annual Antique Bottle Show & Sale (Sun. 8 AM - 3 PM) at Essex Community College, 7201 Rossville Blvd., Baltimore, Maryland. Info: Bob Ford, (410) 531-9459, Email: antiquebottles@home.com
Mar 17, 2001
Deland, FL
The DeLand MT Bottle Collectors Assoc 31st Annual Show and Sale, 9am-3pm at the Volusia County Fairgrounds, I-4 and S.R. 44 (exit 56), DeLand, FL. Info: M. Pallasch, 7 Monroe Ave, DeBarry, FL 32713, (407) 668-4538.
Mar 24, 2001
Daphne, AL
Mobile Bottle Collectors Club, 28th Annual Show & Sale, (9 AM to 5 PM, at the Daphne Civic Center, Whispering Pines Road and U.S. Hwy. 98, Daphne, AL. Info: JIM SIMMONS, 8851 Four Mile Road, Irvington, AL 36544, PH: (334) 824-2697, or ROD VINING, 8844 Lee Circle, Irvington, AL 36544, PH: (334) 957-6725.
Mar 25, 2001
Syracuse, NY
Empire State Bottle Collectors Association's 31st Annual Show & Sale, Sun 9am-3pm at the American Legion Post #1468, 110 Academy St, Syracuse, NY. Info: John Greiner, 7364 Kirkville Rd, East Syracuse, NY 13057, or John Spellman, PO Box 61, Savannah, NY 13146, (315) 365-3156, Email: spellmanjc@ny.tds.net
Apr 21, 2001
Panama City Beach, FL
Emerald Coast Bottle Collectors Annual 6th Annual Show & Sale, Sat April 21, 2001 9am-3pm, Setup Fri. April 20 4:00-8:00pm at the Panama City Beach Recreational Complex Highway 98, Panama City Beach FL 32413. Info: Tim Harris 1771 Bradley Road, Westville FL 32464 850-956-2040, Email harris@wfeca.net or Alan McCarthy 2415 W. 15th St. 32401 850-769-3984 or 850-784-3903
Apr 22, 2001
Harrisonburg, VA
Historical Bottle Diggers of Virginia 29th Annual Show & Sale, 9am-3pm Sun at the Rockingham County Fairgrounds, US Route 11, South of Harrisonburg, VA. Normally have 60-70 tables. Info: Sonny Smiley phone: (540) 434-1129, 1025 Greendale Rd., Harrisonburg, VA 22801
Apr 22, 2001
Rochester, NY
Genessee Valley Bottle Collectors Association's 32nd Annual Show & Sale, Sun 9am-3pm at the Monroe County Fairgrounds Minett Hall, Route 15A & Calkins Road, Rochester, NY. Info: Terry Woodhams, (716) 436-5893 or Mike Nolan, (716) 352-5519.
Apr 27-28, 2001
Liberty, NC
Liberty Antique Festival has over 300 dealers. A few bottles can be found. From I-85 in Burlington, take the Hwy 49 exit and head south to Liberty. Then follow signs. Put on by Janmar Promotions, PO Box 939, Liberty, NC 27298. Call Vito or Mary Ellen Sico or Janet Hill at (336) 622-3040 or 622-3535.
Apr 28, 2001
Raleigh, NC
NC Antique Bottles & Collectibles Show, 1st show of the newly formed Raleigh Bottle Club. Sat 9am-3pm at the NC Military Center (Armory) located across from NC Art Museum (and near the NC State Fairgrounds). Directions: from I-40, take Wade Ave then exit at Blue Ridge Rd and follow green signs to "NC Military Center" on Reedy Creek Rd. Dealer setup ($20/table) and Early Buying ($15 per couple) will be Sat 7am-9am. Display table setup 6am-9am. Info: Reggie Lynch, (919) 789-4545, PO Box 13736, Durham, NC 27709, Email: rlynch@antiquebottles.com
---
This web page hosted by Antique Bottle Collectors Haven