Raleigh Bottle Club - February 2002 Newsletter
Club typically meets the first Tuesday of each month. Next meeting: Tuesday Mar 5, 2002 7-9pm
Meeting will be at Clancey & Theys Construction - see directions below
Presentation: None, so bring extra bottles For Sale and Show and Tell
Topics in this Newsletter (click topic to jump there):
The Raleigh Bottle Club is a non-profit organization that provides a forum for area antique bottle collectors to get together, talk bottles, buy/sell/trade, organize club digs, and just have fun. The club also serves the community by answering bottle questions and sponsoring an annual Bottle Show and Sale. The public can bring their bottles to club meetings for free appraisals and possibly sell them.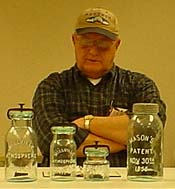 Current 2001/2002 officers:
David Tingen
President
John Arnold
Vice-president
Frank Bishop
Secretary
Reggie Lynch
Treasurer
Newsletter Editor
Show Chairman
Ronald Hinsley
Co-Show Chairman
All past newsletters are stored on the club web page for quick&easy reference, so there is no need to print and save them.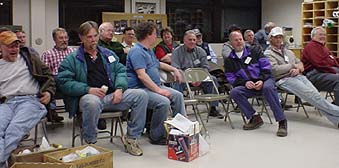 Meetings are open to the public, so drop by and check us out. We hope you'll consider joining the club. Club members receive the monthly newsletter, run free ads, and participate in all the fun and benefits the club has to offer.
Business & Misc
28 people attended the Feb 5 meeting at Clancey & Theys in downtown Raleigh, a new record high. Jan minutes were approved but the treasurer report was not ready. Club approved next meeting for Tue March 5 7pm at Clancey & Theys in downtown Raleigh (our regular spot). March presentation is undecided so far, so expect a surprise. For future presentation possibilities, see below.

Our president David Tingen arrived in a wheel chair, making his first club appearance after his December accident. It was great to see David back out again. Member Jack Murdock was absent, out sick with the flu. We wish him a speedy recovery.

Spring show was discussed - see below.

Name badges were made for everyone present at the meeting. Besides name, the badges list home city and collecting interests. This was a big success and helps everyone get to know each other and what they collect. Started the badge drawing, with winner receiving 6 raffle tickets good towards any upcoming club raffle.
Lots of new faces at the meeting, including Mark Robbins from Lenoir and Mike Trinidad and Joel Young from Rocky Mount. New people reported our directions needed help, so this has been addressed in this issue of the newsletter.
Frank Bishop presented our "Articles of Incorporation of Raleigh Bottle Club", effective Jan 23, 2002. We are now an official non-profit corporation. This came at a good time, reducing our insurance policy quote from $1,500 to $350. Thanks to Frank for making this happen. Once Reggie gets approval from Fairgrounds that policy meets their coverage requirements for our show, then policy will be paid and put into force.
Raleigh Museum Presentation
The club, led by Jack Murdock, gave a presentation Feb 9th on antique Raleigh bottles at the Raleigh City Museum as part of their "Pieces of the Past" symposium. Jack gave a historical presentation of his Raleigh bottles, often pointing towards the nearby street corner where they originated. Reggie finished up the presentation with some nice NC bottles, including Casper's Whiskey. A highlight was the visit by Mrs Jones, whose great grandfather was founder of Jones Bottling Works in Raleigh. David and Judy Tingen made a video recording of the presentation, which they will convert to VHS and make part of the club library.
| | | |
| --- | --- | --- |
| Jack points out the history of one his Raleigh saloon flasks. | Some of the great Raleigh bottles presented by Jack. | Jack talks with Mrs Jones who is accompanied by one of her sons. Her great grandfather was founder of Jones Bottling Works in Raleigh, Jack and Mrs Jones swapped some interesting pictures of the Jones family. |
President's Message
None this time since David is still recovering, but understand he's going to make the trip to the March 3 Baltimore show (who could resist?).
Membership - Renewal - Directory
We added 5 new paying members in Feb: Alex Caiola, Herman Vick, William "Tom" Merritt, Michael King, Jean Overton. Total paid members: 100. Number newsletters mailed: 52, Emailed: 700.
Still need to mail club directory to those who didn't pick one up. Sorry for the delay.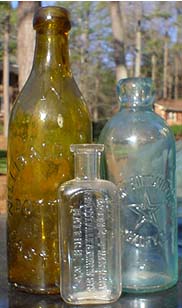 Dues are $10 individual, $15 family. To join the Raleigh Bottle Club, please use the Membership Application web form or contact Reggie for a printed copy. The club newsletter is distributed to over 700 people, mostly in NC and the surrounding states. Members can place free ads, which will be seen by a large number of collectors in our area.
Raffle
The February raffle raised $48 for the club, a new record made possible by the generous donation of extra bottles to the raffle at the meeting. At right is a photo of some of the raffle bottles being offerred at our Mar 5 meeting. From left to right they are: honey amber Easton PA soda with Baltimore loop lip, McGee's Pharmacy / Fayetteville & Martin Sts. / Raleigh, NC (donated by Dennis Johnson), and HICKORY BOTTLING WORKS / HICKORY, N.C. hutchinson soda with embossed star in near mint condition. All bottles BIM (Blown In Mold - pre-1910). Raffle will include other bottles to be furnished at meeting.

Club members are encouraged to bring in bottles for the raffle we will have at each meeting. The raffle is fun for everyone and helps add money to the club treasury. For nicer bottles, the club treasury can reimburse the wholesale cost to the donator. Contact the treasurer before the raffle to make arrangements.
Show & Tell / Bottles For Sale
Members are encouraged to bring bottles into meetings for show and tell. These bottles are good candidates for pictures and maybe stories in our newsletter. But it's also a lot of fun to share and is a big part of what our hobby is about. Members are also encouraged to bring in bottles for sale, since the opportunity to buy nice bottles is another reason people come to meetings.

Here's some show & tell bottles from the February meeting:
| | | |
| --- | --- | --- |
| Skinny Medlin shows a rare White House bottle that he won recently on eBay. | Member Robby Delius shows some pricey Coca-Cola convention commemorative bottles. | A member shows a 1908 piece of NC ephemera. |
| Visitor Joel Young (from Rocky Mount) shows a Step-Up ACL soda he found and was offerred quite a bit of money for. Bottle is from Wilmington. | Member Bill Owen showed a 1908 profit statement from the Salisbury Coca-Cola company. That's our president David Tingen in the background sitting in a wheel chair. | Closeup of Bill's 1908 profit statement for the Salisbury NC Coca-Cola company with a pristine Salisbury S-S Coke bottle from the same era. |
| Visitor Michael Trinidad (from Rocky Mount) shows a 1915 hobbleskirt Coca-Cola he found that has a tall script style we haven't seen before. | First time visitor Mark Robbins dropped in to show these GRANITE BOTTLING WORKS and ALKALITHIA SPRINGS bottles he recently dug in NC. | Reggie showed 3 bottles that he picked up on his recent trip to Feb 3 NJ show: G. OPPENHEIMER & SON / TARBORO / N.C. blob top beer (there were a lot of drinking bars in the town of Tarboro), FRISBY & RICHARDSON cobalt pontil soda that is rare and probably from Trenton NJ, and WILLIAM GENAUST / WILMINGTON / N.C. with backwards N in Wilmington. |
Steve Shelton of Danbury NC Emailed these PICs of some Winston-Salem bottles in his collection:
The first group is a Winston-Salem Coca-Cola Group. Left to right:

Logo on one side, Winston large and high on side, blank bottom
Logo on one side, Winston large and high on side, Root on bottom
Logo on both sides, Winston small near bottom, "ice blue"
Logo on both sides, Winston small near bottom, "bottle green"
Broken hobbleskirt, 1915, "Winston NC" on bottom
1915 Winston-Salem Hobbleskirt
2nd variation, 1915 Winston-Salem hobbleskirt

Winston / Winston-Salem group, not Coke :

D.H. King, Winston
Broken Peoples Coal & Ice, [nice purple]
Twin-City Bottling, Winston [chip on lip]
Three George Winkler's, Winston-Salem
Cathedral slug plate
oval slug plate
Rare [I think] applied crown top

Bottom of the Winston, NC hobbleskirt.

Three other [broken] variations of the "Winston" straight sided Coke.
Raleigh Spring Show Plans
Tables sold so far: 38 of 127
Displays reserved so far: 2 of 6 to: Marge McGee, Scott Berry.
Need members to sign-up for these show positions:
Postcard mailing - Donnie Medlin will stamp/label/mail the show postcards. Reggie will bring the labels and postcards to the March meeting. Reggie will also bring color posters and postcards to give members so they can be put up in area antique shops.
Fairgrounds Signs - Whitt Stallings agreed to build and stencil the signs we will place around the fairgrounds premises on the day of the show. David Tingen agreed to help, including the supply of plywood and 2x4's. The signs will be made of 2 2½x4' sheets of plywood that are hinged at the top (for easy folding). Also need 1' legs that can be made from 2x4s. Wording on each side of sign should be "ANTIQUE BOTTLE / & COLLECTIBLES / SHOW & SALE / TODAY 9am-3pm / HOLSHOUSER BLDG / FREE ADMISSION". Use red words on white background. Leave area at top of each side where we can affix an arrow pointing to the Holshouser Building.
Road signs - Our signs from last year will be modified and placed on the area roads. David Tingen volunteered to place the road signs early Sat morning, then pick them up after the show. But he needs some help.
Banner Signs for fence - Donnie Medlin suggested we get Pepsi or Coke to donate banners that we could add our show info to. Frank Bishop is checking with Coke and Pepsi in Durham. Marshall Clements agreed to add our wording to the banners.
Show Program - Ron Bender agreed to sell ads and produce a Show Program to be distributed the day of show. Reggie created the web page and PowerPoint versions of the flyer used to sell ads, and provided Ron with copies of last year's Show Program. Everyone is encouraged to buy an ad: just $10 for business card add and more for larger ads.
Display Chairman - Jack Murdock agreed to sign up collectors for displays, handle displayer needs (electrical, table or not), order ribbons for 1st/2nd/3rd (Reggie has already ordered Most Educational and People's Choice ribbons), collect/tally votes for People's Choice, pick judges, and award the ribbons.
Table Setup - Dean Haley and Pem Woodlief agreed to help Reggie tape signs to each of the dealer tables. Will do this on Fri before show.
Dealer Packages - Chuck Peterson agreed to help Reggie prepare the packages distributed to dealers on day of show, which includes badges and survey.
Show Survey - need someone to prepare the survey and tabulate the results. Feedback from last year's show was helpful in insuring the success of this year's show.
Admission Table - need two people to run the admission table at the front entrance from 6-9am. Responsibilities include handing out dealer packages, selling early admission, and insuring only dealers 6-7:30am and early buyers after 7:30am at the front entrance. Judy Tingen has volunteered but still need one more person.
Door guards - need 3 people to watch the other 3 doors into Holshouser from 6-9am, and insure only dealers 6-7:30am and early buyers after 7:30.
Welcome Table - need rotating shift of 3 people to run the front entrance table from 9am-3pm. Shifts can be 9-11, 11-1, and 1-3. No admission since free after 9am, but just someone to greet people, get new folks to sign info card, and hand out copies of our latest newsletter with membership application. If show program done, that will be handed out as well.
Reggie distributed dealer packages at the Feb 15 Columbia SC show. This was a great show, and improved by it's nice new roomy location and even more tables.
Full show package with contract, maps, and more (this is the full dealer package) can be found on our Raleigh Show page: www.antiquebottles.com/raleigh/Apr2002Show
Recent Finds
If you have any recent finds to post here, or just want to share a favorite bottle, please submit info to the newsletter editor Reggie Lynch. Most pictures can be clicked to see the original full view before it was cropped to fit here.
| | | |
| --- | --- | --- |
| INDIAN ROCK / GINGER ALE / DANVILLE / COCA-COLA / BOTTLING CO. / DANVILLE VA. sold recently on eBay for $304. | Front of fan stamped "LINDA DARNELL STARRING IN CENTENNIAL SUMMER A 20TH CENTURY FOX TECHNICOLOR PICTURE". The back side is stamped "NORTH, SOUTH, EAST AND WEST ROYAL CROWN COLA'S BEST BY TEST" and "RALEIGH NEHI BOTTLING WORKS RALEIGH, N.C. ROYAL CROWN BOTTLING CO. GOLDSBORO, N.C." Sold on eBay for $80. | BROAD ROCK VIRGINIA.FROM THE HEART OF THE GRANITE LITHIA SECTION with picture of person lying on ground and another standing over with a spear. The words "SIG SEMPER TYRANNIS" printed below. Sold on eBay for $565. |
| Breezy Hill Farm / Henry Myers Prop / Monroe , NC quart milk with circular slug plate embossing sold on eBay for $49. | Straus Gunst & Co. / Proprietors / Richmond, Va. golden amber BIM whiskey flask sold for $538 on eBay. | Weldon NC coke that sold recently on eBay for $77. |
| MOORESVILLE / CO-OP CREAMERY / QUALITY / DAIRY PRODUCTS / MOORESVILLE, N.C. quart milk bottle sold recently on eBay for $67. | Carolina Wine & Liquor Store / Frank O'Donnell Prop'r / Asheville, N.C. vertically embossed on BIM union-style flask, with picture of anchor on back. Sold $411 on eBay but reserve not met. | CARTER'S SPANISH MIXTURE in mossy green with great iron pontil. Richmond VA collectors know that this bottle hails from their city. Was sold on eBay but reserve not met. |
| This green smooth base Chs. A. H. Umbach & Co. / Savannah, GEO. with embossed eagle sold recently on eBay for $305. | C.H. Duffield & Co Richmond VA squat slug plate soda with original wire closure that sold $261 on eBay. | GLENN SPRINGS MINERAL WATER / GLENN SPRINGS / SPARTANBURG CO, S.C. amber BIM quart sold on eBay $305 but reserve not met. |
| J & JM. ENSINGER / Wheeling, VA. smooth based civil war era soda. In 1863, Wheeling split from the Confedarcy (Virginia) and joined the Union (West Virginia). Sold recently on eBay for $280. | One gallon ribbed glass jug with label "OLD MAUDE BRAND FORTIFIED WHITE WINE", picture of kicking mule, and below that "BOTTLED BY CAR-CAL WINERY GREENSBORO NORTH CAROLINA". | This Mountain Dew party jug sold for a whopping $4,050 on eBay. |
| COSGROVE & KERNAN / CHARLESTON / S. C. green pontilled soda that sold for $310 on eBay. | 1907 postcard of downtown Raleigh, facing north on Fayetteville St. This was about the same time as the NC Dispensary system. | Shinston Pepsi=Cola in oval slug plate (from WV) that sold for $860 on eBay. |
| Rawley Springs / Harrisonburg VA in green sold $6,400 on eBay. | 9½" blob top beer with original closure, embossed William Genaust / Wilmington / N.C. in circular slug plate that sold on eBay for $102. | J.S. MOORE'S SONS, INC. 1724 E. MAIN ST. RICHMOND VA. in circular slug plate. Quart size strap-sided flask that sold $400 on eBay. |
| Pepsi=Cola / SUFFOLK, VA. center script slug plate bottle that sold for $195 on eBay. | One gallon salt glaze jug with single handle. Stamped: D. CAGEL./ WHY NOT N.C. sold on eBay for $2,075. | 18 page booklet for Hick's Capudine Cure, a Raleigh product. |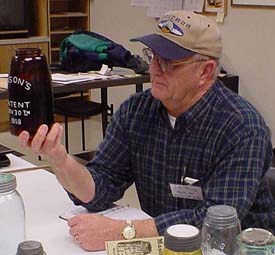 Presentation
JB Young's gave an informative presentation on fruit jars, going thru the history of jars and showing some examples from his collection. He also shared how he got started in the hobby. In the picture to the right, JB shows a repro amber Mason jar that was made in 1972 from the original mold by some unscrupolous dealers. The repro can be identified from the "1171" number on the base.
Future Presentations
Looking for other people to sign-up for presentations at future meetings, so please let us know when you would be willing to present. Presentations can be 5 to 60 minutes in length, and you can pick most any topic related to bottles and go-withs. There will be no presentation at the first meeting of each quarter to allow more time for chatting and buying/selling. May get Jimmie Wood to do ACL's and Charlie Perry to do White House Vinegar? Vernon Capps has offered to do USA Hospital bottles. Russell Griffin has offered to do Coke bottles. Sonny Howell has offerred to do a Sat presentation at Granddaddy's. John Patterson has offered to do a Sat presentation on NC milk bottles at Granddaddy's. Jerry Roughton wrote the book on NC medicines and has agreed to do a presentation on this topic and NC saloon tokens. Will Gorges may present on Civil War era. Talked about a Spring picnic and presentation at Donnie Medlin's house in Louisburg.
Meeting Location
Regular club meetings are held 7-9pm on the first Tuesday of each month at Clancy & Theys Construction Company where club member John Arnold works. Company is located at 516 W. Cabarrus Street in downtown Raleigh. Park in back of building by driving down road that runs between Clancy building and the AmTrak Station, then take first left that will take you behind the Clancy building. Use door at back center of building (door is locked, so knock on window to left where you will see club members). If you need help finding the meeting, call John Arnold (919) 427-0334 or Reggie Lynch (919) 612-0259 on their mobile phones.

Directions from the 440 Beltline: Take Glenwood Ave exit and head in town (away from Crabtree Valley Mall). Cross bridge over Wade Ave and turn right to "clover leaf" onto Wade Ave heading downtown. Merge right onto Capital Blvd heading downtown. Capital Blvd becomes N. Dawson St. Continue 0.7mi and turn right onto W. Cabarrus St. Cross railroad tracks, and just pass the Amtrak Station on right is #516 "Clancy & Theys Construction Co".

Directions from I-40: Take S. Saunders St exit and head North into downtown Raleigh. S. Saunders will turn into S. Wilmington St. Go pass Memorial Auditorium, then 2 blocks later turn left on W. Davie St., left on Dawson St, and right on W. Cabarrus St. Cross railroad tracks, and just pass the Amtrak Station on right is #516 "Clancy & Theys Construction Co".

You can also see directions on the Internet via www.mapquest.com by entering the "516 W. Cabarrus St, Raleigh, NC" address.
Agenda for the next meeting
Bottle sales/trades till meeting starts (helps to arrive a little early).
Sign-in sheet for attendees- introduce newcomers.
Hand out badges - make badges for newcomers.
Approve treasurer report and previous minutes in newsletter.
Request articles for upcoming newsletters.
Collect ads to run in the next newsletter. Current ads run for two months and must then be renewed. Just let Reggie know if you want to renew your same ad.
Confirm date of next meeting as Tue April 3 7pm at Clancey & Theys in Raleigh.
Discuss Spring Show. Accept dealer applications and allow dealers to pick their spot. Assign show committees. Hand-out posters and cards for members to distribute in area antique shops.
Report on insurance policy.
Meeting presenters - sign-up people to do presentations of their collections at future meetings.
Open discussion, announcements, digging stories, show & tell, latest bottles aquired, show reports, ...
Invite a member to tell story of how they got started in bottle collecting.
Setup/announce any raffle bottles. The club can reimburse a nominal amount for nicer bottles - see treasurer in advance.
Setup/announce any auction bottles. The seller can set a minimum bid with the amount above the minimum going to the club. So please bring any bottles you want to auction (limit 5 per seller).
Sell raffle tickets ($1 each, 6 for $5) while presentor gets ready. Also a good time to examine the raffle and auction bottles.
Presentation.
Auction any bottles being offerred.
Draw winning tickets for the raffle. 1st winner gets first choice and so on till all bottles are gone. Put top bottles in paper bags to mix it up (JB bringing bags).
Turn in badges and have badge drawing. Winner gets 6 raffle tickets good toward any future raffle.
Conclude with Swap Meet - announce who has bottles for sale. Each person is encouraged to bring in bottles for sale/trade. Please limit yourself to a maximum of 4 boxes. Tables will be provided where bottles can be displayed for show or sale.
Member Ads
Ads are posted here free of charge to club members. Submit ad info to club secretary for inclusion in the next newsletter. Ads run for 2 months, then must be renewed to continue. If your ad ran before and you want to run it again without changes, just request "repeat same ad".
Wanted: all bottles from Virginia towns of Newport News, Hampton, Grafton, Phoebus, Old Point Comfort, Morrison, Hilton Village, Harpersville, West Point, and Williamsburg. Mike King, (804) 642-3570, PO Box 220, Wicomico, VA 23184, Email: GLOBOTTLE@aol.com

Wanted: NC stencil jugs, NC strap-side flasks, shot glass, cork screws, any mini-jugs, anything saloon, error fruit jars, "when empty return to:" jugs. Bill Wrenn, (706) 769-8995, Email: minijug@aol.com.

Wanted: bitters, cures and all NC bottles. Ronald Hinsley, (919) 362-7251, Email: henryhins@webtv.net.

Wanted: old PEPSI COLA items and old bottle collections. Bill Clark, 105 Sorrell Grove Church Road, Morrisville, NC 27560, (919) 467-0488.

Wanted: center slug plate script Coca-Cola and Pepsi bottles in undamaged condition. Reggie Lynch, Email: rlynch@antiquebottles.com, phone: (919) 789-4545. Check out my bottles for sale on the Internet www.antiquebottles.com/rl/ and in booth 615 at Granddaddy's Antique Mall in Burlington, N.C.
Calendar of Events and Upcoming Shows
Also see Antique Bottle Shows, AntiqueNC.com, NC State Fairgrounds Calendar of Events, NC Festivals and Fairs, Southeastern Antiquing & Collecting, Raleigh OnLine, Spectator Magazine - Special Events.
Mar 3, 2002
Baltimore, MD
Baltimore Antique Bottle Club 22nd Annual Antique Bottle Show & Sale (Sun. 8 AM - 3 PM) at Essex Community College, 7201 Rossville Blvd., Baltimore, Maryland. Info: Bob Ford, (410) 531-9459, Email: antiquebottles@home.com
Mar 16, 2002
Deland, FL
The DeLand MT Bottle Collectors Assoc 32nd Annual Show and Sale, 9am-3pm at the Volusia County Fairgrounds, I-4 and S.R. 44 (exit 56), DeLand, FL. Info: M. Pallasch, 7 Monroe Ave, DeBarry, FL 32713, (407) 668-4538.
Mar 23, 2002
Daphne, AL
Mobile Bottle Collectors Club, 29th Annual Show & Sale, (9 AM to 5 PM, at the Daphne Civic Center, Whispering Pines Road and U.S. Hwy. 98, Daphne, AL. Info: JIM SIMMONS, 8851 Four Mile Road, Irvington, AL 36544, PH: (251) 824-2697, Email: josphs@email.msn.com or ROD VINING, 8844 Lee Circle, Irvington, AL 36544, PH: (334) 957-6725, Email: vinewood@zebra.net
Apr 26-27, 2002
Liberty, NC
Liberty Antique Festival has over 300 dealers. A few bottles can be found. From I-85 in Burlington, take the Hwy 49 exit and head south to Liberty. Then follow signs. Put on by Janmar Promotions, PO Box 939, Liberty, NC 27298. Call Vito or Mary Ellen Sico or Janet Hill at (336) 622-3040 or 622-3535.
Apr 27, 2002
Raleigh, NC
Raleigh Bottle Club presents its 2nd Annual Antique Bottle & Collectibles Show & Sale, Sat 9am-3pm - Free Admission. Show located in the Holshouser Building on the NC State Fairgrounds (last year's show was in the Military Center). Dealer setup: 6-9am, $25/table. Free display tables. Early Buying: 7:30-9am is $15 per person.
Directions: from I-40, take Wade Ave then exit at Blue Ridge Rd and turn right - fairgrounds will be 1/2 mile down on right.
Info: Reggie Lynch, (919) 789-4545, PO Box 13736, Durham, NC 27709, Email: raleigh@antiquebottles.com Web: www.antiquebottles.com/raleigh/
---
This web page hosted by the Raleigh Bottle Club