Raleigh Bottle Club - January 2001 Newsletter
The club meets the first Tuesday of each month. Next meeting: Feb 6, 2001
Meeting will be at the new location - see details below
Presentation: Sterling Mann on Pepsi Bottles
Topics in this Newsletter Issue: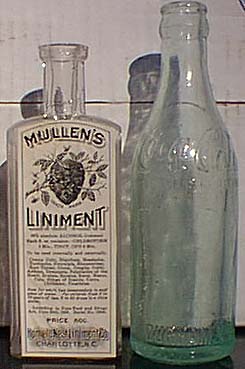 The Raleigh Bottle Club is a non-profit organization that provides a forum for area antique bottle collectors to get together, talk bottles, buy/sell/trade, and just have fun. The club sponsors an annual Bottle Show and Sale (next show April 28, 2001). President: Jack Murdock, Vice-president and Co-Show Chairman: David Tingen, Secretary/Treasurer and Show Chairman: Reggie Lynch. Info: Web: www.antiquebottles.com/raleigh/.
Meetings are open to the public, so drop by and check us out. We hope you'll consider joining the club. Club members receive the monthly newsletter, run free ads, and participate in all the fun/benefits the club has to offer.
Business
21 people attended the January 2 meeting. We added 1 new paying member (Bob Roberts) in December/January. Total paid members: 50. Dealer tables sold so far: 20 Display tables signed up so far: 4 (only 2 remaining) December minutes were approved.

The Dealer Contract was distributed to all club members with the December newsletter. The Show Flyer is available. These are the final versions of these documents that will be used to mail dealer packages to non-club members. Table sign-up deadline for members-only is Jan 15, after which dealer packages will be mailed to all non-members. Table sign-up deadline is April 1 for inclusion in the Show Program - all dealers will be listed in the Show Program.

David Tingen presented the revised budget and action list for the show. Will need lots of volunteers to make the show happen, so please support your club and volunteer to make our new show a success.

General admission for the show was lowered from $3 to $2 after a motion and vote from the club. Primary reasons for changing the rate was because we can afford it in the new budget and the $2 rate is more inline with what other bottle shows are charging.

The show floor plan has space for 6 displays, of which 4 have already been signed up. There is room in the floor plan to add 6 extra tables, but that space is being held as a "just in case" buffer for now (e.g. may need room for more displays).

David Tingen proposed the idea of one year having a glass show case for displaying club bottles at the show. This would be like the club display done at the Denver 2000 Expo. Advantage to a glass case is that you can lock it, but don't have to rope it off, so people can get close to examine the finer features of the bottles. Case is bolted to floor or wall to prevent tilting.

Reggie presented plans for doing a Show Program with paid advertising that should bring extra income to the club. Linda Lynch (Reggie's wife) will be selling the ads and putting the program together. Deadline for receiving ads will be April 1, 2001. Any leads for selling ads should be forwarded to Linda thru Reggie.

Reggie presented a color version of the latest show flyer, that will be distributed in mass starting with the non-member dealer packages. Joseph Webb has graciously agreed to make color copies of the flyer at no charge to the club (thanks!).

Decided to exclude details of future treasurer reports from the newsletter. The treasurer report will be presented separately and approved at each meeting. Members can ask the treasurer to see details of the report.

The club raffle saw lucky members walk away with an amber Piedmont Bottling Works soda and Schoenhofen Table Beer, plus some other bottles donated by club members. Raffle added $25 to the club treasury. Also added $10 from Bill Clark's Pepsi auction and $15 from Donnie Medlin's auction. Thanks for the contributions.

Two of the bottles for the next raffle are pictured on the front page. First is a blown NC medicine embossed "W.N. MULLEN'S / HORNETS NEST LINIMENT / CHARLOTTE, N.C." on one side and has the original label on the other side. Note that contents include OPII, which is Latin for Opium. Second bottle is a script straight-side Coca-Cola from DURHAM, N.C.

Club members are encouraged to bring in bottles for the raffle we will have at each meeting. The raffle is fun for everyone and helps add money to the club treasury. For nicer bottles, the club treasury can reimburse the wholesale cost to the donator. Contact the treasurer (Reggie) before the raffle to make arrangements.

February presentation will be Pepsi bottles by Sterling Mann. David Jackson of Greensboro has agreed to present NC Whiskey Bottles (maybe David will bring some of his nice bitters, too?) Dave Tingen has agreed to do a program on bottle cleaning. Robert Delius is looking into showing a 1939 movie about Coca-Cola bottles (shows an old Coke hutch plant). Reggie can do 3 more presentations as a standby: 1: Bitters and Whiskeys, 2: Sodas (mostly blob, some crown), and 3: Medicines. Looking for other people to sign-up for presentations at future meetings, so let us know what you would be willing to present. Presentations can be 5 to 60 minutes in length.
---
Presentation
| | |
| --- | --- |
| Gary Arnold shows two early 1951 bottles | Bottle on right shows a backwards hillbilly on the shoulder and is a 1958 "Dean & Dick" bottle from Fayetteville, NC |
| John strikes his classic Yahoo pose | |
Evening's presentation was on Mountain Dew bottles and advertising by John and Gary Arnold (father/son team). They have been collecting since 1991 when Gary got started and his dad began helping him out. John is a long time Pepsi collector.
Began with a slide show with some of the different advertising signs in their collection. Was very interesting to hear the history and evolution of Mountain Dew advertising. One evolution was change from dumb Willie to smart Willie.
Mountain Dew was invented in Knoxville around the mid 1940s as a chaser for Jack Daniels. Intended as a substitute for 7-Up. In 1948 Mountain Dew had a paper label bottle that used a one color label (black ink printed on white paper). In 1951 the first printed ACL Mountain Dew bottle was a clear and a green 7 oz. that said by "Barney and Ally". Clear 1951 bottle worth between $1000 and $1200 dollars in mint condition.
The first bottles bore the advertisement "mountain water", but this was removed in 1962 for fear of law suits. The 24 oz.green "Charlie and Bill" bottles were ordered to be destroyed by the Tri-City manager (Bill) so the company would not have to pay for deposits on the bottles. That's why the 24 oz bottles are so hard to find.
There are only three 8 3/4 oz. bottles: "Charlie and Bill", "Charlie and Jim", and "Charlie-Jim and Bill". There are only two 9 oz. bottles: "Charlie and Bill" and "Charlie and Jim". Charlie was the owner of the Tri-City Beverage plant. Bill was the plant manager. Tri-City Beverage was out of Johnson City, Tenn.
The first Mountain Dew in NC was bottle in 1955 by the Pepsi plant in Fayetteville. Brothers Dean and Dick Minges were the Pepsi plant managers. Later brothers Herman and Charles Minges opened the Lumberton NC plant in 1957. To promote the product, the bottles bore the names of plant managers, supervisors, route drivers. In some cases, names were the kids of the employees. There are over 800 different known name bottles.
At least 50 NC towns had bottles - town names were used to promote local pride in the new product. Star NC is the hardest to find town.
So what is #1 on the wish list of avid Mountain Dew collectors like John and Gary? For John, it's the party jug. For Gary, it's obtaining all the North Carolina town bottles.
For more info on Mountain Dew bottles, check out this web site: www.mountaindewbottles.com/
---
Next Meeting Location
The next club meeting is Tuesday Feb 6, 2001 7-9pm at Clancy & Theys Construction Company where club member John Arnold works. Company is located at 516 W. Cabarrus Street in downtown Raleigh (near the AmTrak station). Park in back of building. Some signs should be posted to help you find it. Call John Arnold on his mobile phone at (919) 427-0334 if you get lost.

Directions from the 440 Beltline: Take Glenwood Ave exit and head in town (away from Crabtree Valley Mall). Cross bridge over Wade Ave and turn right to "clover leaf" onto Wade Ave heading downtown. Merge right onto Capital Blvd heading downtown. Capital Blvd becomes N. Dawson St. Continue 0.7mi and turn right onto W. Cabarrus St. Cross railroad tracks, and just pass the Amtrak Station on right is #516 "Clancy & Theys Construction Co" - park behind building.

Directions from I-40: Take S. Saunders St exit and head North into downtown Raleigh. S. Saunders will turn into S. Wilmington St. Go pass Memorial Auditorium, then 2 blocks later turn left on W. Davie St., left on Dawson St, and right on W. Cabarrus St. Cross railroad tracks, and just pass the Amtrak Station on right is #516 "Clancy & Theys Construction Co" - park behind building.

You can also see directions on the Internet via MapQuest by entering the "516 W. Cabarrus St, Raleigh, NC" address.
---
Agenda for the next meeting
Treasurer report. Approve report and previous minutes.
Request articles for upcoming newsletters.
Collect ads to run in the next newsletter.
Confirm location/date of next meeting.
Distribute meeting flyers for members to post in area antique shops/malls.
Have someone solicit News & Observer to do article on new club and upcoming show. Would like article to run early April.
Show report by show committee. Decide on committees to organize for upcoming show (advertising, dealer refreshments, raffle tickets, dealer contract sales, early buying admission, club display table, sign construction/placement, ...).
Meeting presenters - sign-up people to do presentations of their collections at future meetings.
Setup/announce any raffle bottles. The club can reimburse a nominal amount for nicer bottles - see treasurer in advance.
Setup/announce any auction bottles. The seller can set a minimum bid with the amount above the minimum going to the club. So please bring any bottles you want to auction (limit 5 per seller).
Sell raffle tickets ($1 each) while presentor gets ready. Also a good time to examine the auction and raffle bottles.
Presentation.
Auction any bottles being offerred.
Draw winning tickets for the raffle. 1st winner gets first choice and so on till all bottles are gone.
Open discussion, announcements, digging stories, show & tell, latest bottles aquired, show reports (Richmond), ...
Conclude with Swap Meet - each person is encouraged to bring bottles for sale/trade. Please limit yourself to a 2 box maximum. Tables will be provided where bottles can be displayed for show or sale.
---
Joining
To join the Raleigh Bottle Club, please use this Membership Application web form or contact Reggie for a printed copy. Printed copies of the newsletter will have a blank application form on the last page.
---
Member Ads
Ads are posted here free of charge to club members. Submit ad info to club secretary (Reggie) for inclusion in next newsletter. Ads run for 2 months, then must be renewed to continue.
Wanted: newsletters from the old Raleigh Club to use as historical reference for upcoming club newsletters. Loan to Reggie or any club officer and we will make copies and return originals to you.

Wanted: any rare pre-machine Raleigh NC bottles (not "Rawleigh"). Especially whiskies, sodas, beers, etc. Contact Jack Murdock, (919) 779-9914, 8517 Crowder Rd, Raleigh, NC 27603.

Wanted: quality fruit jars, fruit jar ring boxes, and NC milk bottles. Contact J.B. Young, 1012 Davis Drive, Apex, NC 27502, Phone (919) 362-6596.

Wanted: NC blob top beer bottles in undamaged condition, especially amber colored examples. David Tingen, Email: tingen@interpath.com, Phone: (919) 848-4387.

Wanted: NC straight-sided Coca-Cola and script Pepsi bottles in undamaged condition. Reggie Lynch, Email: rlynch@antiquebottles.com, phone: (919) 789-4545.
Check out my bottles for sale on the Internet http://www.antiquebottles.com/rl/ and in booth 615 at Granddaddy's Antique Mall in Burlington, N.C.
---
Upcoming Shows
Also see Antique Bottle Shows.
Jan 14, 2001
S. Attleboro, MA
LRBC Annual Bottle Show and Sale is put on by the The Little Rhody Bottle Club of Rhode Island. At the K of C Hall, 304 Highland Ave., South Attleboro, MA from 10:00 am - 3:00 p.m.. There is a $2.00 donation at the door and plenty of free parking. Info: Art Pawlowski, P. O. Box 3411, So. Attleboro, MA 02703, 508-399-6427.
Jan 20, 2001
Rome, GA
Rome Antique Bottle & Collectibles Club's Annual Show & Sale, Sat 8am-3pm at the Rome Civic Center, Turner McCall Blvd, Rome, GA. Info: Jerry Mitchell, PO Box 475, Bremen, GA 30110, Phone: (770) 537-3725.
Feb 4, 2001
South River, NJ
New Jersey Antique Bottle Club's 5th annual show Sun 9am-2pm at the Knight's of Colombus Hall, 88 Jackson St, South River, NJ. Info: Joe Butewicz, NJABC, 24 Charles St, South River, NJ 08882, (732) 238-3238, Email: joseph.butwewicz@bms.com or Ernest Bower, (732) 868-0510, Email: botlman@aol.com
Feb 10, 2001
Sarasota, FL
Sarasota-Mannatee Antique Bottle Collectors Association's 15th Annual Indoor Show & Sale, Sat 9am-3:30pm at the Sarasota County Fairgrounds, 2890 Ringling Blvd, Sarasota, FL. Info: Ed Herrold, PO Box 3105, Sarasota, FL 34230, (941) 923-6550.
Feb 16-17, 2001
Columbia, SC
South Carolina Antique Bottle Club's 27th annual Show & Sale Fri/Sat. Last year was a great show with 135 tables. Same number of tables expected to be sold this year. Will be held at the Boys' and Girls' Club of Cayce, West Columbia, SC (same location as last year). Show flyers will be mailed after Christmas. Email Eric Warren SCbottles@aol.com, 238 Farmdale Dr, Lexington, SC 29073, Phone (803) 951-8860.
Mar 4, 2001
Baltimore, MD
Baltimore Antique Bottle Club 21st Annual Antique Bottle Show & Sale (Sun. 8 AM - 3 PM) at Essex Community College, 7201 Rossville Blvd., Baltimore, Maryland. Info: Bob Ford, (410) 531-9459, Email: antiquebottles@home.com
Mar 17, 2001
Deland, FL
The DeLand MT Bottle Collectors Assoc 31st Annual Show and Sale, 9am-3pm at the Volusia County Fairgrounds, I-4 and S.R. 44 (exit 56), DeLand, FL. Info: M. Pallasch, 7 Monroe Ave, DeBarry, FL 32713, (407) 668-4538.
Mar 24, 2001
Daphne, AL
Mobile Bottle Collectors Club, 28th Annual Show & Sale, (9 AM to 5 PM, at the Daphne Civic Center, Whispering Pines Road and U.S. Hwy. 98, Daphne, AL. Info: JIM SIMMONS, 8851 Four Mile Road, Irvington, AL 36544, PH: (334) 824-2697, or ROD VINING, 8844 Lee Circle, Irvington, AL 36544, PH: (334) 957-6725.
Mar 25, 2001
Syracuse, NY
Empire State Bottle Collectors Association's 31st Annual Show & Sale, Sun 9am-3pm at the American Legion Post #1468, 110 Academy St, Syracuse, NY. Info: John Greiner, 7364 Kirkville Rd, East Syracuse, NY 13057, or John Spellman, PO Box 61, Savannah, NY 13146, (315) 365-3156, Email: spellmanjc@ny.tds.net
Apr 21, 2001
Panama City Beach, FL
Emerald Coast Bottle Collectors Annual 6th Annual Show & Sale, Sat April 21, 2001 9am-3pm, Setup Fri. April 20 4:00-8:00pm at the Panama City Beach Recreational Complex Highway 98, Panama City Beach FL 32413. Info: Tim Harris 1771 Bradley Road, Westville FL 32464 850-956-2040, Email harris@wfeca.net or Alan McCarthy 2415 W. 15th St. 32401 850-769-3984 or 850-784-3903
Apr 22, 2001
Harrisonburg, VA
Historical Bottle Diggers of Virginia 29th Annual Show & Sale, 9am-3pm Sun at the Rockingham County Fairgrounds, US Route 11, South of Harrisonburg, VA. Normally have 60-70 tables. Info: Sonny Smiley phone: (540) 434-1129, 1025 Greendale Rd., Harrisonburg, VA 22801
Apr 22, 2001
Rochester, NY
Genessee Valley Bottle Collectors Association's 32nd Annual Show & Sale, Sun 9am-3pm at the Monroe County Fairgrounds Minett Hall, Route 15A & Calkins Road, Rochester, NY. Info: Terry Woodhams, (716) 436-5893 or Mike Nolan, (716) 352-5519.
Apr 27-28, 2001
Liberty, NC
Liberty Antique Festival has over 300 dealers. A few bottles can be found. From I-85 in Burlington, take the Hwy 49 exit and head south to Liberty. Then follow signs. Put on by Janmar Promotions, PO Box 939, Liberty, NC 27298. Call Vito or Mary Ellen Sico or Janet Hill at (336) 622-3040 or 622-3535.
Apr 28, 2001
Raleigh, NC
NC Antique Bottles & Collectibles Show, 1st show of the newly formed Raleigh Bottle Club. Sat 9am-3pm at the NC Military Center (Armory) located across from NC Art Museum (and near the NC State Fairgrounds). Directions: from I-40, take Wade Ave then exit at Blue Ridge Rd and follow green signs to "NC Military Center" on Reedy Creek Rd. Dealer setup ($20/table) and Early Buying ($15 per couple) will be Sat 7am-9am. Display table setup 6am-9am. Info: Reggie Lynch, (919) 789-4545, PO Box 13736, Durham, NC 27709, Email: rlynch@antiquebottles.com
---
This web page hosted by Antique Bottle Collectors Haven