Raleigh Bottle Club - January 2002 Newsletter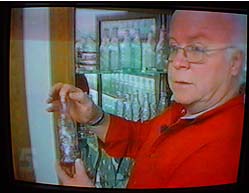 Club typically meets the first Tuesday of each month
Next meeting: Tuesday Feb 5, 2002 7-9pm
Meeting will be at Clancey & Theys Construction - see directions below
Presentation: Fruit Jars by J.B. Young
Topics in this Newsletter (click topic to jump there):
The Raleigh Bottle Club is a non-profit organization that provides a forum for area antique bottle collectors to get together, talk bottles, buy/sell/trade, organize club digs, and just have fun. The club also serves the community by answering bottle questions and sponsoring an annual Bottle Show and Sale. The public can bring their bottles to club meetings for free appraisals and possibly sell them.
Current 2001/2002 officers:
David Tingen
President
John Arnold
Vice-president
Frank Bishop
Secretary
Reggie Lynch
Treasurer
Newsletter Editor
Show Chairman
Ronald Hinsley
Co-Show Chairman
All past newsletters are stored on the club web page for quick&easy reference, so there is no need to print and save them.

Meetings are open to the public, so drop by and check us out. We hope you'll consider joining the club. Club members receive the monthly newsletter, run free ads, and participate in all the fun and benefits the club has to offer.
Business & Misc
21 people attended the Jan 8 meeting at Clancey & Theys in downtown Raleigh.

December minutes were approved along with with Dec treasurer report.

Club approved next meeting for Tue Feb 5 7pm at Clancey & Theys in downtown Raleigh (our regular spot). Feb presentation will be J.B. Young on Fruit Jars and other bottles in his collection. For future presentation possibilities, see below.

Spring show was discussed - see below.

Reggie discussed plans for our club presentation at the Raleigh Museum Sat Feb 9 2:00-2:45pm. Jack Murdock has agreed to present for 30 minutes from his extensive Raleigh collection, giving the local history of each bottle. Jack really knows his Raleigh history and has the best Raleigh bottles, so this will be something to see. The remaining 15 minutes to be used by Reggie and any other club members. Pem agreed to provide some items, as well as Randy Kiger. Members should bring their Raleigh bottles to the Feb 5 meeting if they will not be at the Sat presentation. Reggie has insurance in case anything happens to them; just need a list of your items and value of each.

Agreed to start wearing name badges at club meetings. Badges will be filled out at Feb meeting with name, city, and collecting interest of each member. A badge draw will be held at end of meeting when badges are turned in; winner gets 5 raffle tickets for a future raffle.

Discussed having bottle bingo, but the idea was not popular. But we did decide to start putting raffle bottles in paper bags so there would be some randomness to who won what.

Reggie has made several contacts to the News & Observer for free publicity. While they did agree to put our Feb 9 Raleigh City Museum and Apr 27 Raleigh Bottle Show events on their calendar, we have not been able to score a feature article (yet).

Club voted and approved having Fall Festival again the first weekend after flea market reopens following State Fair, which I'm told is Nov 9 this year. Anyone interested in handling the show chairman position for this festival with help from Reggie?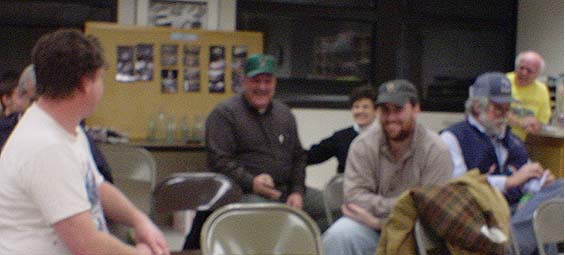 Charles Batton entertained the group with a realistic turkey call in the photo above. Turns out he was the 1987 National Hollering Champ down in Spivey's Corner, NC. Charles was on the Johnny Carson show doing his farm animal sounds and became quite the celebrity.
If you were watching WRAL-TV news at 6:20pm on Thu Jan 24, you would have seen member Donnie Medlin interviewed on his extensive Pepsi collection and noted as the top Pepsi bottle collector in the world. I recorded this on VCR tape if anyone wants to view it. Picture on front of newsletter is a scene from the interview.
President's Message
David Tingen suffered a nasty fall from a ladder just before Christmas. He broke several pelvic and rib bones. His recovery will take several months. We wish him a speedy recovery.
Membership - Renewal - Directory
We added 3 new paying members in Dec/Jan: Howard McDaniels, Rhors Keith, Jerry Roughton. Total paid members: 95.

The 2001 Club Directory was handed out to members at the Dec 8 meeting. Remaining members will receive theirs by mail.

Thanks to these members who have recently renewed: Bill McConley, Bill Wrenn.

Dues are $10 individual, $15 family. To join the Raleigh Bottle Club, please use the Membership Application web form or contact Reggie for a printed copy. The club newsletter is distributed to over 600 people, mostly in NC and the surrounding states. Members can place free ads, which will be seen by a large number of collectors in our area.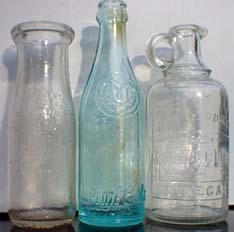 Raffle
The January raffle raised $30 for the club. At right is a photo of some of the raffle bottles being offerred at our Feb 5 meeting. From left to right they are: creamer from Oak Grove Dairy Farm in Windsor NC, ice blue Mint Cola from Rocky Mount NC (dug by Charles Batton), and pint size White House Vinegar jug. Raffle will include other bottles to be furnished at meeting.

Club members are encouraged to bring in bottles for the raffle we will have at each meeting. The raffle is fun for everyone and helps add money to the club treasury. For nicer bottles, the club treasury can reimburse the wholesale cost to the donator. Contact the treasurer before the raffle to make arrangements.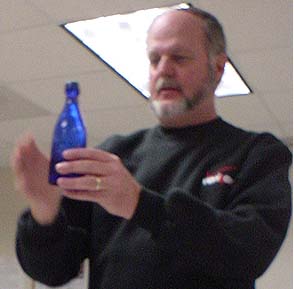 Show & Tell / Bottles For Sale
Members are encouraged to bring bottles into meetings for show and tell. These bottles are good candidates for pictures and maybe stories in our newsletter. But it's also a lot of fun to share and is a big part of what our hobby is about.

Members are also encouraged to bring in bottles for sale, since the opportunity to buy nice bottles is another reason people come to meetings.

At right Frank Bishop shows a cobalt blue Francis Dusch soda from Richmond, VA. Here's some other show & tell bottles from the January meeting:
| | |
| --- | --- |
| Reggie showed this BIM crown top soda embossed on front with picture of a standing bear and the words Gin Gera / 7 OZ. / BOTTLED BY / GIN-GERA / BOTTLING WORKS / GREENSBORO, N.C. and embossed on back with picture of bear with serving tray and the words Gin Gera / THIS BOTTLE NEVER SOLD. Click to see full views of front and back. | Bottles offerred for sale by Charles Batton, including many that he recently dug. |
| Reggie showed this BIM crown top soda with circular slug plate embossed ELLINGTON'S / MINERAL SPRINGS / STONEVILLE, N.C.. | Show and tell bottles by Frank Bishop and Reggie Lynch. |
Raleigh Spring Show Plans
Need members to sign-up for these show positions:
Postcard mailing - Donnie Medlin graciously agreed to stamp/label/mail the show postcards. Reggie will bring the labels and postcards to the Feb meeting. Reggie will also bring color posters and postcards to give members so they can be put up in area antique shops.
Fairgrounds Signs - need someone to builds signs to be placed on the Fairgrounds. Reggie obtained permission for us to put out signs on the fairgrounds (flea market, Scott and Graham builings) that directs people to our free show at the Holshouser Building. Only requirement is that we pick up signs after the show, which we should do anyway so we can reuse them next year. The signs should be made of 2 2½x4' sheets of plywood that are hinged at the top (for easy folding). Also need 1' legs that can be made from 2x4s. Wording on each side of sign should be "ANTIQUE BOTTLE / & COLLECTIBLES / SHOW & SALE / TODAY 9am-3pm / HOLSHOUSER BLDG / FREE ADMISSION". Use red words on white background. Leave area at top of each side where we can affix an arrow pointing to the Holshouser Building. David Tingen says he has plywood and 2x4's that we can have free for building the signs.
Fairground banners - need someone to order two banners to be placed on the fences outside the Fairgrounds. Need one banner on the Blue Ridge Rd side and other on the Hillsborough Rd side.
Road signs - Our signs from last year will be modified and placed on the area roads. Need volunteer to place the road signs early Sat morning, then pick them up after the show.
Show Program - someone to sell ads and produce program to be be distributed day of show. The Delmarva club made $3,000 from their show program for Nov 2001 show. This can be quite a boost to club and give us the funds to sign up for Scott Bldg next year.
Display Chairman - someone to sign up collectors for displays, handle displayer needs (electrical, table or not), order ribbons for 1st/2nd/3rd (Reggie has already ordered Most Educational and People's Choice ribbons), pick judges, and award the ribbons.
Table Setup - someone to help Reggie tape signs to each of the dealer tables. Will do this on Fri before show.
Dealer Packages - Chuck Peterson has agreed to help Reggie prepare the packages distributed to dealers on day of show, which includes badges and survey.
Show Survey - someone to prepare the survey and tabulate the results. Feedback from last year's show was helpful in insuring the success of this year's show.
Admission Table - need two people to run the admission table at the front entrance from 6-9am. Hand out dealer packages, sell early admission, and insure only dealers 6-7:30am and early buyers after 7:30am at the front entrance.
Door guards - need 3 people to watch the other 3 doors into Holshouser from 6-9am, and insure only dealers 6-7:30am and early buyers after 7:30.
Welcome Table - need rotating shift of 3 people to run the front entrance table from 9am-3pm. Shifts can be 9-11, 11-1, and 1-3. No admission since free after 9am, but just someone to greet people, get new folks to sign info card, and hand out copies of our latest newsletter with membership application. If show program done, that will be handed out as well.
Dealer packages were handed out during the Jan 8th meeting and initial table assignments accepted.
Since handing out the initial dealer packages at the meeting, Reggie went to the fairgrounds and got their security to agree to open gates 6 & 7 along Youth Center Road at 6:00am the day of the show. This will allow our dealers an easy way in (and right beside the Holshouser building) without waiting in the line that typically forms outside gate 9 at Trinity Road.
The dealer packages were mailed with this revised gate info. Every dealer from our Apr/Nov 2001 shows was mailed a package. In addition, Email announcement of the show was sent to about 600 people. Dealers from our last year's shows will be guaranteed a table if their signed application with payment is received by Feb 5.
Reggie plans to distribute our dealer package to dealers at the upcoming Columbia SC (Feb 15) and Baltimore MD (Mar 3) shows.
Full show package with contract, maps, and more (this is the full dealer package) can be found on our club's show page:
www.antiquebottles.com/raleigh/Apr2002Show
Reggie submitted our club's show package to AB&GC magazine so our 1/4 page display ad should run in the Feb/Mar/Apr issues. Our show will also be listed in AB&GC plus Bottles & Extras magazines for the Feb/Mar/Apr issues. Reggie has submitted our show info to area and regional magazines for publication in the calendar of events.

Have found insurance coverage for show and club meetings at $350 per year. After officers review policy and approve, it will go into effect March 1.

Reggie has reserved 135 8' tables (127 dealer, 6 display, 2 entrance) plus 240 chairs from the fairgrounds. The fairground staff will set up the tables according to our floor plan on Friday before the show. Nice we don't have to do that setup work this time, and they even break them down and clean up.
Recent Finds
If you have any recent finds to post here, or just want to share a favorite bottle, please submit info to the newsletter editor Reggie Lynch. Some pictures can be clicked to see a closeup view.
CASPER'S/ MADE BY HONEST / NORTH CAROLINA PEOPLE / WHISKEY cobalt whiskey with most of the original label. Recently won on eBay by Corky Shore.

front reads From the Casper Co.inc. Roanoke Va. Lowest Priced Whiskey House Write for Private List our plant covers 14 acres. and back reads Casper's Whiskey Pleases Mild Mellow Enchanting. Click to see picture of back.

SUPERIOR SODA WATER with embossed eagle and graphite pontil base.

Also called the Charleston (SC) Eagle soda. Sold recently for $811 on eBay.

Taka-Cola serving tray that sold recently on eBay for $77. Click to see closeup view of bottle the lady is holding.

SCOTTSVILLE / DISPENSARY / SCOTTSVILLE, VA pint flask that sold recently for $272 on eBay.

The Aronhime Distilling Company U.S. Registered Distillery No.276 Roanoke - - Va.

3" tall mini jug that sold recently on eBay for $177.

Compliments of Lee & Broughton, Raleigh, N.C.
3 1/4" mini-jug with handle missing that sold recently on eBay. Proud winner was Jack Murdock.

Member David Jackson recently picked up this labeled Chestnut Flask. Click to see label size.

This half pint SC DISPENSARY rum sold on eBay recently but reserve was not met. See close up showing the nice embossing.

Checker-board style Pepsi=Cola from Lynchburg, VA that sold for $460 on eBay.

Raleigh Pepsi=Cola in diamond logo (RA8 in Ayer's) that sold recently on eBay for $196.

S.C.DENNIS & CO. / HILTON HEAD / S.C.

Rare blob top soda that sold recently by Peyton Youmans for $1,500.

Greensboro NC Pepsi with "Delicious Healthful 5 cents" that sold recently for $940 on eBay. GR1 in Ayer's Pepsi book. Click to see full view.

Bowling pin style Pepsi=Cola from High Point, NC sold recently on eBay for $2,635.

P. STUMPF & Co 1817 MAIN ST RICHMOND VA 8" amber beer with original closure sold recently on eBay for $710.
Presentation
No formal presentation this month, but I did stop by W.K. Richard's Oakwood Antique Mall at their new location. W.K. had some fancinating bottle-related advertising pieces that you just don't see.
| | |
| --- | --- |
| A view of W.K.'s shop. | Garret & Co Wine: |
| "Pride of North Carolina Corn Whiskey" sign by D.E. Arey Distilling in Salisbury, N.C. (sorry for glare) | Hick's Capudine serving tray with "Effects Immediately". |
| "Baseball Liniment" by Pearson Remedy Co in Burlington, NC. | Hick's Capudine serving tray with "Prompt Results". |
If you want to stop by and check out W.K.'s shop, his Oakwood Antique Mall is now located at 1653 Old Louisburg Road near the Dunkin Donuts on Capital Blvd (less than a mile from the old location), phone: (919) 834-5255.
Future Presentations
Looking for other people to sign-up for presentations at future meetings, so please let us know when you would be willing to present. Presentations can be 5 to 60 minutes in length, and you can pick most any topic related to bottles and go-withs. There will be no presentation at the first meeting of each quarter to allow more time for chatting and buying/selling. May get Jimmie Wood to do ACL's and Charlie Perry to do White House Vinegar? Vernon Capps has offered to do USA Hospital bottles in Mar. Russell Griffin has offered to do Coke bottles. Sonny Howell has offerred to do a Sat presentation at Granddaddy's. John Patterson has offered to do a Sat presentation on NC milk bottles at Granddaddy's. Jerry Roughton wrote the book on NC medicines and has agreed to do a presentation on this topic and NC saloon tokens. Will Gorges may present on Civil War era. Talked about a Spring picnic and presentation at Donnie Medlin's house in Louisburg.
Meeting Location
Regular club meetings are held 7-9pm on the first Tuesday of each month at Clancy & Theys Construction Company where club member John Arnold works. Company is located at 516 W. Cabarrus Street in downtown Raleigh (near the AmTrak station). Park in back of building. Call John Arnold on his mobile phone at (919) 427-0334 if you get lost.

Directions from the 440 Beltline: Take Glenwood Ave exit and head in town (away from Crabtree Valley Mall). Cross bridge over Wade Ave and turn right to "clover leaf" onto Wade Ave heading downtown. Merge right onto Capital Blvd heading downtown. Capital Blvd becomes N. Dawson St. Continue 0.7mi and turn right onto W. Cabarrus St. Cross railroad tracks, and just pass the Amtrak Station on right is #516 "Clancy & Theys Construction Co" - park behind building.

Directions from I-40: Take S. Saunders St exit and head North into downtown Raleigh. S. Saunders will turn into S. Wilmington St. Go pass Memorial Auditorium, then 2 blocks later turn left on W. Davie St., left on Dawson St, and right on W. Cabarrus St. Cross railroad tracks, and just pass the Amtrak Station on right is #516 "Clancy & Theys Construction Co" - park behind building.

You can also see directions on the Internet via www.mapquest.com by entering the "516 W. Cabarrus St, Raleigh, NC" address.
Agenda for the next meeting
Bottle sales/trades till meeting starts (helps to arrive a little early).
Sign-in sheet for attendees- introduce newcomers.
Fill out badges for each member with name, city, and collecting interest. Badges to be worn at meeting and turned in at end.
Approve treasurer report and previous minutes in newsletter.
Request articles for upcoming newsletters.
Collect ads to run in the next newsletter. Current ads run for two months and must then be renewed. Just let Reggie know if you want to renew your same ad.
Confirm date of next meeting as Tue March 3 7pm at Clancey & Theys in Raleigh.
Discuss Spring Show. Accept dealer applications and allow dealers to pick their spot. Assign show committees. Hand-out posters and cards for members to distribute in area antique shops.
Report by Frank Bishop on status of non-profit application.
Meeting presenters - sign-up people to do presentations of their collections at future meetings.
Discuss doing Feb 9th bottle presentation at Raleigh City Museum. Collect bottles to put in the presentation (they will be insured). Need volunteer to tape the presentation so we can have a recording for club library.
Open discussion, announcements, digging stories, show & tell, latest bottles aquired, show reports, ...
Invite a member to tell story of how they got started in bottle collecting.
Setup/announce any raffle bottles. The club can reimburse a nominal amount for nicer bottles - see treasurer in advance.
Setup/announce any auction bottles. The seller can set a minimum bid with the amount above the minimum going to the club. So please bring any bottles you want to auction (limit 5 per seller).
Sell raffle tickets ($1 each, 6 for $5) while presentor gets ready. Also a good time to examine the raffle and auction bottles.
Presentation.
Auction any bottles being offerred.
Draw winning tickets for the raffle. 1st winner gets first choice and so on till all bottles are gone. Put top bottles in paper bags to mix it up (JB bringing bags).
Turn in badges and have badge drawing. Winner gets 5 raffle tickets good toward any future raffle.
Conclude with Swap Meet - announce who has bottles for sale. Each person is encouraged to bring in bottles for sale/trade. Please limit yourself to a maximum of 4 boxes. Tables will be provided where bottles can be displayed for show or sale.
Member Ads
Ads are posted here free of charge to club members. Submit ad info to club secretary for inclusion in the next newsletter. Ads run for 2 months, then must be renewed to continue.
Wanted: NC stencil jugs, NC strap-side flasks, shot glass, cork screws, any mini-jugs, anything saloon, error fruit jars, "when empty return to:" jugs. Bill Wrenn, (706) 769-8995, Email: minijug@aol.com.

Wanted: bitters, cures and all NC bottles. Ronald Hinsley, (919) 362-7251, Email: henryhins@webtv.net.

Wanted: old PEPSI COLA items and old bottle collections. Bill Clark, 105 Sorrell Grove Church Road, Morrisville, NC 27560, (919) 467-0488.

Wanted: IVEY DAIRY / GRAHAM, NC bottle, MELVILLE DAIRY war bonds, MELVILLE DAIRY baby bottles, HILLSBORO DAIRY items. Larry Pedelty, 2225 Cherry Lane Rd, Haw River, NC 27254 Email: milkman2@mindspring.com

Wanted: Virginia Bottles, any type (Milks, Sodas, Beers, Lithia etc). Judy Foles, (804) 798-7502 or Email: judyfoles@mail.com

Wanted: New Bern related bottles pre-1900 ; anything Civil War, especially North Carolina. Will Gorges, Phone (252) 636-3039, Email: rebel@civilwarantiques.com, Web: www.civilwarantiques.com

Wanted: center slug plate script Coca-Cola and Pepsi bottles in undamaged condition. Reggie Lynch, Email: rlynch@antiquebottles.com, phone: (919) 789-4545.
Check out my bottles for sale on the Internet www.antiquebottles.com/rl/ and in booth 615 at Granddaddy's Antique Mall in Burlington, N.C.
Calendar of Events and Upcoming Shows
Also see Antique Bottle Shows, AntiqueNC.com, NC State Fairgrounds Calendar of Events, NC Festivals and Fairs, Southeastern Antiquing & Collecting, Raleigh OnLine.
Feb 2, 2002
Rome, GA
Rome Antique Bottle & Collectibles Club's Annual Show & Sale, Sat 8am-3pm at the Rome Civic Center, Turner McCall Blvd, Rome, GA. Info: Jerry Mitchell, PO Box 475, Bremen, GA 30110, Phone: (770) 537-3725 or or Bob Jenkins, 285 Oak Grove Rd., Carrollton, GA 30117, PH: (770) 834-0736.
Feb 3, 2002
South River, NJ
New Jersey Antique Bottle Club's 6th annual show Sun 9am-2pm at the Knight's of Colombus Hall, 88 Jackson St, South River, NJ. Info: Joe Butewicz, NJABC, 24 Charles St, South River, NJ 08882, (732) 238-3238, Email: joseph.butwewicz@bms.com or Ernest Bower, (732) 868-0510, Email: botlman@aol.com
Feb 9, 2002
Sarasota, FL
Sarasota-Mannatee Antique Bottle Collectors Association's 16th Annual Indoor Show & Sale, Sat 10am-4:00pm (dealer setup 7:30-10am) at the Boys & Girls Club at the East end (immediately adjacent to the) Sarasota County Fairgrounds, 3100 Fruitville Rd. Info: Ed Herrold, PO Box 3105, Sarasota, FL 34230, (941) 923-6550.
Feb 9-10, 2002
Raleigh, NC
"Pieces of the Past - Antiques Symposium" at the Raleigh City Museum at 220 Fayetteville Street Mall in downtown Raleigh. Sat 11am-5pm, Sun noon-4pm. Our Raleigh Bottle Club will be doing a 2:00-2:45 presentation on Sat Feb 9th. Museum's phone: (919) 832-3775, web: www.raleighcitymuseum.org
Feb 15-16, 2002
Columbia, SC
South Carolina Antique Bottle Club's 28th annual Show & Sale Fri/Sat. This year show will be a new location at Meadowlake Park. Showtimes will be Friday from 12 noon till 7:30pm. Saturday will open at 9 and go till 2:00. This is a 1/3 larger facility that has no parking problems. It is located off I-20 at exit 71. This is the North Main St exit on Hwy 21. Travel north to the first stoplight after the intersection. Turn right on Beckman Rd and the gym is there on the right. This location is only 3/8 of a mile off I-20 which will make it an easy find. Expect to sale 145 dealer tables. Show flyers will be mailed after Christmas. Email Eric Warren SCbottles@aol.com, 238 Farmdale Dr, Lexington, SC 29073, Phone (803) 951-8860.
Mar 3, 2002
Baltimore, MD
Baltimore Antique Bottle Club 22nd Annual Antique Bottle Show & Sale (Sun. 8 AM - 3 PM) at Essex Community College, 7201 Rossville Blvd., Baltimore, Maryland. Info: Bob Ford, (410) 531-9459, Email: antiquebottles@home.com
Mar 16, 2002
Deland, FL
The DeLand MT Bottle Collectors Assoc 32nd Annual Show and Sale, 9am-3pm at the Volusia County Fairgrounds, I-4 and S.R. 44 (exit 56), DeLand, FL. Info: M. Pallasch, 7 Monroe Ave, DeBarry, FL 32713, (407) 668-4538.
Mar 23, 2002
Daphne, AL
Mobile Bottle Collectors Club, 29th Annual Show & Sale, (9 AM to 5 PM, at the Daphne Civic Center, Whispering Pines Road and U.S. Hwy. 98, Daphne, AL. Info: JIM SIMMONS, 8851 Four Mile Road, Irvington, AL 36544, PH: (251) 824-2697, Email: josphs@email.msn.com or ROD VINING, 8844 Lee Circle, Irvington, AL 36544, PH: (334) 957-6725, Email: vinewood@zebra.net
---
This web page hosted by the Raleigh Bottle Club