Raleigh Bottle Club - March 2001 Newsletter
The club meets the first Tuesday of each month. Next meeting: Apr 3, 2001
Meeting will be at same location - see details below
Presentation: David Tingen on Cleaning/Tumbling Bottles.
Topics in this Newsletter Issue: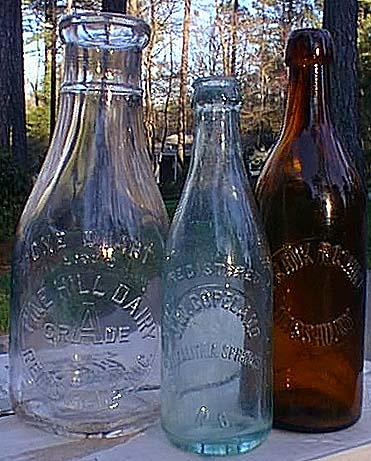 The Raleigh Bottle Club is a non-profit organization that provides a forum for area antique bottle collectors to get together, talk bottles, buy/sell/trade, organize club digs, and just have fun. The club sponsors an annual Bottle Show and Sale. The next show is April 28, 2001. Current officers: President: Jack Murdock, Vice-president and Co-Show Chairman: David Tingen, Secretary/Treasurer and Show Chairman: Reggie Lynch. Info: Reggie Lynch, Web: www.antiquebottles.com/raleigh/. All past newsletters are archived on this web page.
Meetings are open to the public, so drop by and check us out. We hope you'll consider joining the club. Club members receive the monthly newsletter, run free ads, and participate in all the fun/benefits the club has to offer.
Business
24 people attended the March 6 meeting. We added 6 new paying members in Feb/Mar: Cecil Munsey, Charlie Perry, Isabel Sherwood, Ronald Pendergrass, Ricky Edwards, Robert Holloman. Total paid members: 58. Dealer tables sold so far: 79 (17 remaining). Display tables signed up so far: 5 (1 remaining). February minutes were approved.

Raffle bottles for April 3 meeting: BIM slug plate soda embossed "J.W. COPELAND / ALKALITHIA SPRINGS / N.C.", slug plate milk embossed "PINE HILL DAIRY / REIDSVILLE, N.C.", and amber slug plate blob top beer embossed "FRANK ROSHIRT / NASSAU, N.Y.", plus other bottles to be added later. JB Young discovered that Alkalithia Springs no longer exists. Also called All Healing Springs, it was discovered in 1882 and remained in business till 1911. Location was in West Alexander County, NC.

The full show package for our April 28th show is available online at our club page www.antiquebottles.com/raleigh/ or by request to Reggie.

Reggie, Sterling Mann, and David Tingen are posting our color club flyers and placing info card stacks wherever allowed in area antique shops. Another idea is large apartment complexes which have a mail room that is appropriate for posting the color flyers.

Here's the list of people who have signed-up for show committees:
| | | |
| --- | --- | --- |
| Task | Primes | Detail |
| Friday room setup | Chuck Peterson, Bill Clark & friend, J.B. Young, Ronald Hinsley, Sterling Mann, John Arnold, Rex McMillan, Whitt Stallings, Dean Haley, Jerry Higgins. | arrive Friday 4:30pm to unload tables, setup tables and chairs per layout, apply table covers, number tables per layout, setup and rope off display area |
| Saturday open up | Jack Murdock, John Arnold | arrive by 6:00am Saturday to open building, help dealers as needed, last minute changes in any tables or chairs |
| Security/dealer unload | Jack Murdock, Rex McMillan | assist dealers in unloading and parking, check for badges at dealer entrance, be traffic cop as required - don't let the dealer entrance get blocked with unattended cars, help maintain 7:00am start time for dealers to place bottles on tables, close loading door at 9:00 (sooner if it gets windy). |
| Dealer breakfast | John Arnold, Jack Murdock | contac caterer prior to show, arrange for voucher exchange, insure caterer iis on time and in good place to serve, assure caterer can handle breakfast, lunch, snacks - review menu. |
| Admission table | Judy Tingen, Linda Lynch | Arrive at table by 6:00am Sat, handout dealer/displayer packages with badges, sell early admission badges, collect general admission and stamp people who want to return later, sell raffle tickets after 9:00am (for drawing at 2:00), refer appraisal requests to designated dealer list, both people on table until 10:00am and rotate after that. |
| Advertising | Reggie Lynch, Sterling Mann, Frank Bishop (Durham paper), Jack Murdock | run news paper ads and local antique publications, arrange for News & Observer article on club/show, post ads in public places (grocery stores, apartment mail rooms, etc) |
| Table rental, covers | David Tingen | arrange for table rental and delivery/pickup, buy table cover material, get rope stands to screen off displays, PA system |
| Signs | Rex McMillan, Jack Murdock | purchase and place signs, see David Tingen for locations and number of signs. |
| Table break down | same group as setup | Be available by 4:00pm Sat or as dealers leave, fold/stack tables/chairs for rental pickup, fold/store tables/chairs that stay at Armory, area cleanup |
| Badges, table tags | Reggie Lynch, Frank Bishop (copies), Chuck Peterson | print and load dealer packages before show, have table numbers available prior to Friday setup, print show badges for Dealer, Displayer, Early Buyer, and Show Official |
| Show Program | Linda (& Reggie) Lynch | design and layout show program, sell and collect for ads, solicit help from members to sell ads, print copies of show program for free handout during show |
| Display | Jack Murdock | Manage the display area, keep display area secure (noone past the ropes), print ribbons for 1st/2nd/3rd and participation, Reggie has most educational ribbon from FOHBC, select judges, make/distribute display guidelines to displayers before the show (use FOHBC guidelines where possible), award ribbons before noon Sat. |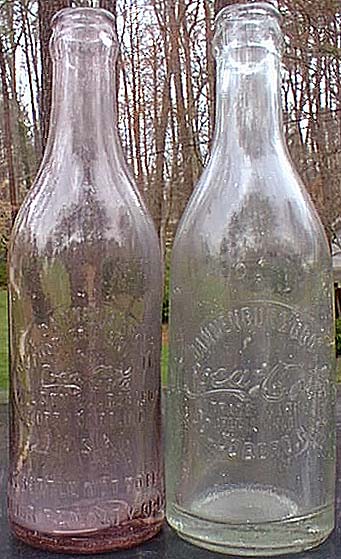 Reggie brought these two Cokes in for show & tell. Both are circular slug plate. The one on left has a pink tint and is embossed "E. DANNENBERG / AUTHORIZED BOTTLER / OF / Coca-Cola / WILSON-GOLDSBORO / NORTH CAROLINA / U.S.A.". The one on right has a green tint and is embossed "DANNENBURG BROS / Coca-Cola / TRADE MARK / REGISTERED / GOLDSBORO, N.C.". Note that slightly different spellings of Dannenberg vs Dannenburg, but assume this is the same family. The left bottle is the only script Coke with "U.S.A." embossing.
Remember to bring in bottles that can be given as gifts to kids that attend the show. A special table will be setup across from the admission table where these bottles can be distributed. You can bring bottles ahead of time to Reggie, or just put them on the give-away table the morning of the show.
Deadline for submitting Show Program ads has been extended to April 10. All dealers and displayers signed up as of April 10 will also be included in the Show Program, along with the current list of club members. The Show Program would be a good opportunity to advertise what you collect/sell and support the club. Also need someone to write a feature article to be published in the Show Program on any area of NC bottle collecting.
A complimentary show program ad has been given to Clancey & Theys Construction in appreciation for the great (and free) meeting place they provide us.
Browsing around on the Internet, Reggie found this web page on Soda Bottles from NC. The NC list has a pretty comprehensive list of NC Soda bottles. Anyone have a better list?
The club raffle saw David Tingen walk away with the Raleigh script Pepsi, and other members won the 8 other bottles provided. In the previous raffle, an identical labeled Mullen's sold for $81 on eBay which just shows that raffle bottles can be a good investment.
Club members are encouraged to bring in bottles for the raffle we will have at each meeting. The raffle is fun for everyone and helps add money to the club treasury. For nicer bottles, the club treasury can reimburse the wholesale cost to the donator. Contact the treasurer (Reggie) before the raffle to make arrangements.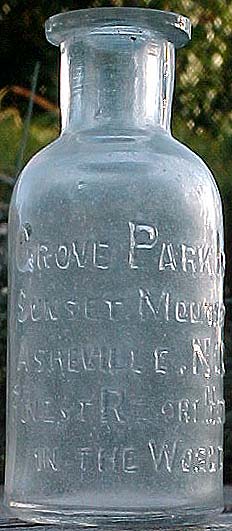 Bottle to right recently appeared on eBay. Following was taken from item description as posted by seller janix. Extremely rare sample bottle from the Grove Park Inn in Asheville, NC. When the Inn first opened in 1913, Edwin Grove had bottled samples of his famous "Groves Tasteless Chill Tonic" placed in each room. These are the botles that were used for the samples. A great advertising gimic for both the Inn and the Chill Tonic. This cork-top bottle stands 3" high and reads "Grove Park Inn / Sunset Mountain / Asheville, N.C / Finest Resort Hotel In The World". Info and photo courtesy of Ken, Email janix@prodigy.net
Members are encouraged to bring bottles into meetings for show and tell. These bottles are good candidates for pictures and maybe stories in our newsletter.
Looking for other people to sign-up for presentations at future meetings, so let us know what you would be willing to present. Presentations can be 5 to 60 minutes in length. As a standby, Reggie can do 3 more presentations on 1: Bitters and Whiskeys, 2: Sodas (mostly blob, some crown), and 3: Medicines.
Bottle Etiquette
The Baltimore Bottle Club http://www.antiquebottles.com/baltimore/ presented the following rules on Bottle Etiquette in their February 2001 newsletter. I think everyone will agree these are good rules to live by:
Follow through on commitments. If you promise to sell a bottle to someone or quote a price, stick to it. Your reputation is only as good as your word.

Be respectful to other people's property. Pick up items on sales tables with care. If you damage an item, be prepared to pay for it. Never pick up other people's collections or display items without their permission.

Be honest in your dealings. Point out flaws, reproductions, repairs, descibe things accurately (every bottle is NOT rare or one of a kind). In the long run you'll make more money if collectors have confidence in you and your merchandise.

Respect other people's transactions. If you see a prospective buyer with a bottle you want in his/her hand, most people would consider it crass (and rude) for you to shout out to the dealer a higher offer. It is an unwritten rule that the bottle is the prospective buyer's until he/she sets it down and walks away. Violate this rule, and you'll make an enemy for life.

Give back to the hobby. Be willing to answer questions, help out at your bottle club, have fun and make the bottle world a better place for all.
Reggie has published this info on a new web page at: http://www.antiquebottles.com/etiquette.html
---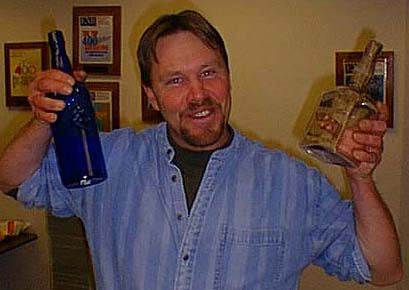 Presentation
Presenter was David Jackson who graciously made the trip down from Greensboro. David began with some captivating stories about diving for bottles in Wilmington. There were lots of treasures to be found groping along the bottom of the Cape Fear River in water so dark you couldn't see your hand in front of you. In the dark you quickly learned how to tell by sound/feel whether you found a soda, whiskey, or other bottle. There were also perils in the dark water: eels, crabs, and snapping turtles which were none too happy when you grabbed one of them.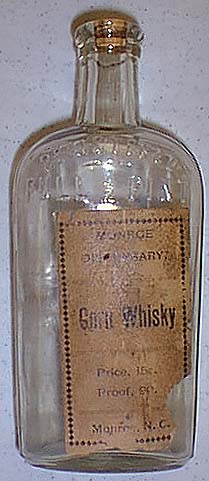 David talked of the amber Wilmington NC Pepsi bottle he use to have. This stirred up some intense interest, especially amongst the more skeptical who want to see the bottle in person before they believe it exists. Anyone out there got one to show off? Would be a nice addition to Ayer's Pepsi book and is without a doubt the best NC Pepsi bottle.
David show his two cobalt Casper's whiskies: a "HONEST PEOPLE" and a 4 cities. Casper's moved from Winston Salem to Roanoke in 1905, in anticipation of NC becoming dry. In 1908, NC did go dry years before the national prohibition era started. David showed some nice framed ads for Casper products. Casper mini-jugs can be found in FL and AK where Casper's had franchises. "Checker's Medicines" was apparently a Casper's products - anyone know for sure?
David showed a clear square ladies leg neck whiskey embossed "SOL BEAR & Co / WILMINGTON N.C." and a pint slug plate whiskey embossed "B.F. ROBERTSON / MADISON, N.C.", a very rare bottle.
David showed a "MONROE DISPENSARY / MONROE, N.C." strap whiskey flask with original paper label, which is the only NC Dispensary bottle he has every seen with a Dispensary label. This bottle is pictured.
Next was clear square ladies leg whiskey embossed "ATLANTIC CAFE / .. WILMINGTON, N.C.", a pint size KINSTON DISPENSARY, and a 1/2 pint aqua strap flask with embossed anchor and the words "S.J. McCAULEY / WINES & LIQUORS / GREENSBORO, N.C.".
David also presented a wide variety of DRAKE'S PLANTATION BITTERS in a variety of colors like puce and a olive tone. Afraid my picture of these did not come out.
David proposed the idea of a club dig in Wilmington, NC. Anyone interested? David can be contacted via Email: trixter@nr.infi.net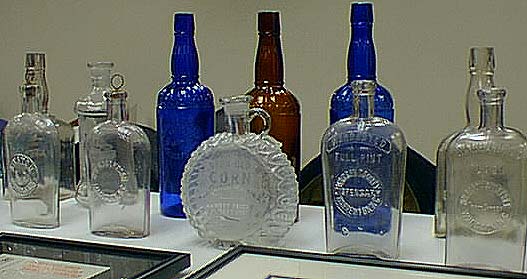 ---
Next Meeting Location
The next club meeting is Tuesday April 3, 2001 7-9pm at Clancy & Theys Construction Company where club member John Arnold works. Company is located at 516 W. Cabarrus Street in downtown Raleigh (near the AmTrak station). Park in back of building. Some signs should be posted to help you find it. Call John Arnold on his mobile phone at (919) 427-0334 if you get lost.

Directions from the 440 Beltline: Take Glenwood Ave exit and head in town (away from Crabtree Valley Mall). Cross bridge over Wade Ave and turn right to "clover leaf" onto Wade Ave heading downtown. Merge right onto Capital Blvd heading downtown. Capital Blvd becomes N. Dawson St. Continue 0.7mi and turn right onto W. Cabarrus St. Cross railroad tracks, and just pass the Amtrak Station on right is #516 "Clancy & Theys Construction Co" - park behind building.

Directions from I-40: Take S. Saunders St exit and head North into downtown Raleigh. S. Saunders will turn into S. Wilmington St. Go pass Memorial Auditorium, then 2 blocks later turn left on W. Davie St., left on Dawson St, and right on W. Cabarrus St. Cross railroad tracks, and just pass the Amtrak Station on right is #516 "Clancy & Theys Construction Co" - park behind building.

You can also see directions on the Internet via www.mapquest.com by entering the "516 W. Cabarrus St, Raleigh, NC" address.
---
Agenda for the next meeting
Wear name tags.
Treasurer report. Approve report and previous minutes in newsletter.
Request articles for upcoming newsletters.
Collect ads to run in the next newsletter.
Confirm date of next meeting.
Distribute meeting flyers for members to post in area antique shops/malls.
Have someone solicit News & Observer to do article on new club and upcoming show. Would like article to run early April.
Review show committee assignments and responsibilities.
Meeting presenters - sign-up people to do presentations of their collections at future meetings.
Vote on skipping June and July meetings for summer break, resuming in August. Also change from 1st Tuesday of month to 2nd Tuesday to avoid conflict with Granddaddy's free dealer supper.
Decide on when to hold elections for new officers since current terms expire in June.
Open discussion, announcements, digging stories, show & tell, latest bottles aquired, show reports, ...
Setup/announce any raffle bottles. The club can reimburse a nominal amount for nicer bottles - see treasurer in advance.
Setup/announce any auction bottles. The seller can set a minimum bid with the amount above the minimum going to the club. So please bring any bottles you want to auction (limit 5 per seller).
Sell raffle tickets ($1 each) while presentor gets ready. Also a good time to examine the auction and raffle bottles.
Presentation.
Auction any bottles being offerred.
Draw winning tickets for the raffle. 1st winner gets first choice and so on till all bottles are gone.
Conclude with Swap Meet - each person is encouraged to bring bottles for sale/trade. Please limit yourself to a 2 box maximum. Tables will be provided where bottles can be displayed for show or sale.
---
Joining
To join the Raleigh Bottle Club, please use this Membership Application web form or contact Reggie for a printed copy. Printed copies of the newsletter will have a blank application form on the last page.
---
Member Ads
Ads are posted here free of charge to club members. Submit ad info to club secretary (Reggie) for inclusion in next newsletter. Ads run for 2 months, then must be renewed to continue.
Wanted: U.S.A. Hospital Dept. bottles, dug Civil War relics, rare Pepsi bottles & go-withs. Contact Vernon Capps, 2216 Rosewood Rd., Goldsboro, NC 27530. (919) 734-8964.

For Sale: Bottle Books by author: "The Illustrated Guide to Collecting Bottles" 1970 in used condition for $30, "The Illustrated Guide to the Collectibles of Coca-Cocla" 1972 in used condition for $35, and "Would You Believe" 1968 in new condition for $15, shipping+handling included, autographed by request. Contact Cecil Munsey, 13541 Willow Run Road, Ponway, CA 92064-1733. (858) 487-1733, Email: cecilmunsey@home.com

Wanted: Mt Vernon Springs Mineral Water bottle from Ore Hill, NC. Paying top dollar for any size. Contact Tom Kleeberg at (336) 570-1997 (and ask for "Tom").

Wanted: "HICK'S CAPUDINE CURE" in mint condition, label+box a plus. Contact John Wolf, (937) 275-1617, 1186 Latchwood Ave, Dayton, OH 45405.

Wanted: newsletters from the old Raleigh Club to use as historical reference for upcoming club newsletters. Loan to Reggie or any club officer and we will make copies and return originals to you.

Wanted: any rare pre-machine Raleigh NC bottles (not "Rawleigh"). Especially whiskies, sodas, beers, etc. Contact Jack Murdock, (919) 779-9914, 8517 Crowder Rd, Raleigh, NC 27603.

Wanted: quality fruit jars, fruit jar ring boxes, and NC milk bottles. Contact J.B. Young, 1012 Davis Drive, Apex, NC 27502, Phone (919) 362-6596.

Wanted: NC blob top beer bottles in undamaged condition, especially amber colored examples. David Tingen, Email: tingen@interpath.com, Phone: (919) 848-4387.

Wanted: NC straight-sided Coca-Cola and script Pepsi bottles in undamaged condition. Reggie Lynch, Email: rlynch@antiquebottles.com, phone: (919) 789-4545.
Check out my bottles for sale on the Internet http://www.antiquebottles.com/rl/ and in booth 615 at Granddaddy's Antique Mall in Burlington, N.C.
---
Upcoming Shows
Also see Antique Bottle Shows.
Apr 1, 2001
Williamstown, NJ
South Jersey Antique Bottle & Glass Club 30th Annual Show & Sale, 9am to 3 pm, at the Knights of Columbus Hall, Rt. 42, Williamstown, N.J. Info: BOB TOMPKINS, 1731 Hubbard La., Vineland, NJ 08360, PH: (856) 691-5170.
Apr 21, 2001
Panama City Beach, FL
Emerald Coast Bottle Collectors Annual 6th Annual Show & Sale, Sat April 21, 2001 9am-3pm, Setup Fri. April 20 4:00-8:00pm at the Panama City Beach Recreational Complex Highway 98, Panama City Beach FL 32413. Info: Tim Harris 1771 Bradley Road, Westville FL 32464 (850) 956-2040, Email harris@wfeca.net or Alan McCarthy 2415 W. 15th St. 32401 (850) 769-3984 or (850) 784-3903
Apr 22, 2001
Harrisonburg, VA
Historical Bottle Diggers of Virginia 30th Annual Show & Sale, 9am-3pm Sun at the Rockingham County Fairgrounds, US Route 11, South of Harrisonburg, VA. Normally have 60-70 tables. Info: Sonny Smiley phone: (540) 434-1129, 1025 Greendale Rd., Harrisonburg, VA 22801
Apr 22, 2001
Rochester, NY
Genessee Valley Bottle Collectors Association's 32nd Annual Show & Sale, Sun 9am-3pm at the Monroe County Fairgrounds Minett Hall, Route 15A & Calkins Road, Rochester, NY. Info: Terry Woodhams, (716) 436-5893 or Mike Nolan, (716) 352-5519.
Apr 27-28, 2001
Liberty, NC
Liberty Antique Festival has over 300 dealers. A few bottles can be found. From I-85 in Burlington, take the Hwy 49 exit and head south to Liberty. Then follow signs. Put on by Janmar Promotions, PO Box 939, Liberty, NC 27298. Call Vito or Mary Ellen Sico or Janet Hill at (336) 622-3040 or 622-3535.
Apr 28, 2001
Raleigh, NC
NC Antique Bottles & Collectibles Show, 1st show of the newly formed Raleigh Bottle Club. Sat 9am-3pm at the NC Military Center (Armory) located across from NC Art Museum (and near the NC State Fairgrounds). Directions: from I-40, take Wade Ave then exit at Blue Ridge Rd and follow green signs to "NC Military Center" on Reedy Creek Rd. Dealer setup ($20/table) and Early Buying ($15 per couple) will be Sat 7am-9am. Display table setup 6am-9am. $2 general admission. Info: Reggie Lynch, (919) 789-4545, PO Box 13736, Durham, NC 27709, Email: rlynch@antiquebottles.com
May 12, 2001
Mansfield, OH
Ohio Bottle Club's 23nd Annual Mansfield Antique Bottle & Advertising Show & Sale (9am to 3pm) at the Richland County Fairgrounds, Mansfield, Ohio. Info: Bill Koster (330) 753-7607 or Al DeMaison (216) 255-3880.
May 12, 2001
Gray, TN
State Of Franklin Antique Bottle & Collectibles Assoc. 3rd Annual Show & Sale, (9 AM to 4 PM), at the Appalachian Fair Grounds, Gray, TN. Info: MELISSA MILNER, 230 Rock House Rd., Johnson City, TN 37601. PH: (423) 928-4445, or Email: mmilner12@chartertn.net
May 20, 2001
Sturbridge, Mass
Sunday, May 20, 2001 in Sturbridge, Mass. at the Hamilton Rod & Gun Club on Hamilton Rd. Hours are; Early Buyers; 9am to 10am., at $10.00, with General Admission from 10am until closing at 2pm., at $4.00. Dealer set-up will be on Saturday, May 19, from 1pm until 8pm, giving all plenty of time. Set-up on Sunday, May 20 would be from 7am to 9am. Table rentals are $25.00 for the first 8'x30" table, and $20.00 each additional, limit 3 per dealer. The building is spacious and will accomodate over 60 dealers. Dealer contracts and additional information can be obtained from David Graci - P.O.Box 726 - South Hadley, Mass. 01075 Phone (413) 594-8655 or E-Mail: stonebotle@aol.com
June 1-2, 2001
Lumberton, NC
Antique Bottle & Collectible's Show & Sale sponsored by Robeson Antique Bottle Club. Fri 1-9pm, Sat 9am-3pm. New location at the Expo and Farmer's Market, Exit 14 off I-95 in Lumberton, NC. 7000 square foot air-conditioned convention building with excellent lighting & facilities. Crawfish festival next door on June 2.
For info write to Richard Stephens, 1830 Riverside Blvd, Lumberton, NC 28358, Phone: (910) 738-6075, Email: rhstep@carolina.net
or Paul Valenti & Carla Baxley, phone (910) 738-3074, Email: cbaxley@nc.rr.com
---
This web page hosted by Antique Bottle Collectors Haven