Raleigh Bottle Club - May 2001 Newsletter
Club meets the first Tuesday of each month (except July).
Next meetings: Tuesday June 5 and August 7, 2001
Meeting will be at Clancey & Theys Construction - see directions below
Presentation: June - none, August - Reggie Lynch soda bottles.
Topics in this Newsletter Issue:
The Raleigh Bottle Club is a non-profit organization that provides a forum for area antique bottle collectors to get together, talk bottles, buy/sell/trade, organize club digs, and just have fun. The club also serves the community by answering bottle questions and sponsoring an annual Bottle Show and Sale. Next club show is April 27, 2002. Current officers: President: David Tingen Vice-president: John Arnold, Secretary: Frank Bishop, Treasurer / Newsletter Editor / Show Chairman: Reggie Lynch, Co-Show Chairman: Ronald Hinsley. Info: Raleigh Bottle Club, Web: www.antiquebottles.com/raleigh/. All past newsletters are archived on this web page.
Meetings are open to the public, so drop by and check us out. We hope you'll consider joining the club. Club members receive the monthly newsletter, run free ads, and participate in all the fun/benefits the club has to offer.
Business
23 people attended the May 1 meeting. We added 4 new paying members in April: Warren Harris, Emil Sparger, Sonny Howell, and Glenn McGirt. Total paid members: 64. April minutes & financial report were approved.

Motion made and passed to hold a club meeting June 5. This will be an informal meeting with no presentation and no newsletter coverage, but there will be raffle bottles (provided by Jack Murdock) and a swap meet. No meeting scheduled for July, so next meeting after June will be August 7.

Freddie Edwards has offerred to do club T-shirts. Donnie Medlin will explore doing this for the club.

Talked about show and feedback heard from the attendees. Overall response was that show was a success and enjoyed by most everyone. Can't tell you all the compliments we received, including "best first year show ever". 101 tables with 65 dealers and club made a small profit. 24 early buyers and about 200 regular paid admissions. This newsletter is full of pictures from the show.

There were some early buyers that were upset that "$15 per couple" only meant couples in a relationship and not you and your digging/show buddy. This will be clarified next year to something like "$15 per person - spouse free" to avoid the confusion.

The Show Program was enjoyed by each person who attended the show. Many good articles and a fair number of ads, but next year we need to try selling more ads. Without the show program, it would have been difficult to see a profit from the show.

Appears many dealers were upset by having to setup while early buyers came in. Dealers prefer having time to setup and shop before the early buyers come in. Possible change to next year's show would be to allow dealer's to optionally unload (boxes under table) Friday 6-8pm, then setup (bottles on table) 6-9am Sat with early buyers in at 7am Sat. Show for public would run 9am-3pm, but allow dealers to start packing at 2pm.

Donnie Medlin agreed to send out surveys to dealers and collect the results so we can see what dealers would like to change about the show. Reggie provided Donnie with mailing labels for all 65 dealers.

One thing that everyone agreed on was that our displays were wonderful. All 6 display tables were top notch stuff, which made the judging difficult. Pictures of each display and other shots from the show are below in the Presentation section.

After much discussion about changing location of show to the fairgrounds, it was finally voted on and approved to have the next show at the same location (i.e. NC Military Center) and date (Sat April 27, 2002). Will keep our show on the last Saturday of the month to coincide with the Liberty Antique Festival, which next Spring will be Fri/Sat April 26/27 2002.

Some finds from the show were discussed. Reggie showed a script straight-sided with center slug plate embossing from Wilmington, NC. Reggie also showed a "CHECKERS / MAKES PEOPLE NEW ALL OVER / CHECKERS MED, CO / WINSTON-SALEM, N.C." with partial label for Casper's Whiskey. Jack Murdock picked up a Bobbitt's Liniment bottle from Raleigh that noone had seen before. Ronald Hinsley picked up 2 hutches and a seltzer from Wilmington. David Tingen picked up 3 good beers, including one for a girl who was been looking for a bottle from her great grandfather's business. A relative of Thomas R. Jones is looking for Jones soda bottles from Raleigh.

Decided that dues would renew in August - same time for everyone. If you joined after August 2000, then you won't have to renew till after August 2002. This way we can do the membership renewals at the same time each year. Decided to keep individual membership dues at $10. But we introduced a family rate of $15.

Elections were held. Results are:
President
David Tingen
Vice-President
John Arnold
Secretary
Frank Bishop
Treasurer
Newsletter Editor
Show Chairman
Reggie Lynch
Show Co-Chairman
Ronald Hinsley
Club raffle winners for May: Whitt Stallings won the cone top Pepsi can and other lucky members got the Durham pharmacy and labeled Raleigh Hick's Capudine.
Club members are encouraged to bring in bottles for the raffle we will have at each meeting. The raffle is fun for everyone and helps add money to the club treasury. For nicer bottles, the club treasury can reimburse the wholesale cost to the donator. Contact the treasurer (Reggie) before the raffle to make arrangements.
Members are encouraged to bring bottles into meetings for show and tell. These bottles are good candidates for pictures and maybe stories in our newsletter.
Looking for other people to sign-up for presentations at future meetings, so let us know what you would be willing to present. Presentations can be 5 to 60 minutes in length. Reggie will be doing soda bottles for the August meeting. David Tingen may do a presentation on photographing bottles for the Internet. May get Jimmie Wood to do ACL's and Charlie Perry to do White House Vinegar in the fall.
---
John Arnold selling to a customer: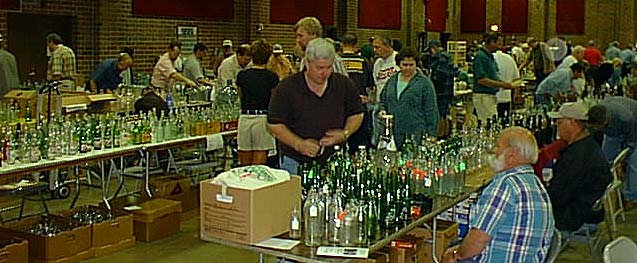 ---
Jack Hewitt far left - he is show chairman of the Smyrna GA club that is having their 31st show August 25, 2001.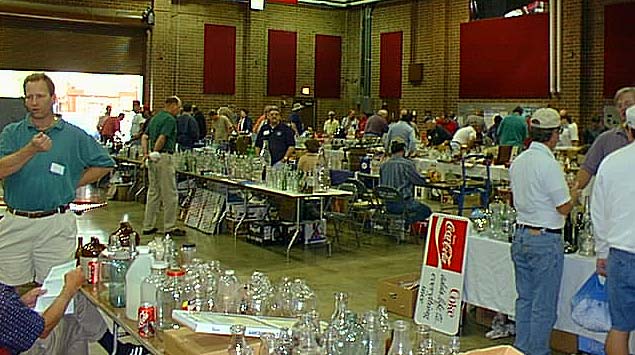 ---
Bottles for sale on Reggie Lynch's table: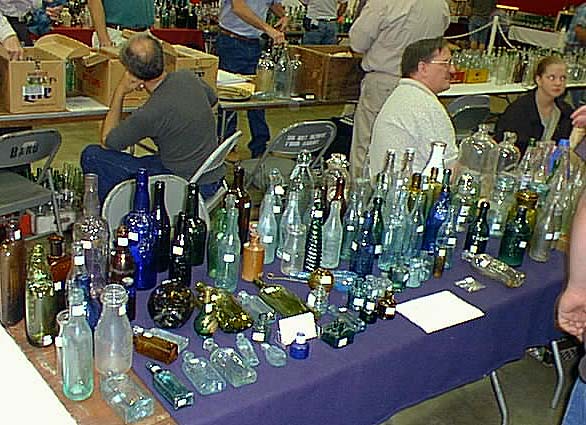 ---
Ronald Hinsley greeting people at his sales table: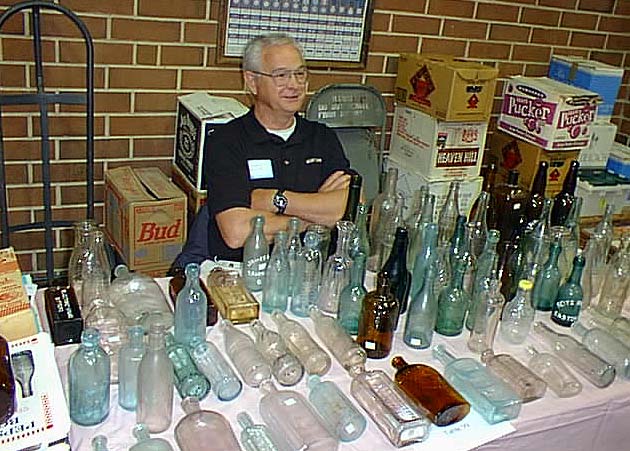 ---
Hunter Cox making a point: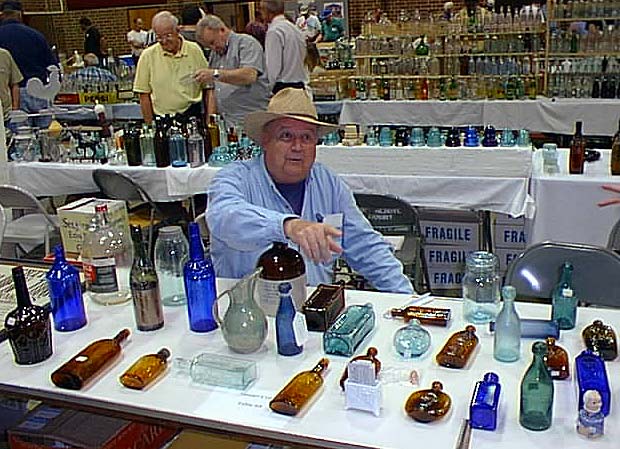 ---
David Tingen and Jim Mitchell: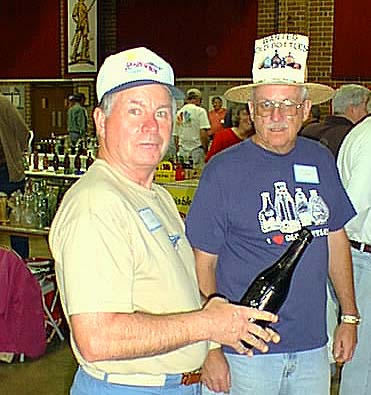 ---
Presentation
Presentation this time will be pictures from our 1st show.
---
Sonny Howell of Rock Hill SC won 1st place with his of Civil War era bottles: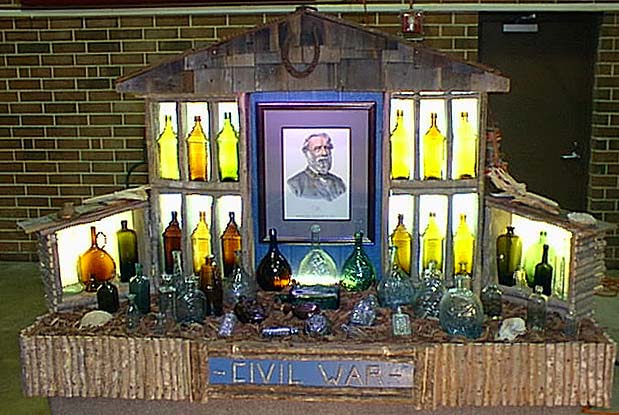 ---
Sterling Mann of Fuquay Varina NC presented his display of soda bottles: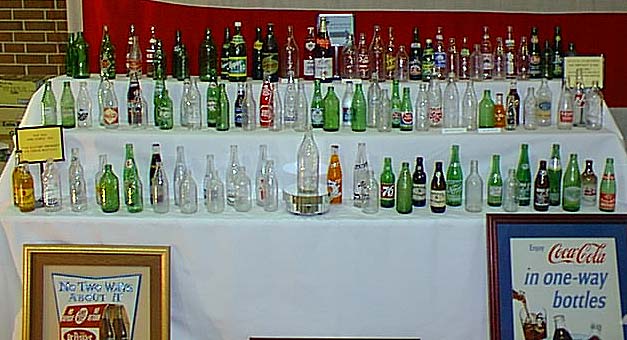 ---
Donnie Medlin of Louisburg NC won 3rd place with his display of rare Pepsi bottles: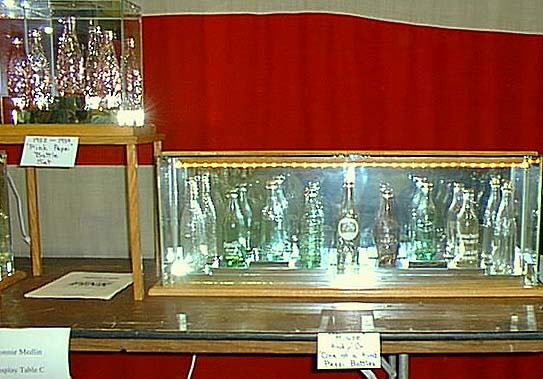 ---
John Arnold of Benson NC won 2nd place with his display of Mountain Dew bottles:


---
Jimmie Wood of Denver NC presented ACL sodas: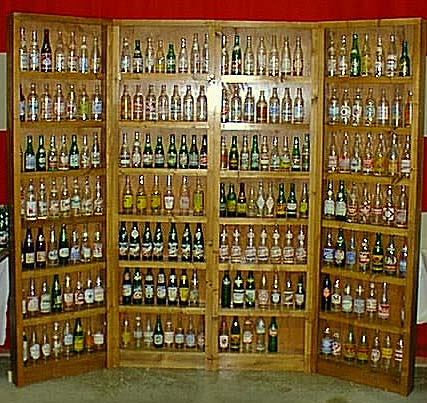 ---
Jack Murdock of Raleigh NC won Most Educational for his Raleigh whiskey bottles. Very sorry to say my picture of Jack's display did not come out. Anyone got a picture that I can show in next newsletter?
---
Next Meeting Location
The next 2001 club meetings are 7-9pm Tuesday June 5 and Aug 7 at Clancy & Theys Construction Company where club member John Arnold works. Company is located at 516 W. Cabarrus Street in downtown Raleigh (near the AmTrak station). Park in back of building. Call John Arnold on his mobile phone at (919) 427-0334 if you get lost.

Directions from the 440 Beltline: Take Glenwood Ave exit and head in town (away from Crabtree Valley Mall). Cross bridge over Wade Ave and turn right to "clover leaf" onto Wade Ave heading downtown. Merge right onto Capital Blvd heading downtown. Capital Blvd becomes N. Dawson St. Continue 0.7mi and turn right onto W. Cabarrus St. Cross railroad tracks, and just pass the Amtrak Station on right is #516 "Clancy & Theys Construction Co" - park behind building.

Directions from I-40: Take S. Saunders St exit and head North into downtown Raleigh. S. Saunders will turn into S. Wilmington St. Go pass Memorial Auditorium, then 2 blocks later turn left on W. Davie St., left on Dawson St, and right on W. Cabarrus St. Cross railroad tracks, and just pass the Amtrak Station on right is #516 "Clancy & Theys Construction Co" - park behind building.

You can also see directions on the Internet via www.mapquest.com by entering the "516 W. Cabarrus St, Raleigh, NC" address.
---
Agenda for the next meeting
Wear name tags.
Approve treasurer report and previous minutes in newsletter.
Request articles for upcoming newsletters.
Collect ads to run in the next newsletter.
Confirm date of next meeting.
Have someone solicit News & Observer to do article on new club and upcoming show.
Discuss next show
Report by Frank Bishop on status of non-profit application.
Meeting presenters - sign-up people to do presentations of their collections at future meetings.
Open discussion, announcements, digging stories, show & tell, latest bottles aquired, show reports, ...
Setup/announce any raffle bottles. The club can reimburse a nominal amount for nicer bottles - see treasurer in advance.
Setup/announce any auction bottles. The seller can set a minimum bid with the amount above the minimum going to the club. So please bring any bottles you want to auction (limit 5 per seller).
Sell raffle tickets ($1 each) while presentor gets ready. Also a good time to examine the auction and raffle bottles.
Presentation.
Auction any bottles being offerred.
Draw winning tickets for the raffle. 1st winner gets first choice and so on till all bottles are gone.
Conclude with Swap Meet - each person is encouraged to bring bottles for sale/trade. Please limit yourself to a 2 box maximum. Tables will be provided where bottles can be displayed for show or sale.
---
Joining
To join the Raleigh Bottle Club, please use this Membership Application web form or contact Reggie for a printed copy. Printed copies of the newsletter will have a blank application form on the last page.
---
Member Ads
Ads are posted here free of charge to club members. Submit ad info to club secretary (Reggie) for inclusion in next newsletter. Ads run for 2 months, then must be renewed to continue.
For Sale: bottle cleaning machines, including an economy table top machine for $300. Contact Bob Roberts, (704) 482-7200, 166 Zeb Cline Road, Shelby, N.C. 28150-8110, Email: mailto:5stam@twave.net

Wanted: U.S.A. Hospital Dept. bottles, dug Civil War relics, rare Pepsi bottles & go-withs. Contact Vernon Capps, 2216 Rosewood Rd., Goldsboro, NC 27530. (919) 734-8964.

For Sale: Bottle Books by author: "The Illustrated Guide to Collecting Bottles" 1970 in used condition for $30, "The Illustrated Guide to the Collectibles of Coca-Cocla" 1972 in used condition for $35, and "Would You Believe" 1968 in new condition for $15, shipping+handling included, autographed by request. Contact Cecil Munsey, 13541 Willow Run Road, Ponway, CA 92064-1733. (858) 487-1733, Email: cecilmunsey@home.com

Wanted: Mt Vernon Springs Mineral Water bottle from Ore Hill, NC. Paying top dollar for any size. Contact Tom Kleeberg at (336) 570-1997 (and ask for "Tom").

Wanted: "HICK'S CAPUDINE CURE" in mint condition, label+box a plus. Contact John Wolf, (937) 275-1617, 1186 Latchwood Ave, Dayton, OH 45405.

Wanted: newsletters from the old Raleigh Club (or any other NC club) to use as historical reference for upcoming club newsletters. Loan to Reggie or any club officer and we will make copies and return originals to you.

Wanted: any rare pre-machine Raleigh NC bottles (not "Rawleigh"). Especially whiskies, sodas, beers, etc. Contact Jack Murdock, (919) 779-9914, 8517 Crowder Rd, Raleigh, NC 27603.

Wanted: quality fruit jars, fruit jar ring boxes, and NC milk bottles. Contact J.B. Young, 1012 Davis Drive, Apex, NC 27502, Phone (919) 362-6596.

Wanted: NC blob top beer bottles in undamaged condition, especially amber colored examples. David Tingen, Email: tingen@interpath.com, Phone: (919) 848-4387.

Wanted: NC straight-sided Coca-Cola and script Pepsi bottles in undamaged condition. Reggie Lynch, Email: rlynch@antiquebottles.com, phone: (919) 789-4545.
Check out my bottles for sale on the Internet http://www.antiquebottles.com/rl/ and in booth 615 at Granddaddy's Antique Mall in Burlington, N.C.
---
Upcoming Shows
Also see Antique Bottle Shows, NC State Fairgrounds Calendar of Events, NC Festivals and Fairs.
May 12, 2001
Mansfield, OH
Ohio Bottle Club's 23nd Annual Mansfield Antique Bottle & Advertising Show & Sale (9am to 3pm) at the Richland County Fairgrounds, Mansfield, Ohio. Info: Bill Koster (330) 753-7607 or Al DeMaison (216) 255-3880.
May 12, 2001
Gray, TN
State Of Franklin Antique Bottle & Collectibles Assoc. 3rd Annual Show & Sale, (9 AM to 4 PM), at the Appalachian Fair Grounds, Gray, TN. Info: MELISSA MILNER, 230 Rock House Rd., Johnson City, TN 37601. PH: (423) 928-4445, or Email: mmilner12@chartertn.net
June 1-2, 2001
Lumberton, NC
Antique Bottle & Collectible's Show & Sale sponsored by Robeson Antique Bottle Club. Fri 1-9pm, Sat 9am-3pm. New location at the Expo and Farmer's Market, Exit 14 off I-95 in Lumberton, NC. 7000 square foot air-conditioned convention building with excellent lighting & facilities. Crawfish festival next door on June 2.
For info write to Richard Stephens, 1830 Riverside Blvd, Lumberton, NC 28358, Phone: (910) 738-6075, Email: rhstep@carolina.net
or Paul Valenti & Carla Baxley, phone (910) 738-3074, Email: cbaxley@nc.rr.com
June 8-9, 2001
Knoxville, TN
"Knoxville in June", East Tennessee Antique Bottle & Colletibles Society 13th Annual Show & Sale, (Sat. 9 AM to 3 PM, early buyers Fri. 3 PM), at the Merchants I-75 Expo, at I-75, Exit 108, Knoxville, TN. Info: LARRY ACUFF, 220 N. Carter School Rd, Strawberry Plains, TN 37871. PH: (865) 933-2333. Email: dkpeters@bellsouth.net
Aug 11, 2001
Vicksburg, MS
4th Annual VIcksburg Antique Bottle Show & Sale, 8am-4pm at the Battlefield Inn, 4137 I-20 N. Frontage Rd, Vicksburg, MS. Info: Cason Schaffer, 107 East View Drive, Vicksburg, MS 39183 phone (601) 638-1195.
Aug 12, 2001
Muncie, IN
The Federation of Historical Bottle Collectors National Show & Sale, (9 AM to 3 PM, early buyers Sat. 12:30 PM), at the Horizon Convention Center, Muncie, IN. Info: NORMAN BARNETT, PO Box 38, Flat Rock, IN. 47234. PH: (812) 587-5560.
Aug 25, 2001
Smyrna, GA
31th Annual Bottle Show & Sale of the Southeastern Antique Bottle Club. Show will be 9:00am-4:00pm Sat at the Smyrna Recreation Center, 200 Village Green Circle, Smyrna, GA (just north of Atlanta). Dealer setup Sat 7-9am. Over 80 sales tables available. For info, contact Jack Hewitt, 1765 Potomac Court, Lawrenceville, GA 30243. PH: (770) 963-0220, Email: mailto:hewittja@earthlink.net, Or contact Fred Taylor, Email: fredtay@bellsouth.net
---
This web page hosted by Antique Bottle Collectors Haven