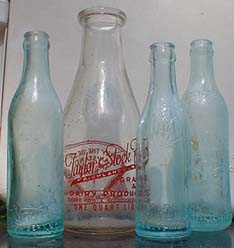 Raleigh Bottle Club
May 2002 Newsletter
Club typically meets the first Tuesday of each month. Next meetings:
Tuesday June 4, 2002 7-9pm
Tuesday July 2, 2002 7-9pm
Tuesday August 6, 2002 7-9pm
Meeting will be at Clancey & Theys Construction - see directions below
Presentation: Robbie Delius on history of Coca-Cola + Elections

Topics in this Newsletter (click topic to jump there):

The Raleigh Bottle Club is a non-profit organization that provides a forum for area antique bottle collectors to get together, talk bottles, buy/sell/trade, organize club digs, and just have fun. The club also serves the community by answering bottle questions and sponsoring an annual Bottle Show and Sale. The public can bring their bottles to club meetings for free appraisals and possibly sell them.

Current 2001/2002 officers:
David Tingen
President
John Arnold
Vice-president
Frank Bishop
Secretary
Reggie Lynch
Treasurer
Newsletter Editor
Show Chairman
Ronald Hinsley
Co-Show Chairman
All past newsletters are stored on the club web page for quick&easy reference, so there is no need to print and save them.

Meetings are open to the public, so drop by and check us out. We hope you'll consider joining the club. Club members receive the monthly newsletter, run free ads, and participate in all the fun and benefits the club has to offer.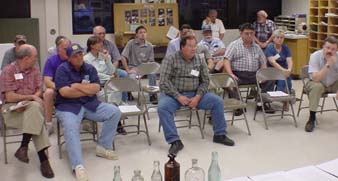 Business & Misc
28 people attended the May 7 meeting at Clancey & Theys in downtown Raleigh. April minutes and treasurer report were approved. Club approved next meeting for Tue June 4th 7pm at Clancey & Theys in downtown Raleigh (our regular spot).

The big discussion was about the recent April 27th show, which is covered below.

Our annual elections for club officers will be held at the June 4th meeting. Reggie has agreed to run for re-election in his current roles, but the other officers are stepping aside to make room for new people to get a chance operating what is now the biggest bottle club in the Southeast US. Please consider running for one these positions and help insure the success of our club:
| | | |
| --- | --- | --- |
| Title | Responsibilities | Candidates |
| President | Run club meetings and find volunteers for club activities. Involved with all important club decisions. | ? |
| Vice-President | Fills in when President unavailable. Helps with club activities. | ? |
| Secretary | Take notes and pictures during meetings. Help with the paperwork chores. | ? |
| Treasurer | Publish monthly financial results. Keep bank records, make deposits, pay or reimburse expenses. | Reggie Lynch |
| Newsletter Editor | Publish monthly newsletter. Distribute newsletter by mail and Email. | Reggie Lynch |
| Show Chairman | Plan and execute our annual Spring Show & Sale. Solicit dealers, advertise, find staff for supporting show positions. | Reggie Lynch |
| Show Co-Chairman | Assist Show Chairman with responsibilities. | David Tingen |
| Festival Chairman | Plan and execute our annual Fall Festival. | ? |
Candidates must be nominated and nomination seconded, then all candidates will be voted on by all club members present at the June 4th meeting.
Reggie and Jack discussed the April 20th auction at Dunn NC. Many WV bottles, including VA and NC. Bottles were sold 3-4 boxes in a lot.
Allen Culver left note of thanks to Frank Bishop and Joe Webb for returning his bottle from Raleigh show.
This May newsletter will be the last one till August, giving Reggie a much needed break for June/July. But unofficial meetings will still be held in June/July with a raffle and swap meet. Just more socializing and no formal club business.
For future presentation possibilities, see below.
Teddy Speas created this neat web site on throw away soda bottles: www.angelfire.com/nc3/throwaway/.
Teddy is also president of the Ole Time Vinegar Club Society, whose home page is linked off the vinegar page: www.antiquebottles.com/vinegar/
Membership - Renewal - Directory
Total paid members: 109.
We added 3 new members in May:
Jim Romine of Sanford, NC - collects W.Va. beer bottles.
Allen Culler of Welcome, NC - collects NC & VA milk bottles plus milk, soda, & medicines from Davidson County & Lexington.
Carl Barnett of Douglas, GA - collects southeastern S-S Cokes/Pepsi's, Chero-Cola Bottling Works, Christo-Cola, Bludwine, Mint Cola, Bob's Cola, and RC w/ pyramids.
Number newsletters mailed by post: 53, Emailed: 907.


Dues are $10 individual, $15 family. To join the Raleigh Bottle Club, please use the Membership Application web form or contact Reggie for a printed copy. The club newsletter is distributed to over 700 people, mostly in NC and the surrounding states. Members can place free ads, which will be seen by a large number of collectors in our area.
Raffle
The May raffle raised $40 for the club.

Photo of the June 4th raffle bottles is shown on the first page of this newsletter. From left to right they are: BIM crown top soda "Pepsi=Cola / NEW BERN, N.C.", quart milk "Taylor's Stock Farm / Richlands, N.C." back: "ONLY THE BEST CAN STAND THE TEST OF BEING SEEN", ice blue "Mint Cola / BOTTLING CO." back "ASHEVILLE, N.C.", BIM crown top soda embossed in circular slug plate "CROWN BOTTLING CO. / LEE J. TAYLOR / PROPR. / NEW BERN, N.C.". Raffle will include other bottles to be furnished at meeting.

Club members are encouraged to bring in bottles for the raffle we will have at each meeting. The raffle is fun for everyone and helps add money to the club treasury. For nicer bottles, the club treasury can reimburse the wholesale cost to the donator. Contact the treasurer before the raffle to make arrangements.

Show & Tell / Bottles For Sale
Members are encouraged to bring bottles into meetings for show and tell. These bottles are good candidates for pictures and maybe stories in our newsletter. But it's also a lot of fun to share and is a big part of what our hobby is about. Members are also encouraged to bring in bottles for sale, since the opportunity to buy nice bottles is another reason people come to meetings.

Above right are some rare throw-away bottles shown by Sterling Mann.
| | |
| --- | --- |
| Reggie showed his recent aquisitions: BIM crown top slug plate soda "GRANITE / BOTTLING WORKS / GRANITE FALLS, N.C.", pint strap flask "RALEIGH / N.C. / DISPENSARY", Warner's "TIPPECANOE" with original label, and single drum Pepsi from Baltimore. All bottles were purchased at show except the Warner's. | Frank Bishop shows two hutches: a "DANNENBERG / NEW BERNE, N.C." and "VIRGINIA BOTTLING / SOUTH BOSTON, VA." |
Raleigh Show
The April 27th Show was considered a success by most everyone who attended. Financially the club lost money, due in part to one time expenses on some very nice signs we can reuse in the future. And the rest due to an unexpected shortfall in dealer attendance due in part to competition with another show.
A good benchmark on the success of the show was this question asked at the May 7th meeting: how many added something nice to their collection? Almost everyone raised their hands.
Dealer feedback survey results were presented at the May 7th meeting. Two common complaints were poor lighting in certain areas of the building and wishing more dealers were set up. David Tingen suggested bringing in some stand-up halogen lamps for the next show.
It was acknowledged that we lost dealers to Harrisonburg and they lost some to us. Everyone agreed we would get more dealers if we avoided the conflict with another show on the same weekend. Discussed moving the next April show to the 3rd Sat, but that falls on Easter weekend.
There was also talk of moving the indoor show from Spring to Fall. But that was investigated and found to not be possible due to unavailability of Holshouser Building in Nov.
Note that the fairgrounds is leaving open the date when flea market will reopen after the Oct fair. So it could reopen the first weekend of Nov or the 2nd.
The best choice for next year's show is Sat April 5, 2003 with a Friday setup. This avoids all conflicts with neighboring shows. We have reserved the Holshouser Building for this weekend.
The number one survey complaint was the food provided by the building vendor. That at least is easy enough to fix. We could try the other fairground vendor. Donnie Medlin suggested we use a lady he knows who sells lots of home baked goodies, chili, hot dogs, etc. But we must pay a $150 cleanup fee for a non-fairgrounds vendor. This will be investigated further.
Some of the big thumbs up on the survey were the Free Public Attendance, Quality of Dealer info, Show Program, extra setup time on Friday, and allowing Early Buyers.
Skinny was given a humorous round of applause for finally selling a bottle at the show. But then he was also the only one to break a bottle at the show, so guess he broke even.
Members were thanked for helping with the show. Special thanks to Whitt Stallings and David Tingen who did a fantastic job on the signs. And a big thanks to Ron Bender and Janie Raper for doing the Show Program that raised about $300 for the show. Reggie has some extra Show Programs for whoever needs one.
All our displayers were thanked for putting on top notch displays for the April 27th show. Displayers Donnie Medlin and Gary Arnold were present and were given a big round of applause.
Held some discussion about Fall Festival. We can reserve spots on the grass island nearest Dorton Arena. The middle grass island we used last year is not available this time unless we reserve Sat and Sun, but noone wants to do a two day show (whew!). The flea markets spots are 10' wide and 20' deep and rent for $16 a day.
Recent Finds
If you have any recent finds to post here, or just want to share a favorite bottle, please submit info to the newsletter editor Reggie Lynch. Most pictures can be clicked to see the original full view before it was cropped to fit here.
| | | |
| --- | --- | --- |
| Hutch style soda embossed PIEDMONT STEAM / BOTTLING / COMPANY that was offerred recently on eBay by Steve Brown, who informed us this bottle is from his town of Spartanburg, SC. Also comes in a blob top beer. | This warranted strap flask has no city/name embossing, but it does boast a wonderful color label for "Cooper's / Laurel Valley / Corn Whiskey / .. W.H. Cooper & Co / Marion, N.C. / C.C. Shoffner / Winston-Salem, N.C.". Was rescued from the attic of a building torn down last year in Winston-Salem by member Scott Berry. | Ward's Orange Crush from Gastonia, N.C. sold for $49 on eBay. |
| New member Phil Glass sold this amber Ronceverte, WV Pepsi for $1,026. | Richmond VA Pepsi with block letters on shoulder and script letters above base, listed as RI5 in Ayer's, sold for $177 on eBay. | This cobalt "Casper's Whiskey / Made by Honest North Carolina People" sold for $445 on eBay. |
| This 3 ½" BRADHAM'S / PHARMACY / NEW BERNE, N.C." sold for $152 on eBay. As every Pepsi collector knows, Pepsi was invented in this pharmacy. | This minijug stenciled with "Compliments of - Chas. L. Burford, - Lamberts Point, Va." was sold by Jim Hewitt for $700 on eBay. Lamberts Point is located outside Norfolk, VA. | Rare slug plate "PEPSI-COLA / BOTTLING CO. / CEDARTOWN, GA." sold for $505 on eBay. |
| Pepsi from Weldon NC (listed as WEL1 in Ayer's Pepsi book) sold for $175 on eBay. | Old Harvest Lowenstein jug from Statesville NC - part of David Jackson's collection. | This quart strap-side flask embossed in circular slug plate "ATLANTIC CAFE / GIESCHEN BROS / OPPOSITE A.C.L. DEPOT / WILMINGTON, N.C." was purchased by David Jackson at the April 27th Raleigh Show. |
| Amber Elkins, WV Coca-Cola sold for $315 on eBay. | This 12" x 36" Coca-Cola sign sold for $4,000 on eBay. | Squat soda embossed "A. GOTTLEIB RICHMOND VA." sold for $511 on eBay. |
Presentation: Fake Color Follow-up
No time for presentation since majority of meeting spent discussing results of Spring Show.
Another dealer offerred some follow-up info on irradiated bottles. He warned that bottles without manganese that are irradiated will loose their color (i.e. fade) if exposed to the sun. This is especially true of the amber hobbleskirt Cokes. Bottles with manganese that are irridiated and turn dark purple will hold their color even in the sun. Bottles with manganese have an original color of clear or amethyst tint; they will turn dark purple from exposure to sun or by irradiation, but turning by sun light takes a very long time. The more manganese, the darker they will turn. He also warns that aqua Cokes and Pepsi's that are irridatiated to turn purple will fade (i.e. loose their dark color) in the sun.
Future Presentations
Looking for other people to sign-up for presentations at future meetings, so please let us know when you would be willing to present. Presentations can be 5 to 60 minutes in length, and you can pick most any topic related to bottles and go-withs. There will be no presentation at the first meeting of each quarter to allow more time for chatting and buying/selling.
Possibilities for future presentations:
Jimmie Wood - ACL soda bottles.
Charlie Perry - White House Vinegar bottles.
Vernon Capps - USA Hospital bottles.
Jim Romine - W.VA. beer bottles.
Russell Griffin - Coke bottles.
Sonny Howell - Sat presentation at Granddaddy's.
John Patterson - Sat presentation at Granddaddy's on NC milk bottles.
Jerry Roughton wrote the book on NC medicines and has agreed to do a presentation on this topic and NC saloon tokens.
Will Gorges - Civil War era.
Donnie Medlin - picnic in Louisburg?
Meeting Location
Regular club meetings are held 7-9pm on the first Tuesday of each month at Clancy & Theys Construction Company where club member John Arnold works. Company is located at 516 W. Cabarrus Street in downtown Raleigh. Park in back of building by driving down road that runs between Clancy building and the AmTrak Station, then take first left that will take you behind the Clancy building. Use door at back center of building (door is locked, so knock on window to left where you will see club members). If you need help finding the meeting, call John Arnold (919) 427-0334 or Reggie Lynch (919) 612-0259 on their mobile phones.

Directions from the 440 Beltline: Take Glenwood Ave exit and head in town (away from Crabtree Valley Mall). Cross bridge over Wade Ave and turn right to "clover leaf" onto Wade Ave heading downtown. Merge right onto Capital Blvd heading downtown. Capital Blvd becomes N. Dawson St. Continue 0.7mi and turn right onto W. Cabarrus St. Cross railroad tracks, and just pass the Amtrak Station on right is #516 "Clancy & Theys Construction Co".

Directions from I-40: Take S. Saunders St exit and head North into downtown Raleigh. S. Saunders will turn into S. Wilmington St. Go pass Memorial Auditorium, then 2 blocks later turn left on W. Davie St., left on Dawson St, and right on W. Cabarrus St. Cross railroad tracks, and just pass the Amtrak Station on right is #516 "Clancy & Theys Construction Co".

You can also see directions on the Internet via www.mapquest.com by entering the "516 W. Cabarrus St, Raleigh, NC" address.
Agenda for the next meeting
Bottle sales/trades till meeting starts (helps to arrive a little early).
No longer need sign sheet since we can just count badges in the drawing bag.
Hand out badges - make badges for newcomers and introduce them.
Approve treasurer report and previous minutes in newsletter.
Request articles for upcoming newsletters.
Collect ads to run in the next newsletter. Current ads run for two months and must then be renewed. Just let Reggie know if you want to renew your same ad.
Confirm date of next meeting as Tue July 2nd 7pm at Clancey & Theys in downtown Raleigh.
Meeting presenters - sign-up people to do presentations of their collections at future meetings.
Open discussion, announcements, digging stories, show & tell, latest bottles aquired, show reports, ...
Invite a member to tell story of how they got started in bottle collecting.
Setup/announce any raffle bottles. The club can reimburse a nominal amount for nicer bottles - see treasurer in advance.
Setup/announce any auction bottles. The seller can set a minimum bid with the amount above the minimum going to the club. So please bring any bottles you want to auction (limit 5 per seller).
Sell raffle tickets ($1 each, 6 for $5) while presentor gets ready. Also a good time to examine the raffle and auction bottles.
Presentation.
Elections - vote in new club officers.
Once Fall Festival Chairman elected, discuss plans for festival. May want to change formal Fall Festival to an informal get together where we just reserve a block of spaces and dealers provide their own tables for one or two days (dealer decides if they want to setup the 2nd day). Sort of like a tail-gater that other clubs have. Advertising would be whatever we could do for free, like AB&GC and FOHBC show calendar, posters in area antique shops, and of course in this newsletter. Or maybe we could setup a block of 20 dealer tables under a tent, and sell the tables in advance.
Auction any bottles being offerred.
Draw winning tickets for the raffle. 1st winner gets first choice and so on till all bottles are gone.
Turn in badges and have badge drawing. Winner gets 6 raffle tickets good toward any future raffle.
Conclude with Swap Meet - announce who has bottles for sale. Each person is encouraged to bring in bottles for sale/trade. Please limit yourself to a maximum of 4 boxes. Tables will be provided where bottles can be displayed for show or sale.
Member Ads
Ads are posted here free of charge to club members. Submit ad info to club secretary for inclusion in the next newsletter. Ads run for 2 months, then must be renewed to continue. If your ad ran before and you want to run it again without changes, just request "repeat same ad".
Calendar of Events and Upcoming Shows
Also see Antique Bottle Shows, AntiqueNC.com, NC State Fairgrounds Calendar of Events, NC Festivals and Fairs, Southeastern Antiquing & Collecting, Raleigh OnLine, Spectator Magazine - Special Events.
May 17-18, 2002
Montgomery, AL
The Montgomery Bottle & Insulator Club 31st Annual Show & Sale, 7am-4pm, at the Ed Teague Arena, Garrett Coliseum, Montgomery, AL. Info: JAMES HOPKINS, 2021 Merrily Dr., Montgomery, AL 36111. PH: (334) 288-7937, or JAMES ROBBINS, 3334 Southmont Dr., Montgomery, AL 36105, PH: (334) 264-4583.
May 18, 2002
Mountain Home, NC
Dixie Jewels Insulator Club spring swap meet, to be held in Mountain Home, NC (a few miles from Hendersonville) on Saturday, May 18. Details are available under the ICON "Special Events" window at www.insulators.com. This will be at a private home and is open to anyone with an interest in insulators. It's a great opportunity to meet some other collectors in person, ask dumb (or esoteric) questions, buy & sell, show & tell, whatever. A good way to see some great glass, too.
May 18, 2002
Gainesville, FL
The Matheson Museum at 513 East University Avenue, Gainesville, Florida is hosting their first annual antique bottle show May 18, 2002 9:00am-3:00 pm with dealer set up at 7:00am. $18 per 6x3' table or 2 for $30 (limit 2 tables per dealer). Info: Ron McCormick (352) 373-8365 or Bill Brand, P.O. Box 402, Ocala, FL 34478-0402, (352) 237-2962.
May 31-June 1, 2002
Lumberton, NC
Antique Bottle & Collectible's Show & Sale sponsored by Robeson Antique Bottle Club. Free Admission Fri 3-9pm, Sat 9am-3pm. Dealer setup Fri 1pm. Location: The Expo and Farmer's Market, Exit 14 off I-95 in Lumberton, NC. 7,000 square foot air-conditioned convention building with excellent lighting & facilities. 100+ dealer tables. Crawfish festival next door on June 1.
Click here for show flyer.
For info write to Richard Stephens, 1830 Riverside Blvd, Lumberton, NC 28358, Phone: (910) 738-6075, Email: rhstep@nc.rr.com
or Paul Valenti & Carla Baxley, phone (910) 738-3074, Email: cbaxley@nc.rr.com
June 7-8, 2002
Knoxville, TN
"Knoxville in June", East Tennessee Antique Bottle & Colletibles Society 14th Annual Show & Sale, (Sat. 8am-5pm, early buyers Fri. 2-7pm), at the Merchants I-75 Expo, at I-75, Exit 108, Knoxville, TN. Info: LARRY ACUFF, 220 N. Carter School Rd, Strawberry Plains, TN 37871. PH: (865) 933-2333. Email: dkpeters@bellsouth.net
June 8-9, 2002
Savannah, GA
Historic Savannah Civil War Show & Sale with bottle dealers added this year. Sat 9am-3:30pm Sun 9am-5pm at the Savannah Civic Center, Savannah, GA. Admission $6, early buyers $25, dealer tables $60. Dealer setup Fri noon-7pm and Sat 7-9am. Info: EDDIE SHUMAN, PH: (912) 231-9437, or GENE AUTRY, PH: (912) 748-7510.
June 29, 2002
Ringgold, GA
The Chattanooga-North Georgia Urban Archaeology Club Bottle Show & Sale, 9:30am-3:30pm, dealer setup Fri 5pm, early buyers Fri. 7pm and Sat 8am, at the Catoosa Civic Center, between Ringgold and Fort Oglethorpe, GA. Free general admission. Capacity 100 tables, $20 first table and $10 for additional tables, Info: DAN DEAL, 17 Pamela Lane, Ringgold, GA 30736, PH: (423) 304-0327. Email: dealpikl@catt.com
June 30, 2002
Bethesda, MD
Potomac Bottle Collectors Annual Show & Sale, 10am-3pm, at the Washington Waldorf School, 4800 Langamore Road, Bethesda, MD 20816. Info: JIM SEARS, PH: (703) 243-2409, Email: searsjim@usa.net
---
This web page hosted by the Raleigh Bottle Club