Raleigh Bottle Club - November 2001 Newsletter
Club typically meets the first Tuesday of each month (except December)
Next meeting: Saturday Dec 8, 2001 noon-2pm
Meeting will be at Granddaddy's Antique Mall - see directions below - bring a chair.
Presentation: Randy Kiger on NC Soda Bottles
Topics in this Newsletter (click topic to jump there):
The Raleigh Bottle Club is a non-profit organization that provides a forum for area antique bottle collectors to get together, talk bottles, buy/sell/trade, organize club digs, and just have fun. The club also serves the community by answering bottle questions and sponsoring an annual Bottle Show and Sale.
Current 2001/2002 officers:
David Tingen
President
John Arnold
Vice-president
Frank Bishop
Secretary
Reggie Lynch
Treasurer
Newsletter Editor
Show Chairman
Ronald Hinsley
Co-Show Chairman
All past newsletters are stored on the club web page for quick&easy reference, so there is no need to print and save them.

Meetings are open to the public, so drop by and check us out. We hope you'll consider joining the club. Club members receive the monthly newsletter, run free ads, and participate in all the fun/benefits the club has to offer.
Business & Misc
16 people attended the Nov 6 meeting. Oct minutes were approved. Oct club treasurer report was not available (not enough time to prepare with Nov 3 Festival).

Club approved moving next meeting to Granddaddy's Antique Mall in Burlington, NC on Sat Dec 8, 2001 noon-2pm so Randy Kiger can do his presentation on NC soda bottles. Randy collects the older soda bottles and has many bottles that you will never get another chance to see again. This will also be an opportunity for our Western members to attend a meeting, as well as other members who can't get away on a work night. Granddaddy's has agreed to let us have the meeting inside their mall, where we will be located near their cafe. Granddaddy's will provide two tables for our use, but members are requested to bring their own chairs. I would recommend setting up For Sale bottles on the adjacent picnic tables in the concession area. If you can, bring an extra chair to accomodate any visitors that drop by. We will be allowed to buy/sell/swap bottles and have our raffle as usual.

Had some discussion about having future meetings in other places. Some ideas were one Fall meeting each year at Granddaddy's in Burlington (west of Raleigh), and a Spring meeting each year in Wilson/Goldsboro area (east of Raleigh). These would be Saturday meetings that would give members in those areas a better chance to attend and do a presentation. It would also help the Raleigh area members who cannot get to a meeting on a work night. There was also the idea of having a meeting or two at the picnic tables in the grass islands beside the Flea Market on Saturday. But there were also those who want to continue having the meeting at the same place (Raleigh) and date (1st Tue 7pm) each time so members know where/when to expect meetings. Decided to see how Burlington meeting goes and discuss plans at Jan meeting (in Raleigh).

The new digital camera has been purchased. The Show & Tell pictures were the first taken with it.

James Ayer's has published a 2nd volume book to add on to his original Pepsi book. Ordering details on new web page published for James by Reggie: www.antiquebottles.com/pepsibook/ Donnie Medlin also has copies for sale - catch him at one of the club meetings.

Learned that when a cobalt blue Bromo-Seltzer is "nuked" (i.e. irradiated), it turns green. I thought green was just a rare color for a Bromo, but sounds like green is not a natural color for a Bromo. Anyone know anything else about this?

The Raleigh Museum has asked our club to give a presentation during their Feb 9-10 "Pieces of the Past Antiques Symposium" (see calendar in Upcoming Shows below for details). I've signed up our club to do a Sat Feb 9 2:00-2:45pm presentation, and it can be anything about bottles that we want to present. Jack Murdock and David Tingen have agreed to help, and would like other club members to volunteer to help out. So be thinking about what historical Raleigh or NC bottles we could present.
President's Message
In a few weeks we will enter the New Year and reflect on the events of 2001. We have had the enjoyment of a great first show, good meeting and presentations, fellowship, prosperity and the sorrow of September. As we think ahead I would like each member to consider how we can become closer as members and help each other enjoy the hobby even more.
By the January meeting there will be name badges for those who attend the meeting. These badges will show the collecting interests of every member. Please take a look at the interests of your fellow collector and determine if you can help them find some item they need. I also encourage each one to contribute an item to the raffle that might be of special interest to your fellow collectors. I will recommend, at the next meeting, a slight change in our meeting schedule to include more time for show, swap and sell. Give some thought to having one meeting per quarter without a program and more time to do these things.
If anyone needs transportation or needs to share a ride to the December 8th meeting, give me a call to arrange a meeting place. I look forward to seeing you there on Saturday.
Happy Holidays to all .. David Tingen
Membership - Renewal - Directory
We added 4 new paying members in November: Eula Thompson, Conway Rose, Richard Higgins, and Don Goodman. Total paid members: 88.

Membership renewal drive is completed, with the vast majority of members electing to renew.

The 2001 Club Directory was handed out to members at the Nov 3 Festival and Nov 6 meeting, and will also be available at the Dec 8 meeting. Remaining members will receive theirs by mail.

Thanks to these members who have recently renewed: Vernon Capps, Frank Bishop, Sterling Mann.

Dues are $10 individual, $15 family. To join the Raleigh Bottle Club, please use the Membership Application web form or contact Reggie for a printed copy. The club newsletter is distributed to over 500 people, mostly in NC and the surrounding states. Members can place free ads, which will be seen by a large number of collectors in our area.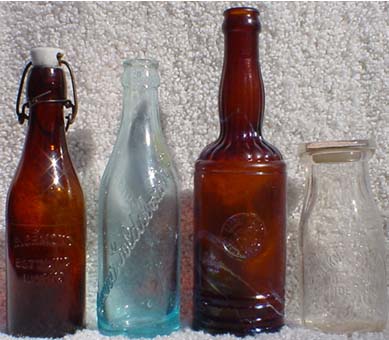 Raffle
The November raffle raised $16 for the club. While Jack Murdock won the Weldon NC Pepsi, he promptly gave it to Whitt Stallings. What a guy! Members contributed numerous other bottles to the raffle.

At right is a photo of some of the bottles being offered in the raffle at the December 8th meeting. Click photo to see closeup view. The bottles from left to right are:
RICHMOND BOTTLING WORKS blob top beer with closure from San Francisco, CA.
Roanne's Goldsboro N.C. which Reggie purchased at Jahnke Road Antique Center in Richmond VA. According to Ed Faulkner of the Richmond club, this is the best place in Richmond to shop for antique bottles.
GARRET & CO / CHOCKOYOTTE, N.C. with cherries logo. Reggie picked up this BIM bottle with fluted neck at the Savannah GA show. First I've heard of this small NC town. Anyone know the history?
FALKNER'S DAIRY / 5 cent / DEPOSIT / HENDERSON, N.C. was contributed by Whitt Stallings.
Raffle will include other bottles to be furnished at meeting.

Club members are encouraged to bring in bottles for the raffle we will have at each meeting. The raffle is fun for everyone and helps add money to the club treasury. For nicer bottles, the club treasury can reimburse the wholesale cost to the donator. Contact the treasurer before the raffle to make arrangements.
Show & Tell / Bottles For Sale
Members are encouraged to bring bottles into meetings for show and tell. These bottles are good candidates for pictures and maybe stories in our newsletter. But it's also a lot of fun to share and is a big part of what our hobby is about.

Members are also encouraged to bring in bottles for sale, since the opportunity to buy nice bottles is another reason people come to meetings.

Here's some show & tell bottles from the November meeting.
| | |
| --- | --- |
| New member Conway Rose brought some nice bottles for sale and here shows off a Japanese fish net float that he found on the beach of Okinawa during 1945, where he served in WWII as a 18 year old Buck Sergent. | FROM / I.C. SHORE & CO., / ROCKY MOUNT, N.C. / RECTIFIERS AND SHIPPERS / OF / Pure N.C. Corn Whiskies and Brandies was shown by Reggie, who purchased the jug at the Nov 3 festival from Corky Shore who is related to I.C. Shore. |
Festival Report
We sold 40 dealer tables for the Nov 3 Fall Festival and had a great show with lovely weather at the Fairgrounds. Dealers were very enthusiastic about the heavy buyer traffic, and I talked to many buyers that picked up some good bottles for their collections.
I've talked with the Flea Market and they've agreed to let us hold this event again in the Fall (first weekend after Flea Market reopens falling State Fair), but next time we will need to move to the end grass island (closest to Dorton Arena) if we keep it as a Sat only event. We can only stay on the middle island if we setup Sat and Sun, but most dealers I talked to did not want to do a two day event.
Thanks to JB Young, Dean Haley, and Pem Woodlief for help with Friday table setup. Thanks to Ronald Hinsley, Pem, and Chuck Peterson for hep with Saturday break down.
Some of the buying/selling activity:
| | |
| --- | --- |
| Some of the buying/selling activity, and here's another shot. | David Jackson and Scott Berry chat bottles at Reggie's table. |
| Pink-tinted BIM circular slug plate Henderson Bottling Works / Henderson, N.C. sold at Festival by Reggie. Told that this bottle also comes in a tombstone slug plate. | Mrs Joe Person's / Remedy / Tarboro, N.C. bought at Festival by Pem Woodlief. |
Raleigh Spring Show Plans
At the Dec 8th meeting we need to vote on where/when to do our Spring Show. A decision is needed quickly to allow us to submit our advanced advertising paperwork.
The NC Military Center is officially not an option for 2002. I drove by and the place is barricaded and surrounded by armed guards. Master Sgt Coats (the event coordinator) cannot tell us when the facility will be available again to the public.
Here are the options we've been able to come up with for doing the show at the NC State Fairgrounds:
Sat Mar 16, 2002 at the Scott Building.
Sat Apr 27, 2002 at the Holshouser Building.
These were the only building/dates available in the Spring on the Fairgrounds, and they both just became available due to recent cancellations. Barbara Williams (Fairgrounds Coordinator) is currently holding both dates for us, but we need to give her a decision/deposit by Dec 17 to officially book one of these dates.

Reggie will hand out budget proposals at the Dec 8th club meeting for doing the show at each of these date/places. While everyone would prefer to do the Scott Building, it has two crucial disadvantages:
March date is too close to Baltimore show and would not allow us adequate preparation time.
Rent for Scott Building has gone up to $1,400, which means we would have trouble making a profit and we don't have enough in the treasury to cover that size deposit.
Recent Finds
If you have any recent finds to post here, or just want to share a favorite bottle, please submit info to the newsletter editor Reggie Lynch. Some pictures can be clicked to see a closeup view.
C. ALFS / SODA WATER / CHARLESTON, S.C. / THIS BOTTLE TO BE RETURNED

This extremely rare and highly desirable soda will be shown by Reggie at the Dec 8 meeting in Burlington and is currently for auction at eBay - see item #1043907834 that ends Dec 11 at 9:45pm EST.

Here is a scarce Rowan County milk bottle I just recently purchased from an Ohio collector. He purchased it from a collector in Pa. I have only seen one other and I have been trying to get it for over three years. Funny where they show up.

John W. Patterson, Jr, web page, Email: ncmilks@carolina.rr.com

Listed as ELK1 in Ayer's Pepsi book, this example sold recently for $113 on eBay.

GREENVILLE BOTTLING WORKS / GREENVILLE, N.C. sold for $78 on eBay by member Charles Batton.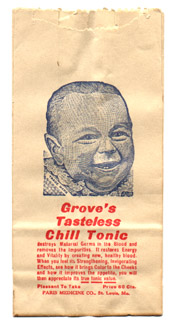 Offerred on eBay recently by hud5on@bellsouth.net, this is an original unused paper sack advertising GROVES CHILL TONIC made by the Paris Medicine Company of St. Louis, Missouri. These early 1900's bags were given to drugstores as free advertising. What I found especially interesting was the NC-related history they provided to go with this item:
Edwin Wiley Grove was born in Bolivar, Hardeman County, Tennessee in 1850. He moved to Paris, TN, and became a druggist. He invented and began selling Febriline and Grove's Tasteless Chill Tonic. The Paris Medicine Company was established in 1886, and moved to St. Louis, Missouri in 1889. The Tasteless Quinine Company was soon formed in Asheville, North Carolina. Grove had many business interests in Asheville, including The Manor, Albemarle Park, Battery Park Hotel, The Arcade, Grovemont, Lake Eden, and the famous Grove Park Inn. (which was furnished by Elbert Hubbard 's Roycrofters.) Grove died in 1927. Paris Medicine Co was renamed the GROVE LABORATORIES in 1935.
Presentation
Looking for other people to sign-up for presentations at future meetings, so please let us know when you would be willing to present. Presentations can be 5 to 60 minutes in length, and you can pick most any topic related to bottles and go-withs. May get Jimmie Wood to do ACL's and Charlie Perry to do White House Vinegar? J.B. Young has offered to do fruit jars in Feb. Vernon Capps has offered to do USA Hospital bottles in Mar. Russell Griffin has offered to do Coke bottles. Sonny Howell has offerred to do a Sat presentation at Granddaddy's. John Patterson has offered to do a Sat presentation on NC milk bottles at Granddaddy's. Susan Jones has offerred to present whimsey bottles. Jerry Roughton wrote the book on NC medicines and has agreed to do a presentation on this topic. Talked about a Spring picnic and presentation at Donnie Medlin's house in Louisburg.
At the Nov 6 meeting, David Tingen gave a very informative slide presentation on "Bottles Through the Ages". Dave designed the slides himself after researching some excellent sources, which included McKearin's "American Bottles & Flasks & Their Ancestry", Toulhouse's "Bottle Makers and Their Marks", and Munsey's "Collecting Bottles". Dave handed out copies of the slides he presented. If you missed it, here's a copy of the slides in PowerPoint format. Thanks to Dave for his hard work putting together this informative presentation.
Meeting Location
The Sat December 8, 2001 noon-2pm meeting will be held at Granddaddy's Antique Mall in Burlington, NC instead of our regular place. Presentation by Randy Kiger on NC Soda bottles. Please be sure to bring your own chair, and members are asked to bring an extra chair for any guests that may show up.

Directions to Granddaddy's: Go I-40/I-85 to Burlington NC and get off at exit 145 for Hwy 49 (same exit as Burlington Mall Outlet Center). After exiting, head north on Hwy 49 and about 1/4 mile down you will see turn to right for Granddaddy's Antique Mall at 2316 Maple Ave. You can call Granddaddy's at 800-494-1919.

Regular club meetings are held 7-9pm on the first Tuesday of each month at Clancy & Theys Construction Company where club member John Arnold works. Company is located at 516 W. Cabarrus Street in downtown Raleigh (near the AmTrak station). Park in back of building. Call John Arnold on his mobile phone at (919) 427-0334 if you get lost.

Directions from the 440 Beltline: Take Glenwood Ave exit and head in town (away from Crabtree Valley Mall). Cross bridge over Wade Ave and turn right to "clover leaf" onto Wade Ave heading downtown. Merge right onto Capital Blvd heading downtown. Capital Blvd becomes N. Dawson St. Continue 0.7mi and turn right onto W. Cabarrus St. Cross railroad tracks, and just pass the Amtrak Station on right is #516 "Clancy & Theys Construction Co" - park behind building.

Directions from I-40: Take S. Saunders St exit and head North into downtown Raleigh. S. Saunders will turn into S. Wilmington St. Go pass Memorial Auditorium, then 2 blocks later turn left on W. Davie St., left on Dawson St, and right on W. Cabarrus St. Cross railroad tracks, and just pass the Amtrak Station on right is #516 "Clancy & Theys Construction Co" - park behind building.

You can also see directions on the Internet via www.mapquest.com by entering the "516 W. Cabarrus St, Raleigh, NC" address.
Agenda for the next meeting
Bottle sales/trades till meeting starts (helps to arrive a little early).
Sign in on sheet - introduce newcomers.
Approve treasurer report and previous minutes in newsletter.
Request articles for upcoming newsletters.
Collect ads to run in the next newsletter.
Confirm date of next meeting as Tue Jan 8 7pm at Clancey & Theys in Raleigh.
Have someone solicit News & Observer to do article on upcoming festival.
Report on financial results of Nov 3 Bottle Festival.
Decide on date/location for Spring Show.
Report by Frank Bishop on status of non-profit application.
Collect dues for those that joined August 2000 or before.
Distribute copies of Club Directory.
Meeting presenters - sign-up people to do presentations of their collections at future meetings.
Discuss doing Feb 9/10 bottle presentation at Raleigh City Museum.
Open discussion, announcements, digging stories, show & tell, latest bottles aquired, show reports, ...
Invite members to tell story of how they got started in bottle collecting.
Setup/announce any raffle bottles. The club can reimburse a nominal amount for nicer bottles - see treasurer in advance.
Setup/announce any auction bottles. The seller can set a minimum bid with the amount above the minimum going to the club. So please bring any bottles you want to auction (limit 5 per seller).
Sell raffle tickets ($1 each, 6 for $5) while presentor gets ready. Also a good time to examine the raffle and auction bottles.
Presentation.
Auction any bottles being offerred.
Draw winning tickets for the raffle. 1st winner gets first choice and so on till all bottles are gone.
Conclude with Swap Meet - announce who has bottles for sale. Each person is encouraged to bring in bottles for sale/trade. Please limit yourself to a maximum of 4 boxes. Tables will be provided where bottles can be displayed for show or sale.
Member Ads
Ads are posted here free of charge to club members. Submit ad info to club secretary for inclusion in the next newsletter. Ads run for 2 months, then must be renewed to continue.
Wanted: colored fruit jars to buy, sell, or trade Mike Ferrera, (910) 630-1583, Email: mike_edith@yahoo.com

Wanted: old PEPSI COLA items and old bottle collections. Bill Clark, 105 Sorrell Grove Church Road, Morrisville, NC 27560, 919-467-0488

Wanted: quality fruit jars, fruit jar ring boxes, and NC milk bottles. Contact J.B. Young, 1012 Davis Drive, Apex, NC 27502, Phone (919) 362-6596.

Wanted: Embossed or painted North Carolina Milk bottles. Scarce to rare wanted especially. Top Dollar. John Patterson, Jr., 412 South Baldwin Ave, Spencer, NC 28159, (704) 636-9510, Email: ncmilks@carolina.rr.com

Wanted: NC blob top beer bottles in undamaged condition, especially amber colored examples. David Tingen, Email: tingen@interpath.com, Phone: (919) 848-4387.

Wanted: NC straight-sided Coca-Cola and script Pepsi bottles in undamaged condition. Reggie Lynch, Email: rlynch@antiquebottles.com, phone: (919) 789-4545.
Check out my bottles for sale on the Internet www.antiquebottles.com/rl/ and in booth 615 at Granddaddy's Antique Mall in Burlington, N.C.
Upcoming Shows
Also see Antique Bottle Shows, AntiqueNC.com, NC State Fairgrounds Calendar of Events, NC Festivals and Fairs, Southeastern Antiquing & Collecting.
Feb 2, 2002
Rome, GA
Rome Antique Bottle & Collectibles Club's Annual Show & Sale, Sat 8am-3pm at the Rome Civic Center, Turner McCall Blvd, Rome, GA. Info: Jerry Mitchell, PO Box 475, Bremen, GA 30110, Phone: (770) 537-3725 or or Bob Jenkins, 285 Oak Grove Rd., Carrollton, GA 30117, PH: (770) 834-0736.
Feb 3, 2002
South River, NJ
New Jersey Antique Bottle Club's 6th annual show Sun 9am-2pm at the Knight's of Colombus Hall, 88 Jackson St, South River, NJ. Info: Joe Butewicz, NJABC, 24 Charles St, South River, NJ 08882, (732) 238-3238, Email: joseph.butwewicz@bms.com or Ernest Bower, (732) 868-0510, Email: botlman@aol.com
Feb 9, 2002
Sarasota, FL
Sarasota-Mannatee Antique Bottle Collectors Association's 16th Annual Indoor Show & Sale, Sat 10am-4:00pm (dealer setup 7:30-10am) at the Boys & Girls Club at the East end (immediately adjacent to the) Sarasota County Fairgrounds, 3100 Fruitville Rd. Info: Ed Herrold, PO Box 3105, Sarasota, FL 34230, (941) 923-6550.
Feb 9-10, 2002
Raleigh, NC
"Pieces of the Past - Antiques Symposium" at the Raleigh City Museum at 220 Fayetteville Street Mall in downtown Raleigh. Sat 11am-5pm, Sun noon-4pm. Our Raleigh Bottle Club will be doing a 2:00-2:45 presentation on Sat Feb 9th. Museum's phone: (919) 832-3775, web: www.raleighcitymuseum.org
Feb 15-16, 2001
Columbia, SC
South Carolina Antique Bottle Club's 28th annual Show & Sale Fri/Sat. Last year was a great show with 135 tables. Same number of tables expected to be sold this year. Will be held at the Boys' and Girls' Club of Cayce, West Columbia, SC (same location as last year). Show flyers will be mailed after Christmas. Email Eric Warren SCbottles@aol.com, 238 Farmdale Dr, Lexington, SC 29073, Phone (803) 951-8860.
Mar 3, 2002
Baltimore, MD
Baltimore Antique Bottle Club 22nd Annual Antique Bottle Show & Sale (Sun. 8 AM - 3 PM) at Essex Community College, 7201 Rossville Blvd., Baltimore, Maryland. Info: Bob Ford, (410) 531-9459, Email: antiquebottles@home.com
---
This web page hosted by the Raleigh Bottle Club