 Raleigh Bottle Club
October 2000 Newsletter
The club meets the first Tuesday of each month.
Next meeting: Mon Nov 6, 2000 (Nov 7 was election night)
Meeting location has changed - see details below
Presentation: Frank Bishop on Richmond and Savannah Sodas.
Topics in this Newsletter Issue:
Business
22 people attended the October 3 meeting, including some new faces. We added 9 new paying members in October. Total paid members: 46.

Our meeting place is under construction, but John Arnold has graciously agreed to allow us to use his place of business for the next meetings till construction is finished. Directions are in the Next Meeting Location section below.

Reggie gave a report on the Liberty Antique Festival, where a few nice bottles appeared including a "STAR BOTTLING WORKS / STAR NC" hutch that Reggie displayed (photo at right). Liberty dealers also had many straight-sided Cokes and White House bottles for sale.
There was more discussion about planning the Raleigh Bottle Show. Committee members are Reggie Lynch (show chairman), David Tingen (co-chairman), J.B. Young, John Arnold, Rex McMillan, and Pem Woodlief. The NC State Fairgrounds are out for the year 2001. Believe me, we tried hard to get this location that was everyone's first pick.
Location picks were narrowed to the NC Armory ($600 for 8,000 sq ft) and Laurel Hills Recreation Center ($840 for 12,000 sq ft). After researching both locations, the show commitee is recommending the NC Armory on Sat April 28, 2001. This date/location will be voted on by club during the Nov meeting to approve the $100 deposit required to secure the location. The remaining $500 rental fee is due 2 weeks before the show. The rental includes 44 6 ft tables and 300 chairs. We will need to rent some additional tables. Plans are for 80 dealer tables and 6 display tables.
The April 28th date will not conflict with any area bottle shows in NC, VA, MD, PA, NY, TN, KY, OH, SC, GA, AL, or FL. And the show is the same weekend as the Liberty NC Antique Festival on Fri-Sun Apr 27-29, so people may be more encouraged to travel in town for both events.
The club will also be asked to vote on approval of spending $150 for show advertising in the Antique Bottle & Glass Collector magazine. For $150, we get large display ads, show listing in the "Yellow Pages", listing in the Show Calendar, People's Choice ribbon and ballot pack, and listing on the Internet.
Dealer/member lists are being swapped with area clubs to build up our database of show dealers/buyers, as well as increase membership. Our Raleigh list has been sent to Winston Salem NC, Asheville NC, Lumberton NC, Richmond VA, Smyrna/Atlanta GA, Harrisburg VA, Columbia SC, and Baltimore MD. So far I've received dealer/member lists from Winston Salem (including the Old Time Vinegar Society Club), Lumberton, Richmond, and Baltimore.
The club raffle saw lucky members walk away with a slug plate Raleigh milk and other nice bottles, and raised $42. Bill Clark raised $25 for the club by auctioning some NC Pepsi bottles and a Apex Bottling Works.
The club is now a member of the FOHBC: Federation of Historical Bottle Collectors. This entitles us to a free ad in their Bottles & Extras magazine (good for advertising our show?). Our club is already listed on the Southern club section of the FOHBC.
Frank Bishop will present "Richmond and Savannah Sodas" at the Nov meeting. David Jackson of Greensboro has agreed to present NC Whiskey Bottles (maybe David will bring some of his nice bitters, too?) Reggie Lynch is on standy to present "Colorful pre-1900 Inks". Dave Tingen can do program on bottle cleaning. Looking for other people to sign-up for presentations at future meetings.
---
Presentation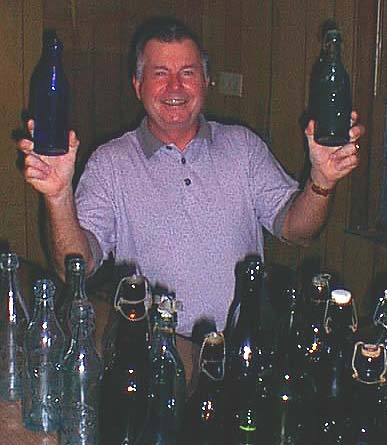 David Tingen gave a wonderful presentation on blob top beer bottles. David began with the story of J.W. Waynick, who got in trouble with the Dept of Revenue so he moved operations from Bristol VA to Greensboro, NC. David described examples bottles from both towns and showed an example from Greensboro. A good book for beer bottle collectors is "100 Years Of Brewing", which covers the 1803-1903 era of brewing in the US.
Before the 1850s, the English porters and stouts were the most common bottles used for beer. David showed pontilled examples of BUFFUM PORTER and BROWN STOUT. An 1880's paper label claimed "for medicinal purposes only" because drinking was frowned on. Codd-style American beer bottles are very tough to find. The English sometimes used blue, red, and amber colored lips on their Codd bottles so different varieties could be quickly distinguished by looking down in the case.
Boston beers come in many nice colors. Chicago and Philly also had nice colored beers, and a few nice colors from NY. Private molds have more character and color than slug plate molds. Cobalt blue is a very tough color to find for beers. Only about 15 different cobalt blue beers are known. Dave showed a cobalt James Kane from Pennsylvania (this is one of the bottles he is holding in the photo).
Dave showed an example with "Thou shalt not steal" embossed on the glass. A Michigan beer with "Pure and without drugs and poisons" was the result of bad water in the area around 1903. The latest blob beer is 1919. Beers have many type of closures, with the lightning closure being the most common followed by porcelain "hutters".
The mythical king of brewing was King Gambrinus, and many companies used his name and image on their bottles.
Beers comes in 3 main sizes: quarts, pints, and splits. California has about 200 different splits. David showed an amber J.H. TIENKEN split from Wilmington NC. Many teepee style beers were from around St Louis. Southern beers are hard to find. Few of the mold makers were literate, so lots of typos will be found in the embossing.
The curator of the Carnegie Hall museum contacted Dave to learn about Henry Elias, who had a spring house on the current site of Carnegie Hall. His brewery was across the street. Elias had to relocate before the Hall could be built. Dave sent them lots of historical info, including period advertising and a Elias beer bottle. These are now on display at the museum. Dave has box seats the next time he visits Carnegie Hall.
Dave showed a green Quant Brewing with picture of winged Mercury. The owner used the same logo for his beer and delivery companies. A Continental Brewing from Philly was unique with its embossed soldier and internal screw top.
Most NC beers are slug plate pints. Greensboro, Wilmington, and Winston had amber beers, but all the rest are aqua. Some NC towns with embossed beer bottles: Elizabeth, Washington, Edenton, Wilmington (12 different - Anheuser Bush operated there for 3 years), New Bern (3), Cameron (1), Raleigh (3), Durham (2), Kinston (2-3), Weldon (J.L. Fryar), Rocky Mount, Greensboro, Charlotte (Portner), Asheville, and Greenville.
Everyone got to come up afterwards and talk with Dave and see these treasures up close. Quite a collection - thanks for sharing it, Dave.
---
Treasurer Report
Opened a club savings account so we can now accept checks made payable to "Raleigh Bottle Club".
Previous Balance:
$546.45
Income:
$90 dues from new members David Jackson, William Long, Richard Perry, John Patterson, Bill Owen, Randall Kiger, Howard Crowe, Jimmie Wood, Worth Carswell.
$42 raffle by Jack Murdock and Reggie Lynch
$25 from auction of Pepsi bottles by Bill Clark.
Expenses:
$19.84 postage to mail newsletter
$16.85 copies
$22.83 FOHBC club membership
$100.80 downpayment for show rental at Armory
Current Balance:
$543.13
---
Next Meeting Location
The next club meeting is Monday Nov 6, 2000 7-9pm at Clancy & Theys Construction Company where club member John Arnold works. Company is located at 516 W. Cabarrus Street in downtown Raleigh (near the AmTrak station). Park in back of building. Some signs should be posted to help you find it. Call John Arnold on his mobile phone at (919) 427-0334 if you get lost.

Directions from the 440 Beltline: Take Glenwood Ave exit and head in town (away from Crabtree Valley Mall). From Glenwood Ave, turn right on Oberlin Rd (at Exxon). Go 0.6mi and turn left onto Fairview Rd. Go 1.1mi and turn left onto Capital Blvd. After 0.9mi, Capital Blvd becomes N. Dawson St. Continue 0.7mi and turn right onto W. Cabarrus St. Building is #516 "Clancy & Theys Construction Co" - park behind building.

Directions from I-40: Take S. Saunders St exit and head North into downtown Raleigh. S. Saunders will turn into S. Wilmington St. Go pass Memorial Auditorium, then 2 blocks later turn left on W. Davie St., left on Dawson St, and right on W. Cabarrus St. Building is #516 "Clancy & Theys Construction Co" - park behind building.

You can also see directions on the Internet via MapQuest by entering the "516 W. Cabarrus St, Raleigh, NC" address.
---
Agenda for the October meeting
Update membership list - add any new members. Everyone insure their info and collecting interests are correct for the upcoming club directory.
Treasurer report.
Ask people to volunteer articles for upcoming newsletters.
Collect ads to run in the next newsletter. Each member may run a free 35 word ad for 2 months. Ads can be renewed for free after the two months. Ads might be something like the types of bottles you want to buy or sale, organizing a carpool to a bottle show, bottles you have for sale in an area antique shop, etc. Anything goes as long as it is antique bottle related.
Confirm location of next meeting.
Distribute meeting flyers for members to post in area antique shops/malls.
Have someone solicit News & Observer to do article on new club. Run article after we have a show date set.
Show report by show committee. Decide on committees to organize for upcoming show (advertising, dealer refreshments, raffle tickets, dealer contract sales, early buying admission, club display table, sign construction/placement, ...).
Decide how to run free club ad in FOHBC magazine "Bottles & Extras".
Meeting presenters - sign-up people to do presentations of their collections at future meetings.
Setup/announce any raffle bottles.
Setup/announce any auction bottles. The seller can set a minimum bid with the amount above the minimum going to the club. So please bring any bottles you want to auction (limit 5 per seller).
Sell raffle tickets ($1 each) while presentor gets ready. Also a good time to examine the auction and raffle bottles.
Presentation by Frank Bishop on "Richmond and Savannah Sodas".
Auction any bottles being offerred.
Draw winning tickets for the raffle. 1st winner gets first choice and so on till all bottles are gone.
Open discussion, announcements, digging stories, show & tell, latest bottles aquired, show reports (Richmond), ...
Conclude with Swap Meet - each person is encouraged to bring bottles for sale/trade. Please limit yourself to a 2 box maximum. Tables will be provided where bottles can be displayed for show or sale.
---
Joining
To join the Raleigh Bottle Club, please use this Membership Application web form or contact Reggie for a printed copy.
---
Member Ads
Wanted: Standard size Pyro Quarts with City & State. Frank Elske, 212 Wilson St., Eden NC 27288, Phone (336)627-0057, Email: pelske@interpath.com

For Sale: script Pepsi=Cola bottles $50 each in near mint condition. Pick from Ayer codes FA-1, FA-4, and FA-5. Bill Clark, 105 Sorrel Grove Church Rd, Morrisville, NC 27560, Phone (919) 467-0488, Email: awsum@mindspring.com.

Wanted: NC straight-sided Coca-Cola bottles in undamaged condition. Reggie Lynch, Email: rlynch@antiquebottles.com, phone: (919) 789-4545.
---
Upcoming Shows
Oct 27-28, 2000
Union, SC
Antique Bottle & Collectibles Show & Sale, setup Fri noon-8pm, show Sat 8am-2pm, 125 dealer tables available, free admission, Hwy 176 Bypass, Union County Fairgrounds, Union, SC (was formerly held at the Buffalo Elementary School). Held in conjunction with the Uniquely Union Festival, 1st table $25, each additional table $10. INFO: Mike Sanders, 1008 Bishop Road, Union, SC 29379, (864) 427-3367/9340 (day/night), or Russ Sanders, 193 Bailey Rd, Buffalo, SC 29321, (864) 427-4167.
Nov 5, 2000
Elkton, MD
Tri-state Bottle Collectors & Diggers Clubís 28th Annual Show & Sale (Sun. 9 AM - 3 PM) at the Singerly Fire Hall, Routes 213 & 279 (I-95 exit 109A), Elkton, Maryland. INFO: DEAN SHIPPY, PH: (302) 368-0549
Nov 12, 2000
Oakland, NJ
North Jersey Antique Bottle Collectors Associationís 31st Annual Show & Sale (Sun. 9 AM - 2 PM, early admission 8 AM) at Valley Middle School, Route 202, Oakland, New Jersey. INFO: PAUL BOREY, 251 Vista View Dr., Mahwah, NJ 07430, PH: (201) 934-7486, E-mail: njabca@juno.com
Nov 18, 2000
Walhalla, SC
Dixie Jewels Insulator Clubís Fall Swap Meet (Sat. 9:30 AM - ?) at the home of Ed & Zandra Overstreet. INFO: ED OVERSTREET, 428 Holloway St., Walhalla, SC 29691, PH: (864) 718-1919, E-mail: eko4@innova.net
Nov 19, 2000
Timonium, MD
The Great Mid-Atlantic Bottle Show & Sale is a new show that will be held Sunday 9am-3pm at the Maryland State Fairgrounds, Timonium, MD off I-83 North of Baltimore. Over 150 table of all types of Bottles, Stoneware, Early Glass, Breweriana, Advertising, and Go Withs. Admission $2, no early buyers. Put on by Holiday Promotions, P.O. Box 845, Abingdon, MD 21009. Contacts: Bill Thomas 410-538-5558, Rick Lease 410-239-8918.
This show is not sponsored by the Baltimore Antique Bottle Club and certainly does not replace their show which will still be held in March.
Jan 14, 2001
S. Attleboro, MA
LRBC Annual Bottle Show and Sale is put on by the The Little Rhody Bottle Club of Rhode Island. At the K of C Hall, 304 Highland Ave., South Attleboro, MA from 10:00 am - 3:00 p.m.. There is a $2.00 donation at the door and plenty of free parking. Info: Art Pawlowski, P. O. Box 3411, So. Attleboro, MA 02703, 508-399-6427.
Feb 18-19, 2000
Columbia, SC
South Carolina Antique Bottle Club's 26th annual Show & Sale Fri/Sat. Last year was a great show with 135 tables. Same number of tables expected to be sold this year. Will be held at the Boys' and Girls' Club of Cayce, West Columbia, SC (same location as last year). Show flyers will be mailed after Christmas. Email Eric Warren SCbottles@aol.com, Phone (803) 951-4444 days, (803) 923-6550 evenings.
Mar 4, 2001
Baltimore, MD
Baltimore Antique Bottle Club 21st Annual Antique Bottle Show & Sale (Sun. 8 AM - 3 PM) at Essex Community College, 7201 Rossville Blvd., Baltimore, Maryland. See their club page for details.
---
This web page hosted by Antique Bottle Collectors Haven