Raleigh Bottle Club - October 2001 Newsletter
Club meets the first Tuesday of each month.
Next meeting: Tuesday November 6, 2001
Meeting will be at Clancey & Theys Construction - see directions below
Presentation: Bottles thru the Ages by David Tingen
Topics in this Newsletter (click topic to jump there):
The Raleigh Bottle Club is a non-profit organization that provides a forum for area antique bottle collectors to get together, talk bottles, buy/sell/trade, organize club digs, and just have fun. The club also serves the community by answering bottle questions and sponsoring an annual Bottle Show and Sale. Next event: Saturday November 3, 2001 Festival at the NC State Fairgrounds. Current 2001/2002 officers:
David Tingen
President
John Arnold
Vice-president
Frank Bishop
Secretary
Reggie Lynch
Treasurer
Newsletter Editor
Show Chairman
Ronald Hinsley
Co-Show Chairman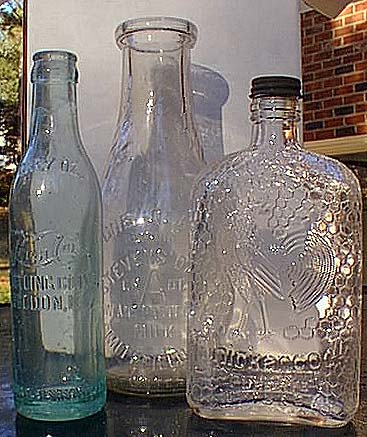 All past newsletters are stored on the club web page for quick&easy reference, so there is no need to print and save them.

Meetings are open to the public, so drop by and check us out. We hope you'll consider joining the club. Club members receive the monthly newsletter, run free ads, and participate in all the fun/benefits the club has to offer.
Business & Misc
20 people attended the Oct 2 meeting. Sep minutes were approved, along with club and show treasurer reports.

Reggie sent out Email to our 500 people on Email distribution to notify public that the Savannah GA show on Oct 27 had to change it's location due to closing of Armory when National Guard was mobilized.

At right is a picture of some of the bottles that will be raffled off at the Nov 6 meeting.
President's Message
As our hobby and interests grow, we all seem to have a need to know more about the history of bottles and those who collect. To satisfy this need, we read magazines, listen to presentations and attend shows whenever possible. As a long time collector, I am always interested in all aspects of the hobby, but especially the stories that each collector has to tell about how they got interested in bottles or the best find they ever made. I encourage each and every member to share these stories with other members in any way they can. If anyone has a story, but doesn't have the time to present or write, please give me a call and I will be glad to assist.

The Raleigh club has become larger each month and the range of influence has reached outside the immediate Raleigh area. In order to allow more people to join our meetings, there has been a suggestion that we have a Saturday session outside Raleigh. One to the west and one to east within one hour's drive may work. Please give this some thought for discussion in our next meeting. This approach may lead to a consolidated effort by all collectors in North Carolina to share some common goals such as a collectors guide or a combined show.

Our bottle festival, at the fairgrounds, is November 3, 2001. This is an excellent opportunity to meet new collectors and to promote our club. I encourage everyone to attend this event if at all possible. Reggie and others have spent considerable time planning this and would appreciate a good turnout. The flea market in November is a busy place and can offer many shoppers. You never know what will show up at the flea market as J.B., Pem and others can attest. See you there.

A word of thanks to John Arnold for arranging a great meeting place and for taking time to come early and stay late. Ya-hooo!

Good collecting .. David Tingen
Membership - Renewal - Upcoming Directory
We added 5 new paying members in October: Art Andrews, Gerald Strickland, Dennis Johnson, Michael Ferrera, Frank Speal, Jr. Total paid members: 84.

Membership renewals notifications have been sent. Dues are $10 individual, $15 family. The 2001 Club Directory will be available for pickup by members at the Nov 3 Festival and Nov 6 meeting, and then mailed to those remaining. Try to pick up your copy to save on postage.

Thanks to these members who have already renewed: Pem Woodlief, Bill Clark, John Arnold, Gary Arnold, Jack & Judy Freeman, John Monroe, Dean Haley, Skinny & Nita Medlin, David Tingen, William Long, Frank Elske, Kitty Fickes,

Members who need to renew: Frank Bishop, Vernon Capps, David Chiswell, Susan Jones, Jody Knauf, Sterling Mann, Bill McConley, Dawn Medlin, Johnny & Anne Parks, W.K. Richards, Eugenia Wade, Joe Webb, Bill Wrenn, Burt Wrenn.

If you are a member and your name does not appear above, then you joined after August 2000 so your dues will not be due till August 2002.

To join the Raleigh Bottle Club, please use the Membership Application web form or contact Reggie for a printed copy. The club newsletter is distributed to over 500 people, mostly in NC and the surrounding states. Members can place free ads, which will be seen by a large number of people in our area.
Raffle
The September raffle raised $71 for the club - a new record - thanks for everyone's support.

Picture on front page of the newsletter shows three of our raffle bottles for the Nov 6 meeting: rare 1915 Pepsi Cola from Weldon, NC (WEL1-V1 in Ayer's Pepsi book), quart STEVEN'S DAIRY from SMITHFIELD, NC, and pint "Chickencock PURE RYE WHISKEY" with embossed picture of rooster (this last bottle was donated by Charles Batton -thanks). Raffle will include other bottles to be furnished at meeting.

Club members are encouraged to bring in bottles for the raffle we will have at each meeting. The raffle is fun for everyone and helps add money to the club treasury. For nicer bottles, the club treasury can reimburse the wholesale cost to the donator. Contact the treasurer before the raffle to make arrangements.
Show & Tell / Bottles For Sale
Members are encouraged to bring bottles into meetings for show and tell. These bottles are good candidates for pictures and maybe stories in our newsletter. But it's also a lot of fun to share and is a big part of what our hobby is about.

Members are also encouraged to bring in bottles for sale, since the opportunity to buy nice bottles is another reason people come to meetings.

Here's some show & tell bottles from the October meeting.

At right, Jack Murdock shows an amber Hicks Capudine bottle from Raleigh with original label and original glass dose cap - first time anyone has seen the dose cap.
| | | |
| --- | --- | --- |
| Reggie showed (from left to right) a slug-plate PUNCH-I-NELO soda from Goldsboro, NC (donated to the night's raffle), a teal green Carter's master ink with original front and back labels (found at recent Liberty festival), a ribbon COCA-COLA from Goldsboro, NC (sold that night to Ralph Dean), and a medium green squat FRANCIS DUSCH / XXX PORTER (from Richmond, VA - sold quickly at Oct 6 Richmond show.). | Robby Delius showed 4 paper label medicines, all from NC. | |
Festival Report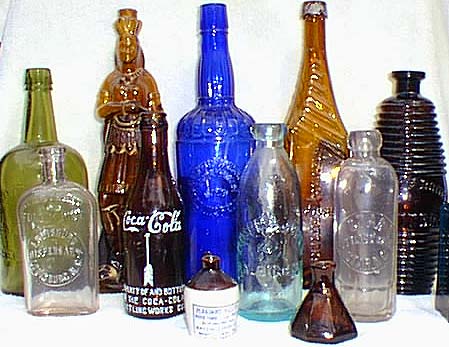 Reggie distributed cards and dealer packages at these recent events: Sep 28-29 Liberty NC Antique Festival, Oct 6 Richmond VA Bottle Show, Oct 27 Savannah GA Bottle Show. Pem distributed cards and posters at the Oct 6 Cameron event.

We have lots of room for tables at the Fairgrounds and we are the only we you can reserve a spot on this very busy shopping weekend. To reserve a table, let Reggie know by Thu 9pm Nov 1. A few tables will be available the day of the show, but these will go quick and are limited.

Full info about the Festival is available online at:
www.antiquebottles.com/raleigh/NovFest/
Richmond Bottle Show
Report by Reggie Lynch.

The Richmond show was the best yet with more dealer tables and displays than earlier shows. James Ayers was present with sales table and winning display to promote his new Pepsi Book. For details see antiquebottles.com/pepsibook.

Most of the pictures below were shrunk to fit them all in. To see a full size closeup, just left click the picture with your mouse.
The Pepsi bottle display by James Ayers had some real killer bottles and won first prize.

Raleigh club member Sonny Howell did his Civil War display, which was similar to how he did it at Raleigh but this time he's attend vintage pottery, a Confederate rifle, and vintage music. The display won 2nd place.

Nice display of insulators.

Bubba Overcash shows a recent find: a blob top beer embossed in circular slug plate "Jas REDMOND / NEW BERNE, N.C.".

Dealer Al Steidel had this cobalt blue pontilled soda on his table. Peened out embossing reads "M'FLANAGAN / PETERSBURG, VA".

Durham NC dealer Dan DeGrado shows his fruit jars for sale. He runs strands of fishing line behind each shelf to prevent jars from tipping off. Indicated he'll setup at our Nov 3 Raleigh Festival.

Louisburg NC dealers and new Raleigh club members Charles and Cynthia Batton show the new autographed Ayer's Pepsi book they purchased at Richmond. Charles donated a nice rooster whiskey flask for the next club raffle.

Vernon Capps in midst of some of the "action" at the Richmond show.

Savannah GA dealer Peyton Youmans checks out a cobalt soda on Reggie's table.

Some of the best things about America: our flag, Sargent Santa, our kids, and bottles of course.

Sargent Santa gives a hug to Anna Lynch (Reggie's daughter). A yearly participant of the Richmond show, Sargent Santa is an inspiration in his volunteer work with children and very deserving of any donation you might make to his charity.
Recent Finds
If you have any recent finds to post here, or just want to share a favorite bottle, please submit info to the newsletter editor Reggie Lynch. Some pictures can be clicked to see a closeup view.
RIVERSIDE MFG. CO. / FREMONT, N.C. / DEALERS IN FINE LIQUORS / Write for Confidential price list.

This jug sold recently on eBay but reserve not met.

E.A. LACKEY / SHIPPERS AND DEALERS IN / WINES AND LIQUORS / HAMLET, N.C.

This jug sold recently on eBay for $225.

Aqua pint JoJo flask with tree and mispelled "DISPENSAPY". sold for a whopping $725 on eBay but reserve was not met.

teal H. KORDLANDER WILMINGTON NC that sold recently on eBay for $360.

1/2 pint RALEIGH N.C. DISPENSARY that sold for a whopping $260 on eBay.

Mini-jug stenciled
TRY OUR / SWEET MASH CORN / WINSTON DISTRIBUTING CO / Winston-Salem, N.C. sold recently by Stanley Gwinnett for $180 on eBay.

pint Rutherfordton , N.C. Dispensary , Full Measure that sold recently for $386 on eBay.

9" tall label-under-glass Hicks Capudine, a Raleigh-based company. This item sold recently on eBay for $241.

rare Mathias Springs Bottling Plant New Brookland SC that sold recently on eBay for $125.

Pint Smithfield / Dispensary / Smithfield / N.C. that sold recently on eBay for $247.

Rare BROWN BROS / PEPSI:COLA / WILSON, N.C. bottle that sold recently for $300 on eBay.

Dr Pepper bottle called the "thieves bottle". Embossed Registered We Pay For Evidence Convicting Thieves For Refilling Our Bottles / American Mineral Water Co. Distributors Of Dr.Pepper / St. Louis, Mo. sold recently on eBay for $202.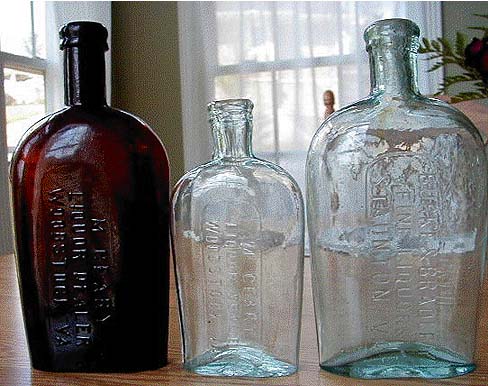 From left to right:
amber M. GEARY / LIQUOR DEALER / WOODSTOCK, VA. listed but did not meet reserve.
aqua half pint union flask M. GEARY / LIQUOR DEALER / WOODSTOCK, VA sold on eBay for $360.
aqua BURKE & BRADLEY / FINE LIQUORS / STAUNTON, VA. sold on eBay for $380.
Presentation
There was no presentation in October.
Looking for other people to sign-up for presentations at future meetings, so please let us know when you would be willing to present. Presentations can be 5 to 60 minutes in length, and you can pick most any topic related to bottles and go-withs. May get Jimmie Wood to do ACL's and Charlie Perry to do White House Vinegar in the Fall. J.B. Young has offered to do fruit jars in Feb. Talked about a Spring picnic and presentation at Donnie Medlin's house in Louisburg.
Meeting Location
Club meetings are held 7-9pm on the first Tuesday of each month at Clancy & Theys Construction Company where club member John Arnold works. Company is located at 516 W. Cabarrus Street in downtown Raleigh (near the AmTrak station). Park in back of building. Call John Arnold on his mobile phone at (919) 427-0334 if you get lost.

Directions from the 440 Beltline: Take Glenwood Ave exit and head in town (away from Crabtree Valley Mall). Cross bridge over Wade Ave and turn right to "clover leaf" onto Wade Ave heading downtown. Merge right onto Capital Blvd heading downtown. Capital Blvd becomes N. Dawson St. Continue 0.7mi and turn right onto W. Cabarrus St. Cross railroad tracks, and just pass the Amtrak Station on right is #516 "Clancy & Theys Construction Co" - park behind building.

Directions from I-40: Take S. Saunders St exit and head North into downtown Raleigh. S. Saunders will turn into S. Wilmington St. Go pass Memorial Auditorium, then 2 blocks later turn left on W. Davie St., left on Dawson St, and right on W. Cabarrus St. Cross railroad tracks, and just pass the Amtrak Station on right is #516 "Clancy & Theys Construction Co" - park behind building.

You can also see directions on the Internet via www.mapquest.com by entering the "516 W. Cabarrus St, Raleigh, NC" address.
Agenda for the next meeting
Bottle sales/trades till meeting starts (helps to arrive a little early).
Sign in on sheet - introduce newcomers.
Approve treasurer report and previous minutes in newsletter.
Request articles for upcoming newsletters.
Collect ads to run in the next newsletter.
Confirm date of next meeting.
Granddaddy's Antique Mall in Burlington has agreed to let us meet inside their shop for a meeting on Sat Dec 8 noon-2pm. And Randy Kiger has agreed to do a presentation that day on his NC soda bottle collection. Need club to approve this change for our Dec meeting. If approved, will also need to arrange for 25 chairs and 2 tables.

Discuss option of having other future meetings in different locations on Sat since many members complain they just can't make the trip on a work night. One proposal is a Sat noon meeting in Wilson, maybe at the banquet room in Parker's BBQ. Another is to meet on the NC State Fairgrounds at picnic tables in the grass islands beside Flea Market (same spot as our Nov festival).

Have someone solicit News & Observer to do article on upcoming festival.
Report on results of Nov 3 Bottle Festival
Report by Frank Bishop on status of non-profit application.
Collect dues for those that joined August 2000 or before.
Status of digital camera purchase for club use.
Distribute copies of Club Directory.
Meeting presenters - sign-up people to do presentations of their collections at future meetings.
Open discussion, announcements, digging stories, show & tell, latest bottles aquired, show reports, ...
Setup/announce any raffle bottles. The club can reimburse a nominal amount for nicer bottles - see treasurer in advance.
Setup/announce any auction bottles. The seller can set a minimum bid with the amount above the minimum going to the club. So please bring any bottles you want to auction (limit 5 per seller).
Sell raffle tickets ($1 each, 6 for $5) while presentor gets ready. Also a good time to examine the raffle and auction bottles.
Presentation.
Auction any bottles being offerred.
Draw winning tickets for the raffle. 1st winner gets first choice and so on till all bottles are gone.
Conclude with Swap Meet - announce who has bottles for sale. Each person is encouraged to bring in bottles for sale/trade. Please limit yourself to a maximum of 4 boxes. Tables will be provided where bottles can be displayed for show or sale.
Member Ads
Ads are posted here free of charge to club members. Submit ad info to club secretary for inclusion in the next newsletter. Ads run for 2 months, then must be renewed to continue.
Club member Frank Speal Jr is hosting a huge Antique Advertising - Country Store Auction Fri-Sat Nov 9-10 in Hillsborough, NC. See Calendar of Events section for details.

Wanted: colored fruit jars to buy, sell, or trade Mike Ferrera, (910) 630-1583, Email: mike_edith@yahoo.com

Wanted: old PEPSI COLA items and old bottle collections. Bill Clark, 105 Sorrell Grove Church Road, Morrisville, NC 27560, 919-467-0488

Wanted: quality fruit jars, fruit jar ring boxes, and NC milk bottles. Contact J.B. Young, 1012 Davis Drive, Apex, NC 27502, Phone (919) 362-6596.

Wanted: Embossed or painted North Carolina Milk bottles. Scarce to rare wanted especially. Top Dollar. John Patterson, Jr., 412 South Baldwin Ave, Spencer, NC 28159, (704) 636-9510, Email: ncmilks@carolina.rr.com

Wanted: NC blob top beer bottles in undamaged condition, especially amber colored examples. David Tingen, Email: tingen@interpath.com, Phone: (919) 848-4387.

Wanted: NC straight-sided Coca-Cola and script Pepsi bottles in undamaged condition. Reggie Lynch, Email: rlynch@antiquebottles.com, phone: (919) 789-4545.
Check out my bottles for sale on the Internet www.antiquebottles.com/rl/ and in booth 615 at Granddaddy's Antique Mall in Burlington, N.C.
Upcoming Shows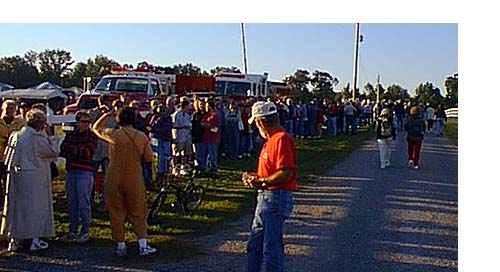 Here's the crowd lined up to get in Friday morning 8am at the Liberty Antique Festival on Sep 27. Jack Murdock and Reggie were 2nd in line. Sure that Jack won't let Pem forget that just this once, he beat Pem into a show.
Also see Antique Bottle Shows, AntiqueNC.com, NC Festivals and Fairs, Southeastern Antiquing & Collecting.
Oct 31 - Nov 4
Charlotte, NC
Metrolina Antiques & Collectibles Show - Antiques Spectacular At 7100 Statesville Rd., off I-77 Exit 16A. Largest monthly antique & collectibles market in the country. Over 2,000 dealers. First weekend of each month. Early buyers day Thur. 8-5, $10 adm. Fri. & Sat. 8-5; Sun. 9-5, $4 adm. each day. 4 day pass $15. For info call 800-824-3770 or visit www.metrolinaexpo.com
Nov 3, 2001
Raleigh, NC
Raleigh Bottle Festival hosted by the Raleigh Bottle Club. Sat 7am-3pm outdoors at the NC State Fairgrounds on the corner of Blue Ridge Rd and Hillsborough Rd in Raleigh, NC. Co-located with the Flea Market, which will have just reopened following the NC State Fair, so a huge crowd is expected. Free admission - no early buying. Free parking. Dealer setup: 6am. Rain date: Nov 10. Info: Reggie Lynch, (919) 789-4545, PO Box 13736, Durham, NC 27709, Email: raleigh@antiquebottles.com, Web: www.antiquebottles.com/raleigh/
Nov 4, 2001
Elkton, MD
Tri-state Bottle Collectors & Diggers Club's 29th Annual Show & Sale (Sun. 9 AM - 3 PM) at the Washington Twp. Firehall, Exit 20 (to Fayette City) off Rt. 70. Info: ENG JOHNSON, 650 Hood School Rd., Indiana, PA 15701, PH: (724) 465-8287 or BOB DeCROO, 153 Coal Valley Rd., Jefferson Hills, PA 15025. PH: (412) 233-8109.
Nov 9-10, 2001
Hillsborough, NC
Antique Advertising - Country Store Auction Fri 4-10pm (2pm preview) and Sat 10am-Until (9am preview) at the Big Barn Convention Center (Daniel Boone Complex) off I-85 (exit 164). Over 1000 lots, no reserves. Info: Frank Speal, Jr. (904)-845-2870.
Click here to see front page of color flyer.
Nov 10, 2001
Sarasota, FL
The Sarasota-Manatee Antique Bottle Collectors 17th Annual "Tail-Gators" Outdoor Show & Swap Meet, (9 AM to 2 PM), at the Glassblowers Union Hall Grounds, 3309 Ninth Street East. Info: Ed Herrold, PO Box 18928, Sarasota, FL 34276, Phone (941) 923-6550.
---
This web page hosted by the Raleigh Bottle Club