Raleigh Bottle Club - September 2001 Newsletter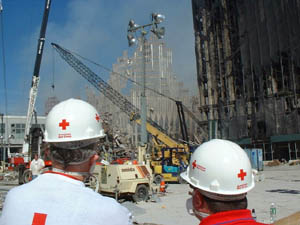 Club meets the first Tuesday of each month.
Next meeting: Tuesday October 2, 2001
Meeting will be at Clancey & Theys Construction - see directions below
Presentation: Preparation for Nov 3 Festival
This has been a tragic month in US history with the terrorist attacks of the World Trade Center and the Pentagon. We would like to extend our condolences to families of the victims. Be careful of the many scams asking for help, especially thru Email. If you would like to help, you can be assured your contributions to the American Red Cross will be put to good use. Web: www.redcross.org Phone: 1-800-HELP-NOW
Topics in this Newsletter (click topic to jump there):
The Raleigh Bottle Club is a non-profit organization that provides a forum for area antique bottle collectors to get together, talk bottles, buy/sell/trade, organize club digs, and just have fun. The club also serves the community by answering bottle questions and sponsoring an annual Bottle Show and Sale. Next event: Saturday November 3, 2001 Festival at the NC State Fairgrounds. Current 2001/2002 officers:
David Tingen
President
John Arnold
Vice-president
Frank Bishop
Secretary
Reggie Lynch
Treasurer
Newsletter Editor
Show Chairman
Ronald Hinsley
Co-Show Chairman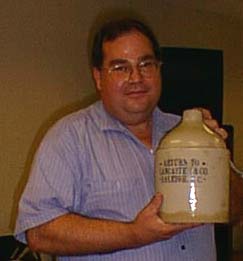 All past newsletters are stored on the club web page for quick&easy reference, so there is no need to print and save them.

Meetings are open to the public, so drop by and check us out. We hope you'll consider joining the club. Club members receive the monthly newsletter, run free ads, and participate in all the fun/benefits the club has to offer.
Business & Misc
24 people attended the Sept 4 meeting. August minutes were approved, along with club and show treasurer reports. Note that the rest of the old "Business" section has moved to its appropriate section in this newsletter (e.g. raffle, membership, etc).

Check out the fantastic presentation this month which was given by member Pem Woodlief, shown at right holding his coveted Lancaster jug from Raleigh.

Note that Oakwood Antique Mall (W.K. Richard's shop) is closed until Oct 2 when they complete the move to their new location at Tillery Place, 1653 Old Louisburg Rd.

The Sep 16 bottle show at the Armory in Winchester VA was cancelled when the VA National Guard was mobilized for the recent tragedy. Reggie sent Email notifications to our distribution list which saved some people from making the unnecessary trip.

The Richmond VA Show will be Sat Oct 6, and is only a 3 hour drive from Raleigh. I talked with show chairman Judy Foles who said they should have 90 dealer tables - up from last year's number. Judy said James Ayer's will be setup and selling autographed copies of his 2001 Pepsi book which is hot off the presses.
President's Message
Recent events have caused a lot of reflection and a new evaluation of our lives. Our society has become even kinder in recent days. We have placed a new value on freedom and the ability, of each of us, to do the things we want. When I look at the news, I often wonder what percentage of the worldís population has the opportunity to collect bits of history like we do and to come together for mutual enjoyment. We all hope this never ends.

It seems like only yesterday that the first club meeting took place and yet we have come a long way. The membership has grown, our influence has widened and we all have had fun. Who ever thought we would have a great show in the first year. Our monthly meetings are now a time to learn more of each other, enjoy fellowship, show our recent finds and learn about our hobby. Through continued interest and support we will grow the club to be even better. Each and every member is encouraged to contribute as you can in any way you can. Any addition to the newsletter, however brief, is appreciated. Any presentation, long or short, is also appreciated by all. I am always anxious to learn more about what the members collect and feel certain all of you share my view.

I say, thank you to all those who have contributed and will do so in the future. Our hobby and our club are what we make them

David Tingen
Membership - Renewal - Upcoming Directory
We added 4 new paying members in September: Charles and Cynthia Batton, Chris & Vanessa Clark. Total paid members: 79.

Membership renewals notifications have been sent. Dues are $10 individual, $15 family. Oct 15 is the deadline for renewing dues so you appear in the club directory, which will be handed out (to save postage) at the Nov meeting & festival, and then mailed to those remaining. Insure we know your current collecting interests since this info will be published in the directory so area collectors can help you find bottles that interest you.

Thanks to these members who have already renewed: George & Anita Cullom, Robby Delius, Freddie Edwards, Jerry Higgins, Ronald Hinsley, Reggie Lynch, Rex McMillan, Donnie Medlin, Jack Murdock, Ken Nease, Chuck Petersen, Whitt Stallings, J.B. & Nancy Young.

Members who need to renew: Gary Arnold, John Arnold, Frank Bishop, Vernon Capps, David Chiswell, Bill Clark, Frank Elske, Kitty Fickes, Jack & Judy Freeman, Dean Haley, Susan Jones, Jody Knauf, William Long, Sterling Mann, Bill McConley, Dawn Medlin, Skinny Medlin, John Monroe, Johnny & Anne Parks, W.K. Richards, David Tingen, Eugenia Wade, Joe Webb, Bill Wrenn, Burt Wrenn.

If you are a member and your name does not appear above, then you joined after August 2000 so your dues will not be due till August 2002.

To join the Raleigh Bottle Club, please use the Membership Application web form or contact Reggie for a printed copy. The club newsletter is distributed to over 500 people, mostly in NC and the surrounding states. Members can place free ads, which will be seen by a large number of people in our area.

Charlie Barnette provided us with the membership list of The State Of Franklin Antique Bottle & Collectibles Association as part of the free swap program. Their members have been added to our database so they receive future mailings about our upcoming bottle shows. Their members with Email addresses will now receive our newsletter, which now expands our Email list to about 500 people. I talked with Charlie and some of his club members at the Asheville show. A really nice and helpful bunch of people. Welcome on board.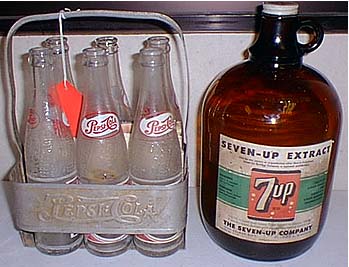 Raffle
The September raffle raised $71 for the club - a new record - thanks for everyone's support.

At right are two items for the upcoming October raffle: an aluminum Pepsi carrier with bottles and amber 7-Up jug with label. Raffle will include other bottles to be furnished at meeting.

Club members are encouraged to bring in bottles for the raffle we will have at each meeting. The raffle is fun for everyone and helps add money to the club treasury. For nicer bottles, the club treasury can reimburse the wholesale cost to the donator. Contact the treasurer before the raffle to make arrangements.
Show & Tell / Bottles For Sale
Members are encouraged to bring bottles into meetings for show and tell. These bottles are good candidates for pictures and maybe stories in our newsletter. But it's also a lot of fun to share and is a big part of what our hobby is about.

Members are also encouraged to bring in bottles for sale, since the opportunity to buy nice bottles is another reason people come to meetings. During the September meeting, Reggie sold a sample size Sol Bear Wilmington NC wine, a Wilmington NC hutch, and a Gastonia NC S-S Coke. Other members were selling other bottles.

Here's some show & tell bottles from the September meeting:
| | |
| --- | --- |
| Jack Murdock showed this ruby red decanter which has the inscription "Said the Gov of NC / to the Gov of SC", with the implied finishing line of "it's been a damn long time between drinks". According to the NC Historical Review of April 1982, a fugitive had fled from SC to NC around 1870-90. SC govenor wanted him extradited, so the two govenors met in the home of Nancy Jones near Cary, NC. SC Govenor asked the NC govenor his thoughts and he replied "it's been a damn long time between drinks". This flask apparently celebrates that situation and is probably circa 1900-10. A unique piece - anyone know anything else about it? | |
| David Tingen showed this bottle that he and Jack dug in Raleigh. It was donated to the Sep raffle. Small torpedo shaped bottle that reads "Streetts". Anyone have any info on this bottle? | Robby Delius showed this English label-under-glass apothecary with ribbed sides and red border around the label. Thought to be a poison. |
| As a follow-up to his earlier presentation on cleaning bottles, David brought in his drill to demonstrate the process for cutting your own copper shot from copper wire. | Reggie showed these 3 bottles picked up at the recent Hillsville festival: amber pint strap flask "S.W. BRANCH / GROCER / SAVANNAH, GA.", wild citron colored medicine "WOMANS BEST FRIEND / FEMALE REGULATOR / BRADFIELD'S / ATLANTA, Ga", and amber Richmond VA Coca-Cola with vertical ribs around base. |
Festival Report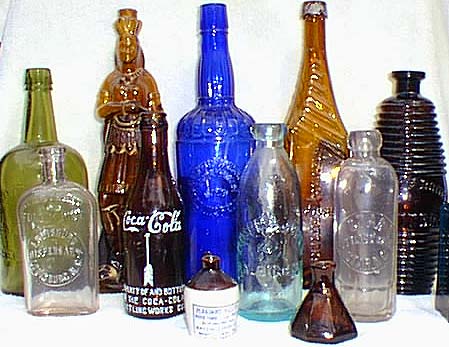 Dealer packages and color posters were handed out at the Sept club meeting. The picture featured on the color poster is shown at right (click picture to see the full size image). The bottles shown from left to right; front row: Louisburg NC Dispensary, amber arrow Coca-Cola from Cincinnati, Martin Lynch mini-jug from Bristol VA, Doepp & Jones gravitating stopper soda from Raleigh, amber pontilled umbrella ink, Star Bottling Co hutch soda from Star NC; back row: Vermont Springs Saratoga Mineral Water in deep citron, Indian Queen Bitters, cobalt Casper's Whiskey - Made by Honest NC People, pontilled Morning Star Bitters with partial label, Greeley Bourbon Bitters in gasoline puce. Be thinking of bottles you would like pictured in our next poster.

Dealer packages have been mailed to 48 dealers from our last show, and will be mailed to whoever requests one. Email announcement about festival was sent to the 450 people on Email distribution. 411 postcards have been mailed to everyone else (i.e. those without Email and who were not a dealer). Thanks to Ronald Hinsley's wife who helped prepare the postcards.

Club members, who have not done so already, should bring their completed dealer applications with payment for Nov 3 tables and I can assign your table locations at the Oct 2 club meeting.

A block of 50 rooms has been reserved for our event at the Ramada Inn on Blue Ridge Road (less than half a mile from the fairgrounds). Just tell them you are with the "Bottle Festival". See the Hotel/Restaurant web page for further info (which is also part of the Dealer Package - available to anyone upon request).

Reggie has placed postcards and posters at: Statesville NC - River Front Mall, Hillsborough NC - 5 antique shops, Winston-Salem - 1 shop off I-40, Durham - 6 antique shops, Chapel Hill - 2 antique shops, Pittsboro - 5 antique shops, Raleigh - 6 antique shops plus 3 spots at flea market and farmer's market, Cary - 2 antique shops, Apex - 2 antique shops, Wilson - 3 antique shops and the two big BBQ restaurants, Selma - 6 antique shops. Postcards and dealer packages were distributed at these events: Aug 25 Smyrna GA, Sep 7 Asheville NC, and Aug 31 Hillsville VA.

Postcards, posters, and dealer packages will be brought to the October meeting so members can help place these at area antique stores and shows. We will also sign up people to help post our color flyers at area Food Lion and Wal-Mart stores. These posters should be posted in the stores about 8 days prior to the festival.

I cannot get the Carolina Antique Mall in Cameron Village (Raleigh) to let us put up a poster in a visible area (they will only put it in the dealer-only area). Does anyone know a dealer there that will display one of our color posters for us in their public sales area? If so, please let Reggie know so he can get a poster to them.

Reggie will be distributing cards and dealer packages at these upcoming events:
Sep 28-29 Liberty NC Antique Festival
Oct 6 Richmond VA Bottle Show
Oct 27 Savannah GA Bottle Show
Need people to distribute festival postcards and dealer packages at these events:
Raleigh Oct 5-7 Antiques Extravaganza, Civic Center.
Cameron Oct 6
Oakboro Oct 20-21
Responsibility would be to drop a postcard on every dealers table, especially those selling bottles, and to put a color poster and a stack of postcards near the entrance. Also try to get bottle dealers to put a poster and stack of cards on their table. Dealer packages should be offerred to each dealer who has bottles as part of their inventory. If you can cover one of these events, please let Reggie know.

Pem is looking into the cost of buying 2 large banners that read "Antique & Bottle Sale / this Saturday" (any revisions on wording of this banner?). Reggie's sister Pam found that Adams Sign Service (336-449-0216) will do a 12x3 ft banner for $120 or a 12x2 ft banner for $96. We can put these banners up on the Fairground fence on Friday morning before the Saturday Festival. Need one on the Hillsborough Rd side, and the other on the Blue Ridge Rd side. Date being left off banners so we can reuse them. If anyone can help find a cheaper way to produce these banners, then please let Pem or Reggie know.

After Winchester show was cancelled due to mobilization of their National Guard, we may want to reconsider using the Armory again for our April Show.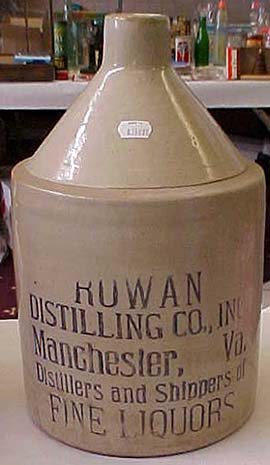 Sat/Sun Sep 21/22 was the last weekend that the Flea Market was opened. I visited Sun Sep 22 and was very pleased to see the Flea Market was jam packed, including the two grass islands. Same crowd is expected the first weekend it reopens (our Sat Nov 3 Festival Date), and we will have 1st dibs on the spaces in the two grass islands. For people that don't setup year round at the flea market, a table at our festival is the only way to secure a spot in advance. I confirmed our festival plans with Joan (manager of the flea market) and reported that we expect to have 100 tables.
Another thought for next year is the date for our Fall Festival (if we decide to do it again). Would like to sync up with Sept Liberty Antique Festival, but the Flea Market closes the weekend before that festival. Maybe our 1st Sat in Nov date is the best?
Full info about the Festival is available online at:
www.antiquebottles.com/raleigh/NovFest/
Asheville Bottle Show
Report by Reggie Lynch.

I setup at the Asheville Show in September. Saw lots of Raleigh club members there. This is a small but very friendly show and I always manage to pick up some nice bargains. Sold well, too. Appeared that all the dealer tables were sold. The dealer hospitality suite was loaded with fruit, deserts, and drinks and was a welcome relief to those of us who missed going out to lunch.

Charlie Barnette of TN took these pictures of two neat items at the show, but there were many more interesting items (just wish I had brought my digital camera along). Picture above is a ROWAN DISTILLING CO / Manchester, VA jug. Below are two different views of a Black Mountain bottle. Overall, a very enjoyable show to attend each year and only 4 hrs and 15 minutes from Raleigh.
Here's a good local bottle for this show. Black Mountain blob top bottle that contained goat's milk, but is also reported to have contained wine. Nice amethyst tint. Close-up of slug plate embossing reads RHODRON FARMS / R. GUASTAVINO / PROP. / BLACK MOUNTAIN, N.C.

To right is a full image view.
THE ONE WAY SODA BOTTLE
Article by club member Sterling Mann, Email: sterling@intrex.net

The "One Way" Soda bottle is sometimes referred to as:
A THROWAWAY BOTTLE
A NO DEPOSIT BOTTLE
A NO RETURN BOTTLE
A NO REFILL BOTTLE
A DISPOSAL BOTTLE
The ONE-WAY bottle was introduced in 1935 by Owens-Illnois and was better received by the beer brewers than the soda bottlers. A few bottlers were testing the water in the late 40ís and 50ís but it wasnít until the 60ís that the ONE-WAY bottle became the consumerís choice, led by Pepsi-Cola.

In September, 1964, Pepsi-Cola President Donald M. Kendall announced that the company was going in a new direction: to the full development of the ONE-WAY bottle. The question had to be Why? Why would a major soda bottler switch to a new packaging process? Well, some of the reasons follow:
Customer preference. Simply stated, the consumer no longer wanted to deal with the hassle of returning deposit bottles.
Some bottlers were packaging Pepsi in the one-way bottle in the late 40ís and 50ís and were seeing a steady increase in total share of sales with the bottle.
Test at the bottling plants showed that one-way bottles could be handled much less expensive.
An opportunity to offer Pepsi in a new, attractive package - a little different and at an attractive price.
Even with these reasons, Pepsi was not completely convinced that the consumer was ready for this bold move. Could the one-way bottle successfully compete with cans and with deposit bottles?

Was it successful? You bet it was. By the mid 60ís, most, if not all, soda manufactures were offering the consumer the choice of the one-way bottle as well as the deposit bottle. Even Coke, as painfully as it was, had to abandon its single-product, single-container policy in order to remain competitive. The company started introducing Coke in 12 ounce bottles, then cans and then the ONE-WAY bottle. The first was a straight-sided, diamond bottle, and itís been said that some distributors refused to associate themselves with it since it was not of the hoppyskirt style. It wasnít long until this straight-side was replaced with the well known hoppyskirt style.

Many kinds, shapes, colors and designs reached the consumer from many different soda bottlers. Like many of the early bottles, especially Pepsi, there was not a standard bottle design until the late 60ís so a wide variety was available then and now for the collector. Coke, especially the diamond one-way bottle, has become very popular among collectors which is also available in many different types and sizes.

The one-way glass bottle was short lived for most bottlers, only to be replaced by plastic, mainly due to environmental, cost and other reasons. So, what happen to the one-way glass bottle? Since they were non-returnable, they went to the city dump, on the side of the road (it is said that soda bottles comprise between 6 and 20 percent of roadside litter), in the woods, you name it. However, some were, fortunately, stored away, forgotten and saved.

There are many one-way bottles for the collector. Many are highly collectible, the Pepsiís, the Cokeís, those from small bottlers, and those from less popular brands are there for the hunt. Prices vary like most sodaís. The common, plentiful bottles are available for only a few dollars while the rare oneís go into the hundreds. Photoís of some ONE-WAY bottles are shown.
Recent Finds
If you have any recent finds to post here, or just want to share a favorite bottle, please submit info to the newsletter editor Reggie Lynch. Some pictures can be clicked to see a closeup view.
| | |
| --- | --- |
| Pint size WILSON DISPENSARY / WILSON, N.C. that sold recently on eBay for $310. | Pint size LOUISBURG DISPENSARY / LOUISBURG, N.C. that sold recently on eBay for $255. |
| Drum style Pepsi from Mt Airy NC that sold recently on eBay for $57. | CHRISTIAN SCHLEPEGRELL / SODA WATER / RETURN THIS BOTTLE / CHARLESTON S.C. rare cobalt blue, paneled soda that sold for $1,225 on eBay. |
| ODOM'S DAIRY / AHOSKIE, N.C. pyro-glazed pint milk bottle that sold for $66. | Teal R.T.LACY / NEW KENT COUNTY VA / PROPRIETOR BELMONT LITHIA WATER bottle with picture showing two men drilling a well sold recently on eBay for $564 (even with a lip chip). |
Presentation
Looking for other people to sign-up for presentations at future meetings, so please let us know when you would be willing to present. Presentations can be 5 to 60 minutes in length, and you can pick most any topic related to bottles and go-withs. May get Jimmie Wood to do ACL's and Charlie Perry to do White House Vinegar in the Fall. J.B. Young has offered to do fruit jars in Jan or Feb.
At the September club meeting, member Pem Woodlief presented part of his collection, which consisted mostly of rare NC whiskies. You just had to watch Frank Bishop drooling to get an impression of how good these bottles were.
Pem told a very colorful story of Nick Williams, who's clear whiskey fifth is pictured below (OLD NICK WHISKEY). Nick Williams was a powerful man in Winston Salem. When Forsythe County started giving him trouble about his whiskey production, he used his political pull to have the county line moved so his business would instead reside in Yadkin County.
Another story about Old Nick is when he confronted a tax revenuer who accused Nick of not paying tax on his liquor. Nick pulled the revenuer from the Federal Building in downtown Winston and

buggy whipped him in the street. Nick was never charged or arrested for this incident.
The town of Williams was incorporated by Nick in response to a 1903 state law that whiskey could only be produced in an incorporated town. The town of Williams consisted of his distillery, house, and not much more.
Below are pictures of some of the bottles and jugs shown by Pem. Some pictures are "clickable" to see a close-up view.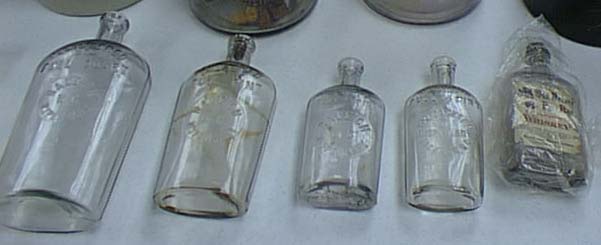 From left to right: quart, pint, and half-pint RALEIGH DISPENSARY, half-pint JACKSON, NC DISPENSARY, and a paper-label ROXBORO DISPENSARY from Roxboro NC.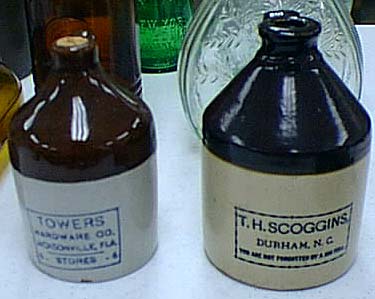 Two small jugs: TOWERS from JACKSONVILLE, FLA. and T.H. SCOGGINS / DURHAM, N.C.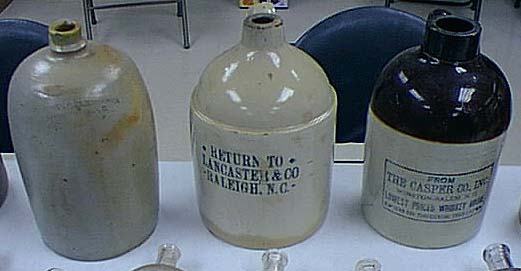 Left jug is "BARRON & PLEASANTS / LOUISBURG, N.C.".
Middle jug is "RETURN TO / LANCASTER & CO / RALEIGH, N.C.", the only known example.
Right jug is a rare wide-mouth Casper's (missing the closure).
2 jugs, gallon size with handle, from Virgilina, NC. Left is embossed "A.L. JONES / DISTILLER OF / PURE CORN WHISKEY / VIRGILINA, N.C." (border town between VA and NC - the VA side of Virgilina remains today with about 200 people. Right "L.B. SHOEMAKER / ... / VIRGILINA, N.C.".

Left is a 2 gallon jug stenciled "E.A. LACKEY / ... / HAMLET, N.C."
Right is crock incised "J.S. & W.H. JOYNER / FRANKLINTON, N.C.".

Front label on GOLD BRAND WHISKEY bottle, a Casper's product.

and the back label. Note that city is WINSTON, NC (without the -SALEM)

A scratch jug "Jay Bradley / Best Copper Distilled / Corn & Rye Whiskies / Jarretts, N.C." Amber flask with barrel-shaped label for "REDMOND .. NEW BERNE, N.C.".

LANCE PACKING / COMPANY / CHARLOTTE, N.C.

This is their earliest cracker jar from 1919, and very rare.

Top is a clear fifth embossed "THE OLD NICK WHISKEY CO. / LOCK BOX # 26 / WILLIAMS, N.C. / ESTABLISHED 1768".
Bottom is pint amber flask embossed "J.J. LAUGHLIN. JR. / GROCERIES & LIQUORS / HENDERSON, N.C." with anchor embossed on back side.

LIVINGSTON'S / FLORIDA BALM / GREENSBORO, N.C.

A rare NC medicine.
Meeting Location
Club meetings are held 7-9pm on the first Tuesday of each month at Clancy & Theys Construction Company where club member John Arnold works. Company is located at 516 W. Cabarrus Street in downtown Raleigh (near the AmTrak station). Park in back of building. Call John Arnold on his mobile phone at (919) 427-0334 if you get lost.

Directions from the 440 Beltline: Take Glenwood Ave exit and head in town (away from Crabtree Valley Mall). Cross bridge over Wade Ave and turn right to "clover leaf" onto Wade Ave heading downtown. Merge right onto Capital Blvd heading downtown. Capital Blvd becomes N. Dawson St. Continue 0.7mi and turn right onto W. Cabarrus St. Cross railroad tracks, and just pass the Amtrak Station on right is #516 "Clancy & Theys Construction Co" - park behind building.

Directions from I-40: Take S. Saunders St exit and head North into downtown Raleigh. S. Saunders will turn into S. Wilmington St. Go pass Memorial Auditorium, then 2 blocks later turn left on W. Davie St., left on Dawson St, and right on W. Cabarrus St. Cross railroad tracks, and just pass the Amtrak Station on right is #516 "Clancy & Theys Construction Co" - park behind building.

You can also see directions on the Internet via www.mapquest.com by entering the "516 W. Cabarrus St, Raleigh, NC" address.
Agenda for the next meeting
Bottle sales/trades till meeting starts (helps to arrive a little early).
Sign in on sheet - introduce newcomers.
Approve treasurer report and previous minutes in newsletter.
Request articles for upcoming newsletters.
Collect ads to run in the next newsletter.
Confirm date of next meeting (Nov 6).
Have someone solicit News & Observer to do article on upcoming festival.
Report on Nov 3 Bottle Festival

Handout flyers and postcards for distribution at area antique shops and upcoming shows.
Assign members to put up posters at Food Lion and WalMart locations.
Collect dealer applications for member tables.

Report by Frank Bishop on status of non-profit application.
Collect dues for those that joined August 2000 or before.
Status of digital camera purchase for club use.
Club Directory will be published October 2001 and distributed in Nov, so be sure I have your the correct info for your address and collecting interests by Oct 15.
Meeting presenters - sign-up people to do presentations of their collections at future meetings.
Open discussion, announcements, digging stories, show & tell, latest bottles aquired, show reports, ...
Setup/announce any raffle bottles. The club can reimburse a nominal amount for nicer bottles - see treasurer in advance.
Setup/announce any auction bottles. The seller can set a minimum bid with the amount above the minimum going to the club. So please bring any bottles you want to auction (limit 5 per seller).
Sell raffle tickets ($1 each, 6 for $5) while presentor gets ready. Also a good time to examine the raffle and auction bottles.
Presentation.
Auction any bottles being offerred.
Draw winning tickets for the raffle. 1st winner gets first choice and so on till all bottles are gone.
Conclude with Swap Meet - announce who has bottles for sale. Each person is encouraged to bring in bottles for sale/trade. Please limit yourself to a maximum of 4 boxes. Tables will be provided where bottles can be displayed for show or sale.
Member Ads
Ads are posted here free of charge to club members. Submit ad info to club secretary for inclusion in the next newsletter. Ads run for 2 months, then must be renewed to continue.
Wanted: old PEPSI COLA items and old bottle collections. Bill Clark, 105 Sorrell Grove Church Road, Morrisville, NC 27560, 919-467-0488

Wanted: quality fruit jars, fruit jar ring boxes, and NC milk bottles. Contact J.B. Young, 1012 Davis Drive, Apex, NC 27502, Phone (919) 362-6596.

Wanted: Embossed or painted North Carolina Milk bottles. Scarce to rare wanted especially. Top Dollar. John Patterson, Jr., 412 South Baldwin Ave, Spencer, NC 28159, (704) 636-9510, Email: ncmilks@carolina.rr.com

Wanted: NC medicines and drug store bottles. Come see my booth at Art-Antique Mall on Peters Creek Pkwy in Winston Salem. Scott Berry (336) 946-2020.

For Sale: bottle cleaning machines, including an economy table top machine for $300. Contact Bob Roberts, (704) 482-7200, 166 Zeb Cline Road, Shelby, N.C. 28150-8110, Email: mailto:5stam@twave.net

Wanted: U.S.A. Hospital Dept. bottles, dug Civil War relics, rare Pepsi bottles & go-withs. Contact Vernon Capps, 2216 Rosewood Rd., Goldsboro, NC 27530. (919) 734-8964.

For Sale: Bottle Books by author: "The Illustrated Guide to Collecting Bottles" 1970 in used condition for $30, "The Illustrated Guide to the Collectibles of Coca-Cocla" 1972 in used condition for $35, and "Would You Believe" 1968 in new condition for $15, shipping+handling included, autographed by request. Contact Cecil Munsey, 13541 Willow Run Road, Ponway, CA 92064-1733. (858) 487-1733, Email: cecilmunsey@home.com

Wanted: "HICK'S CAPUDINE CURE" in mint condition, label+box a plus. Contact John Wolf, (937) 275-1617, 1186 Latchwood Ave, Dayton, OH 45405.

Wanted: newsletters from the old Raleigh Club (or any other NC club) to use as historical reference for upcoming club newsletters. Loan to Reggie or any club officer and we will make copies and return originals to you.

Wanted: NC straight-sided Coca-Cola and script Pepsi bottles in undamaged condition. Reggie Lynch, Email: rlynch@antiquebottles.com, phone: (919) 789-4545.
Check out my bottles for sale on the Internet www.antiquebottles.com/rl/ and in booth 615 at Granddaddy's Antique Mall in Burlington, N.C.
Upcoming Shows
Also see Antique Bottle Shows, NC State Fairgrounds Calendar of Events, NC Festivals and Fairs, Southeastern Antiquing & Collecting.
Sep 28-29, 2001
Liberty, NC
Liberty Antique Festival has over 300 dealers. A few bottles can be found. From I-85 in Burlington, take the Hwy 49 exit and head south to Libery. Then follow signs. Put on by Janmar Promotions, PO Box 939, Liberty, NC 27298. Call Vito or Mary Ellen Sico or Janet Hill at (336) 622-3040 or 622-3535.
Oct 6, 2001
Richmond, VA
RABCA's 30th annual bottle show Saturday 9am-3pm in Richmond, VA at the Show Place Annex, Rte 360 (3002 Mechanicsville Turnpike). Next door to Antique Extravaganza. Show chairman: Judy Foles, phone (804) 798-7502, Email: judyfoles@mail.com
Oct 6, 2001
Cameron, NC
Antiques & Collectibles Fair Day, Sat Oct. 6 ∑ Cameron, NC. Ten permanent shops, over 300 outside dealers. For info call 919-944-4221.
Oct 6-7, 2001
Point Pleasant, WV
Point Pleasant Antique Bottle Show & Sale, (9 AM to 4 PM), at the West Virginia State Farm Museum Fall Festival, Fairground Rd., 4 miles north of Point Pleasant, WV. Info: CHARLIE PERRY, 39304 Bradbury Rd., Middleport, OH 45760, PH: (740) 992-5088, Email: perrycola@eurekanet.com
Oct 19-20, 2001
Union, SC
Antique Bottle & Collectibles Show & Sale, setup Fri noon-8pm, show Sat 8am-2pm, 125 dealer tables available, free admission, Hwy 176 Bypass, Union County Fairgrounds, Union, SC (was formerly held at the Buffalo Elementary School). Held in conjunction with the Uniquely Union Festival, 1st table $25, each additional table $10. INFO: Mike Sanders, 1008 Bishop Road, Union, SC 29379, (864) 427-3367/9340 (day/night), or Russ Sanders, 193 Bailey Rd, Buffalo, SC 29321, (864) 427-4167.
Oct 21, 2001
Findley, OH
Findley Ohio 25th annual Antique Bottle and Collectibles Show. Sunday 9am-3pm at "The Old Barn", Route 224, (1 mile west of I-75 exit 159), Findley, Ohio. Info: Fred Curtis, 1635 Washington Ave, Findley, OH 45840, phone (419) 424-0486.
Oct 27, 2001
Savannah, GA
The 4th annual Savannah Georgia Antique Bottle show and sale will be held at the (note location change since Armory closed to public) Georgia Coastal Center 305 Martin Luther King Blvd. in down town Savannah behind the Visitor's Center on October 26th and 27th 2001. Friday setup begins at noon and early buyers can come in at 4:00pm for a $10.00 charge. The show is open to the public on Saturday October 27th at 9:00 am. For information contact David Powell 2617 Salcedo Ave., Savannah, GA 31406 Phone 912-354-3576 or Russ Butler P.O. Box 264, Havana, FL 32333 Phone 850-627-4909. Email: oldglass99@yahoo.com. Dealer tables 2 1/2' x8' available for $30.00 each.
Oct 28, 2001
Baltimore, MD
Mid-Atlantic 3rd Annual Bottle Show & Sale, (9 AM to 3 PM), at the Maryland State Fairgrounds, I-83 North of Baltimore, Timonium, MD. Info: HOLIDAY PROMOTIONS, PO Box 845, Abingdon, MD 21009, or BILL THOMAS, PH: (410) 538-5558, or RICK LEASE, PH: (410) 239-8918.
Oct 31 - Nov 4
Charlotte, NC
Metrolina Antiques & Collectibles Show - Antiques Spectacular At 7100 Statesville Rd., off I-77 Exit 16A. Largest monthly antique & collectibles market in the country. Over 2,000 dealers. First weekend of each month. Early buyers day Thur. 8-5, $10 adm. Fri. & Sat. 8-5; Sun. 9-5, $4 adm. each day. 4 day pass $15. For info call 800-824-3770 or visit www.metrolinaexpo.com
Nov 3, 2001
Raleigh, NC
Raleigh Bottle Festival hosted by the Raleigh Bottle Club. Sat 7am-5pm outdoors at the NC State Fairgrounds on the corner of Blue Ridge Rd and Hillsborough Rd in Raleigh, NC. Co-located with the Flea Market, which will have just reopened following the NC State Fair, so a huge crowd is expected. Free admission - no early buying. Free parking. Dealer setup: 6am. Rain date: Nov 10. Info: Reggie Lynch, (919) 789-4545, PO Box 13736, Durham, NC 27709, Email: raleigh@antiquebottles.com, Web: www.antiquebottles.com/raleigh/
---
This web page hosted by the Raleigh Bottle Club