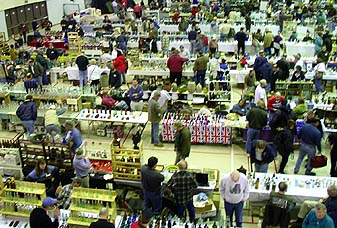 Southeast Bottle Club
April 2003 Newsletter
Topics in this Newsletter (click topic to jump there):




We welcome articles, stories, finds, and pictures for upcoming issues of the newsletter. All past newsletters are stored on the club web page for quick and easy reference, so there is no need to print them (save a tree instead).

The Southeast Bottle Club is a non-profit organization serving the Southeastern United States. All meetings and events are open to the public, so drop by and check us out. We hope you'll consider joining the club. Club members receive the monthly newsletter via Email or postal mail, run free ads in this newsletter, and participate in all the fun and benefits the club has to offer. Free Email-only membership is also available - just request it. This newsletter is currently distributed to over 2,600 collectors. Info may be reprinted as long as credit is given.
Newest South Carolina Club Going Strong
Mrs. Geneva Green of Langley, S.C., was tired of missing half of South Carolina Bottle Club meetings because she and her husband, Doug, were not able to leave home on time to make the 7 p.m., Columbia sessions.

So, she decided to do something about it: she formed a club of her own. She was named president of the Horse Creek Valley Antique Bottle Collectors Club at its organizational meeting in January. Larry Calhoun of Saluda, S.C., was named vice president, Bill Baab of Augusta is secretary and Augusta's Mike Newman is treasurer. The club meets at 7 p.m., on the third Monday of each month at the Bath Mill office.

Newman gave a talk on Augusta sodas at the first meeting and Baab presented a 42-slide presentation on Augusta bottles at the February meeting. Calhoun featured Pepsi-Colas at the March meeting. Dr. Mark Newell of North Augusta, S.C., an archaeologist who discovered more than 600 whole jugs, chamber pots and other containers at the Joseph G. Baynham site near Trenton, S.C., a few years ago, is the guest speaker for the April 21 meeting.

Mrs. Green can be contacted at (803) 593-2271 or you can Email Bill Baab at riverswamper@comcast.net for more information.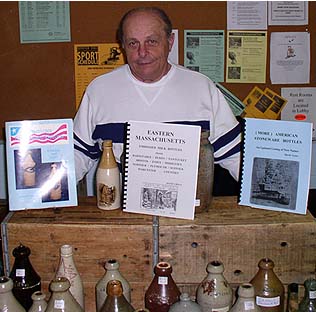 Book Corner - David Graci
This month the Book Corner features three published books by author David Graci, pictured to the right. I grabbed his photo after a nice chat at the recent Baltimore Bottle Show. David is a great researcher, real asset to the hobby, and very friendly to talk with. Here are the official reviews of his books:
American Stoneware Bottles is the only publication dealing with the truly early hand made Americana utilitarian product known as stoneware bottles. This 8½x11" publication has 107 pages containing information on over 1,500 stoneware bottles, with many being identified as to location and date. Illustrated with numerous color, black&white, and line drawings of these early pottery items, together with chapters on "Potters and Their Advertising", "Design, Function and Capacity", "Marketing and History", "Dating and Decorations", plus "Identification of Contents", and a note on a "Value Guide". With a Forward by William Ketcham, Jr., who says: "All in all a useful guide for the collector of stoneware bottles and a valuable addition to the library of any pottery buff." Priced at $24.95 with shipping of $2 per book.

(More) American Stoneware Bottles is an updated listing of new names since the publication of "American Stoneware Bottles". New names have been continually recorded in the hope of compiling this update, which now adds 371 new listings and 165 more variations of those already listed. Of those recorded in the first book, 51 names have been identified as to location and/or date. Spiral bound, with 40 pages, offerred at $10 plus $2 postage.

Eastern Mass. Embossed Milk Bottles is a new milk bottle book that features the counties of Barnstable, Dukes, Nantucket, Bristol, Essex, Middlesex, Norfolk, Plymouth, Suffolk, & Worcester. With over 150 pages listing over 3,902 embossed milk bottles and over 1,578 milk bottle rubbings. Each county is represented in it's entirety, in alphabetical order, followed by actual bottle rubbings reduced by 50%. Bottles are identified by location, size, and assigned a rarity guide number from 1 to 4. There is also a listing of "Mass Seal Bottles Only" with over 400 listed, many identified as to location. The most complete listing of Eastern Massachusetts embossed milks ever offered. Priced at $25 plus $3 postage.
For questions or to order any of the above books, contact David Graci, PO Box 726, South Hadley, MA 01075, Phone: (413) 594-8655, Email: stonebotle@aol.com Note that David is also show chairman of the upcoming May 18th bottle show in Chicopee, Mass (listed in event calendar).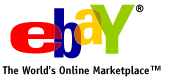 Bottle and Stoneware Chat Room on eBay
Charlie Barnette, Judy Tomlin, and some others have started a chat room on eBay for Bottle and Stoneware Collectors. This provides an online place for collectors to ask questions and pass along info about the hobby. It's located under Community>Discussion Board>Antiques or go there directly by clicking here. They are looking for support to become an official board, as opposed to just a topic under the Antiques Board. So give them a hand!
Ebay Fraud
eBay is a great place to buy and sell bottles online, but eBay Fraud has become more rampant lately. Here is the official warning published by eBay:
eBay has received reports of fraudulent spam emails targeting users such as yourself whose user ID is an email address. These unauthorized emails claim to come from eBay and may contain a link to a page that looks similar to a real eBay page.

The emails may claim that "eBay has lost your information," or "needs to verify your account" in an effort to induce users to give out their eBay password, credit card or other personal details.

eBay will never ask for your password or credit card in an email. Never give out personal information by clicking on a link in an email. Instead, go directly to www.eBay.com to update account information to ensure that your information is being securely processed by eBay.
More recently, I've personally received fraudulent SPAM Emails with subjects like "Billing Update Requested (URGENT)", "eBay - Critical Update Information", "eBay Billing Update", "eBay Account Confirmation", "eBay Verification", "eBay Contest", and "eBay Security Check". In each case, you can place your mouse pointer over the link they want you to click to see where it will take you if you click it. Just look at the very bottom bar of the web page while your mouse is over the link. Instead of seeing a legitimate site beginning with http://www.ebay.com or http://cgi.ebay.com, you'll instead see something like one of these

http://www.ecotone-re.com/secure/eBayISAPI.dllSecurity=UsingSS
http://211.115.141.66/ebay/eBayISAPI.dllSignIn=UsingSS
http://cgi3.ebay.com:aw-cgieBayISAPI.dllSignInRegisterEnterInfo$siteid=0co_parnerid=2@64.72.132.140/~iocv/
which are illegal sites that are trying to steal your account info. These Emails are very slick and look legitimate, but beware! We've heard first-hand reports of fellow collectors getting their IDs stolen, then the ID is used to sell computers at ridicuously low prices and the money paid to the person who stole the ID. Then the real owner of the ID is contacted, wondering where the computer equipment is that they paid for.

One good practice is bid/sell under a handle instead of your Email address. This will also cut down on the amount of SPAM you receive. To be safe, NEVER access your eBay or PayPal account thru a link in an Email, but instead go to the site directly at www.ebay.com or www.PayPal.com where you can safely login and access all the user services you should need.

This just in: bottles being sold on eBay by sellers jamescoba@aol.com and brianhudson45@aol.com are part of a scam. Bottles include rare historical flasks, fruit jars, and bitters. Click on the IDs above to see the bottles being offerred. If you win the bottle, you will be asked to wire funds to Ireland, then say goodbye to your hard-earned bottle dollars. The actual bottle photos and descriptions were copied from other web pages. Most likely, the sellers fell for the scam above where you are tricked in to giving out your eBay password. Now their eBay seller ID correspondence is redirected to the scam artist's country, and there is nothing they can do except request eBay to cancel their IDs. brianhudson45@aol.com has already cancelled his ID, and I'm sure we will see jamescoba@aol.com cancel his soon. To our knowledge, noone was taken in by this scam, but it should serve as a real warning to eBay bottle collectors.

Thanks to Jeff Noorsdy for passing along this late breaking news about the above seller scams. One of Jeff's bottle pictures were stolen: see eBay item 3219154017. Jeff changed his picture so that instead of showing a cobalt GI-29 decanter, it showed this message:
I have STOLEN this image and description from a personal website. I do not own this bottle and I am running what I thought was an intelligent scam in hopes of STEALING your hard-earned money. Thankfully, I am not intelligent enough to fool the bottle collecting community. I am a dirtbat scam artist (the lowest form of human life) and I belong in jail.
Jeff also passed along this article from the Maine Antique Digest.

Tom Whipple (eBay ID chip88), the winning bidder of the hourglass Masonic flask, found that all lots sold by brianhudson45@aol.com were scammed from lots #7, #21, #48 of Norman Heckler's #59 auction. Luckily, Tom smelled a rat and was not taken in by this scam. Note that from Internet Explorer, you can do a "View/Source" of the eBay listing page to see where the pictures came from.

Please pass along any other good computing tips for online bottle collectors, and they will be published in upcoming issues of this newsletter.
Upcoming Southeast Bottle Club Events
The Southeast Bottle Club sponsors an annual show and several other events each year. Two swap meets will be scheduled with a presentation, raffle, and buying/selling like that last event at Granddaddy's. We are currently planning these two swap meets:
Summer event in Wilson, NC with presenation by Vernon Capps. Trying to find a location: maybe in an exhibit hall on the Wilson County Fairgrounds.
Winter event at Granddaddy's Antique Mall in Burlington, NC with presentation by John Patterson (NC Milk Bottle Expert).
These will be Saturday noon events. Stay tuned for details as we line up dates for each swap meet. If you are interested in presenting, please contact Reggie.

The annual indoor show has been confirmed for Sunday Nov 9, 2003 in Greensboro, NC. Details on this 2nd annual show are on this web page: www.antiquebottles.com/greensboro Last year's show was a big success, and this year should be bigger as we do a joint show with the Blue Ridge Insulator Club.

Last item being planned is an outdoor bottle show on the NC State Fairgrounds in Raleigh. This was done in 2001 and was a big success.
Membership
The Southeast Bottle Club does not require membership to receive its newsletter by Email or to attend any of its events. The newsletter is distributed free by Email to encourage more bottle collectors to participate in the events sponsored by the club and the other clubs in the Southeast region. But paid membership is encouraged to help support the many activites sponsored by the club. So why not consider joining today? Click here for the online membership application, or for printed copies just fill out the application on the inside of the back page. Remember that paid members can run free ads in this newsletter, and when you consider the newsletter is distributed to over 2,600 collectors, that's pretty cheap advertising for your bottle dollars.

Thanks to these new members who recently paid dues to join the Southeast Bottle Club: Rick Humphreys - Memphis TN, William "Bill" Clark - Morrisville NC, Richard Kelley - Lyons NY, David Keana - Winterville NC, Stan Tart - Kernersville NC, Matt Cardwell - Mayodan NC, Lad Bright - Wilmington NC, and Jim Beckham - Lancaster SC.
Show Report
This section provides reports on any recent shows, auctions, or other events where bottles were sold. If you are going to a bottle show that Reggie plans to attend, please bring your show & tell bottles so he can photograph them and publish in this newsletter.
Baltimore MD Bottle Show
The annual Baltimore Bottle show was held March 2nd, and was another huge success. This is the biggest bottle show on the Atlantic seaboard, and the biggest one day show in the US. Club president Steve Charing reported that paid attendance was 1,268 people, with over 300 dealer tables sold. There is even a waiting list of dealers who could not get a spot this year. About 100 people waited in the cold rain to enter at 8:00am Sunday morning when the show started. A big thanks to show chairman Bob Ford and the Baltimore Club for putting on another fantastic show.

Steve Charing reported that a dealer had accidently left two boxes outside in the snow during setup. These contained historical flasks and books worth several thousand dollars. They were turned in by another dealer, Jess Westfall of Rushford NY, and later claimed by their owner. Jess is to be commended for his noble actions. But this also serves as a testament to the integrity of the bottle community as a whole, and why they are such a great group to learn to know. It's not just the bottles.

Here are some pictures from the show - click any image to see a close-up. To see all the show pictures, including ones we couldn't fit in below, visit www.antiquebottles.com/southeast/baltshow03








| | | |
| --- | --- | --- |
| Arthur Dell of Renneslaer NY displayed an amazing collection of cobalt decorated stoneware took 1st place and People's Choice. People were gawking at this display all day long. | Making it all happen! Baltimore club president Steve Charing and show chairman Bob Ford. | John Pastor with some nicer bottles for sale. |
| Balcony view of the left half of the show floor. Also see right half. | Baltimore medicine display by Marge McGee of Baltimore MD. | The infamous Holly and Jeff Noorsdy of Cornwall VT. Check their web page. |
| Tom Lines displayed this wonderful collection of Corn For The World flasks in a stunning array of colors. | Coke collectors Time McGuire and Jack Moulton stopping by Reggie's table. Jack took away another nice amber Coke for his collection. | Tom Hicks, of Eatonton GA, chatting with a buyer. |
| Stan Hallett's display of colorful poison jugs. | Young Ashley Hallett kept an eye on her dad's table. | After a long day walking around the huge show floor, this shy young lady caught a shoulder ride from dad. |
| Ed Herrold (right) making a deal. Ed is show chairman of the Sarasota FL show. | Ed and Kathy Gray of PA. | Norm Lewis of England makes the overseas trip to this show each year. |
| Charles Irons of Milford Delware won 2nd place and Most Educational for his display of insulators. | Rick Ciralli (left) and Ferd Meyer. | Steve Guion (at right) checks out a bottle. Steve is one of the show chairmen of the upcoming Shupp's Grove Bottle Festival. |
Raleigh NC Bottle Show
Following info was supplied by the show chairman, David Tingen:

The third annual Raleigh Bottle Club show and sale was held Saturday March 22, 2003 on the NC State Fairgrounds in the Holshouser Building. There were 51 dealer tables and 3 displays. The attendance was good with 180 paid admissions and 67 dealers/assistants.

The displays included: Sterling Mann - Pepsi Cola jugs and dispensers, Reggie Lynch - a selection of whiskies and sodas from North Carolina and David Tingen - a display of North Carolina and assorted blob top beers.

The crowd was enthusiastic with good activity throughout the day. Overall, the interest in bottles in the Raleigh area is growing. Several new members joined the Raleigh Club and well as the National Federation, which was represented at the show. The RBC looks forward to another show next year. Thanks to all who participated. David Tingen, Show Chairman.

Reggie setup and took the photos below - click any image to see a close-up:
| | | |
| --- | --- | --- |
| Matt Cardwell of Madison NC brought this half gallon ELLINGTON'S / MINERAL WATER / STONEVILLE, N.C. for show. Matt lives only 3 miles from the spring source. There are five different versions of the Ellington's bottles: two different 6 oz., 2 different 9 oz., and the large 11" half gallon pictured here.. See close-up of bottle. | Jerry Jones included this great showcase of poison bottles on his dealer table. See close-up of bottles. | Randy Kiger had someone make him this ROWLAND / BOTTLING WORKS / ROWLAND, N.C. slug plate soda that he didn't have. The mold was made with epoxy from the actual slug plate of a broken example - the only one known. These fakes are pretty good unless you look closely. The "acid test" to determine a fake is that the fake epoxy embossing will scratch with a knife, whereas regular glass will not scratch. Just hope noone starts trying to pass off these fakes as the real thing (something that happened in New Mexico). |
| Reggie's display included this set of 4 different Old Nick Williams whiskey bottles from Williams, NC. Reggie also displayed a set of NC blob tops and a set of NC center slug plate Coca-Cola bottles. | Sterling Mann won 1st place for his display of Pepsi:Cola gallon syrup jugs. | John Patterson was happy to add this half pint milk to his collection: CHITTENDENS / SANITARY DAIRY / WELDON, NC. This allowed him to complete the set with the quart and pint he already had. |
| John Patterson snuck this shot of Reggie Lynch taking a lunch break with his wife, Linda. | David Tingen displayed this set of different colored blob top beer bottles, and a set of NC blob top beers. | Chris Clark was all smiles to pick up this Christo-Cola from Dunn, NC. See close-up of bottle. |
| Doug Williams and Terry Faulk taking a break. | John Patterson and Howard Crowe examining an item. | Some of the show action. |
Recent Finds
This section includes recent items sold on eBay and other items shared by collectors. If you have a recent find to post here, or just want to share a favorite bottle, please submit info to the newsletter editor. Most pictures can be clicked to see the original full view before it was cropped to fit here.
| | | |
| --- | --- | --- |
| Normally seen in the half pint size, this pint size SC Dispensary union flask with embossed palm tree sold on eBay by sbbb90. | Coca-Cola with Ruston Steam / Bottling / Works / Ruston, LA. in circular slug plate sold on eBay by franksauct@aol.com. | Cylinder style Jack Daniels Old Time Distillery - Lynchburg, Tenn with lip chip sold on eBay by hsc2000. |
| Hutch embossed TIFTON BOTTLING WORKS / THIS BOTTLE / LOANED / MUST BE / RETURNED / WHEN EMPTY / TIFTON, GA. in oval slug plate sold on eBay by jstar2. | 11" olive glaze jug signed JWH (John Wesley Helton, 1846 to 1923) / Blackburn, N.C. sold on eBay by bestfuru. | Ice blue ESCAMBIA / PEPSI-COLA / BOTTLING CO. / PENSACOLA, FLA. with some chips and fisheyes sold on eBay by yardcheese. Beautiful bottle that is pictured on the front cover of Ayer's first Pepsi bottle book. |
| Edgefield jug with two incised slash marks, attributed to a slave made piece, sold on eBay by xdev27. | This 1937 Coca-Cola window display was offerred on eBay. The display is entitled "The Pleasantest Place In Town" and has a 3-D revolving door and cut-out figures for a soda fountain scene with customers being waited on by two soda jerks. | Bear Lithia Springs postcard, addressed to Elkton VA and postmarked 1911, sold on eBay by rka. |
| 1890s tin sign with Drink / Escapernong / An American Wine / For "Americans". The pictured wine bottle is labeled Escapernong Garrett & Co. / The Orginal American Grape / From Its / Native Home / Garrett & Co. Weldon, N.C.. Sign sold on eBay by tomf38. | This huge 18" pontil case gin, pictured beside a 14" demijohn for comparison, sold on eBay by madapt. | ½ pint strap-sidded flask embossed Hampton & Feartherston / Fine Liquors / Asheville, N.C. with anchor embossed on back sold on eBay by miannoli@aol.com. |
| Nice crisply embossed example of Radam's Microbe Killer with man beating skeleton (to fight off death) and the infamous words CURES / ALL DISEASES sold on eBay by wish-man. | 1930's bottle-shaped tin sign that reads PEPSI-COLA / Refreshing - Enjoyable / Famous For Over 30 Years with 5 cent logo sold on eBay by muttsville. | Cobalt blue GI-37 Washing/Taylor historical flask with open pontil base sold on eBay by bottlevulture. |
| Tombstone slugplate WHITE STONE / LITHIA WATER / CO. WHITE STONE SPRINGS / S.C. with 98% original label sold on eBay by hardawayrobert0605. | Aqua 6½" Hutchinson-style soda bottle embossed J.F. Hash & Sons / Appalachia, VA. in circular slug plate sold on eBay by btrflyman. | Rare NC Hutchinson style soda embossed THOS.J.RAY / BOTTLER / ELK PARK, N.C. in circular slug plate sold on eBay by hardawayrobert0605. Elk Park is a small town near Banner Elk. |
| Crown top soda embossed ELLINGTON'S / MINERAL SPRINGS / STONEVILLE, N.C. sold on eBay by hardawayrobert0605. | 3¼" minijug stencilled Try Our / Sweet Mash Corn / Winston Distributing Co. / Winston-Salem, N.C. sold on eBay by victoryantiques. | Jug stencilled Griel Bros Co. / Wholesale-Liquors / Montgomery Ala. sold on eBay by gegmontal. |
| This 1909 Coca-Cola serving tray, picturing Hilda Clark, sold on eBay by eirsom. | This amethyst umbrella ink sold recently at Pacific Glass Auction. | 7&3/4" aqua S-S Coca-Cola / Trade Mark Registered and in a slug plate: E.B. HARFORD / GOSHEN, N.Y. with a Keystone in the center and an entwined "EH". Sold on eBay by jifra. |
| 7&3/4" slug plate soda embossed RED SPRINGS / MINERAL WATER / CO. / RED SPRINGS, N.C. in circular slug plate sold on eBay by hardawayrobert0605. | 8" crown top soda embossed ARTESIAN / BOTTLING WORKS / LUMBERTON, N.C. sold on eBay by hardawayrobert0605. | ½ pint strap-sided flasked embossed ALTAMONT / PURE RYE / J.A.GLEESON / 4TH & F ST. N.E. / WASHINGTON D.C. in circular slug plate sold on eBay by 345hpss@comcast.net. |
| Amber pint Mason's / Patent / Nov 30th 1858 with hero cross sold on eBay by skips-jars. Base of jar has PAT NOV 26 67 in a circle and 105 in the center. | 13' clear quart cylinder embossed Lowenstein & Co. / "Old Harvest" / Corn Whiskey / Statesville, N.C. sold on eBay by hardawayrobert0605. This cylinder shape is hard to find than the rectangular shaped Lowenstein whiskies. | 6 oz hobbleskirt style Coca-Cola in an unusual 7-up green color sold on eBay by hundy. Probably an error or experimental color. Heel embossed Louisville KY, side with "52-40" (1952) and has the mark for the Chattanooga glass plant. |
| 7&3/4" honey amber crown top embossed Coca-Cola in small slug plate on shoulder, then BRISTOL, VA. above base. Also has THIS BOTTLE FILLED AND SEALED BY THE DIXIE BOTTLING WORKS on back. Sold on eBay by pepsi-49. | 5¼" amber JACOBS' / BED BUG KILLER with embossed skull and crossbones. Base is embossed W.T. Co. / U.S.A. Sold on eBay by alleykat!. | 6½" medicine embossed LITTLE'S / WHITE OIL / SCOTTSVILLE, VA. with tubular pontil base sold on eBay by vainkcollector. |
| Amber LOGAN BOTTLE / WORKS / Coca-Cola / REGISTERED / LOGAN, W.VA. sold on eBay by nu2u-3. | 8" embossed Palatka / Pepsi=Cola / Company / Palatka, Fla. sold on eBay by franksauct@aol.com. | Clear 12" embossed THE OLD NICK WHISKEY CO. / LOCK BOX NO 26 / WILLIAMS, N.C. / ESTABLISHED 1768 sold on eBay by hardawayrobert0605. Harder to find in this square design. |
Raleigh Show & Tell
Report on the March 4th meeting of the Raleigh Bottle Club. About 25 people attended the meeting at Clancy & Theys.

Here are some pictures from the March club meeting. Click any picture to see a close-up.

| | | |
| --- | --- | --- |
| Eddie Kelly (Reggie's step-son) gave the night's presentation on his poison bottle collection. Age 13 and been collecting since he was 9, Eddie talked about the history of poisons, why he liked them, which were his favorites, and which ones he hopes to add to his collection some day. | Skinny Medlin shows this paper label Jumbo Peanut Butter jar that advertises "Be Patriotic - Plant a War Garden". | Reggie showed some of his recent finds, including this cobalt pontilled WMD. ENGLISH soda that he found was from Pittsburg. He also showed a paper label Old Nick Williams Whiskey from Williams, NC, a quart DAVIS & EDDLEMAN / WINSTON-SALEM, N.C. strap-sided flask, and a rare but damaged half gallon JACKSON SPRINGS / MINERAL WATER from MOORE CO. / NORTH CAROLINA. |
| Donnie Medlin showed this Vanti Pa-Pi-A soda and go-with advertisement that shows it to be a Pepsi:Cola product. | Eddie reaches to draw the winning raffle tickets. | David Tingen showed this SOL BEAR / WILMINGTON, NC wine bottle with a beautiful deep purple tint. |
---
Member Ads
Ads are posted here free of charge to paid Southeast Bottle Club members. Submit ad info to the newsletter editor for inclusion in the next newsletter. Ads run for 2 months, then must be renewed to continue. If your ad ran before and you want to run it again without changes, just request "repeat same ad".

To run a display ad in the main part of the newsletter, contact the editor for arrangements. Price is $40/month for a ¼ page ad. Other sizes available. Ads should be appropriate to the content of this newsletter.
Wanted: certain Wilmington NC and applied seal bottles for my collection; also certain slab sealed pottery. Contact: Lad Bright, (910) 799-6163, Email: brightco@earthlink.net

For Sale: aqua Pepsi=Cola 1912-15 with 242 on base rarity 1 $60, Pepsi=Cola with 1621 on base rarity 2-3 $95. Machine cleaned and near mint. Bill Clark Email: awsum@mindspring.com or (919) 467-0114.

Wanted: Rockingham and Stokes County NC bottles. Contact: Matt Cardwell, Email: mattmel@vnet.net

Wanted: Veterinary medicines and North Carolina medicines. Contact: Stan Tart, (336) 992-3152 or Email: pontilvet@aol.com

Wanted: Peppermint bottles from H.G. Hotchkiss (Lyons, NY), L.B. Hotchkiss (Phelps, NY), Hale & Parshall (Lyons, NY) and others. Contact Dick Kelley, phone: (315) 946-6316 or Email: kelleye@redsuspenders.com

For Sale: rare 1800's Chas. Lippincott soda fountain + 6 ft. refrigerated counter. Marble, onyx, alabaster, mahog.- manuf'd & signed in Philadelphia. Fountain is also personalized with Druggist's name on German Silver plaque above the spigots. This museum piece has been quoted as one of the finest fountains in the country & has been in storage & out of use for some time. Price: $27,000. For inquiries call 901-761-9507 anytime.

Reward: paying $5000 ++ for ceramic Syrup Dispensers. Wanted round, urn & figural shaped dispensers with these names: ALMOND SMASH, Fan-Taz, SMACK, Viccola, MATTAY COLA, Afri Kola, DIXIE FLIP, Wineberry, JIM DANDY, Chero Crush, WOOL'S, Cherriola, etc. Also any literature & advertising. Call Toll Free 1-800-729-2723 days or call COLLECT 901-761-9507 anytime.

Wanted: looking for bottles (embossed or paper label) of Mrs. Joe Person's Remedy. She was my great-great-grandmother and I am looking for items related to her business and her life. Contact Penney File, Email: paftoonz@chesapeake.net or (410) 326-2310.

Wanted: At least 3 inches of undamaged top for a cobalt blue CASPERS WHISKEY / MADE BY HONEST N. CAROLINA PEOPLE. Will pay $20 plus shipping. And am looking for GOOD bottles that are damaged and reasonably priced. I like to try and repair them. Cannot afford the good ones. Contact me (269) 327-7789, Email: Dicbotl@webtv.net or Richard Kinney, 10547 S. Westnedge Ave, Portage MI 49002.

Want to buy or trade: NC advertising jugs (especially - "When Empty Return To:" stencil jugs), any state mini jugs / Saloon marked items, NC / GA embossed whiskey flasks and error fruit jars. Bill Wrenn at 706-769-8995, Email: minijug@charter.net. Note Bill's new Email address.

Wanted: DISPENSARY flasks from N.C. towns. Reggie Lynch, Email: rlynch@antiquebottles.com, phone: (919) 789-4545. Check out my bottles for sale on the Internet www.antiquebottles.com/rl/ and in booth 615 at Granddaddy's Antique Mall in Burlington, N.C. Contact Reggie to consign your nicer bottles for sale/auction and receive top dollar.
Calendar of Events and Upcoming Shows
Also see Antique Bottle Shows which has year round listings and more links to sites with shows.
Apr 26, 2003
Panama City Beach, FL
Emerald Coast Bottle Collector's 7th Annual Show & Sale Sat. 9am-3pm at the Panama City Beach Recreational Complex, U. S. Highway 98 West, Panama City Beach, Florida. INFO: ALAN McCARTHY, 2415 W. 15TH St., Panama City, FL 32401, phone: (850) 769-3984 or JOE BROCK, phone: (850) 784-1729, Email: panamacityjoe@hotmail.com
Apr 27, 2003
Harrisonburg, VA
Historical Bottle Diggers of Virginia 32nd Annual Show & Sale, 9am-5pm Sun at the Rockingham County Fairgrounds, US Route 11 (Exit 243 off I-81), South of Harrisonburg, VA. Normally have 60-70 tables. Info: Sonny Smiley phone: (540) 434-1129, 1025 Greendale Rd., Harrisonburg, VA 22801, Email: lithiaman1@yahoo.com
May 3, 2003
Gray, TN
State Of Franklin Antique Bottle & Collectibles Assoc. 5th Annual Show & Sale, 9am-3pm at the Appalachian Fair Grounds, I-181, exit 42, Gray, TN. Info: CHARLIE BARNETTE, 100 Coffey St., Bristol, TN 37620, phone: (423) 968-1437, Email: brisbotls@chartertn.net
May 4, 2003
Utica, NY
The Mohawk Valley Antique Bottle Club's 9th Annual Show & Sale, 9am-2:30pm at the Herkimer County Fairgrounds, Rt. 5S and Cemetery Rd., Frankfort, NY. Info: FRED CAPOZZELLA, 1108 Rutger Street, Utica, NY 13501. phone: (315) 724-1026, Email: fcapozzella@hotmail.com
May 10, 2003
Mansfield, OH
Ohio Bottle Club's 25th Annual Mansfield Antique Bottle & Advertising Show & Sale 8am-2pm at the Richland County Fairgrounds, Mansfield, Ohio. Early buyers Friday 2pm. Info: RON HANDS, phone: (330) 634-1977, Email: rshands225@yahoo.com
May 17, 2003
Montgomery, AL
The Montgomery Bottle & Insulator Club 32nd Annual Show & Sale, 9am-4pm, early buyers Fri. 6- 9pm, at the Garrett Coliseum in the Ed Teaque Arena, Montgomery, AL. Info: JAMES HOPKINS, 2021 Merrily Dr., Montgomery, AL 36111. phone: (334) 288-7937, or JAMES ROBBINS, 1182 Karen Rd., Montgomery, AL 36109, phone: (334) 395-5477.
May 18, 2003
Washington, PA
Washington County Antique Bottle Club 29th Annual Show & Sale, 9am-3pm, at the Alpine Star Lodge, 735 Jefferson Ave, (Exit 17 off I-70), Washington, PA. Info: RUSS CRUPE, 52 Cherry Rd., Avella, PA 15312. phone: (724) 345-3653, Email: heidirus@mlynk.com
May 18, 2003
Chicopee, MA
The Chicopee Spring Antique Bottle Show, Sunday May 18, 2003 at Park Inn, Rt 33, Exit 5 Mass. Pike. (Formerly held in Sturbridge, Mass) Over 50 tables. Early Buyers 9am-10am $10, General Admission 10am-2pm $4. Info: David Graci, PO Box 726, South Hadley, Mass. 01075, phone: (413) 594-8655, Email: stonebotle@aol.com
June 6-7, 2003
Lumberton, NC
Antique Bottle & Collectible's Show & Sale sponsored by Robeson Antique Bottle Club. Free Admission Fri 3-9pm, Sat 9am-3pm. Dealer setup Fri 1pm. Location: The Expo and Farmer's Market, Exit 14 off I-95 in Lumberton, NC. 7,000 square foot air-conditioned convention building with excellent lighting & facilities. 100+ dealer tables.
For info write to Richard Stephens, 1830 Riverside Blvd, Lumberton, NC 28358, Phone: (910) 738-6075, Email: rhstep@nc.rr.com
or Paul Valenti & Carla Baxley, phone (910) 738-3074, Email: cbaxley@nc.rr.com
June 8, 2003
Saratoga, NY
National Bottle Museum Annual Show & Sale, 9:30am to 2:30pm, at the Saratoga Springs City Center, 522 Broadway (Rt. 50), Saratoga Springs, NY. Info: NATIONAL BOTTLE MUSEUM, 76 Milton Ave., Ballston Spa, NY 12020. PH: (518) 885-7589, Email: nbm@crisny.org
June 13-14, 2003
Knoxville, TN
"Knoxville in June", East Tennessee Antique Bottle & Colletibles Society 15th Annual Show & Sale, Sat. 8am-5pm, early buyers Fri. 2-7pm, at the Knoxville Expo Center, I-75 Exit 108 in Knoxville, TN. Info: LARRY ACUFF, 220 N. Carter School Rd, Strawberry Plains, TN 37871. PH: (865) 933-2333. Email: dkpeters@bellsouth.net
---
The Southeast Bottle Club newsletter is hosted by the Antique Bottle Collectors Haven.