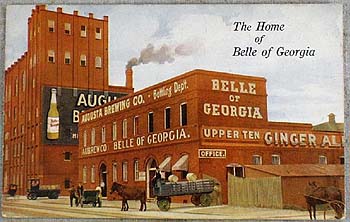 Southeast Bottle Club
February 2003 Newsletter
Topics in this Newsletter (click topic to jump there):




We welcome articles, stories, finds, and pictures for upcoming issues of the newsletter. All past newsletters are stored on the club web page for quick and easy reference, so there is no need to print them (save a tree instead).

The Southeast Bottle Club is a non-profit organization serving the Southeastern United States. All meetings and events are open to the public, so drop by and check us out. We hope you'll consider joining the club. Club members receive the monthly newsletter via Email or postal mail, run free ads in this newsletter, and participate in all the fun and benefits the club has to offer. Free Email-only membership is also available - just request it. This newsletter is currently distributed to over 2,200 collectors. Info may be reprinted as long as credit is given.
Bits, Pieces, and Happenings
You should notice an improvement in the quality of the pictures I take. Santa left an Olympus C-4000 under my tree. This digital camera takes great 4 MP (megapixel) shots. So enjoy the view.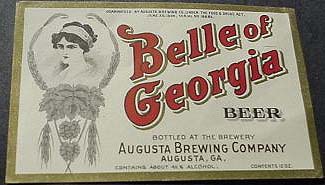 Augusta Brewing Co of Georgia
On the front page of this newsletter is an old postcard of the Augusta Brewing GA plant. And to the right is a Belle of Georgia bottle label for Augusta Brewing.
The following info was taken from Paul Garber's web page. The article was written by Robert Pavey of The Augusta Chronicle.
In July 1888, a Kentucky businessman visited Augusta to discuss a dream: opening Georgia's first brewery. Today, his descendants hope to resurrect the tradition. Edward W. Herman, president of the Kentucky Malting Co. of Louisville, liked the city's Southern appeal and moved south. His dream came true in February 1889, when Augusta Brewing Co. opened at 13th and Fenwick streets downtown.
Its first beer, Belle of Georgia, was an instant success. The brewery's product line grew rapidly in a market with few - if any - regional competitors. Other beers included Dixie, Extra Lager and Belle of Carolina ``export quality'' beer, as well as so da waters, colas and ginger ales.
The brewery continued to prosper into the early 20th century, adding several new buildings, a ``brew house'' and administrative space. Prohibition came to Augusta on May 1, 1916, however, and the prosperous home of Belle of Georgia beer eased toward an uncertain fate. The company changed its name to Augusta Ice & Beverage and replaced its quality brew with nonalcoholic ``near beer'' i n hopes of staying solvent.
By March 6, 1921, the company announced its bankruptcy in The Augusta Chronicle, which noted that soft drinks ``would not yield the monetary returns as did alcoholic drinks for which the machinery was intended.'' The Augusta Brewing Co. buildings were demolished in 1964. But the company's history remains very much alive, said Edward W. Herman's great-grandson, Doug Herman of Martinez. ``Then Prohibition came in and wiped out the brewery,'' he said. ``It went bankrupt, but it wasn't forgotten.''
Mr. Herman, as president of Beverage South Corp., a wholesale beer distributor, hopes to someday resurrect the family brewing tradition and bring Belle of Georgia beer back to Augusta. ``We're considering reintroducing the beer, calling it Belle of Georgia like in the early days,'' said Mr. Herman, whol has re-registered the Augusta Brewing Co. name for possible future use. ``If that's successful, and there's enough interest, we may even consider opening a micro-brewery,'' he said. ``We have the authentic history, and we have the family lineage.''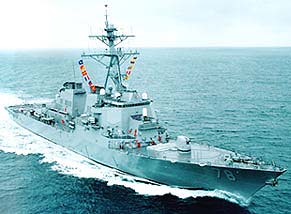 Bottle Collector on Ship to Middle East
Fellow bottle collector Charlie Lewis of West Virginia is being deployed to the Middle East on board the USS Porter, an Aegis Destroyer shown to the right. We wish him a successful tour and safe return. Click here to send him an Email and wish him well.
Columbia SC Dealer/Buyer Dinner Fri Feb 21
The biggest bottle show in the southeast will soon be here: the Feb 21-22 show in Columbia SC. The Friday Feb 21 hours are noon to 7:30pm, after which everyone is run out of the building (for security lock down) and heads for dinner. I was thinking that since so many friends will be in town for the night, why don't we pick a restaurant where everyone can meet Friday night for some bottle chat and good eats?

Ran this idea by the show chairman Marty Vollmer and we've agreed to tell everyone to meet at 8:00pm Friday night at the nearby Chili's restaurant. So if you're in town, please drop in and make it a festive occasion. We can make reservations at Chili's an hour in advance, so if you want to go just let Reggie know before 7:00pm Friday so I can put you on a reservation list to phone in. Tables sizes are 4 and 6. Reggie will have a dealer table at Columbia.

Directions: Chili's is about 3/4 of a mile north of I-20 on the left hand side of Two Notch Rd (#7715 Two Notch Rd is the address). Phone at Chili's: (803) 699-1843.
Georgia Digging Rights Petition
Bill Wrenn is circulating a petition from the Peach State Archaeological Society to the State of Georgia. This petition would allow the recovery of artifacts (in our case, bottles). Need Georgia residents to sign the petition so Georgia diggers don't lose the right to keep the bottles they dig. If you attend the Feb 1 Rome Ga or Feb 21-22 Columbia SC show, then see Bill Wrenn or Ken Nease to sign the petition to protect diggers' rights. For questions, Email Bill Wrenn at billwrenn@charter.net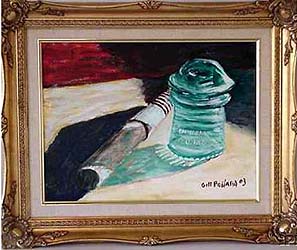 Blue Ridge Insulator Club
This month we give a plug for the newly founded Blue Ridge Insulator Club, who have agreed to join the Greensboro NC Bottle Show in November to make it a joint Bottle/Insulator show. Doing a joint bottle/insulator show may be an idea that other bottle shows want to consider to boost dealers and attendance.
The 2003 first quarter meeting of the Blue Ridge Insulator Club will be February 8, 2003, at the home of Tim Galusha, 15418 Fox Haven Lane, Midlothian, VA 23112. The meeting will be at 10:00am. BRIC is dedicated to the education and preservation of the insulator hobby. Anyone interested in the hobby is welcome to attend. The hub of BRIC is located in Southwestern Virginia, with members throughout Virginia and North Carolina.
Gill Pollard and Bill Meier setup this web page for the club: www.insulators.com/clubs/bric.htm Gill recently sold one of his paintings (shown to right) on eBay, with proceeds going to Bill's ICON site.
Membership
The Southeast Bottle Club does not require membership to receive its newsletter by Email or to attend any of it's events. The newsletter is distributed free by Email to encourage more bottle collectors to participate in the events sponsored by the club and the other clubs in the Southeast region. But paid membership is encouraged to help support the many activites sponsored by the club. So why not consider joining today? Click here for the online membership application, or for printed copies just fill out the application on the inside of the back page. Remember that paid members can run free ads in this newsletter, and when you consider the newsletter is distributed to over 2,200 collectors, that's pretty cheap advertising.

Thanks to these members who recently joined: Archie Collie - Greensboro NC, Bill Marks - Deltona FL, Shane Geiger - Hosford FL.
Show Report
This section provides reports on any recent shows, auctions, or other events where bottles were sold. If you are going to a bottle show that Reggie plans to attend, please bring your show & tell bottles so he can photograph them and publish in this newsletter.
Outdoor Bottle Event Jan 4th NC State Fairgrounds
The Southeast Bottle Club sponsored an outdoor Bottle Sale on Saturday January 4th at the NC State Fairgrounds in Raleigh, NC. Reggie was setup along with a few other dealers including Scott Berry, Marshall McMasters, and Dean Haley. Was hoping we would have more dealers, but this was a last minute event which didn't give much planning time. And the weather was nice but cool, probably colder than most dealers would have liked. But boy, was there a lot of buyer traffic, supplied by the other three indoor shows running that day. And there was a good number of regular bottle collectors that came by. Reggie setup at 7:00am, and there was still a steady stream of buyers until he started packing around 4:30pm. As with bottle shows, most of the high-end buying happened early. But the latter part of the day was a good time to move low-end items and meet with new bottle collectors. Sure you will see some new faces at some of our next events.

Here are a couple pictures from the event - click to see close-up:
| | |
| --- | --- |
| Don't try this at home! Scott Berry juggling 3 bottles, and he never dropped a one. | Reggie did his setup under a canopy, using a drop cloth to make a wind break on one side that made a big difference in surviving the cold windy day. |
Recent Finds
If you have any recent finds to post here, or just want to share a favorite bottle, please submit info to newsletter editor Reggie Lynch. Most pictures can be clicked to see the original full view before it was cropped to fit here.
| | | |
| --- | --- | --- |
| Dick Salzer sent this bottle in for a free appraisal: pontilled medicine embossed DOCTOR FRANK'S / TURKEY FEBRIFUGE / FOR THE CURE OF / FEVER & AGUE. Never see TURKEY on a bottle, especially a pontilled cure. | Henry Clay, owner of the 5 centa bottle, shared this picture of a 3 Centa poster in his collection. | Letter opener with picture of bear holding grapes and embossed SOL. BEAR & CO. / NATIVE WINES / WILMINGTON, N.C. sold for $40 on eBay. Click here to see picture with matching bottle. |
| Mini English mallet bottle, circa 1700s, sold on eBay for $611 by my_basement. Height is only 5 3/4". Click here to see comparison photo. | Sam Bauer found this mug-based Hutchinson soda washed up on the bank a local river bank in WV. Embossed in circular slug plate THE SOUTHERN / MINERAL WATER / CO. / NASHVILLE, TENN. | 6¼" steel slug plate for bottle mold that reads H.R. HORNE & SONS / PHARMACISTS / FAYETTEVILLE, N.C. sold on eBay for $42 by hopeulikit. Also see back side. |
| 6½x9½" tin advertising sign that reads "Lash's Bitters / A Half Glass-Straight / for Constipation". Circa 1920. Back has original paper backing which reads "ATTENTION IS CALLED TO THE BEAUTIFUL SATIN FINISH OF THIS SIGN. THIS CAN BE RETAINED BY OCCASIONALLY WIPING OFF THE SIGN WITH A DAMP CLOTH IF IT SHOULD BECOME SOILED. THE AMERICAN ART WORKS, COSCOTON, OHIO". Sold on ebay for $280 by klasact. | This Dr Ramon's tin thermometer bid up to $455 on eBay but failed to meet reserve. Seller amistadi. Shows "The Little Doctor" and two of the products: Brownie Pills and Pink Pills. | This amber semi-cabin style bitters embossed HOFFELD'S / LIVER BITTERS / LOUISVILLE CHEMICAL / MANUFACTURING CO / LOUISVILLE, KY. sold on eBay by flaskcrazy for $614. See front and back pics. |
| "C.Valaer Bottling Works, Charlotte N.C." letterhead showing a Charlotte hutch and dated 8-30-1898 describing a bottle order purchase. Sold for $87 along with a matching bottle. | Rare SPEAS Kersosene 1 gallon jar with original lid sold on eBay for $405 by ghostridermusic. | Stenciled whiskey mini-jug that reads Welcome / John P. Dant / Old Danton Whiskey / Louisville, Ky and other side reads 15th Annual Reunion / Confederate Veterans / June 1905. Sold on eBay for $510 by penhook. |
| Metal plate embossed ROSE / THE DISTILLER / ATLANTA was dug in Kennesaw, GA. Sold on eBay for $102 by n-ga*pickens. | Amber skull & crossbones poison sold for $472 on eBay by 1835eis. | This blob top beer embossed FRED C. MUNZLER / CHARLOTTE / N.C. sold on eBay for $227 by hardawayrobert0605. |
| Half pint milk embossed COBLE DAIRY PRODUCTS / QUALITY MILK / LEXINGTON, N.C. sold for $64 on eBay by lcshag@twave.net. | This 3½" cobalt blue skull POISON with JUNE 26TH, 1894 PATENT date sold on eBay for $1,205 by kitchen-witchcollectibles. | Emerald green seltzer bottle acid etched with Union / Coca-Cola / Beaumont, Tex. sold on eBay for $338 by bottlewizard. |
| 11 3/4" fountain syrup bottle with colorful label under glass that reads FOWLER'S / CHERRY SMASH / 5 CENTS sold for $400 on eBay by bestbits. Also has its metal cap. | 4¼" tip tray that reads CHRISTO MFG. CO. RICHMOND, VA. / SODA FOUNTAINS AND SUPPLIES around the outside and CHRISTO / GINGER ALE / BETTER THAN / IMPORTED in the middle sold for $137 on eBay by wadad. | Pontilled medicine embossed DR. COOPER'S / ETHEREAL OIL / FOR DEAFNESS found in walls of an 1810 Georgia house. Implying a cure for deafness reaches a new level of ridiculous claims by the early quack medicines. Sold on eBay $242 by loualucas. |
| This CARTER'S SPANISH MIXTURE with full labels and iron pontil sold for $1,325 on eBay by Chip Cable (hec!). The label confirms this is a Richmond VA bottle. Additional pictures: right, left, back, base, and front. | This HONEST MEASURE / FULL 1/2 PINT strap-sided flask with slug plate embossed THOS. RUPPERT / 145 / B ST. / S.E. / WASHINGTON, D.C. sold for $78 on eBay by wish-man. | Hutchinson soda from Winchester / Bottling / Works / Winchester, VA. sold for $100 on eBay. |
| This center script slug plate Wilmington, N.C. / Coca-Cola / Bottling Co bottle sold for $103 on eBay by porkchop743. | Despite some lip damage, this GEORGIA / Pepsi=Cola / BOTTLING / DUBLIN, GA. sold for $101 on eBay by pepsi-49. | Amber quart sized Hutchinson soda embossed in circular slug plate Wm. A.KEARNEY / SHAMOKIN / PA. sold for $500 on eBay by llamamom. |
| Beautiful teal Pepsi_Cola listed in Ayer's Pepsi book as NEWB7 from Newberry SC sold on eBay for $406. | 10¼" blob top beer with lightning closure embossed in slug plate F. Richter / Agent / Bartholomay Brew. Co. / Wilmington, N.C. with picture of flying keg sold on eBay for $78 by hardawayrobert0605. | Yellow/apricot LIPPMAN'S GREAT GERMAN BITTERS SAVANNAH GEORGIA sold on eBay for $1,392 by flaskman. |
| Amber Pepsi=Cola / NORFOLK, VA. sold on eBay for $223. | Though common in aqua, this J.W. Copeland / Alkalithia Springs / N.C. is quite rare in amber. Sold on eBay for $211 by sbbb90. | 1950 Hopalong Cassidy 1/2 pint chocolate milk bottle from Melville dairy in Burlington, NC. Picture on bottle of William Boyd as Hopalong Cassidy. Sold on eBay for $36 by auh_boo. |
| This PATENT DEC 25, 1923 hobbleskirt Coca-Cola from SINTON, TEX (an unlisted city in Porter's Coke book) was sold for $960 on eBay by Donald McEvoy (treestand2). This has to be a record price for a hobbleskirt Coke. | This face jug was bought from Meaders in GA back in 1984 by uncle_dukie, who just sold it on eBay for $954. Signed Lanier Meaders on base. | POLAND WATER figural bottle shaped like Moses in rare amber color sold for $500 on eBay by alderman. |
| This half gallon stoneware jug stencilled D.I. Smith / Fine Whiskies / Cadiz, KY sold for $571 on eBay by vmahan. | John Monroe was out hunting bottles recently and came across a spot scatterred with broken Chero-Cola's and Pepsi's, like this Henderson NC Pepsi. Hopefully he'll find some unbroken ones, too. | This honey amber MASON'S PATENT NOV. 30th 1858 with embossed Tudor Rose picture on the back sold on eBay for $3,470 by npetersoncrafts. Base embossed A32 / B. |
| This 9 1/2 x 13 3/8" tin sign reads DEFY DISEASE / DRINK / WATER OF LIFE / CURES RHEUMATISM / CANCER DYSPEPSIA / CONSUMPTION / CATARRH / KIDNEY AND STOMACH TROUBLES and has embossed shield that reads Wm. RADAMS MICROBE KILLER / Registered TRADE MARK Dec. 13, 1887 with man beating skeleton with club that is marked MICROBE KILLER. The shield is overstamped in black letters: Guaranteed under the Food and Drugs Act, June 30th 1906, No. 193 Sold on eBay by chiefmahaska for $1,381. From the estate of D. W. Ham, manager of the the Western Depot for the Wm. Radam Co. in Minneapolis, MN. | You've seen the 3 CENTA bottles, but here's the larger 12 oz 5 CENTA bottle that was made to compete with the 5 cent Pepsi and Coke bottles. The 3 CENTA bottle was made 1940-41 and competed successfully against the 5 cent Coke and Pepsi. The 5 CENTA bottle was made for only one year in 1942. People stopped buying it because they would rather have a Coke or Pepsi instead of a flavored soda, so the 5 CENTA bottle put the business under. The 5 CENTA bottles are rare, as attested by the $305 bid price on eBay. Info courtesy of seller, Henry Clay. | This BIM crown top soda with circular slug embossed Barq's Bottling Works / Barq / & / Hardtner / Props / Gulfport, Miss. bid up to $802 on eBay but failed to meet seller raztime's reserve. Base has large E.B. which stands for Ed Barq. Dates to 1906 when Barq's was in a very short partnership with Hardtner's Bottling Works in Gulfport Mississippi. Probably the rarest Barq's bottle. |
| A one pound Jumbo Peanut Butter jar is pretty common, but when matched up with its original lid it fetched $42 on eBay. | This rare 3¼" minijug stencilled COMPLIMENTS OF / CALVERT AND SMITH / BROWNWOOD, TEX. sold on eBay for $670. | This Bradham Drug Co. / NEW BERN, N.C. bottle in the rarest 4½" size sold on eBay for $400 by pepc4me, who provided this history: Caleb Bradham was the New Bern pharmacist and the inventor of Pepsi-Cola back around 1897, when it was called "Brads Drink". |
| Nice early 16" tall Pepsi:Cola double-dot thermometer in original condition sold $242 on eBay by amistadi. | John Houg Emailed this picture of his amber quart strap sided flask with a paper label for Jack Daniels No 7 Whiskey / 205 Broad St Nashville, Tenn. / W.T. & C.D. Gunter. | This ACL soda KING COTTON / Fine Flavors showing king sitting on cotton was sold on eBay for $181 by dknjonz. Ten ounce size from Seven-Up Bottling Co., Leland, Mississippi, circa 1958. |
Raleigh Show & Tell
Report on the January 7th meeting of the Raleigh Bottle Club. About 25 people attended the meeting at Clancy & Theys.

The club is gearing up for it's 3rd annual show & sale on March 22, 2003 in the Holshouser Building on the NC State Fairgrounds in Raleigh, NC. Full show package has been posted at their club web page: www.antiquebottles.com/raleigh which also contains the schedule and directions for upcoming meetings.

Here are some pictures from the Jan meeting. Click any picture to see a close-up.

| | |
| --- | --- |
| Visitor Anna Choi shows her Thomas Bro's Dairy bottle from Raleigh, NC. This was her grandfather's dairy, located at the corner of Ridge Rd and Lake Boone Trail. Anna and her family currently live on the property. Member Jack Murdock was kind enough to give her this bottle 11 years ago. She is now looking for extras. If you have one to sell, Email Anna at AChoi@bdixon.com | Vernon Freeman showed a POTEAU / BOTTLING WORKS / POTEAU, I.T. Hutchinson soda, believed to be one of 9 known examples, and a SEVEN SPRINGS / MINERAL WATER CO. / GOLDSBORO, N.C. crown top soda. |
| Ronald Hinsley had two bottles to show: first was this GOLDSBORO BOTTLE CO. / L & L / GOLDSBORO, N.C. blob top beer. | Ronald's second bottle was this amber THE GREAT / Dr GODDIN'S / COMPOUND GENTIAN / BITTERS / AMERICAN TONIC with back embossed M.A.M. GODDIN M.D. / RICHMOND, VA.. Despite it's missing neck, still an impressive bitters that is listed in the Ring/Ham Bitters book as "extremely rare" in aqua and unknown in this amber color. The amber is an oval shape, which differs from the square shape of the aqua. |
Baltimore News
Baltimore Bottle Club president Steve Charing provided this news.

Click any of these pictures to see a close-up:
| | |
| --- | --- |
| Andy Agnew proudly displays a portion of his eclectic colorful collection of high quality bottles at the club's January 10 meeting. | An overhead view of the club's show last March, which attracted nearly 1,400 paid admissions and over 300 dealer tables. |
The Baltimore Antique Bottle Club is counting down to their 23rd Annual Show and Sale on March 2. The largest one-day bottle show in the world is sold out for the 19th consecutive year with a sizable waiting list for dealers to get in. With top notch dealers from all over the U.S. (many from the South) and 3 foreign countries filling over 300 tables, the buying opportunities will be enormous. The show runs from 8:00 a.m. to 3:00 p.m.at the Physical Education Center, CCBC-Essex, 7201 Rossville Blvd., Baltimore, MD 21237. For more information, please contact show chairman Bob Ford at 410-531-9459 or Email at bottles@comcast.net
Visit the club's webpage at www.antiquebottles.com/baltimore for show contract/flyer and more info on the club.
---
Member Ads
Ads are posted here free of charge to paid Southeast Bottle Club members. Submit ad info to the newsletter editor for inclusion in the next newsletter. Ads run for 2 months, then must be renewed to continue. If your ad ran before and you want to run it again without changes, just request "repeat same ad".
Wanted: S-S Coke bottles from Florida and any other soft drink bottles from Florida, Email: vsgi@talweb.com.

Wanted: Small-town crowntop sodas and mineral waters from Georgia and South Carolina. Especially want Star Bottling Co., Graniteville, S.C., and Artesian Bottling Works, Bamberg, S.C. Also want Glenn Springs, Harris Springs, Shivar Springs, Buffalo Lick Springs, Whitestone Springs, Chick Springs, Crystal-Carbon Springs, Cherokee Springs, Stomp Springs, Lipscombe Silica Springs bottles and jugs and ephemera (letterheads, billheads, photos, post cards, etc.) from those companies. Bill Baab, 2352 Devere St., Augusta, GA 30904, Email: riverswamper@comcast.net.

For Sale or Trade: Bitters, Flasks, Poisons, Inks and miscellaneous antique bottles. Always interested in buying good bottles, one bottle, or a collection. Howard Crowe, PO Box 133, Gold Hill, NC 28071 phone: (704) 982-0305.

Want to buy or trade: NC advertising jugs (especially - "When Empty Return To:" stencil jugs), any state mini jugs / Saloon marked items, NC / GA embossed whiskey flasks and error fruit jars. Bill Wrenn at 706-769-8995, Email: minijug@aol.com.

For Sale: Christo Cola, Durham, North Carolina; near mint+9.9; $150.00 and buyer pays shipping and insurance. Email: awsum@mindspring.com or (919) 467-0114.

Wanted: Oxford N.C. bottles, also Kittrell Springs Mineral Water bottle. Call Pem Woodlief (919) 528-1731.

Wanted: Williston Florida soda bottles and Robinson Dairy milk bottles. Call (352) 528-2698.

Wanted: NC whiskey flasks and NC medicine/soda bottles in undamaged condition. Reggie Lynch, Email: rlynch@antiquebottles.com, phone: (919) 789-4545. Check out my bottles for sale on the Internet www.antiquebottles.com/rl/ and in booth 615 at Granddaddy's Antique Mall in Burlington, N.C. Contact Reggie to consign your nicer bottles for sale/auction and receive top dollar.
Calendar of Events and Upcoming Shows
Also see Antique Bottle Shows which has year round listings and more links to sites with shows.
Feb 1, 2003
Rome, GA
The West Georgia Bottle & Collectibles Club Show & Sale, Sat 8am-3pm at the Rome Civic Center, Turner McCall Blvd, Rome, GA. Info: Jerry Mitchell, PO Box 475, Bremen, GA 30110, Phone: (770) 537-3725, Email: mitjt@hotmail.com or Bob Jenkins, PH: (770) 834-0736.
Feb 2, 2003
South River, NJ
New Jersey Antique Bottle Club's 6th annual show Sun 9am-2pm at the Knight's of Colombus Hall, 88 Jackson St, South River, NJ. Southeast Bottle Club editor Reggie Lynch plans to setup at this show, so bring your show & tell items for him to photograph. Info: Joe Butewicz, NJABC, 24 Charles St, South River, NJ 08882, (732) 238-3238, Email: joseph.butwewicz@bms.com or Ernest Bower, (732) 868-0510, Email: botlman@aol.com
Feb 15, 2003
Sarasota, FL
Sarasota-Mannatee Antique Bottle Collectors Association's 17th Annual Indoor Show & Sale, 10am-4pm at the Florida National Guard Armory at the County Fairgrounds, 2890 Ringling Blvd., Sarasota, FL. Info: Ed Herrold, P.O. Box 18928, Sarasota, FL. 34276. PH: (941) 923-6550
Feb 16, 2003
Columbus, OH
The Columbus Ohio Bottle Show, 9am-3pm, early buyers 7am, at the Ohio State Fairgrounds, 17th Ave. & I-71, Columbus, OH. Info: ADAM KOCH, 763 Jolson Ave., Akron, OH. 44319. PH: (330) 644-0274.
Feb 21-22, 2003
Columbia, SC
South Carolina Antique Bottle Club's 29th annual Show & Sale Fri/Sat. Show will be a same location as last year: Meadowlake Park. Showtimes will be Friday 12 noon till 7:30pm and Saturday 9:00am till 2:00pm. Show located off I-20 at exit 71. This is the North Main St exit on Hwy 21. Travel north to the first stoplight after the intersection. Turn right on Beckman Rd and the gym is there on the right. This location is only 3/8 of a mile off I-20 which will make it an easy find. Expect to sale 145 dealer tables. Show flyers will be mailed after Christmas. Info: Marty Vollmer, 1091 Daralynn Drive, Lexington, SC 29073 Phone: (803) 755-9410, Email: Martyvollmer@aol.com
Feb 23, 2003
Enfield, CT
Somers Antique Bottle Club 33rd Annual Show & Sale, 9am-2pm, early buyers 8am, at the St. Bernard's School West, Pearl Street, Enfield, CT. Info: ROSE SOKOL, 164 Elm Street, Enfield, CT. 06082. PH: (860) 745-7688, Email: ptmanfredi@rcn.com
Mar 2, 2003
Baltimore, MD
Baltimore Antique Bottle Club 23rd Annual Antique Bottle Show & Sale, Sunday 8am-3pm at Essex Community College, 7201 Rossville Blvd., Baltimore, Maryland. Info: Bob Ford, (410) 531-9459, Email: bottles@comcast.net
Mar 9, 2003
Tylersport, PA
The Bucks-Mont 9th Annual Bottle Show & Sale, 9am-3pm at the Tylersport Fire Co., Rt. 563, Tylersport, PA. Info: CLAUDE A. WAMBOLD, 1837 Perkiomenville Rd, Perkiomenville, PA 18074, PH: (215) 234-8413, Email: arlene@netcarrier.com or GREGORY GIFFORD, 832 Clover Dr., North Wales, PA 19454, PH: (215) 699-5216.
Mar 15, 2003
DeLand, FL
The DeLand M-T Bottle Collectors Assoc, 33rd Annual Show & Sale, Free Admission, 9am-3pm at the Volusia County Fairgrounds, I-4 & S.R. 44, Exit 118 (old 56), DeLand, FL. Info: M. PALLASCH, 7 Monroe, Ave., DeBary, FL. 32713. PH: (386) 668-4538, or Bill Marks, PH: (386) 789-5255, Email: bmarks2@cfl.rr.com
Mar 21-22, 2003
Raleigh, NC
Raleigh Bottle Club's 3rd annual Show & Sale in the Holshouser Building on the NC State Fairgrounds in Raleigh, NC. Public Sat 9am-3pm. Dealer setup Fri 4-7pm and Sat 6-9am. Early buyers Sat 7:30am. Full show info on the club web page. Info: David Tingen, Email: rbc@antiquebottles.com P. O. Box 18083, Raleigh, NC 27619-8083 Phone: (919) 848-4387.
Mar 22, 2003
Daphne, AL
Mobile Bottle Collectors Club, 30th Annual Show & Sale, 9am-5pm at the Daphne Civic Center, Whispering Pines Road and U.S. Hwy. 98, Daphne, AL. Info: JIM SIMMONS, 8851 Four Mile Road, Irvington, AL 36544, PH: (251) 824-2697, Email: josphs@email.msn.com or ROD VINING, 8844 Lee Circle, Irvington, AL 36544, PH: (334) 957-6725, Email: vinewood@zebra.net
Mar 30, 2003
Syracuse, NY
Empire State Bottle Collectors Association's 33rd Annual Show & Sale, Sun 9am-3pm at the American Legion Post #1468, 110 Academy Green (just off Rt. 80, Valley Drive), Syracuse, NY. Info: Jim Klering, 4831 Cedarvale Rd., Syracuse, NY 13215, PH: (315) 468-0416, or John Spellman, PO Box 61, Savannah, NY 13146, (315) 365-3156, Email: spellmanjc@ny.tds.net
---
The Southeast Bottle Club newsletter is hosted by the Antique Bottle Collectors Haven.