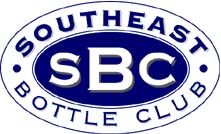 Southeast Bottle Club
Jan/Feb 2004 Newsletter
Topics in this Newsletter (click topic to jump there):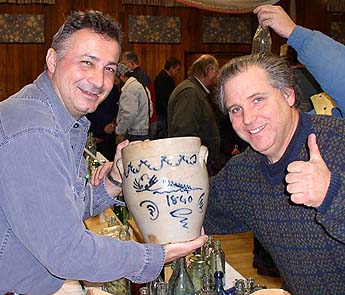 Note that this large issue is a joint issue for Dec 2003 and Jan/Feb 2004.
We welcome articles, stories, finds, and pictures for upcoming issues of the newsletter. All past newsletters are stored on the club web page for quick and easy reference, so there is no need to print them (save a tree instead).

The Southeast Bottle Club is a non-profit organization serving the Southeastern United States. All meetings and events are open to the public, so drop by and check us out. We hope you'll consider joining the club. Club members receive the monthly newsletter via Email or postal mail, run free ads in this newsletter, and participate in all the fun and benefits the club has to offer. Free Email-only membership is also available - just request it. This newsletter is currently distributed to over 3,300 collectors. Info may be reprinted as long as credit is given.
Upcoming Southeast Bottle Club Events
The Southeast Bottle Club sponsors an annual show and several other events each year. The 3rd annual show has been scheduled again in Greensboro NC for Nov 21st 2004, which avoids conflicts with the Pittsburg PA and Elkton MD shows. Show details at www.antiquebottles.com/greensboro
Two swap meets will be scheduled with a presentation, raffle, and buying/selling.

We've started a web page where we publish a list of antique shops that help us promote our bottle events by allowing us to place flyers in their shops. The page is located at: www.antiquebottles.com/shops.html
Contact us if your are willing to distribute bottle event flyers in exchange for a free listing on this web page.
Membership
The Southeast Bottle Club does not require membership to receive its newsletter by Email or to attend any of its events. The newsletter is distributed free by Email to encourage more bottle collectors to participate in the events sponsored by the club and the other clubs in the Southeast region. But paid membership is encouraged to help support the many activites sponsored by the club. So why not consider joining today? Click here for the online membership application, or for printed copies just fill out the application on the inside of the back page. Remember that paid members can run free ads in this newsletter, and when you consider the newsletter is distributed to over 3,300 collectors, that's pretty cheap advertising for your bottle dollars.

Thanks to these new members who recently paid dues to join the Southeast Bottle Club: Mike Deese - Rockingham NC, Joseph West - Rock Hill SC, David Rakes - Bishop - GA, Clarence B. Jeffcoat - Pinopolis SC, Glenn Stiwalt - Marshville NC, John Patterson - Spencer NC, C.Vernon Vallance, Jr. - Hamlet NC, Don Diamond - Blackville SC, Eric Warren - Lexington SC, Jimmie Earls - Hopewell VA, Diane Constant - Fresno CA, John Osborne - Huntersville NC.

and thanks to these collectors who recently renewed their membership: Bill Marks - Deltona FL, Pem Woodlief - Franklinton NC, Penney File - Lusby MD, J.B. Young - Apex NC, Bobby Edwards - Winterville NC, Rohrs Keith - Glen Allen VA.
Repro Alert
Here are some recent additions to the reproduction arena that collectors should be aware. For more info on reproduction bottles, see www.antiquebottles.com/repro
| | |
| --- | --- |
| The Harden Fire Grenades have repros that come in green, turquoise, and amber. You can tell they are a repro from the embossed star on the base. The originals do not have a star on the base. The repros still make a attractive inexpensive set. Thanks to eBay sell firegrenades for this info. | This amber quart MASON'S / NOV 30, 1858 with ground lip and Maltese star on the back sold on eBay for $15 by rhondab96, who was good enough to identify it as a repro to prospective bidders. What was confusing here was that the lip was ground like an original, since most repro jars have smooth lips. But the "kicker" to identifying this one as a repro is that the Maltese star is on the back, which only occurs with the repros. The original always has the star on the front. |
| Here's a convincing repro of the USA HOSP DEPT bottle. The repro has a pontil base, while the original has a smooth base. And the repro has no periods in "USA"; the original has "U.S.A.". | Pontil base on the repro version of the USA HOSP DEPT bottle. |
| Marty Sorenson is selling these beautiful stained insulators on eBay under his seller ID mnsorenson. They are typically inexpensive, and make a nice color splash to any collection. Marty is very good about being up front that the insulators have been stained. The problem is that some unscrupulous dealer may then try to resale them as original to an unsuspecting collector. Most insulator collectors are wise to the staining process, but it is also happening more with bottles, so buyer beware. Stained glass is typically obvious when you see it up close in person because the color will be uneven and have drip lines. And the stained color can be scratched with a knife, which will not hurt the glass. When bidding online and you are unsure about the color, be sure to ask the seller "before" the auction ends. And as always, never buy from sellers with extensive negative feedback. See info below from Marty. | This blue stoneware KELLY'S CABIN BITTERS is one of the rarer repro's. This example sold on eBay for $154 by ashhead. |
Marty Sorenson, who sells the stained insulators shown above, provided this info: In the last year I became interested in collecting, buying and selling insulators. The history, the colors, the shapes are fascinating. I've met many interesting people in my search and have made some special friends in the insulator collecting world.
Many of the insulators I coveted for my collection are currently financially beyond my reach. The bold colors would have added a great touch to my collection, so I decided to try staining some of the less expensive, less valuable insulators to add a touch of color to my collection. I was pleased with the results, as were friends of mine who also collect insulators, and began offering these stained ones to other collectors as well.
It is very important to me that anyone who purchases a stained insulator from me be clear that it is stained and that it is not the original color. My honesty and integrity is on the line and I agree with other collectors who feel that purchasing a stained insulator being marketed as the original color makes them a victim of fraud.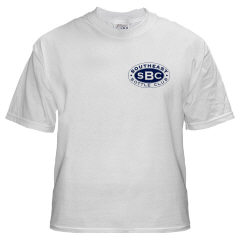 Southeast Bottle Club T-shirts, Caps, Tote Bags
Show your pride in Southeast bottle collecting by buying one of the t-shirts, caps, tote bags, or other items bearing the Southeast Bottle Club logo. These items can be ordered online at:
www.cafeshops.com/sebottleclub
If your club would like to setup their own site to sell stuff with their logo, contact my wife Linda Lynch at Email llynch@nc.rr.com
Show Report
This section provides reports on any recent shows, auctions, or other events where bottles were sold. If you are going to a bottle show that Reggie plans to attend, please bring your show & tell bottles so he can photograph them and publish in this newsletter. If you attend a show in the Southeast and want your pictures/story shown here, then just submit and we'll publish them.
Burlington NC Swap Meet Dec 13, 2003
The Southeast Bottle Club hosted a Swap Meet December 13th at Granddaddy's Antique Mall in Burlington, NC. John Patterson put on a great presentation on his NC milk bottle collection, demonstrating just how passionate he is about collecting and sharing his knowledge (and great stories) with others. Jack Murdock was the big winner in the raffle, taking away two of the best bottles: a BENNETT WHISKEY from MARION, N.C. and a straight-side Coca-Cola from Durham, NC. A few people brought bottles in for sale and sales were brisk.

Below are some pictures from the show. To see all the pictures taken, click here.
| | |
| --- | --- |
| John Patterson discussing the history on a local milk bottle. | Jack Murdock shows his two raffle bottle wins: a Marion NC whiskey and Durham NC S-S Coke. |
| Randy Kiger shows the GREENSBORO STEAM BOTTLING WORKS that he picked up at the recent Greensboro show from Lindsey Tuttle and had cleaned by Glenn Gunnell. | Some of the crowd watching the presentation. |
| Browsing some of the bottles brought for sale and trade. | The Southeast Bottle Club sales table. |
South River NJ Show Feb 1, 2004
Show Chairman Joe Butewicz ran another fun sell-out show for the NJ Antique Bottle Club on Feb 1 in South River, NJ. Sales and the temperatures were brisk (about 10 degrees F) as there was a good crowd throughout the day on this Super Bowl Sunday.

Below are some pictures from the show. To see all the pictures taken, click here.
| | |
| --- | --- |
| Bill Bracciodieta (left) and Phil Caltabellotta proudly showed this 1840 crock that they dug and had expertly repaired - beautiful piece of stoneware. | A happy Leo Goudreau at his sales table with some nice bottle offerings. |
| Some of the buying crowd at the show. | Ralph Cooper showed this rare citron Koca-Nola from Philly that he won at the recent BAM auction. |
Columbia SC Show Feb 20-21, 2004
Show Chairman Richard Bramblett, with strong support from Dean Hammand and other members of the South Carolina Bottle Club, put on their 30th annual show that sold out all 150 sales tables. This show is considered by most collectors to be the best show in the Southeastern U.S. Proceeds generously went to the Boys' & Girl's Club.

Below are some pictures from the show. To see all the pictures taken, click here.
| | |
| --- | --- |
| David Rakes showing to of his Savannah sodas. David is working on a book about Georgia and SC Soda Bottles that will contain lots of great history about the various bottling companies. Look for a feature on his research in an upcoming issue. | Randy Kiger showed this HART DRUG CO. / NORWOOD, N.C. BIM crown-top slug plate soda that he bought recently. |
| Donnie Medlin bought this pint strap-sided flask embossed YADKIN VALLEY / LIQUOR / CO. / WILKSEBORO, N.C.. | Vernon Capps was offering this blob top beer embossed JOHN MEEKS / GOLDSBORO, N.C. which is one of two known examples. |
| View of the show after things finally quieted down late Saturday. | Mike Newman bought this rare torpedo-style JOHN RYAN / SAVANNAH, GA. soda. |
Recent Finds
This section includes recent items sold on eBay and other items shared by collectors. If you have a recent find to post here, or just want to share a favorite bottle, please submit info to the newsletter editor. Most pictures can be clicked to see the original full view before it was cropped to fit here.
| | | |
| --- | --- | --- |
| Clear quart with label under glass for ESTABLISHED 1768 / OLD NICK'S / RYE / WILLIAMS, N.C.. Simply awesome - has to be a top 5 whiskey from N.C. Belongs to one of Old Nick's grandsons (and is not for sale). Thanks to Corky Shore for providing the pictures. | Near perfect Pepsi=Cola cone top can with GENUINE 3 times in the red band sold on eBay by budmanbill. | Round quart slug plate LARGE'S DAIRY / NORFOLK, VA. sold on eBay by joegenl, who added that this dairy used to be in Princess Anne County Virginia on Indian River Road very close to Stumpy Lake. |
| 1/2 pint COHANSEY fruit jar with original closure sold on eBay by lone-star-jars. | Emerald green poison KI-2 1/2 oz. 2 3/4" HOTEL ASTOR PHARMACY sold on eBay by docpoison. | Teal blob top, smooth based soda H. Korlander / Wilmington, N.C. sold on eBay by dsbailey725 |
| Chero-Cola tray showing 1915-22 style bottle sold on eBay by jdretto, who added that Chero-Cola was invented in 1905 by chemist Claud Hatcher of Columbus GA. The drink later became know as RC Cola. | Teal green Newberry, SC Pepsi=Cola sold on eBay by bottleseller. | Cobalt pontilled R. ROBINSON / WILMINGTON, N.C. soda sold on eBay by dsbailey725. |
| cobalt JOHN RYAN / SAVANNAH / GEo. / 1859 back XX / PHILADELPHIA / PORTER sold on eBay by onealbear. | This Winston-Salem N.C. Pepsi=Cola appeared on eBay touting an original paper label, but was quickly withdrawn after knowledgeable collectors alerted the seller amybeth1969 that the label was a reproduction. The seller was then able to get a refund. | Cobalt pontilled GEO.UPP .JR. / YORK, PA. / MINERAL / WATER sold on eBay by desertczick. |
| Center script slug plate Pepsi=Cola / FITZGERALD, GA. sold on eBay by sodanutt. | Codd style soda WILLIAM HUDSON / PENSACOLA, FLORIDA / REGISTERED ACCORDING TO LAW circa 1877-1881 sold on eBay by excellentstuff-auctions. | 1920s opener Drink Dr. Pepper / KING OF BEVERAGES sold on eBay by exoldsalt. |
| Honey amber Spring Garden Glass Works historical flask with cabin on reverse and a open pontil base sold on eBay by adaman. | Peacock green blob soda ALBERT VONHARTEN / SAVANNAH, GA. / MINERAL WATER sold on eBay by onealbear. | Aqua iron pontilled blob top soda L. Block & Co. / FRL / LEAVENWORTH CITY K.T. where FRL stands for Frederick R. Lorenz and K.T. stands for Kansas Territory. Sold on eBay by kansasjhawker. |
| Deep apple green California Wine Bitters / M. Keller / Los Angeles with MK in shield sold on eBay by thedanoa. | Half pint MILLVILLE fruit jar with original clamp sold on eBay by farmingbob. | Amber 9 1/4" Lacours Bitters / Sarsapariphere sold on eBay by pgriff50. |
| 3 gallon I.C. SHORE jug from Shore, N.C. sold on eBay by collectibleshack. | 1/2 pint LON MARTIN / IRON FRONT / AUSTIN TEXAS strap-sided whiskey flask sold on eBay by rwfults. Ben Thompson, a famous Texas Gunfighter, opened the Iron Front Saloon in Austin, Texas in 1875. Ben was killed in 1884, so Lon Martin must have been a later owner of the saloon. | Codd style Mignon Bottling Works Co. / Galveston, TX sold on eBay by cctrayders. |
| 1908 12 1/4" "topless" Coca-Cola tray sold on eBay by colachic. Part of tray reads "Drink Coca-Cola High Balls". | Mid-script S-S Coca-Cola from Selma, AL sold on eBay by hundy. | Shoulder embossed Coca-Cola with center slug plate JEWELL BOTTLING / WORKS / JACKSON, GA. sold on eBay by plantations. |
| 10 oz SOUTHERN MAID ACL soda with picture of Scarlett O'Hara (from Gone with the Wind) from Shreveport/Ruston, LA sold on eBay by dknjonz. | Slug plate EXCELSIOR / MF'G CO. / INC. / MIDDLESBORO, KY. with Pepsi:Cola above base sold on eBay by cashman212. | Unlisted clear SPEAS / HALF PINT with FEDERAL LAW FORBIDS SALE OR RE-USE OF THIS BOTTLE sold on eBay by mcrmbland on eBay. |
| Orange and black 12 oz. BIRDIE ACL soda from McCarter Bottling Co. Philadelphia, PA sold on eBay by mhutch2424. | Ruby red squatty round quart milk bottle embossed BORDEN'S (lettering highlighted in white) sold on eBay by honeymoonhill. Produced by Anchor Hocking but never went into production, so very rare. | Amber 9" 6-sided J.B. BLACK & Co. / PONY BITTERS / ST LOUIS, MO. sold on eBay by vistadeoro. |
| Unlisted 1915 Patent Hobbleskirt Coca-Cola from LUTCHER, LA. sold on eBay by bluewings2. | 32 oz. no deposit no return green MOUNTAIN DEW PARTY JUG sold on eBay by paulbanyo. | 4" mint cobalt skull-shaped POISON bottle with PAT. JUNE 26 1894 and crossbones on base sold on eBay by zardozz13. |
| 7" quart jug stencilled FROM / KOEHL BROS / FOR THE BEST / WHISKEY / Prompt attention to mail orders / WHARTON, TEXAS sold on eBay by nantclark. | True yellow MASON'S PATENT NOV. 30 1858 quart jar sold on eBay by farmingbob. See color comparison with two amber jars. | 13 1/2" ROYAL ITALIAN BITTERS TRADE MARK A.M.F. GIANELLI, GENOVA in beautiful dark amethyst sold on eBay by things4u2c. |
Raleigh Show & Tell
Here are some pictures from the recent meetings of the Raleigh Bottle Club. Click any picture to see a close-up. Note that the Raleigh Club meets the first Tuesday of each month. For more details, including directions to the meeting, see www.antiquebottles.com/raleigh/
Note: the location of the club meetings recently changed from Clancy & Theys to the Glen Laurel Clubhouse at 4330 Galax Drive in Raleigh.

With the January meeting came the introduction of the new officers for 2004: Sterling Mann as president, Marshall Clements as vice-president, Ron Bender as treasurer, and Janie Raper as secretary. David Tingen writes the club's monthly newsletter.

Pictures from the January 2004 meeting:
| | |
| --- | --- |
| Some of the dug goodies that Ron Atkins showed during his presentation. | Ron Atkins demonstrated how to use a soils auger to tunnel a hole during his informative presentation on bottle digging. Ron also explained how to build your own probe from the spring steel rods used in old car trunk lids. |
| Reggie showed this trade card for Mrs Joe Person's Remedy, which was based in Kittrell, NC. The back of the card had informative info on this NC product. | David Tingen showed this blob top beer embossed S.P. CARRINGTON / BOTTLING / WORKS / DURHAM, N.C.. |
Pictures from the February 2004 meeting:
| | |
| --- | --- |
| Everett Eatmon showed this blotter for Henderson Bottling Works, D.L. Parker Proprietor, with wonderful image of a Victorian lady. | JB Young showed this G.H. STONEBANKS / EUROPEAN HOTEL / RALEIGH, N.C. which prompted speculation over whether it was a pharmacy or whiskey bottle. Probably a pharmacy. |
| Donnie Medlin showed this rare Pepsi:Cola throw-away bottle, along with some other nice bottles. | Skinny Medlin showed this newer SPEAS piece made from 68 pieces of stained glass by Jerry Ennis. |
---
Member Ads
Ads are posted here free of charge to paid Southeast Bottle Club members. Submit ad info to the newsletter editor for inclusion in the next newsletter. Ads run for 2 months, then must be renewed to continue. If your ad ran before and you want to run it again without changes, just request "repeat same ad".

To run a display ad in the main part of the newsletter, contact the editor for arrangements. Price is $30/month for a ¼ page ad. Rates available upon request for other ad sizes.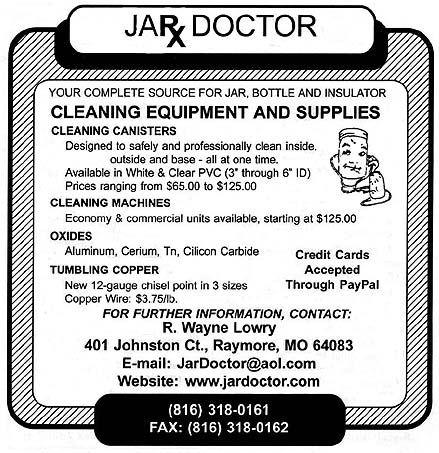 Wanted: SC crowntop soda bottles and go-withs before 1920. Eric Warren, Email: SCbottles@aol.com

Wanted: MASON'S 1858 jars in odd colors.
For Sale or Trade: bright yellow half gallon THE LEADER (on one line) $1,500, qt. half gallon amber Magic (Star) fruit jar $2000. Skip Kehrer, (618) 588-2513, Email: skip@accessus.net

Wanted: Nov 16, 1915 Patent Coca-Cola bottle from Allendale, SC. Don Diamond, 230 Dam Lane, Blackville, SC 29817 (803) 793-0118 Email: wdduck@bellsouth.net

Wanted: bottles and advertising from Hamlet NC area. Also wants any old money and ephemera. Vernon Vallance, 501 Lackey St, Hamlet, NC 28345, (910) 582-1608.

Wanted: ACL bottles - all types, but especially small NC towns. Have some to trade. Mike Deese, (910) 895-8827, Email: jdmd@peedeeworld.net

Wanted: certain Wilmington NC and applied seal bottles for my collection; also certain slab sealed pottery. Contact: Lad Bright, (910) 799-6163, Email: brightco@earthlink.net

Wanted: an MJB glass coffee jar with a red plastic lid that shows MJB on the top, with the following on the bottom of the glass jar: "21 (C)" (read that as a copyright circle) / "12 6 88". I know it's not an antique, in fact it's probably quite new, but I'm willing to pay $100 for one if someone has one around that they don't mind selling to me. No label needed, just the jar and lid. Diane Constant, Email: dianetjerrild@comcast.net

For Sale: Mason's CFJCo PATENT 1858 quart jar, cornflower, mint, RB #1920, $700, Perry Driver (386) 364-3203.

Wanted: pre-1940 soft drink calendars with bottle. I also need either a one month calendar page or a full pad for a 1930 Nehi and a 1916 Chero-Cola. Philip Haley, (706) 335-2556, Email: bjphaley@aol.com

Want to buy or trade: NC advertising jugs (especially - "When Empty Return To:" stencil jugs), any state mini jugs / Saloon marked items, NC / GA embossed whiskey flasks and error fruit jars. Bill Wrenn at (706) 769-8995, Email: ncjugs@charter.net. Note Bill's new Email address.

Wanted: Salisbury NC liquor jugs: P.W. Brown, George A. Jackson, Shumanca, and W.H. Hoover. Call Tommy Lyerly (704) 279-4291.

Wanted: Bitters, Coke, Pepsi bottles that can be repaired - also colored sodas. Ken Nease, phone (912) 739-7355, Email: Neaseken@aol.com

Wanted: Mint Cola and Bob's Cola bottles. Carl Barnett, phone (912) 384-0651 after 6pm.

Wanted: North Carolina whiskey bottles with the word SALOON or DISPENSARY. Reggie Lynch, Email: rlynch@antiquebottles.com, phone: (919) 789-4545. Check out my bottles for sale on the Internet www.antiquebottles.com/rl/ and in booth 615 at Granddaddy's Antique Mall in Burlington, N.C. Contact Reggie to consign your nicer bottles for sale/auction and receive top dollar.
Calendar of Events and Upcoming Shows
Also see Antique Bottle Shows which has year round listings and more links to sites with shows.
Mar 7, 2004
Baltimore, MD
Baltimore Antique Bottle Club 24th Annual Antique Bottle Show & Sale, Sunday 8am-3pm at Essex Community College, 7201 Rossville Blvd., Baltimore, Maryland. Info: Bob Ford, phone: (410) 531-9459, Email: bottles@comcast.net
Mar 14, 2004
Tylersport, PA
The Bucks-Mont 10th Annual Bottle Show & Sale, 9am-3pm at the Tylersport Fire Co., Rt. 563, Tylersport, PA. Info: CLAUDE A. WAMBOLD, 1837 Perkiomenville Rd, Perkiomenville, PA 18074, phone: (215) 234-8413, Email: arlene@netcarrier.com or GREGORY GIFFORD, 832 Clover Dr., North Wales, PA 19454, phone: (215) 699-5216.
Mar 19-20, 2004
Raleigh, NC
Raleigh Bottle Club's 3rd annual Show & Sale in the Holshouser Building on the NC State Fairgrounds in Raleigh, NC. Public Sat 9am-3pm. Dealer setup Fri 4-7pm and Sat 6-9am. Early buyers Sat 7:30am. Full show info on the club web page. Info: David Tingen, Email: rbc@antiquebottles.com P. O. Box 18083, Raleigh, NC 27619-8083 Phone: (919) 848-4387.
Mar 20, 2004
DeLand, FL
The DeLand M-T Bottle Collectors Assoc, 34th Annual Antique Bottle & Insulator Show & Sale, 9am-3pm at the Volusia County Fairgrounds, I-4 & S.R. 44 Exit 118 (old 56), DeLand, FL. Info: Bill Marks, (386) 789-5255, Email: bmarks2@cfl.rr.com, or M. Pallasch, 7 Monroe, Ave., DeBary, FL. 32713. phone: (386) 668-4538.
Mar 21, 2004
St. Louis, MO
St. Louis Antique Bottle Collectors Assoc. 34th Annual Show & Sale, 9am-3pm at the Two Hearts Banquet Center, 4532 S. Lindbergh at Gravois, St. Louis MO. Info: RON STERZIK, 2080 Sterzik Dr., Arnold, MO 63010, PH: (636) 296-3112, & GEORGE CASNAR, 4455 Helterbrand Rd.. Festus, MO 63028, PH: (636) 337-2326.
Mar 27, 2004
Daphne, AL
Mobile Bottle Collectors Club, 31st Annual Show & Sale, 9am-3pm at the Daphne Civic Center, Whispering Pines Road and U.S. Hwy. 98, Daphne, AL. Info: JIM SIMMONS, 8851 Four Mile Road, Irvington, AL 36544, PH: (251) 824-2697, Email: josphs@email.msn.com or ROD VINING, 8844 Lee Circle, Irvington, AL 36544, PH: (334) 957-6725, Email: vinewood@mchsi.com
Mar 28, 2004
Syracuse, NY
Empire State Bottle Collectors Association's 34th Annual Show & Sale, Sun 9am-3pm at the American Legion Post #1468, 110 Academy Green (just off Rt. 80, Valley Drive), Syracuse, NY. Info: JOHN SPELLMAN, Showman or CAROL SPELLMAN, Dealer Chairman, P.O. Box 61, Savannah, NY 13146. PH: (315) 365-3156 or Email: spellmanjc@tds.net, Website: www.esbca.org/
Apr 17, 2004
Jacksonville, AR
Little Rock Antique Bottle Club 34th Annual Show & Sale, 9am-3pm at the Jacksonville Community Center, #5 Municipal Dr., Jacksonville, AR. Info ED TARDY, (501) 868-9548 Email: etardy135@comcast.net
Apr 18, 2004
Rochester, NY
The Genesee Valley Bottle Collectors Assoc. 35th Annual Show & Sale 9am-3pm at the ESL Sports Center, 2700 Brighton Henrietta Town Line Road, Rochester, NY. Info: DON ANGELINI, PH: (585) 265-9516, Email: ange63@frontiernet.net or TOM WHIPPLE, PH: (585) 554-3964, Email: gvbcadealerstabeles@hotmail.com
Apr 23-24, 2004
Liberty, NC
Liberty Antique Festival has over 300 dealers. A few bottles can be found. From I-85 in Burlington, take the Hwy 49 exit and head south to Liberty. Then follow signs. Put on by Janmar Promotions, PO Box 939, Liberty, NC 27298. Call Vito or Mary Ellen Sico or Janet Hill at (336) 622-3040 or 622-3535.
Apr 25, 2004
Harrisonburg, VA
Historical Bottle Diggers of Virginia 33rd Annual Show & Sale, 9am-5pm Sun at the Rockingham County Fairgrounds, US Route 11 (Exit 243 off I-81), South of Harrisonburg, VA. Normally have 60-70 tables. Info: Sonny Smiley phone: (540) 434-1129, 1025 Greendale Rd., Harrisonburg, VA 22801, Email: lithiaman1@yahoo.com
Apr 30 - May 1, 2004
Gray, TN
State Of Franklin Antique Bottle & Collectibles Assoc. 6th Annual Show & Sale at the Appalachian Fair Grounds, I-181, exit 42, Gray, TN. Set-up Friday Noon to 6 PM, Saturday 7-9 AM. Early Buyers Friday only. Free Admission Saturday 7 AM - 4 PM. Info: CHARLIE BARNETTE, 100 Coffey St., Bristol, TN 37620, phone: (423) 968-1437, Email: brisbotls@chartertn.net
The Southeast Bottle Club newsletter is hosted by the Antique Bottle Collectors Haven.