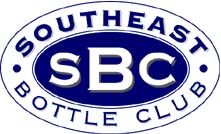 Southeast Bottle Club
January/February 2005 Newsletter
Topics in this Newsletter (click topic to jump there):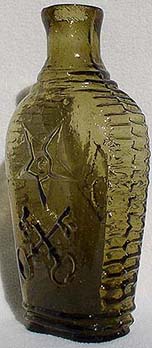 We welcome articles, stories, finds, and pictures for upcoming issues of the newsletter. Newsletters are released bimonthly. A Jan/Feb newsletter covers events in Jan-Feb, so it will not be released till March. All past newsletters are stored on the club web page for quick and easy reference, so there is no need to print them (save a tree instead). Information within this newsletter may be reprinted as long as credit is given to the source.
The Southeast Bottle Club is a non-profit organization serving the Southeastern United States. All events and shows are open to the public, so drop by and check us out. Club members receive the monthly newsletter via Email or postal mail, run free text ads in this newsletter, and participate in all the fun and benefits the club has to offer. An application can be found on the last page of the printed version or by clicking here. Free Email-only membership is also available - click here to request it.
Planned Events for Southeast Bottle Club
The Southeast Bottle Club sponsors an annual show, a spring and fall festival, and other events each year. Here's the list of upcoming events:
Spring Festival in Raleigh, NC has been cancelled to avoid conflict with the Waynesville NC show. After their September show was cancelled due to a hurricane, the Waynesville show has been rescheduled for April 8-9, 2005.

Summer Swap Meet will pick a Saturday in July for the annual Swap Meet at Granddaddy's Antique Mall in Burlington NC. Speaker will be Jerry Roughton.

Fall Festival is scheduled for 9am-3pm on Saturday Sep 24, 2005 outdoors on the lawn at the NC State Fairgrounds. This is the same weekend as the Sep 23-25 Southern Ideal Home Show and Sep 23-24 Liberty Antique Festival. Full details at: www.antiquebottles.com/raleighfestival

Sunday Nov 20, 2005 9am-3pm: the 4th Annual Greensboro Bottle, Insulator & Collectibles Show & Sale in Greensboro NC. Full details at www.antiquebottles.com/greensboro
The club maintains a web page directory where we publish a list of antique shops that help us promote our bottle events by allowing us to place flyers in their shops. This page is located at: www.antiquebottles.com/shops.html
Contact us if your shop is willing to distribute bottle event flyers in exchange for a free listing on this web page directory.
Membership Status for Southeast Bottle Club
The Southeast Bottle Club does not require membership to receive its newsletter by Email or to attend any of its events. The newsletter is distributed free by Email to encourage more bottle collectors to participate in the events sponsored by the club and the other clubs in the Southeast region. But paid membership is encouraged to help support the many activites sponsored by the club. So why not consider joining today? Click here for the online membership application, or for a printed copy just fill out the application on the back page of each newsletter. Remember that paid members can run free ads in this newsletter, and when you consider the newsletter is distributed to over 3,600 collectors, that's pretty cheap advertising for your bottle dollars.

Thanks to these new members who recently paid dues to join the Southeast Bottle Club: Wayne Jacober - Marriottsville MD, Steve DeBoode - Jenison MI, Singleton Bailey - Loris SC, Bob Stowe - Palm Harbor FL, Cynthia Dooley - Smyrna DE.

and thanks to these collectors who recently renewed their membership: Stan Tart - Kernersville NC, David Jackson - Greensboro NC.
Show Reports
This section provides reports on any recent shows, auctions, or other events where bottles were sold. If you are going to a bottle show that Reggie plans to attend, please bring your show & tell bottles so he can photograph them and publish in this newsletter. If you attend a show in the Southeast and want your pictures/story published here, then just submit your info.
St. Petersburg FL Show Jan 2005
The Suncoast Antique Bottle Collectors presented their 36th annual show in the St. Petersburg National Guard Armory. After hearing what a great show this was, Reggie made the trek down to Florida and was rewarded with a great time. There were lots of dealers from all over with nice merchandise setup at 137 sales tables, and a strong buying crowd to support them. Dealers were treated to a great buffet spread with lots of food. Thanks to show chairmen George Dueben, Chris Cube and the rest of the club for a wonderful show.

Below are some pictures from the show. To see all the pictures taken, click here.
| | |
| --- | --- |
| Russ Butler shows this beautiful green RUSS' / AROMATIC SCHNAPPS / NEW YORK that he dug and cleaned. | Carl Sturm holding the smallest case gin while standing beside the largest. |
| Ron McCormick shows two of his rare Florida strap-sided flasks. | President Bill Buttstead and the other club members kept the show running smoothly. |
| Ed and Juanne Herrold brought some great glass and their smiles to the show. | Perry Houston shows a rare Alabama Coca-Cola hutch. |
South River NJ Show Feb 2005
The New Jersey Antique Bottle Club hosted their 9th Annual Antique Bottle Show & Sale at the Knights of Columbus Hall in South River, NJ. Reggie has setup at this show for the past 5 years and always enjoys it: a nice start back into the hobby after the Christmas break. Despite it's relatively small size of 70 tables (which always sell out), dealers and diggers alike setup to a strong crowd of buyers. Congrats to show chairman Joe Butewicz and the rest of the club for another well done show.

Below are some pictures from the show. To see all the pictures taken, click here.
| | |
| --- | --- |
| Long time collector Dick Harris poses with John Lawrey while drooling over John's new find: a pontil, cobalt blue, sided soda from NEWTON, NJ. | A dealer chats with Mark Smith, collector of NY city strap-sided flasks. |
| Dealer Dan Corker with his fine offering of bitters and fruit jars. | Making it happen: the show crew poses for quick photo. |
Columbia SC Show Feb 2005
The South Carolina Bottle Club presented it's 32 Annual Show at the Meadowlake Park Center in Columbia, SC. Proving once again that it's the premier show in the Southeast, they sold out all 150 dealer tables and hosted a huge crowd of buyers. At one point on Friday I looked around at all the buzz and thought "this place is really hopping".

Everyone had fun. Sadly though, there was one exception: Ed Herrold was unfortunate enough to have a peach colored 6 log Drakes stolen from his table. If anyone sees this bottle turn up around Columbia SC, please contact Ed or myself.
Late Update: the stolen bottle was returned!

Thanks to show chairmen Richard Bramblett, Jim Edenfield, and Marty Vollmer for another very successful show. The great thing about these guys is that they donate all the show profits to the Boys & Girls Club of Columbia.

Below are some pictures from the show. To see all the pictures taken, click here.
| | |
| --- | --- |
| Jerry Jones and Ralph Van Brocklin pause for a pic during a very busy show. | Marty Vollmer shows one his prized finds: a black glass ARTESIAN WATER / CHARLESTON / S.C. soda that he found in a freshly dumped load of dirt. |
| Reggie Lynch manning the Southeast Bottle Club table. | Ralph Van Brocklin sold this rare quart L.E. COX / WINES & LIQUORS / SPARTANBURG, S.C. flask. |
| Proving that you can still find a bargain in an antique shop, Butch Alley shows off his SPOON MOTLOW / DISTILLER / COOSA RIVER CORN / STANDFER SPRINGS / LINCOLN COUNTY / GADSDEN, ALA. jug. Motlow was a well known cousin of Jack Daniels. Price paid: $6. What's it worth? We'll see ... | Pepsi bottle book author James Ayers proudly shows off one of his nicer finds at the show: a Bradham Druggist pharmacy bottle that he hadn't seen before. Bradham invented Pepsi:Cola in New Bern, N.C. |
| Marty Vollmer and David Jackson having fun. | Jim Mills bought this great pint D.H. GOBLE / COLUMBIA, S.C. strap-sided flask with embossed elephant. |
GIV-30 Masonic Keys Historical Flask
Every once in a while, you are lucky enough to stumble into a great piece of bottle history. That was Reggie's luck with this consignment piece that he picked up from someone who inherited the flask from his grandfather. Listed as GIV-30 in McKearin's "American Bottles & Flasks and Their Ancestry" (the bible on historical flasks), this flask is nicknamed the "Masonic Crossed Keys" flask and is listed as the #8 most desirable flask in the book.
The flask has been consigned to Norman Heckler Auction and will be the feature of their upcoming Spring 2005 auction in the April/May timeframe. This is a very fitting place to auction this flask since Heckler's is located 18 miles from Coventry Glass Works in Connecticut where this flask was minted back in the 1840s. Only about 6 examples are known, and this example is mint with a very crisp/detailed mold. The other two examples sold for around $34,000 so it will be interesting to see what this pristine example will fetch in the current market.
To bid on this flask, visit Heckler at www.hecklerauction.com or call them at (860) 974-1634. For more detailed pics, visit www.antiquebottles.com/keys/
Recent Finds
This section includes recent items sold on eBay and other items shared by collectors. If you have a recent find to post here, or just want to share a favorite bottle, please submit info to the newsletter editor. Most pictures can be clicked to see the original full size view before it was cropped to fit here.
| | | |
| --- | --- | --- |
| Half-pint strap-sided flask embossed PEN-MAR HOTEL / CORNER 17TH & FRANKLIN / RICHMOND, VA. sold on eBay for $455 by wadad | One gallon jug stencilled THE MAMMOTH SALOON / C. M. DREW, PROP. / DAWSON SPRINGS, KY. sold on eBay for $750 by oldthingsetc. | Amber pint size strap sided flask embossed S.C. DISPENSARY with palmetto tree sold on eBay for $1,880 by scbottlefriend, who also sold a 1/2 pint amber for $1,136. |
| Dark green 6 3/4" bottle embossed GENTRY SLOTE & Co. / NEW YORK. on front and GOOD / SAMARITAN / BRANDY on reverse with a killer iron pontil on base (complete with rusty red graphite residue) sold on eBay by oldvapicker for $1,425. | Clear 6 1/4" BIM cure embossed LEONARD'S / TASTELESS / CHILL CURE / AND / IRON TONIC / TAMPA / FLA. sold on eBay by wickerbill*1 for $106. | 3" mini-jug stencilled COMPLIMENTS OF / W.E. HOLLEY / GREENSBORO, N.C. sold on eBay by fatback33 for $473. |
| Nice see-thru green Drakes Plantation Bitters sold on eBay by sidelinger8pkv for $4,360. | Mini-jug stencilled COMPLIMENTS OF / JOHN J. HANRAHAN / FANCY GROCERIES / 133 HARRISON ST / PETERSBURG, VA. sold on eBay by twofromsalem for $430. | Aqua blob soda embossed B. A. GOTTLEIB / RICHMOND VA. sold on eBay by lindsey_3 for $676. |
| 9 3/4" olive amber square whiskey embossed MONKS OLD BOURBON WHISKEY / FOR MEDICINAL POURPOSES ONLY / WILSON, FAIRBANK & CO. SOLE AGENTS. with iron pontil base sold on eBay by turnitup38 for | Cobalt blue 2 7/8" coffin-shaped embossed with picture of skull and crossbones above D P with POISON on each side sold on eBay by passline for $736. | Emerald green Saratoga-style embossed WELDEN SPRING / ST. ALBANS VT. on front and ALTERATIVE / CHALYBEATE on reverse sold on eBay by raypan6227 for $2,585. |
| 2 1/2" long milk glass barrel shaped ink embossed S.I. COMP (for Senate Ink Company) sold on eBay by newengland-antiques for $480. | Quart milk embossed W.P. HUNTER / COUNTRY BUTTERMILK / CHARLOTTE, N.C. sold on eBay by dscottlove for $510. This small dairy was located in north Charlotte off Gibbons Rd. | 12 oz ACL soda with red, white, green label that reads Chirp / a bird of a drink / The Chirp Co. / Alexandria, VA sold on eBay by finalscore for $57. |
| Gallon WHITE HOUSE VINEGAR jug with original label sold on eBay by wadad for $326. | Dark amber smooth base quart embossed CORN FOR THE WORLD with picture of corn on front and BALTIMORE with picture of monument on reverse sold on eBay by sharntoys for $998 | 7 1/4" throw-away PEPSI with swirl design sold on eBay by mo-kie for $220. |
| 9 1/2" amber DR. CRAIG'S KIDNEY CURE with embossed kidneys sold on eBay by imlc for $1,625. | 6 3/4" olive green embossed ROCKBRIDGE / VA / ALUMWATER with graphite pontil sold on eBay by victoryantiques for $12,676. | Mountain Dew bottle in rare 7 oz. size sold on eBay by hrh-advantage for $370. |
SC Bottle Club Meeting and Auction
Here are some pictures from the January meeting of the South Carolina Bottle Club. Click any picture below to see a close-up. The club held a meeting to prepare for their upcoming show in February, and also held an auction with bottles from one of their members who had recently retired from the hobby.

To see all pictures click here.
| | |
| --- | --- |
| There's nothing like a bottle auction to bring out the crowd to your bottle club meeting. | Members inspecting the auction bottles and writing down their bids. |
Raleigh Show & Tell
Here are some pictures from the December meeting of the Raleigh Bottle Club. Click any picture below to see a close-up. The club is preparing for their 5th annual bottle show Saturday March 19, 2005 on the NC State Fairgrounds in Raleigh.

Note that the Raleigh Club meets the first Tuesday of each month. For more details, including directions to the meeting, see www.antiquebottles.com/raleigh/
The Raleigh club meets at the Glen Laurel Clubhouse at 4330 Galax Drive in Raleigh.

To see all pictures click here.
| | |
| --- | --- |
| Club members were served a Christmas dinner with all the trimmings. | Donnie Medlin made a sweep of the awards, winning a plaque in each of the four categories. |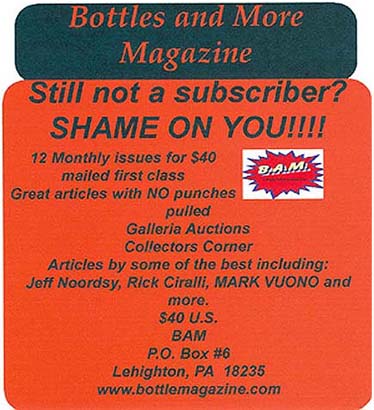 Member Ads
Text ads are posted here free of charge to paid Southeast Bottle Club members. Submit ad info to the newsletter editor for inclusion in the next newsletter. Ads run for 2 months, then must be renewed to continue. If your ad ran before and you want to run it again without changes, just request "repeat same ad".

To run a display ad in this newsletter, contact the newsletter editor. Ads can be submitted as a JPG picture attached to Email, or just mailed a printed copy. Note the inexpensive cost of running your display ad in the most widely distributed publication for antique bottle collectors:
| | | |
| --- | --- | --- |
| Ad Size | Single Issue | Three Issues |
| 1/4 page | $40 | $100 |
| 1/2 page | $70 | $180 |
| full page | $140 | $350 |
Wanted: South Carolina Dispensary bottles. Contact Singleton Bailey, PO Box 95, Loris, SC 29569, (843) 756-7495, Email: dsbailey@sccoast.net

Wanted: impressed stoneware bottles with any of these names: Cole & Co; Butchsky; Henry Levies; Ed Walsh; Chris Spengler; C. Honeberger, Wm, Russel; G.C. Gerber; and H. Beck. Contact Wayne Jacober at (410) 442-1875, Email: jacober69@msn.com

Wanted: Cheerwine collector is looking to buy any and all Cheerwine oldies from embossed and plastic bottles to cartons, openers, signs, and any other neat items. Thank you for your help! Call Cheerwine's #1 fan at (704) 986-0787.

Sale: The bottle booth at Snoopers Antique Mall in Wytheville, VA will be going out of business end of March. Everything is marked down 20%. Tammy Vass, www.tias.com/stores/mnta

For Sale: "Dutch" Onions wholesale - minimum quantity 5 for $65 each. Free shipping. Onions in good condition with no cracks, stars, or obvious chips. Call Don at (813) 985-7714 or Email glassnclay@verizon.net for further info, come visit me in Tampa FL.

Wanted: need an 8 oz Returnable Coca Cola bottle used in 1960's from North Carolina Coca Cola Bottling Plant of Lexington. Please contact: Doug McCoy, 2851 Milford View, Marietta, GA 30008, Email: gnomy@prodigy.net or 770-435-9138.

For Sale: Handcut quill pens (writing quality) for your ink bottle collection or Revolutionary and Civil War reenactment. Hand-turned pens and large porcupine quills with ferrules and steel pen nibs. Ferrules allow pen nibs to be quickly interchanged. Call Paul at (703) 437-5077 or Email terbanandco@msn.com

Wanted & For Sale: Always looking to buy old bottles, even whole collections. Especially older Coke, Pepsi, inks, blob top sodas, and NC whiskey flasks. Reggie Lynch, Email: rlynch@antiquebottles.com, phone: (919) 789-4545. Check out my bottles for sale on the Internet www.antiquebottles.com/rl/ and in booth 615 at Granddaddy's Antique Mall in Burlington, N.C.
Calendar of Events and Upcoming Shows
Also see Antique Bottle Shows which has year round listings and more links to sites with shows.
Mar 6, 2005
Baltimore, MD
Baltimore Antique Bottle Club 25th Annual Antique Bottle Show & Sale, Sunday 8am-3pm at Essex Community College, 7201 Rossville Blvd., Baltimore, Maryland. Info: Bob Ford, phone: (410) 531-9459, Email: bottles@comcast.net
Mar 13, 2005
Tylersport, PA
The Bucks-Mont 11th Annual Bottle Show & Sale, 9am-3pm at the Tylersport Fire Co., Rt. 563, Tylersport, PA. Info: CLAUDE A. WAMBOLD, 1837 Perkiomenville Rd, Perkiomenville, PA 18074, phone: (215) 234-8413, Email: arlene@netcarrier.com or GREGORY GIFFORD, 832 Clover Dr., North Wales, PA 19454, phone: (215) 699-5216.
Mar 19, 2005
Raleigh, NC
Raleigh Bottle Club's 5th annual Show & Sale in the Holshouser Building on the NC State Fairgrounds in Raleigh, NC. Public Sat 9am-3pm. Dealer setup Sat 6-9am. Early buyers Sat 7:30am. Full show info on the club web page. Info: David Tingen, Email: rbc@antiquebottles.com P. O. Box 18083, Raleigh, NC 27619-8083 Phone: (919) 848-4387.
Mar 19, 2005
DeLand, FL
The DeLand M-T Bottle Collectors Assoc, 35th Annual Antique Bottle & Insulator Show & Sale, 9am-3pm at the Volusia County Fairgrounds, I-4 & S.R. 44 Exit 118 (old 56), DeLand, FL. Info: M. Pallasch, 7 Monroe, Ave., DeBary, FL. 32713. phone: (386) 668-4538.
Mar 20, 2005
St. Louis, MO
St. Louis Antique Bottle Collectors Assoc. 35th Annual Show & Sale, 9am-3pm at the Two Hearts Banquet Center, 4532 S. Lindbergh at Gravois, St. Louis MO. Info: RON STERZIK, 2080 Sterzik Dr., Arnold, MO 63010, PH: (636) 296-3114, & GEORGE CASNAR, PH: (636) 337-2326.
Mar 26, 2005
Daphne, AL
Mobile Bottle Collectors Club, 32nd Annual Show & Sale, 9am-3pm at the Daphne Civic Center, Whispering Pines Road and U.S. Hwy. 98, Daphne, AL. Info: JIM SIMMONS, 8851 Four Mile Road, Irvington, AL 36544, PH: (251) 824-2697, Email: josphs@email.msn.com or ROD VINING, 8844 Lee Circle, Irvington, AL 36544, PH: (334) 957-6725, Email: vinewood@mchsi.com
Show flyer, dealer contract, map, and hotel info can be found at the club web site.
Mar 30-Apr 3, 2005
Charlotte, NC
Metrolina Antiques & Collectibles Show - Antiques Spectacular At 7100 Statesville Rd., off I-77 Exit 16A. Largest monthly antique & collectibles market in the country. Over 2,000 dealers. First weekend of each month. Early buyers day Thur. 8-5, $10 adm. Fri. & Sat. 8-5; Sun. 9-5, $4 adm. each day. 4 day pass $15. Info call 800-824-3770.
April 3, 2005
Syracuse, NY
Empire State Bottle Collectors Association's 35th Annual Show & Sale, Sun 9am-3pm at the American Legion Post #1468, 110 Academy Green (just off Rt. 80, Valley Drive), Syracuse, NY. Info: JOHN SPELLMAN, P.O. Box 61, Savannah, NY 13146. PH: (315) 365-3246 or Email: spellmanjc@tds.net, Website: www.esbca.org/
Apr 8-9, 2005
Waynesville, NC
13th Annual Antique Bottle & Collectibles Show & Sale sponsored by the Western North Carolina Antique Bottle & Collectibles Club. At the Haywood County Fairgrounds - take exit 24 off I-40, then south on Hwy 209 to Lake Junaluska. Go 2.7 miles and fairgrounds will be on the left. This is a larger facility with room for 100+ tables, super lighting, and great parking. Dealer setup times: Fri 11:00am-noon, Sat 7:00am-8:00am. Public: Fri noon-7:00pm, Sat 8:00am-2:00pm. Security provided Fri 7pm till Sat 7am. Info: LARRY GLENN, PH: (828) 667-2049, Email: lglenn@webtv.net or TIM BRANCH, PH: (828) 669-5486.
Apr 17, 2005
Rochester, NY
The Genesee Valley Bottle Collectors Assoc. 36th Annual Show & Sale 9am-3pm at the ESL Sports Center, 2700 Brighton Henrietta Town Line Road, Rochester, NY on the Monoe Community College Campus. Info: DON ANGELINI, PH: (585) 265-9516, Email: ange63@frontiernet.net or LARRY FOX, (585) 394-8958, Email: brerfox@frontiernet.net or CHRIS DAVIS, PH: (315) 331-4078, Email: arcadiahistory@novocon.net
Apr 24, 2005
Washington, PA
Washington County Antique Bottle Club 31st Annual Show & Sale, 9am-3pm, at the Alpine Star Lodge, 735 Jefferson Ave, (Exit 17 off I-70), Washington, PA. Info: NIGEL DUNMORE, 121 Highland Ave, Avella, PA 15312, PH: (724) 587-5217, Email: legin1247@msn.com
Apr 24, 2005
Harrisonburg, VA
Historical Bottle Diggers of Virginia 34th Annual Show & Sale, 9am-5pm Sun at the Rockingham County Fairgrounds, US Route 11 (Exit 243 off I-81), South of Harrisonburg, VA. Normally have 60-70 tables. Info: Sonny Smiley phone: (540) 434-1129, 1025 Greendale Rd., Harrisonburg, VA 22801, Email: lithiaman1@yahoo.com
Apr 29-30, 2005
Liberty, NC
Liberty Antique Festival has over 300 dealers. A few bottles can be found. From I-85 in Burlington, take the Hwy 49 exit and head south to Liberty. Then follow signs. Put on by Janmar Promotions, PO Box 939, Liberty, NC 27298. Call Vito or Mary Ellen Sico or Janet Hill at (336) 622-3040 or 622-3535.
Apr 30, 2005
Panama City, FL
Emerald Coast Bottle Collectors 8th Annual Show & Sale, 9am-3pm at the Panama City Beach Recreational Complex, Highway 98, Panama City, FL. Info: DEANNE VAUGHN, PH: (334) 684-0518, Email: deanne_vaughn@yahoo.com or ALAN McCARTHY, PH: (850) 769-3984, Email: kajacanal@knology.net
Apr 30, 2005
Mansfield, OH
Ohio Bottle Club's 27th Annual Mansfield Antique Bottle & Advertising Show & Sale 8am-2pm at the Richland County Fairgrounds, Mansfield, Ohio. Trimble Rd. Exit off U.S. Rt. 30. Early buyers Friday 2pm. Info: RON HANDS, phone: (330) 634-1977, Email: rshands225@yahoo.com
May 1, 2005
Utica, NY
The Mohawk Valley Antique Bottle Club's 11th Annual Show & Sale, 9am-2:30pm at the Herkimer County Fairgrounds, Rt. 5S and Cemetery Rd., Frankfort, NY. Info: PETER BLEIBERG, 7 White Pine Road, New Hartford, NY 13413, phone: (315) 735-5430, Email: pmbleiberg@aol.com
May 7, 2005
Gray, TN
The State Of Franklin Antique Bottle & Collectibles Assoc. 7th Annual Show & Sale at the Gray Fairgrounds, Gray TN. Set-up Friday noon-6pm with dinner for dealers & early buyers at 6:15pm. Free Admission to public Saturday 8am-2pm. Info: MELISSA MILNER (423) 928-4445, Email: mmilner12@chartertn.net or PEGGY COX, PH: (423) 349-4027, Email: cknhs@comcast.net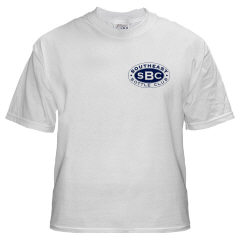 Southeast Bottle Club T-shirts, Caps, Tote Bags
Show your pride in Southeast bottle collecting by buying one of the t-shirts, caps, tote bags, or other items bearing the Southeast Bottle Club logo. These items can be ordered online at:
www.cafeshops.com/sebottleclub
If your club would like to setup their own site to sell stuff with their logo, contact my wife Linda Lynch at Email llynch@nc.rr.com

The Southeast Bottle Club newsletter is hosted by the Antique Bottle Collectors Haven.