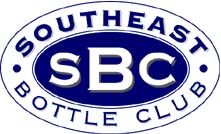 Southeast Bottle Club
July/August 2003 Newsletter
Topics in this Newsletter (click topic to jump there):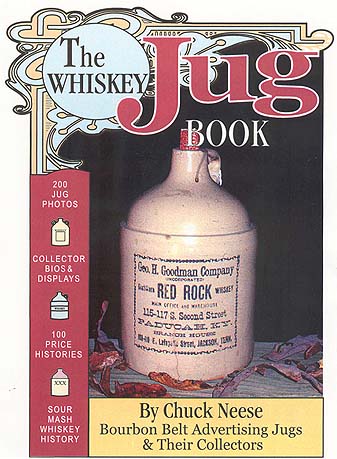 We welcome articles, stories, finds, and pictures for upcoming issues of the newsletter. All past newsletters are stored on the club web page for quick and easy reference, so there is no need to print them (save a tree instead).

The Southeast Bottle Club is a non-profit organization serving the Southeastern United States. All meetings and events are open to the public, so drop by and check us out. We hope you'll consider joining the club. Club members receive the monthly newsletter via Email or postal mail, run free ads in this newsletter, and participate in all the fun and benefits the club has to offer. Free Email-only membership is also available - just request it. This newsletter is currently distributed to over 3,100 collectors. Info may be reprinted as long as credit is given.
Book Corner - The Whiskey Jug Book
This month the Book Corner features The Whiskey Jug Book by Chuck Neese. This is the first book dedicated to stoneware advertising whiskey jugs from the Bourbon Belt. The book features antique pottery ads from 1850 thru 1920 and is illustrated with over 200 photos of collectible jugs. Histories of some of the key whiskey companies (like Jack Daniels and Green River) are covered. A section is devoted to "What's a Whiskey Jug Worth?" to cover rarity, age, condition, and repairs. And another section on "Price History" that lists what collectors paid for certain jugs over time.

This book can be order by mailing $20 ($18 for book, $2 for postage) to The New Company, PO Box 50667, Nashville, TN 37205. The author Chuck Neese may be contacted at (615) 356-9127, Email: chuckneese@hotmail.com
Bottle Poem
The following poem was written by Joel Ferguson of Slidell, LA for his book on New Orleans and Louisiana sodas. It won third place in 1998 at the National Library of Poetry. If they understood what a pontil, hutch, or crown top was, they might have awarded it higher.
THE FORGOTTEN ONES

THEY WERE OLD WHEN THE CENTURY WAS NEW,
NONE KNOWS HOW LONG THEY SLEPT BENEATH THE GROUND,
WHERE IN THE END OUR QUESTING SHOVELS FOUND,
THEIR TARNISHED GLASS REMAINS AND BROUGHT THEM BACK TO VIEW.

THERE WERE PONTILS, HUTCHES, AND CROWNS AS WELL,
ALL EMBOSSED WITH THE NAMES OF A DISTANT PAST,
SO LONG FORGOTTEN UNTIL AT LAST,
WE BROUGHT THEM BACK, BUT NO STORIES COULD THEY TELL.

NEITHER OF THE MEN WHO MADE THEM OR THE FLAVORS WITHIN,
WE COULD ONLY IMAGINE AND WISH THAT WE KNEW,
BUT TIME HAD ERASED FOREVER, NOT LEAVING A CLUE,
OF WHO THEY WERE AND IN WHAT PLACE DID THEY BEGIN.

OH, IF ONLY THEY COULD TALK, WHAT STORIES COULD THEY TELL,
OF THE SMELLS, THE PEOPLE, AND A NATION HEADED WEST,
AND OF A TIME AND ERA LONG GONE AND PUT TO REST,
A TIME WHEN THERE WAS A GREAT CIVIL WAR AND THE OLD SOUTH FELL.

HOW I WISH THAT I COULD GO BACK FOR A BRIEF MOMENT IN THE PAST
TO THE DISEASED RIDDEN CITY, MUDDY STREETS, AND COAL BLACKENED SKY,
TO MEET THOSE SODA PIONEERS WHO WOULD HAVE NEVER IMAGINED WHY,
THEIR MEMORY WOULD FOREVER LAST, IN THE HANDS OF A DISTANT STRANGES GRASP.

OH, IF ONLY THEY COULD TALK, IF ONLY THEY COULD TALK, WHAT STORIES COULD THEY TELL?

Joel Ferguson, Palm Sunday, 1997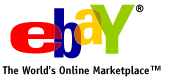 Ebay Tips
The hot tip this issue comes from Teddy Speas, who noticed this announcement that eBay users with an Email address for their user ID will automatically have it changed to a non-Email ID. This change is scheduled to occur January 2004. The reason is to reduce the chance of fraud with eBay Email addresses. For more details, see this page: www.ebay.com/eumfaq.html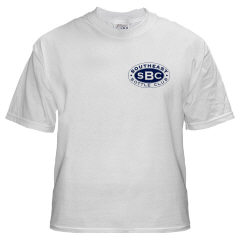 Southeast Bottle Club T-shirts, Caps, Tote Bags
Show your pride in Southeast bottle collecting by buying one of the t-shirts, caps, tote bags, or other items bearing the Southeast Bottle Club logo. These items can be ordered online at:
www.cafeshops.com/sebottleclub
If your club would like to setup their own site to sell stuff with their logo, contact my wife Linda Lynch at Email llynch@nc.rr.com
Upcoming Southeast Bottle Club Events
The Southeast Bottle Club sponsors an annual show and several other events each year. Two swap meets will be scheduled with a presentation, raffle, and buying/selling like that last event at Granddaddy's. We are currently planning these two swap meets:
Fall event in Wilson, NC with presenation by Vernon Capps. The Wilson County Fairgrounds has agreed to let us use Exhibit Hall A for a reasonable price, but it's not air-conditioned (fans only) so will wait to schedule an event there when the temperatures cool down in the Fall. If anyone knows of a cheap air-conditioned facility near Wilson/Goldsboro, then please let me know.
Winter event at Granddaddy's Antique Mall in Burlington, NC with presentation by John Patterson (NC Milk Bottle Expert).
These will be Saturday noon events. Stay tuned for details as we line up dates for each swap meet. If you are interested in presenting, please contact Reggie.

The annual indoor show has been confirmed for Sunday Nov 9, 2003 in Greensboro, NC. Details on this 2nd annual show are on this web page: www.antiquebottles.com/greensboro Last year's show was a big success, and this year should be bigger as we do a joint show with the Blue Ridge Insulator Club.

Last item being planned is an outdoor bottle show on the NC State Fairgrounds in Raleigh. This was done in 2001 and was a big success.
Membership
The Southeast Bottle Club does not require membership to receive its newsletter by Email or to attend any of its events. The newsletter is distributed free by Email to encourage more bottle collectors to participate in the events sponsored by the club and the other clubs in the Southeast region. But paid membership is encouraged to help support the many activites sponsored by the club. So why not consider joining today? Click here for the online membership application, or for printed copies just fill out the application on the inside of the back page. Remember that paid members can run free ads in this newsletter, and when you consider the newsletter is distributed to over 3,100 collectors, that's pretty cheap advertising for your bottle dollars.

Thanks to these new members who recently paid dues to join the Southeast Bottle Club: Macon Critcher - Kittrell NC, Ken Scroggin - Madison AL, Ralph Van Brocklin - Johnson City TN, and Malon and Donna Rogers - Mebane NC.

and thanks to these existing members who renewed: Teddy Speas - Rural Hall NC, Scott Clary - FL, Skip Henderson - Chapel Hill NC and Emil Sparger - Spencer NC.
Renewal notices will be mailed with the next newsletter.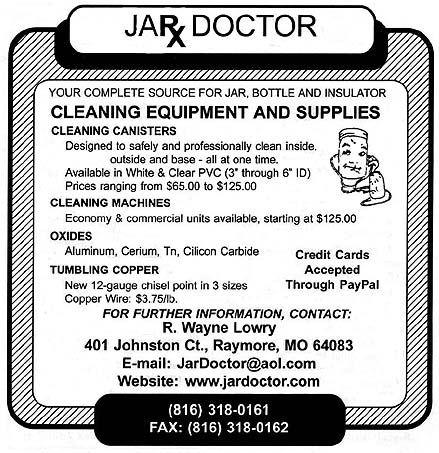 North Carolina Top 10 Bottle Contest
Bill Baab recently published a list of the top 20 bottles from South Carolina in the FOHBC magazine. He suggested I do the same for North Carolina, and the results could also be published in the FOHBC magazine. Sounds like a great idea to me, so here's how we'll do it. Rather than a top 20, I wanted to find what Southeast newsletter readers think are the top 10 in each bottle category from NC. This will help remove the bias from whether people feel one category is superior to another. The contest will be done in 3 phases:
Collect nominations in each category.
Have readers vote on nominations.
Publish the results.
The nomination collection will start with this issue, and the next two phases will appear in subsequent issues. Here's the form to submit your nominations in each category:
www.antiquebottles.com/southeast/nctop10nom.html
You can open an Email letter to Southeast Bottle Club, then copy/paste the above web page form to the Email, fill it in, then click "Send" to Email it. Or you can print the form and mail it in to the address on the form. For our readers without Email who received this newsletter by Email, a copy of this form is included in the back of the printed newsletter. Deadline for submissions of your nominations is Nov 9, 2003, which is the same date as the upcoming Greensboro NC bottle show sponsored by the Southeast Bottle Club. Forms will also be available at that show for attendees to submit their nominations.
Show Report
This section provides reports on any recent shows, auctions, or other events where bottles were sold. If you are going to a bottle show that Reggie plans to attend, please bring your show & tell bottles so he can photograph them and publish in this newsletter.
Louisville National Show June 27-29
The FOHBC (Federation of Historical Bottle Collectors) held their National Show June 29th in Louisville, KY. President Ralph Van Brocklin, Wayne/June Lowry, John Pastor, and many others are to be congratulated for their hard work putting on this successful show. This was a two day show (Sat/Sun) with about 230 dealer tables. There was a nice auction on Sat night that was run by Norman Heckler. Friday night was the awards banquet where the Southeast Bottle Club won three awards: 2nd place for show flyer, 3rd place for newsletter, and President's Award to Reggie for tremendous effort shown towards promoting the hobby.

Plans have already been confirmed for the next show in Memphis, TN - which will be the EXPO. Location will be the Memphis-Cook Convention Center in downtown Memphis. This hall will accomodate up to 550 sales tables and 50 displays for the every-four-year bottle and stoneware extravaganza planned and conducted by the Federation of Historical Bottle Collectors. Contracts and information may be obtained by contacting EXPO Chairman Gene Bradberry at Expo2004@midsouth.rr.com

Below are some pictures from the show. To see all the pictures taken, click here.
| | |
| --- | --- |
| Ralph Van Brocklin with his "Best of the West" display. See closeups of left, center, and right. | Dennis Smith with his Celery Cola display. See full view. |
| Bob Watson with his "ABC's of Bitters" display. See closeups of left and right sides. | 1st Chicago Bottle Club displayed alongside Antique Bottle Club of Northern Illinois. |
| Jeff Burkhardt with some nice offerings on his sales table. | Without a doubt, the display that drew the most attention was Tony Hayes' display that showed recemt finds from a downtown Louisville dig. See closeup of shards on the floor. |
| Carl Sturm (left) and John Wolfe combined forces to put on this fabulous Cure bottle display. See closeups of Left, Middle, Right. | Orville Seals shared his very comprehensive display of "Louisville Kentucky Mini Jugs". |
| David Beadle showed this neat display of scroll flasks. See closeup of flasks. | Kathy Hopson (a.k.a. "cokegirl") is editor of the FOHBC "Bottles and Extras" magazine and here shows her most recent publication - the best FOHBC magazine yet! |
| Gene Joo of Burlington NC with his amazing display of spider web whiskey flasks. See full view. | Jack Hewitt showed this amber SILAS F. MILLER & CO. / GALT HOUSE / LOUISVILLE flask. |
| Tom Lines' son watches his dad's table while Tom is out shopping the floor. | Brian Shultis showed this Drake's Plantation Bitters that was weird for two reasons: it had a lightning closure (that could have been added later), but mostly because it had a full graphite pontil base. |


Above is a view of the show floor at Louisville.
Shupps Grove Bottle Festival
The 2nd annual Shupp's Grove Bottle Festival was held July 17-19 in Adamstown, PA. Reggie unfortunately missed this year's show (his wife broke her leg), but he heard great reports from dealers and collectors who attended. The show featured over 180 dealers from across the country. The 3 day festival provided 24 hour bottle dealing (some people do their best buys at night), plenty of bottle chat with new and old friends, cook outs, and even a few poker games.

Show chairmen Steve Guion and Jere Hambleton provided these photos. Click any photo below to see a close-up.
| | |
| --- | --- |
| A nice pair of 2 gallon jugs. | Dealer setup under the shady tree grove. |
| The Lowry's (a.k.a. Jar Doctor) setting up fruit jars and cleaning supplies. | Shopping for stoneware. |
Recent Finds
This section includes recent items sold on eBay and other items shared by collectors. If you have a recent find to post here, or just want to share a favorite bottle, please submit info to the newsletter editor. Most pictures can be clicked to see the original full view before it was cropped to fit here.
| | | |
| --- | --- | --- |
| 1920 label under glass syrup bottle for Drink Coca-Cola sold on eBay for $566 by fran4017 | 6" yellow green Midwestern Pitkin-style swirl flask with 16-rib broken swirl pattern, rolled mouth and pontiled base sold eBay $495 by shellyshelly. | Aluminum merchant token from D.W.D. & Son of Elizabeth City, N.C. good for 1 bottle Davis' soda sold on eBay for $154 by minnesotatokenman. |
| Amber 9½" smooth based beer bottle embossed JOHN BOSSMEYER / LOUISVILLE KY. sold $393 on eBay by grotzbotz. | Color does matter: this olive green Dr. J. Hostetter's / Stomach Bitters sold for $520 on eBay by effie70. | Amber square CATAWBA WINE / BITTERS with embossed grape cluster sold for $3,665 on eBay by ddavisantq. |
| 1926 White House Vinegar Sweet Pickle Jar with label and glass top sold on eBay for $700 by crazy4harleys. | 3" brass label cork screw engraved PURE RYE WHISKEY / A. Michelson / Austin, Texas sold on eBay for $150 by mr.simplepleasures. Plus PIC of it closed. | 7¼" pontilled druggist bottle embossed FISHER & WINSTON / DRUGGISTS / RICHMOND, VA. sold on eBay for $372 by rfmfg. |
| Quart green pyro-glazed milk MEADOW VIEW FARM / C.W.FALWELL PROPRIETOR / PHONE 2814 / LYNCHBURG, VA sold $201 on eBay by jrhizer. | Desirable half-pint Western flask embossed Kane O'Leary & Co. / 221 / & / 223 / Bush St. S.F. sold on eBay for $4,000 by kidshuttle. | This E.L. HUSTING / Coca-Cola / Milwaukee, Wis. sold on eBay for $885 by earlycokes and is the only vertically embossed Coca-Cola bottle. |
| 1913-16 Danville VA Pepsi:Cola with vertical ribs around the base sold on eBay by mr.crushy for $800. | This Fla. Brewing Co. / Tampa, FLA. with embossed alligator and missing part of the blob top sold for $91 on eBay by pephut96. | This shoulder script Coca-Cola with Darien / Bottling Co. / Net Contents 7 Oz. in slug plate sold on eBay for $1,825 by franksauct@aol.com. Noted as the only Georgia S-S Coke not embossed with "GA". |
| 1950s Coca-Cola plastic bottle topper sign sold on eBay by max_tek for $1,009. | 8 oz SHINNSTON / PEPSI=COLA / BOTTLING WORKS bottle from W. Va. sold on eBay for $505 by phatmansjunque. | 1941 Pepsi:Cola thermometer with girl drinking thru straw from bottle sold on eBay for $1,025 by stuffmanchu. |
| Pyro-glazed Borden's milk bottle sold for $500 on eBay by stanmilkman. | Aqua blue threadless insulator sold on eBay for $2,030 by pabottleguy. | 1905 Millar's Hotel / Culpeper, VA. mini-jug sold on eBay by texasgas for $308. |
| This amber half gallon is one of the hand-blown 1971 reproduction jars. This particular variety is one of the scarcest of the series and also, the most difficult to detect as being a reproduction. That's because, unlike the 1171-base jars, the shoulder shape of these is identical to original jars. Embossed on the base: 851. Sold on eBay for $115 by hoosierjar who provided this helpful info. | Amber pint SC Dispensary union flask with palmetto tree sold on eBay for $1,100 by sbbb90. | Amber hutch embossed L.T BRIDWELL / 615 7TH ST / WASHINGTON, D.C / REGISTERED with some damage sold on eBay by baltokid for $62. |
| Warranted flask embossed M HIGHTOWER / WADESBORO, N.C. / CORNER SALOON in circular slug plate sold on eBay by cir8 $1,225. | Rare jar embossed SPEAS VINEGAR / 1 PINT 8 FL. OZ. with original lid sold on eBay by rph61 for $405. | Medium green 11 3/4" Willington style cathedral pickle jar sold on eBay by thedanoa for $1,161. iron pontil base |
| R. E. GARNER; SELLS THE BEST; ANNISTON, ALA. half pint strap-sided flask sold for $127 on eBay by bottleman57. | Olive green HOWARDs VEGETABLE / CANCER AND CANKER SYRUP with pontil base sold on eBay by bertaneye for $10,901. Probably a Stoddard NH piece. | Ten-pin style crown top soda embossed INDIAN ROCK GINGER ALE / Adam Christian Co. sold on eBay for $299 by user8271588. |
| 1970's reproduction version of the amber SC Dispensary quart with Palmetto tree was offerred on eBay. Thanks to seller hinsonauction for being honest up front and pointing out in the listing that this was a repro. | Dr Pepper 15x25" litho poster sold on eBay for $418 by swedishsun. | GI-54 quart emerald green Washington/Taylor smooth-based flask sold on eBay for $1,181 by neaauction@aol.com. |
| One of a series of 1951 Coca-Cola restaurant posters that were sold on eBay by j.fle. Very nostalgic reminder of the old roadside diner! The other posters included Roast Beef, Small Steak, Ham & Cheese, Ham & Eggs, Pork & Beans, Grilled Cheese, Spaghetti, Bacon & Tomato, | Mrs. Joe Persons Remedy / Tarboro, N.C with lip chip sold on eBay for $36 by scbottles@aol.com | 7 oz Mountain Dew bottle "by Barney an Ally" sold on eBay for $210 by samfire911. |
| Collection of 3 cathedral style pickles sold on eBay by thedanoa for $2,225. | Give-away flask with paper label depicting old style Santa with sack of toys following behind a snowman and black dog. Given out by Geo. L. Phillips / Zerbe House / Sunbury, PA.. This item sold on eBay by nicky307a for $305. | This 4" tall 1900-1904 glass etched Coca-Cola sold on eBay for a whopping $2,500 by hayden$warehouse. The first Coca-Cola glass according to Petretti's book. |
| 1914 "Betty" Coca-Cola calendar sold on eBay for $2,763 by marblemama. | Blob top FRANCIS DUSCH / No 2 / EAST BROAD ST. / RICHMOND, VA. beer with original closure sold on eBay for $90 by wadad. | Free blown Continental onion (circa 1760) with unusual wide mouth sold on eBay for $1,300 by ***.earlyglass.***. |
Raleigh Show & Tell
Here are some pictures from the June 3rd meeting of the Raleigh Bottle Club. Thanks to Janie Raper for providing some of these pictures. Click any picture to see a close-up. Note that the Raleigh Club meets the first Tuesday of each month. More details, including directions to the meeting, can be found at www.antiquebottles.com/raleigh/
Here are the June pictures - more here
| | |
| --- | --- |
| Jack Murdock can a very informative and captivating presentation on the bottles and advertising for Henry Hicks Pharmacy of Raleigh, NC. Hick's Capudine was a famous product, whose bottles are dug up across the country. | Some Hicks Capudine advertising items shown by Jack. |
| More Hicks Capudine items. | Skinny Medlin shows an unknown Speas jar. |
| Reggie showed this VICK'S CHEMICAL / GREENSBORO, N.C. bottle, one of the harder to find, early Vick's bottles. | Reggie showed this slug plate crown top soda embossed MINT-COLA / BOTTLING CO. / AULANDER, N.C. which was later sold to a happy member. |
---
Member Ads
Ads are posted here free of charge to paid Southeast Bottle Club members. Submit ad info to the newsletter editor for inclusion in the next newsletter. Ads run for 2 months, then must be renewed to continue. If your ad ran before and you want to run it again without changes, just request "repeat same ad".

To run a display ad in the main part of the newsletter, contact the editor for arrangements. Price is $40/month for a ¼ page ad. Rates available upon request for other ad sizes.
Calendar of Events and Upcoming Shows
Also see Antique Bottle Shows which has year round listings and more links to sites with shows.
Oct 4, 2003
Richmond, VA
RABCA's 32nd annual bottle show Saturday 9am-3pm in Richmond, VA at the Show Place Annex, Rte 360 (3002 Mechanicsville Turnpike). Next door to Antique Extravaganza. Early admission 7:30am-9:00am. Show chairman: Judy Foles, phone (804) 798-7502, Email: judyfoles@mail.com Directions: North on I-95, East on I-64, exit 192 (Mechanicsville), 6 blocks on left.
Oct 4, 2003
Buffalo, NY
Greater Buffalo Bottle Collectors Association's Annual Show & Sale Sat. 9am-3pm at the Erie County fairgrounds Health Expo Building, Hamburg, New York. INFO: PETER JABLONSKI, PH: (716) 834-2249, E-mail: psjablon102@cs.com or ED POTTER, PH: (716) 674-8890.
Oct 4-5, 2003
Point Pleasant, WV
Point Pleasant Antique Bottle Show & Sale, (Sat 9am-5pm, Sun 9am-3pm), at the West Virginia State Farm Museum Fall Festival, Fairground Rd., 4 miles north of Point Pleasant, WV. Info: CHARLIE PERRY, 39304 Bradbury Rd., Middleport, OH 45760, PH: (740) 992-5088, Email: perrycola@eurekanet.com
Oct 10-11, 2003
Morristown, TN
The State of Franlkin ABCA and the Morristown Parks & Rec. Dept. 1st Anique Bottle Show & Sale, (Fri. Noon to 6 set-up, Sat. 7-9am set-up, early buyers Fri Noon, free to public Sat. 9am). Info: BILL HENDERSON, (423) 581-8386, Email: snowprobill@charter.net or CHARLIE BARNETTE, PH: (423) 968-1437, Email: brisbotls@chartertn.net
Oct 11, 2003
ALLENTOWN, PA
Pennsylvania Antique Bottle, Breweriana and Advertising Fall Show & Sale, 9:30am-2:30pm, early buyers 8am, at the Merchant's Square Antique Mall, 12th & Vultee St., Allentown, PA. Info: MARK ZEPPENFELT, 4881 Cypress Street, Wescosville, PA 18106. PH: (610) 391-0271, Email: uuubuy@aol.com
Oct 12, 2003
Bedford, PA
Bedford County Antique Bottle Club 26th Annual Show & Sale, 9am-1pm at the Bedford County Fair Grounds 4-H Building, Bedford, PA. Info: LEO McKENZIE, PH: (8143) 623-8019 or SALLY CORLE, PH: (814) 733-4598.
Oct 12, 2003
Keene, NH
Yankee Bottle Club 36th Annual Show & Sale, (Sat 9am-3pm, early buyers at 8am) at the Keene High School, Arch Street, Keene, NH. Info: CREIGHTON G. HALL, 382 Court Street, Keene, N.H. 03431. PH: (603) 352-2959.
Oct 17-18, 2003
Savannah, GA
The 6th annual Savannah Georgia Antique Bottle Show and Sale will be held at the National Guard Armory, Eisenhhower Drive, Savannah, GA. Fri dealer setup 2:00pm-7:00pm (no merchandise on table till 4:00pm). $10 Early Buyers Fri 4:00pm-7:00pm and Sat 8:00am-9:00am. Fri dinner provided to dealers. Public: Sat 9:00am-3:00pm. INFO: David Powell, 2617 Salcedo Ave., Savannah, GA 31406 Phone (912) 354-3576 or Russ Butler P.O. Box 264, Havana, FL 32333 Phone (850) 627-4909, Email: oldglass99@yahoo.com, web: www.savannahshow.com
Oct 19, 2003
Findley, OH
Findley Ohio 27th annual Antique Bottle and Collectibles Show. Sunday 9am-3pm at "The Old Barn", Route 224, (1 mile west of I-75 exit 159), Findley, Ohio. Info: Fred Curtis, 1635 Washington Ave, Findley, OH 45840, phone (419) 424-0486.
Oct 19, 2003
Scriba, NY
The Empire State Bottle Collectors Assoc. 5th Annual Fall Show & Sale, 9am-3pm at the Scriba Fire Hall, US Rt. 104 East, Scriba, NY. Info: BARRY L. HAYNES, PO Box 900, Mexico, NY 13114. PH: (315) 963-0922 or (315) 963-3749.
Oct 25, 2003
Austin, TX
Austin Bottle, Jar, Insulator and Collectible Show, 8:30am-2:30pm, at the North Austin Lions Club, 1103 Justin Lane, Austin, TX. Info: GARY INGRAM, 3504 Indian Point Dr., Austin, TX. 78739. PH: (512) 282-6221, Email: gdingram@hotmail.com
Oct 26, 2003
Albany, NY
Capital Region Antique Bottle, Insulator & Table-top Collectibles 7th Annual Show & Sale, 9am-2:30pm at the Historic 1848 Shaker Meeting House, 875 Watervliet Shaker Rd, Albany, NY. Info: BOB LATHAM, PH: (518) 463-1053, Email: blath@capital.net
Oct 26, 2003
Baltimore, MD
The Great Mid-Atlantic 5th Annual Bottle, Paper & Advertising Show & Sale, 9am-3pm at the Maryland State Fairgrounds, I-83 North of Baltimore, Timonium, MD. Info: HOLIDAY PROMOTIONS, PO Box 845, Abingdon, MD 21009, or BILL THOMAS, PH: (410) 538-5558.
Nov 2, 2003
Elkton, MD
Tri-state Bottle Collectors & Diggers Clubs 31st Annual Show & Sale Sunday 9am-3pm at the Singerly Fire Hall, Rts 279 & 213, (I-95 exit 109A), Elkton, MD. Info: WARREN CAVENDER, PH: (302) 998-0690
Nov 9, 2003
Greensboro, NC
2nd annual Greensboro Antique Bottle & Collectibles Show & Sale on Sunday Nov 9, 2002 at the Farmer's Curb Market on 501 Yanceyville St, Greensboro, NC. Public admission 9am-3pm for $1. Dealer setup 6am-9am, 5 ft table $15, 10 ft table $25. Early buyers $10 7:30am. Info: David Jackson (336) 288-2677 or Reggie Lynch (919) 789-4545, PO Box 13736, Durham, NC 27709. Email: greensboro@antiquebottles.com Web: www.antiquebottles.com/greensboro/
The Southeast Bottle Club newsletter is hosted by the Antique Bottle Collectors Haven.