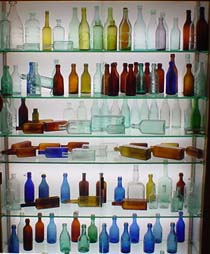 Southeast Bottle Club
October 2002 Newsletter
Topics in this Newsletter (click topic to jump there):

We welcome articles, stories, finds, or pictures for upcoming issues of the newsletter. All past newsletters are stored on the club web page for quick and easy reference, so there is no need to print them (save a tree instead).

The Southeast Bottle Club is a non-profit organization serving the Southeastern United States. All meetings and events are open to the public, so drop by and check us out. We hope you'll consider joining the club. Club members receive the monthly newsletter via Email or postal mail, run free ads in this newsletter, and participate in all the fun and benefits the club has to offer. Free Email-only membership is also available - just ask. This newsletter is currently distributed to over 1,400 collectors.
Bits, Pieces, and Happenings
The Southeast Bottle Club is sponsoring two upcoming events. The first is a Antique Bottle Show & Sale in Greensboro, NC on Sunday November 10th. There will be about 100 dealer tables with lots of great bottles for sale. Dealer packages and collector postcards were mailed Sep 22nd to all Southeast collectors in our database who do not have Email. The full dealer package is available on-line, but if you want a dealer package mailed to you, just request one. Quite a few dealer tables have already been sold, so please reserve yours early since this show is expected to be a sell out.
The 2nd event is a Bottle Swap Meet on Saturday December 7th noon-2pm at Granddaddy's Antique Mall in Burlington, NC. There will be an educational presentation on NC milk bottles by John Patterson, the premier collector in this area. And there will be a raffle for some great bottles. Time will be allowed for show & tell, so bring in your latest finds to share with fellow collectors. There will also be time for buying/selling bottles. Everyone is encouraged to bring something to sell, but please limit what you bring to two boxes. Hope to see you at one or both of these events.
Jeff Wichmann of Pacific Glass Auctions passed along an article from the Honolulu newspaper about a digger that died from a cave-in. A strong reminder to all our digger friends out there to "be careful".
Addition: Mike Newman's reported this about his pipe in the Sep issue: The pipe is a Cherokee Indian human effigy pipe made out of steatite (soapstone). It was found in Charleston about 10 years ago. It is considered historic and not prehistoric in nature and dates to the 1800-1820 time period. A substantial collector contacted me shortly after I got the pipe with some information. He had about 25 Cherokee effigy pipes but no human ones. He said that mine would be the 4th one documented. Mike has sold the pipe.
Note that you will never receive an attachment to this newsletter when sent by Email. Instead, the newsletter will always provide a link that you click to bring up the newsletter in your web browser. Always be careful of opening any Email attachment unless you were expecting it and you know the person that sent it. There are many deadly PC viruses circulating now that can be spread to your PC by simply opening unexpected Email attachments. It's also highly recommended that you periodically run Symnatec (Norton) Anti-Virus with the latest virus definitions.
Show Report
This section provides reports on any recent shows, auctions, or other events where bottles were sold. If you are going to a show I plan to attend, please bring your show & tell bottles so I can photograph them and publish in this newsletter.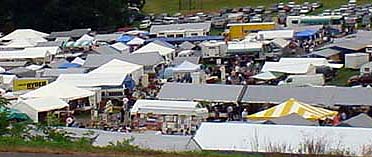 Hillsville VA - August 30
The traditional Labor Day weekend event at Hillsville VA was another great success. While the number of dealers appeared to be down by about 10%, that's still a lot of dealers. We started at 7:00am and it took till 4:00am to see most everything. And the weather was great, at least on Friday, with overcast skies that threatened to rain but never did.

There were many bottle dealers setup, including the ones photographed below. Sorry I didn't get pictures of everyone. Sometimes you have so much fun chatting and looking that you forget about using the ole' camera.

Here are some pictures from the show (click any picture for full view close up):
| | |
| --- | --- |
| David Jackson holds a jug stenciled "GEORGE A. JACKSON / THE LIQUOR DEALER / SALISBURY, N.C. / OLD WHISKIES MY SPECIALTY". David is wearing his old Greensboro News & Record paper delivery bag, which is great for hauling around your finds at an outdoor festival like Hillsville. That's Tom Kleeburg beside him of Grandaddy's Antique Mall in Burlington, NC. Closeup of jug. | Scott Berry of Lewisville NC set up in a car wash off the main drag, with a sign from the street that read "2000 Bottles For Sale". I didn't count, but it looked close. Scott had quite a few rare NC soda bottles. Phone (336) 946-2020. |
| Mike Barbera of Louisville TN brought many bottles and signs to sell. Phone (865) 977-9965. | Gary Westmoreland of Byers TX was selling (and looking for) Dr Pepper bottles and advertising. Phone (940) 529-6535. |
| Bill Wrenn, Ken Nease and John Wood of Georgia were setup on the upper field and had many nice bottles and jugs for sale. This was John's first show setting up. He is big into Georgia slug plate bottles, White House, Spea's, Jumbo and mineral water bottles. | William Flowers offerred these wild face jugs that he and his wife made. His phone is (910) 328-5859. |
Asheville NC Show Sept 13-14
Here are some pictures from the Asheville Bottle Show held September 13-14 in Asheville NC. All 81 dealers tables were sold out for this show. Most dealers reported very good sales, and I talked with many buyers that were happy with the items that picked up to add to their collections. The show was held in the atrium of the Best Western Motel, which relies on sky lights to luminate the atrium. Because of the overcast weather, the atrium was darker than usual which was a bit of a problem, especially in the early morning. And then there was the leaky roof that did not withstand the rains, causing a few dealers to move their tables. Understand the show will be held at a new location next year. Congrats to Larry Glenn and Tom Mattox for putting on another fine show with great southern hospitality.
Click any picture for full view close up:
| | |
| --- | --- |
| Ken Nease of GA had many nice bottles to offer. I learned that besides digging, Ken goes scuba diving to find bottles. | Vern Huffstetler and his son are all smiles because dad just sold his entire table, something all dealers hope to do. Understand Vern just made an offer and it was accepted. Sure makes packing up a lot easier. |
| Tim Branch, the Asheville Club president, showed this rare label-only "Cascara Sagrada Bitters" from an Asheville drug store. | Corky Shore showed this label-only sample whiskey of "GOLD BRAND" (a Casper's product) that he bought from Ed Herrold. Ed lives in NC during the summer and sure managed to pick up some goodies to sell at the Asheville show. |
| You see a lot of the cobalt Vick's medicine bottles, but many people don't realize that Vick's got started in Greensboro NC as evidenced by this rare bottle. Sold by Ed Herrold to a lucky collector (I missed it). Embossed "VICK'S / TURTLE OIL LINIMENT / L. RICHARDSON / GREENSBORO, N.C.". | Jim Mayo showed his collection of Blood Life items, including an embossed bottle and related advertising. His grandfather, Redden Whitaker Adams, started the company in Boston, GA. If you are interested in finding out more about Blood Life or Redden W. Adams, please feel free to Email Jim at blindcat@charter.net |
Augusta GA Trip
During my trip to the Norcross GA, I had the wonderful opportunity to stop in Augusta GA and check out the great collections of Mike Newman and Bill Baab. Here are a couple pictures:
| | |
| --- | --- |
| Bill Baab's display case of southern bottles, most of them from Augusta GA. Wow! | Some of Bill Baab's collection of jugs from Augusta GA. Amazing! |
| Mike Newman and Bill Baab at Mike's house, where Reggie got to check out Mike's amazing collection of pontilled sodas, inks, and jugs. | A nice collection of Georgia jugs occupies book shelves on both sides of Mike Newman's fire place. |
Recent Finds
If you have any recent finds to post here, or just want to share a favorite bottle, please submit info to the newsletter editor Reggie Lynch. Most pictures can be clicked to see the original full view before it was cropped to fit here.
| | | |
| --- | --- | --- |
| Bill Wrenn showed this quart strap-sided flask embossed "EUREKA / DISPENSARY / EUREKA, N.C.". | Bill also showed this quart strap-sided flask embossed "GEO. ROEDIGER / No. 15 / E. THIRD ST. / WINSTON, N.C.". | Bill also had this pint strap-sided label only flask from Scoggins Palace Saloon in Durham, NC. |
| Amber JOHN RYAN / 1866 / SAVANNAH / GA. / CIDER sold for $360 on eBay. | Bill also showed this pint strap-sided flask embossed "THE ACME CO. / JAMES H. LOUGHRAN / 58 S. MAIN ST. ASHEVILLE, N.C." with cool anchor embossed on the back. | One of the Liberty dealers was offering this KING KOLE soda from MADISON, N.C. |
| Scott Berry was offering this "RED SPRINGS / MINERAL WATER / CO / RED SPRINGS, N.C." at Liberty. | While very common in cobalt blue, this BROMO-SELTZER is much harder to find in green. Sold $27 on eBay. | Bill Wrenn showed this quart strap-sided flask embossed "W.D. SMITH / LIQUOR / DEALER / WELDON, N.C.". |
| This near mint example of the amber Memphis TN Pepsi sold for $330 on eBay. | Yellow viobot with red stripe running thru the middle ("amberina"?) sold $345 on eBay. | Gallon jug stencilled "Jacob's Pharmacy / Atlanta, Ga." sold for $256 on eBay. |
| P. Stumpf & Co. / 1817 Main St. / Richmond Va. amber blob top beer bottle with original closure sold by Tom Walsh on eBay for $239. Tough to find this variety with the street address. | This green tinted quart cylinder "SOUTH CAROLINA DISPENSARY" with embossed palmetto tree and rare long whiskey neck sold for $1,358 on eBay. | White House Vinegar Worlds Fair Bottle with the full label and screw top sold for $202 on eBay. |
| Blob top beer embossed "Wm. Wholey / Staunton Va." sold $160 on eBay. | SPEAS U-SAV-IT vinegar ginger pint jar (rare size) with original porcelain-lined zinc lid sold $152 on eBay. | Color does matter! A 6 log Drake's Plantation Bitters would typically sell for $75-100, but this yellow example with slight olive tone sold recently for $1,600 on eBay. |
| This black STEINKE & KORNAHRENS / CHARLESTON, S.C. 8-sided pontilled soda sold for $2,025 on eBay. Seller Virgil Svendsen provided this history on the bottler: John L. Kornahrens began business as a grocer in 1840. He became involved in soda water bottling in 1855 at 24 Line St. Frederick Steinke was listed as a baker in 1856 at 43 Society St. Steinke & Kornahrens were in business together only a short time (1855/1856), after which Steinke left the soda water business and Kornahrens continued on until 1859. | This cobalt blue 7" smooth based blob top soda vertically embossed "McCORMACK / AND / McKEE / NASHVILLE / TENN" sold for $164 on eBay. Also embossed "A L M" around the base. Seller Frank Rains posted this interesting history: McCormack and McKee were only in business for one year in 1875. Once McKee left the business, his name was dropped from the bottles which accounts for the more common "McCormack / Nashville" bottles that you find. | This rare matchsafe for Augusta Brewing sold for $541 on eBay. Advertises some of their products "Drink, Belle of Georgia, Belle of Carolina, Dixie Export Beer". The back side side is decorated with an eagle and the words "AUGUSTA BREWING COMPANY". |
| 3½" mini jug stenciled "Wedderburn's / Pure Wines & Liquors / Washington, D.C. / ARE ALL guaranteed under the / Pure Food & Drugs Act, / June 30,1906" sold $225 on eBay. | Quart size Speas Vinegar wine-style bottle with original metal cap sold for $188 on eBay. | This shot glass etched with "Caspers Whiskey Pleases . Mild . Mellow . Enchanting . From The Casper Co., Winston-Salem, NC." sold for $129 on eBay. |
Raleigh Show & Tell
Pictures from the September 3rd meeting of the Raleigh Bottle Club.
| | |
| --- | --- |
| Sterling Mann shows a framed Pepsi ad he bought in Hillsville that advertises the Minges plant in Wilson/Goldsboro NC. | Reggie Lynch shows an original amber Mason 1858 fruit jar and explains some tips for distinguishing the amber originals from the repro's: only the repro has hero cross on the back, only repro has smooth lip but both original and repro can have ground lip, "1171" is base mold mark used by repro, for lettered crosses the original has "Co" while the repro has "Ca", only original has date on base. Thanks to Perry Driver for most of this helpful info. |
| David Tingen shows an amber "E. Waters / Elizabeth City, NC" blob top beer bottle that he won recently on eBay. | Frank Bishop shows a quart milk bottle embossed "MRS. G.T. GWALTNEY & SONS / ASHEVILLE, NC". Milk bottles with "Mrs." are tough to find, especially from NC. |
Baltimore News
Baltimore Bottle Club president Steve Charing provided this news:

The Baltimore Antique Club's successful picnic kicked off the club's 33rd year. In addition to traditional picnic fare, the club enjoyed a Maryland-style crab feast. Many members brought in bottles to sell or show, which captured a great deal of attention. Some bought a significant amount of bottles from other club members over the summer including an entire Baltimore beer collection. The September meeting featured Summer Finds--bottles and related items acquired over the summer that put smiles on the faces of our members. The meeting was dedicated to Johnny Unitas, one of Baltimore's super heroes who recently passed away.

The club's 23rd annual show and sale is scheduled for March 2, 2003. Contracts will be sent in October to existing dealers and those who want to set up for the first time at this fine show. If interested, show chariman Bob Ford can be reached at 410-531-9459 or Emailed at bottles@comcast.net. The 2nd edition of the Baltimore Bottle Book is still selling well 6 months after its initial publication. For more information about the show, book and club, visit the club's webpage at www.antiquebottles.com/baltimore or call 410-531-9459.
---
Member Ads
Ads are posted here free of charge to paid Southeast Bottle Club members. Submit ad info to the newsletter editor for inclusion in the next newsletter. Ads run for 2 months, then must be renewed to continue. If your ad ran before and you want to run it again without changes, just request "repeat same ad".
Want to buy or trade: NC and GA advertising jugs and whiskey flasks, error fruit jars, and "when empty return to:" stencil jugs. Bill Wrenn, (706) 769-8995, Email: minijug@aol.com.

Wanted: amber S-S Coke in undamaged condition (some stain/wear OK) from Washington NC or Greenville NC. Al Simmons, (843) 873-7868, Email: GASIMMO@westvaco.com

Wanted: colored pontilled blob top soda bottles and NC whiskey flasks in undamaged condition. Reggie Lynch, Email: rlynch@antiquebottles.com, phone: (919) 789-4545. Check out my bottles for sale on the Internet www.antiquebottles.com/rl/ and in booth 615 at Granddaddy's Antique Mall in Burlington, N.C. Contact Reggie to consign your nicer bottles for sale or auction and receive top dollar.
Calendar of Events and Upcoming Shows
Also see NC Show Calendar web page, Antique Bottle Shows, AntiqueNC.com, NC State Fairgrounds Calendar of Events, NC Festivals and Fairs.
Oct 5, 2002
Richmond, VA
RABCA's 31st annual bottle show Saturday 9am-3pm in Richmond, VA at the Show Place Annex, Rte 360 (3002 Mechanicsville Turnpike). Next door to Antique Extravaganza. Show chairman: Judy Foles, phone (804) 798-7502, Email: judyfoles@mail.com
Oct 5-6, 2002
Point Pleasant, WV
Point Pleasant Antique Bottle Show & Sale, (Sat 9am-5pm, Sun 9am-3pm), at the West Virginia State Farm Museum Fall Festival, Fairground Rd., 4 miles north of Point Pleasant, WV. Info: CHARLIE PERRY, 39304 Bradbury Rd., Middleport, OH 45760, PH: (740) 992-5088, Email: perrycola@eurekanet.com
Oct 18-19, 2002
Savannah, GA
The 5th annual Savannah Georgia Antique Bottle Show and Sale will be held at the National Guard Armory, Eisenhhower Drive, Savannah, GA. INFO: David Powell 2617 Salcedo Ave., Savannah, GA 31406 Phone (912) 354-3576 or Russ Butler P.O. Box 264, Havana, FL 32333 Phone (850) 627-4909, Email: oldglass99@yahoo.com, web: www.savannahshow.com
Nov 3, 2002
Elkton, MD
Tri-state Bottle Collectors & Diggers Clubs 30th Annual Show & Sale (Sun. 9am-3pm) at the Singerly Fire Hall, Rts 279 & 213, Elkton, MD. Info: WARREN CAVENDER, PH: (302) 998-0690
Nov 10, 2002
Greensboro, NC
1st annual Greensboro Antique Bottle & Collectibles Show & Sale on Sunday Nov 10, 2002 at the Farmer's Curb Market on 501 Yanceyville St, Greensboro, NC. Public admission 9am-3pm for $1. Dealer setup 6am-9am, 5 ft table $15, 10 ft table $25. Early buyers $10 7:30am. Info: David Jackson (336) 288-2677 or Reggie Lynch (919) 789-4545, PO Box 13736, Durham, NC 27709. Web: www.antiquebottles.com/greensboro/
Dec 7, 2002
Burlington, NC
Bottle Swap Meet on Saturday December 7th noon-2pm at Granddaddy's Antique Mall in Burlington, NC. Meet will include show & tell, swap meet (bring your bottles to sale), free appraisals, and an educational presentation on NC milk bottles by John Patterson.
---
The Southeast Bottle Club newsletter is hosted by the Antique Bottle Collectors Haven.