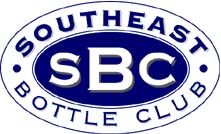 Southeast Bottle Club
Sep/Oct/Nov 2003 Newsletter
Topics in this Newsletter (click topic to jump there):




We welcome articles, stories, finds, and pictures for upcoming issues of the newsletter. All past newsletters are stored on the club web page for quick and easy reference, so there is no need to print them (save a tree instead).

The Southeast Bottle Club is a non-profit organization serving the Southeastern United States. All meetings and events are open to the public, so drop by and check us out. We hope you'll consider joining the club. Club members receive the monthly newsletter via Email or postal mail, run free ads in this newsletter, and participate in all the fun and benefits the club has to offer. Free Email-only membership is also available - just request it. This newsletter is currently distributed to over 3,300 collectors. Info may be reprinted as long as credit is given.
Upcoming Southeast Bottle Club Events
The Southeast Bottle Club sponsors an annual show and several other events each year. Two swap meets will be scheduled with a presentation, raffle, and buying/selling. We are currently planning these two swap meets:
Winter event at Granddaddy's Antique Mall in Burlington, NC. This is scheduled for Saturday December 13, 2003 from noon-2:00pm. Like all Southeast Bottle Club events, this swap meet is open to the public, so members and non-members may attend. Everyone is encouraged to bring bottles for sell and trade - but please limit what you bring to what will fit in two boxes. This event will include a special presentation on NC Milk Bottles by the expert in this field: John Patterson. Please bring a folding chair to help us with the seating. There will be a raffle with some great bottles including:

PET DAIRY PRODUCTS / BURLINGTON, N.C.
Hall's / Hair Renewer
CATAWBA VALLEY / OLD CORN WHISKEY / MARION, N.C.
Straight-sided Coca-Cola / DURHAM, N.C.

Free appraisals will be given, and there will be free bottles for kids. Some come join us for the fun. Directions: in Burlington NC take EXIT 145 at I-40/I-85, then north on Maple Ave about 1/4 mile. Grandaddy's is on the right at 2316 Maple Ave. For a PowerPoint flyer on this event click here.
Spring event in Wilson, NC with presenation by Vernon Capps. The Wilson County Fairgrounds has agreed to let us use Exhibit Hall A for a reasonable price, but it's not air-conditioned (fans only) so will wait to schedule an event there when the temperatures are right. If anyone knows of a cheap air-conditioned facility near Wilson/Goldsboro, then please let me know.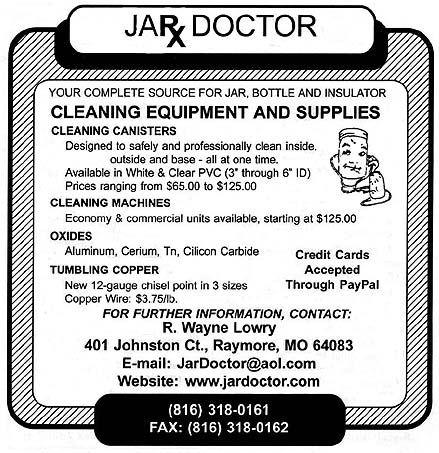 These will be Saturday noon events. Stay tuned for details as we line up dates for each swap meet. If you are interested in presenting, please contact Reggie.

Next year's indoor show in 2004 will be the 1st and 2nd Sunday of November - haven't decided which yet.

Last item being planned is an outdoor bottle show on the NC State Fairgrounds in Raleigh. This was done in 2001 and was a big success.
Membership
The Southeast Bottle Club does not require membership to receive its newsletter by Email or to attend any of its events. The newsletter is distributed free by Email to encourage more bottle collectors to participate in the events sponsored by the club and the other clubs in the Southeast region. But paid membership is encouraged to help support the many activites sponsored by the club. So why not consider joining today? Click here for the online membership application, or for printed copies just fill out the application on the inside of the back page. Remember that paid members can run free ads in this newsletter, and when you consider the newsletter is distributed to over 3,300 collectors, that's pretty cheap advertising for your bottle dollars.

Thanks to these new members who recently paid dues to join the Southeast Bottle Club: Herman Vick Jr - Waxhaw NC, Tom Lines - Birmingham AL, Ottis Coppley - Lexington NC, Robert Ellis - Landis NC, Tommy Lyerly - Salisbury NC, Scott Berry - Lewisville NC, Cameron Lamb - Randleman NC, Skip Kehrer - New Memphis IL, Hank Parks - Atlanta GA,

and thanks to these existing members who renewed: Jack Moulton - Check VA, Frank Elske - Eden NC, George & Anita Cullom - Roanoke Rapids NC, Chuck Petersen - Raleigh NC, Carl Barnett - Douglas GA, Ken Nease - Claxton GA, Jerry Jones - Pleasant Garden NC, Allen Culler - Welcome NC, John Wood - Danielsville GA, Bill Wrenn - Watkinsville GA, Philip Haley - Carnesville GA, James Byrd - Winston-Salem NC, Rory Martin - Clayton NC, Howard Crowe - Gold Hill NC, Perry Driver - Live Oak FL, Bill Owen - Salisbury NC,
North Carolina Top 10 Bottle Contest
Bill Baab recently published a list of the top 20 bottles from South Carolina in the FOHBC magazine. He suggested I do the same for North Carolina, and the results could also be published in the FOHBC magazine. Sounds like a great idea to me, so here's how we'll do it. Rather than a top 20, I wanted to find what Southeast newsletter readers think are the top 10 in each bottle category from NC. This will help remove the bias from whether people feel one category is superior to another. The contest will be done in 3 phases:
Collect nominations in each category.
Have readers vote on nominations.
Publish the results.
The nomination collection will continue with this issue, and the next two phases will appear in subsequent issues. Here's the form to submit your nominations in each category:
www.antiquebottles.com/southeast/nctop10nom.html
You can open an Email letter to Southeast Bottle Club, then copy/paste the above web page form to the Email, fill it in, then click "Send" to Email it. Or you can print the form and mail it in to the address on the form. For our readers without Email who received this newsletter by Email, a copy of this form is included in the back of the printed newsletter. Deadline for submissions of your nominations is Dec 31, 2003.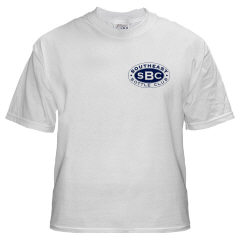 Southeast Bottle Club T-shirts, Caps, Tote Bags
Show your pride in Southeast bottle collecting by buying one of the t-shirts, caps, tote bags, or other items bearing the Southeast Bottle Club logo. These items can be ordered online at:
www.cafeshops.com/sebottleclub
If your club would like to setup their own site to sell stuff with their logo, contact my wife Linda Lynch at Email llynch@nc.rr.com
Show Report
This section provides reports on any recent shows, auctions, or other events where bottles were sold. If you are going to a bottle show that Reggie plans to attend, please bring your show & tell bottles so he can photograph them and publish in this newsletter. If you attend a show in the Southeast and want your pictures/story shown here, then just submit and we'll publish them.
Asheville NC Show Aug 15-16
The Asheville show moved to a new date in a new location. Nice building for a show except there was no air conditioning, and in August that means "hot"! But dealers and collectors braved the heat for a nice show where many nice bottles were bought and sold.

Below are some pictures from the show. To see all the pictures taken, click here.
| | |
| --- | --- |
| Show chairmen Tim Branch and Larry Glenn. | Corky Shore and Emil Sparger with Ron Hefner in the background. |
| Bob Roberts had a crowd on hand to watch a real bottle tumbling machine in action. | An anonymous collector showed this pint strap-sided flask embossed C.B. McINTYRE / 7 N. MAIN ST. / ASHEVILLE, N.C.. |
Richmond VA Show Oct 4
The Richmond, VA bottle show held October 4 with over 80 dealer tables and eleven states represented. Considering everyone on the East Coast was dealing with the aftermath of Hurricane Isabel, this was a good showing. There were 25 early admissions with nearly 200 total paid admissions. There were three nice displays including a Pepsi display by James Ayers. Sgt. Santa was present as usual and his childrens' charity received at least $300 as a result of the show.

Below are some pictures from the show. To see all the pictures taken, click here.
| | |
| --- | --- |
| Perry Driver (all the way up from Live Oak, FL) with a nice offering of kerosene lamps and fruit jars. | A collector shared this nice labeled half gallon CRAIG HEALING SPRINGS bottle with original paper label. |
| James Ayers presented a fantastic display of Pepsi:Cola bottles. Some other views: one, two, three | The Southeast Bottle Club sales table where lots of people dropped by with show & tell bottles and picked up free newsletters and area show flyers. |
| Reggie Lynch and Lucy Faulkner had their annual ink brag contest where they enter inks aquired since the last show. Lucy kicked butt once again. | John Wood offerred this nice teal blue ROCKBRIDGE ALUM WATER / ROCKBRIDGE CO / VA mineral water as part of a set of 3. |
Savannah GA Show Oct 17-18
David Powell and Russ Butler hosted the 6th annual Savannah Georgia Antique Bottle Show and Sale at the Armory, which other than some dim lighting is a great place to have a bottle show. The show was almost a sell out, with about 60 dealers and 90 sales tables. Free pizza, drinks, and a big heaping dose of Southern Hospitality was provided to dealers during the Friday setup. There was a good buying crowd on Saturday, with dealers reporting strong sales.

Below are some pictures from the show. To see all the pictures taken, click here.
| | |
| --- | --- |
| Show chairman David Powell at his sales table. | Charles Matzan offerred this honey amber, torpedo style JOHN RYAN / SAVANNAH / GA soda. |
| A dealer discusses his offerring of English and Dutch Onion bottles. There was more black glass at this show than any I've seen in awhile. | Chip Brewer showed this rum style SOUTH CAROLINA / DISPENSARY bottle. |
| Russ Butler and Otis Ziegler combined entries in this display case (Otis top half, Russ bottom half). See some close-ups: top left, top right, bottom left. | Digger Odell brought some of his books to sale. |
Greensboro NC Show Nov 9
The 2nd annual Greensboro Antique Bottle & Insulator Show was held Sunday December 9th in the Greensboro Farmer's Curb Market. After a great 1st show last year, this one surpassed the mark as dealers were impressed with sales and collectors were proud of their new additions. This year the Blue Ridge Insulator Club joined the Southeast Bottle Club in sponsoring the show. A highlight of the show was the sales table of Rodney Leftwich, where he was selling many rare Casper Whiskey and Asheville items from his lifetime collection. There were 49 dealers and 113 tables, and an amazing 35 early buyers. There was also a bigger public crowd this year due to improved advertising and the help of dealers and collectors who definitely got the word out. No less than 20 people took advantage of the free appraisal table.

Below are some pictures from the show. To see all the pictures taken, click here.
| | |
| --- | --- |
| View of the show floor inside the Greensboro Farmer's Market. | Cliff Morgan showed this ring neck PROPERTY OF / GREENSBORO / COCA-COLA / BOTTLING CO. / GREENSBORO, N.C. that he wants to trade for a Spencer NC Pepsi. |
| Rodney Leftwich was selling some killer Casper Whiskey items from his lifetime collection. | Travis Layman showed this unusual baby nurser embossed THE LITTLE / PAPOOSE with picture of a baby. |
| Lindsey Tuttle brought some nice bottles for show and sale. His GREENSBORO STEAM / BOTTLING / WORKS / GREENSBORO, N.C. got several collectors excited. | Lindsey's most impressive bottle was probably this half gallon ELLINGTON'S / MINERAL WATER / STONEVILLE, N.C. |
| Rodney showed this Holbrook & Winfree cash register which had keys for quart, pint, and half-pint. | David Jackson shows the rare 2 gallon Casper jug he bought for his collection. |
Recent Finds
This section includes recent items sold on eBay and other items shared by collectors. If you have a recent find to post here, or just want to share a favorite bottle, please submit info to the newsletter editor. Most pictures can be clicked to see the original full view before it was cropped to fit here.
| | | |
| --- | --- | --- |
| 1915 Coca-Cola calendar top showing Elaine sipping from a glass sold on eBay by marblemama for $5,237. | 1940s 18x54" Nu Grape sign sold on eBay for $540. | Amethyst flint glass, pontil base, blown three piece mold, with unusual pattern sold on eBay by ephemerata for $6,444. |
| 1904 15x21" linen sign for Casper's Whiskey in Winston-Salem N.C. sold on eBay by fivegees for $202. | Blob top beer embossed J.B. Winter / 1200 E. Cary St / Richmond, VA sold on eBay by urbanna for $866. Research showed that Joseph Winter was a local beer bottler and saloon operator in Richmond at this Cary St. location from 1881-1889. | S-S Coca-Cola / BELTON, S.C. sold on eBay by bottles-r-us for $2,000. Circa 1905. |
| Green quart White House juice bottle with front and rear labels sold on eBay by bigtoe02 for $1,075. | THE LADIES FAVORITE / Wm HALLER CARLISLE PA jar with rare original 2" cast iron Willoughby Stopple sold on eBay by hoosierjar for $6,000. See rear and top views. | Blue-green 1834 JOHN ROOT'S BITTERS / 1834 BUFFALO, N.Y. sold on eBay by simonsays for $2,000. |
| 1940s tin Dr Pepper sign sold on eBay by penhook for $460. | Clear bottle shaped just like a Drake's Plantation Bitters but no embossing an it has a ABM lip. Probably a repro, but still a stand-out color in a cabin bitters collection. Sold on eBay by glassman1cabins for $521. | Moss green 5 1/2" Pitkin pocket flask with 36-broken rib pattern and open pontil sold on eBay by simonsays for $830. Circa 1780s by Pitkin Glass Works in Conn. |
| 6 3/4" stoneware jug impressed JAC on the shoulder, the mark of John A. Craven, Randolph County, North Carolina, ca.1855. Sold on eBay by 36270215 for $2,175. | Clear 7 3/4" ten-pin style crown top soda embossed INDIAN ROCK / GINGER ALE / DANVILLE / COCA-COLA / BOTTLING CO. / DANVILLE, VA. / CONTENTS 6 1/2 OZ sold on eBay by soobrew for $366. | 6" ASHEVILLE WINE LIQUOR & SODA WATER CO. / DISTILLERS AND WHOLESALE DEALERS / ASHEVILLE, N.C. sold on eBay for $300. |
| Deep amber, 7 3/4" mug-based soda embossed ARTESION WATER / LOUISVILLE / KY. with iron pontil base sold on eBay by bottleski for $403. | Aqua 11 3/4" cylinder bottle embossed CHALMER'S / CATAWBA WINE BITTERS / Trade Mark / Sutter's Old Mill / Spruance Stanley & Co. / Proprietors sold on eBay by internet-auction-service-wa for $14,322. | Amber CHESLEY'S JOCKEY CLUB WHISKEY with picture of jockey on a horse sold on eBay by glassweb for $2,000. This amber bottle was only made in 1885, after which the company switched to a clear bottle. |
| 11" black glass, pontil base with seal that reads ILM SMITH / WINE MERC / BALTIMORE sold on eBay by antbycomp for $747. | Crown top soda embossed Farmersville / Bottling / Works / Farmersville, Texas in slug plate with Coca-Cola on reverse side sold on eBay by garywest1024 for $2,225. | Quart strap-sides flask embossed The Acme / James H. Loughran / 58 S.Main St. Asheville, N.C. with anchor on back sold on eBay by johnl.casper for $500. |
Raleigh Show & Tell
Here are some pictures from the recent meetings of the Raleigh Bottle Club. Click any picture to see a close-up. Note that the Raleigh Club meets the first Tuesday of each month. For more details, including directions to the meeting, see www.antiquebottles.com/raleigh/

Pictures from the Oct 7th meeting:
| | |
| --- | --- |
| Some of the nice bitters presented by Ronald Hinsley. | Ron Atkins shows a puce Dyottville whiskey that he recently dug. |
| Sterling Mann showed his throw-away Fresca bottles. | One of Ronald's favorites: an aqua OLD SACHEMS BITTERS AND WIGWAM TONIC with a pontil base. |
Pictures from the Nov 4th meeting:
| | |
| --- | --- |
| Donnie Medlin showed this amethyst tinted NEW LONDON BOTTLING WORKS / Koca Nola / NEW LONDON, N.C. bottle that he picked up at a local auction. | Sterling Mann showed this rare prototype throw-away Coke. |
| Donnie Medlin probably made the club find of the year with this half-pint strap-sided flask embossed S.R. LENTZ & CO / OREGON SALOON / CHARLOTTE, N.C. | Ronald Hinsley showed this unusual Sol Bear wine from Wilmington NC with two bears - usually just see these with a single bear. |
---
Member Ads
Ads are posted here free of charge to paid Southeast Bottle Club members. Submit ad info to the newsletter editor for inclusion in the next newsletter. Ads run for 2 months, then must be renewed to continue. If your ad ran before and you want to run it again without changes, just request "repeat same ad".

To run a display ad in the main part of the newsletter, contact the editor for arrangements. Price is $40/month for a ¼ page ad. Rates available upon request for other ad sizes.
For Sale: Mason's CFJCo PATENT 1858 quart jar, cornflower, mint, RB #1920, $700, Perry Driver (386) 364-3203.

Wanted: MASON'S 1858 jars in odd colors.
For Sale or Trade: 1) half gallon amber MASON'S 1858 with N.C.L. Co on reverse $2,500 2) bright yellow half gallon THE LEADER (on one line) $1,500. Skip Kehrer, (618) 588-2513, Email: skip@accessus.net

Wanted: pre-1940 soft drink calendars with bottle. I also need either a one month calendar page or a full pad for a 1930 Nehi and a 1916 Chero-Cola. Philip Haley, (706) 335-2556, Email: bjphaley@aol.com

Want to buy or trade: NC advertising jugs (especially - "When Empty Return To:" stencil jugs), any state mini jugs / Saloon marked items, NC / GA embossed whiskey flasks and error fruit jars. Bill Wrenn at (706) 769-8995, Email: ncjugs@charter.net. Note Bill's new Email address.

Wanted: Salisbury NC liquor jugs: P.W. Brown, George A. Jackson, Shumanca, and W.H. Hoover. Call Tommy Lyerly (704) 279-4291.

Wanted: Bitters, Coke, Pepsi bottles that can be repaired - also colored sodas. Ken Nease, phone (912) 739-7355, Email: Neaseken@aol.com

Wanted: Mint Cola and Bob's Cola bottles. Carl Barnett, phone (912) 384-0651 after 6pm.

Wanted: strong prices paid for western whiskey flasks and mini-jugs. Especially mini-jugs from Idaho, Oregon, Montana, Wyoming, Utah, Colorado, and Arizona. Ralph Van Brocklin, phone (423) 913-1378 6-10pm EST, Email: thegenuine@comcast.net

Wanted: American irregular hex poisons (KI-1 and KI-2). All colors, all embossing variations; especially need the larger 16 oz and 32 oz sizes. Tom Lines, Email: tlines@resourcemgt.com

Wanted: Coca Cola Hobleskirt or Straight Side Bottles embossed "Williston, Florida" and "Bronson Florida". I am looking for one of each. Serious replies only. James Davis, (352) 528-4601, Email: photojed@yahoo.com

Wanted: cobalt or green "R. ROBINSON / WILMINGTON, N.C." blob soda. Reggie Lynch, Email: rlynch@antiquebottles.com, phone: (919) 789-4545. Check out my bottles for sale on the Internet www.antiquebottles.com/rl/ and in booth 615 at Granddaddy's Antique Mall in Burlington, N.C. Contact Reggie to consign your nicer bottles for sale/auction and receive top dollar.
Calendar of Events and Upcoming Shows
Also see Antique Bottle Shows which has year round listings and more links to sites with shows.
Dec 13, 2003
Burlington, NC
Southeast Bottle Club hosts its Bottle Swap Meet on Saturday December 13th noon-2pm at Granddaddy's Antique Mall in Burlington, NC. Meet will include show & tell, swap meet, raffle, free appraisals, free bottles for kids, and an educational presentation on NC milk bottles by the expert in this field: John Patterson. Bring your bottles to sale or trade, but limit what you bring to what will fit in two boxes. Open to the public. For a PowerPoint flyer on this event, click here.
Jan 11, 2004
Muncie, IN
Midwest Antique Fruit Jar & Bottle Club Winter Show & Sale, 9am-3pm at the Horizon Convention Center, 401 S. High St., Muncie, IN. Info: Norm Barnett, PO Box 38, Flat Rock, IN 47234, PH: (812) 587-5560 or DICK COLE, PH: (800) 428-5887. Web: www.fruitjar.org/
Jan 17, 2004
Jackson, MS
Mississippi Antique Bottle Club's 19th Annual Show & Sale Sat. 9am-4pm at the Mississippi Fairgrounds A & I Buildings, Jackson, Mississippi. Dealer setup Fri 3-9pm and Sat 7-9am. INFO: John Sharp, P. O. Box 544, Louisville, MS 39339, PH: (662) 773-7880, E-mail: johnsharp49@aol.com
Jan 24-25, 2004
St. Petersburg, FL
Suncoast Antique Bottle Collectors Association's 35th Annual Show & Sale Sat. 9am-5pm, Sun. 9am-3pm at the St. Petersburg National Guard Armory, 35th St. at 3601 38th Avenue South, St. Petersburg, FL. Info: GEORGE DUEBEN, PO Box 11001, St. Petersburg, FL 33733, PH: (727) 393-8189, or CHRIS CUBE, PH: (727) 541-5229.
Jan 24, 2004
Allentown, PA
Pennsylvania Antique Bottle, Breweriana and Advertising Winter Show & Sale 9:30am-2:30pm, early buyers 8:00am, at the Merchant's Square Antique Mall, 12th & Vultee St., Allentown, PA. Info: MARK ZEPPENFELT, 4881 Cypress Street, Wescosville, PA 18106. PH: (610) 391-0271, Email: uuubuy@aol.com
Jan 31, 2004
Rome, GA
The Rome Bottle Club Annual Show & Sale, Sat 8am-3pm at the Rome Civic Center, Turner McCall Blvd, Rome, GA. Info: Jerry Mitchell, PO Box 475, Bremen, GA 30110, Phone: (770) 537-3725, Email: mitst@aol.com or Bob Jenkins, 285 Oak Grove Rd., Carrollton, GA 30177, PH: (770) 834-0736.
Feb 1, 2004
South River, NJ
New Jersey Antique Bottle Club (NJABC) 8th annual show Sun 9am-2pm at the Knight's of Colombus Hall, 88 Jackson St, South River, NJ. Info: Joe Butewicz, NJABC, 24 Charles St, South River, NJ 08882, or call Joe Butewicz (732) 238-3238, Email: botlman@aol.com
Feb 15, 2004
Sarasota, FL
Sarasota-Mannatee Antique Bottle Collectors Association's 18th Annual "Tail Gators" Indoor Show & Sale, 10am-4pm at the Florida National Guard Armory at the County Fairgrounds, 2980 Fruitville Rd., Sarasota, FL. Info: Ed Herrold, P.O. Box 18928, Sarasota, FL. 34276. PH: (941) 923-6550 Email: drbitters@mindspring.com
Feb 22, 2004
Columbus, OH
The Columbus Ohio Bottle Show, 9am-3pm, early buyers 7am, at the Ohio State Fairgrounds, 17th Ave. & I-71, Columbus, OH. Info: ADAM KOCH, 763 Jolson Ave., Akron, OH. 44319. PH: (330) 644-0274.
Feb 20-21, 2004
Columbia, SC
South Carolina Antique Bottle Club's 31st annual Show & Sale Fri/Sat at Meadowlake Park Center, 600 Beckman Rd, Columbia, SC. Showtimes will be Friday 12 noon till 6:00pm and Saturday 9:00am-2:00pm. No early admission fee. Show located off I-20 at exit 71. This is the North Main St exit on Hwy 21. Travel north to the first stoplight after the intersection. Turn right on Beckman Rd and the gym is there on the right. This location is only 3/8 of a mile off I-20 which will make it an easy find. Info: Marty Vollmer, 1091 Daralynn Drive, Lexington, SC 29073 Phone: (803) 755-9410, Email: Martyvollmer@aol.com
Mar 7, 2004
Baltimore, MD
Baltimore Antique Bottle Club 24th Annual Antique Bottle Show & Sale, Sunday 8am-3pm at Essex Community College, 7201 Rossville Blvd., Baltimore, Maryland. Info: Bob Ford, phone: (410) 531-9459, Email: bottles@comcast.net
Mar 19-20, 2004
Raleigh, NC
Raleigh Bottle Club's 3rd annual Show & Sale in the Holshouser Building on the NC State Fairgrounds in Raleigh, NC. Public Sat 9am-3pm. Dealer setup Fri 4-7pm and Sat 6-9am. Early buyers Sat 7:30am. Full show info on the club web page. Info: David Tingen, Email: rbc@antiquebottles.com P. O. Box 18083, Raleigh, NC 27619-8083 Phone: (919) 848-4387.
The Southeast Bottle Club newsletter is hosted by the Antique Bottle Collectors Haven.