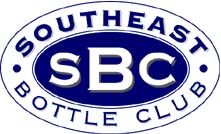 Southeast Bottle Club
Sep/Oct 2005 Newsletter
Topics in this Newsletter (click topic to jump there):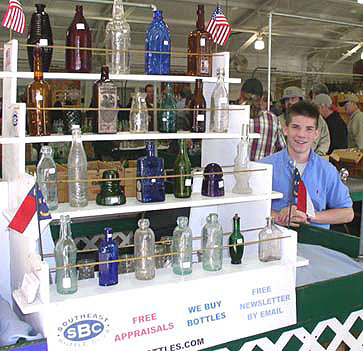 We welcome articles, stories, finds, and pictures for upcoming issues of the newsletter. Newsletters are released bi-monthly. For example, a Jan/Feb newsletter covers events in Jan-Feb, so it will not be released until March. All past newsletters are stored on the club web page for quick and easy reference, so there is no need to print them (save a tree instead). Information within this newsletter may be reprinted as long as credit is given to the source.
The Southeast Bottle Club is a non-profit organization serving the Southeastern United States. All events and shows are open to the public, so drop by and check us out. Club members receive the monthly newsletter via Email or postal mail, run free text ads in this newsletter, and participate in all the fun and benefits the club has to offer. An application can be found on the last page of the printed version or by clicking here. Free Email-only membership is also available - click here to request it.
Greensboro NC Bottle Show coming Sunday Nov 20, 2005
The premier yearly event for the Southeast Bottle Club is it's upcoming Antique Bottle Show in Greensboro NC. This year's show is shaping up to exceed the past shows, earning it's reputation as the "fastest growing show in the south". This year there will be many new dealers setup for the first time. Bruce "slimdigger" Adwell will be joining us and will have digging probes for sale at $35 each.

Full show details are available at: www.antiquebottles.com/greensboro
Washington DC Bottle Book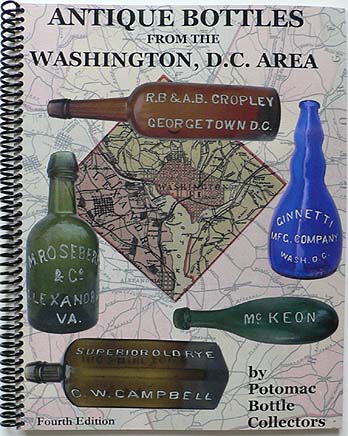 This month the book corner features the recent release of the 4th edition of ANTIQUE BOTTLES FROM THE WASHINGTON, D.C. AREA by the Potomac Bottle Collectors. Above is a pic of the book's cover. The book lists all known bottles and related items from the greater metropolitan DC area, including Arlington and Alexandria VA. Price and rarity are provided for each entry.

This 2005 edition contains just over 150 pages and has color front and back covers. It is 50% larger than the third edition, published in 1995. It has the following chapters: Beers & Sodas; Bitters; Foods, Spices & Canning Jars; Household & Hardware Store; Medicines, Drug Stores, Perfumes & Poisons; Milks; Shot & Dose Glasses; Spirits & Wines; Stoneware & Pottery; Syphon Seltzers; Miscellaneous.

To obtain copies of the book, go to www.PotomacBottleCollectors.org or write to Potomac Bottle Collectors, 1421 Columbia St NW, Washington, DC 20001-3315. The book is $20 and Priority mailing is $3.85.
Planned Events for Southeast Bottle Club
The Southeast Bottle Club sponsors an annual show, a spring and fall festival, and other events each year. Here's the list of upcoming events:
4th Annual Greensboro Antique Bottle, Insulator & Collectibles Show & Sale Sunday Nov 20, 2005 9am-3pm in Greensboro NC. Full details at www.antiquebottles.com/greensboro

Summer Swap Meet some Saturday in July 2006 at Granddaddy's Antique Mall in Burlington, NC.

Fall Festival some Saturday in Sep 2006 on the NC State Fairgrounds.
The club maintains a web page directory where we publish a list of antique shops that help us promote our bottle events by allowing us to place flyers in their shops. This page is located at: www.antiquebottles.com/shops.html
Contact us if your shop is willing to distribute bottle event flyers in exchange for a free listing on this web page directory.
Membership Status for Southeast Bottle Club
The Southeast Bottle Club does not require membership to receive its newsletter by Email or to attend any of its events. The newsletter is distributed free by Email to encourage more bottle collectors to participate in the events sponsored by the club and the other clubs in the Southeast region. But paid membership is encouraged to help support the many activites sponsored by the club. So why not consider joining today? Click here for the online membership application, or for a printed copy just fill out the application on the back page of each newsletter. Remember that paid members can run free ads in this newsletter, and when you consider the newsletter is distributed to over 4,300 bottle collectors, that's pretty cheap advertising for your precious bottle dollars.

Thanks to these new members who recently paid dues to join the Southeast Bottle Club: Tom Kilgo - Killen AL, Bruce Adwell - Richmond VA, Michael Harmon - Lexington SC, Howard Barton - Montgomery AL.

and thanks to these collectors who recently renewed their membership: Rohrs Keith - Glen Allen VA, JB Young - Apex NC, Troy Stantliff - Summerfield NC, Phillip Fulton - High Point NC, Bill Peek - Cedartown GA, Corky Shore - Lewisville NC, Macon Critcher - Henderson NC, Dennis Reed - Gainesville FL, Anita Cullom - Roanoke Rapids NC, Ken Nease - Claxton GA, Howard Crowe - Gold Hill NC, Mike Newman - Augusta GA, Archie Huffstetler - Mt Holly NC, Ralph Van Brocklin - Johnson City TN (for 2 years), W.H. McArthur - Forest City NC, Ann Curtis - St Helena Island SC, Jerry Jones - Pleasant Garden NC.
Show Reports
This section provides reports on any recent shows, auctions, or other events where bottles were sold. If you are going to a bottle show that Reggie plans to attend, please bring your show & tell bottles so he can photograph them and publish in this newsletter. If you attend a show in the Southeast and want your pictures/story published here, then just submit your info.
Hillsville VA Festival September 2-5, 2005
The 38th annual Hillsville Antique Festival had a pretty good turn out despite the record high gas prices at the time, but you could tell the gas crunch affected this year's crowd size. At least the weather cooperated this year.
As usual, several bottle dealers were setup including Bill Wrenn, John and Dot Wood, Bill Owen, Steve Pfaff, Richard Flynt, and Mike Babera.
Below are some pictures from the festival. To see all the pictures taken, click here.
| | |
| --- | --- |
| Bill Owen and Richard Flynt show off Richard's neat Cheerwine sign that was for sale at the festival. | Bill Wrenn offered this quart size blob top bottle embossed RIVERMONT / CARBONATED / SPRING WATER / A / NATURAL / CARBONATED SPRING WATER / WEST DURHAM, N.C. |
Raleigh NC Bottle Festival September 24, 2005
The annual Raleigh NC Bottle Fall Festival was held outdoors on the NC State Fairgrounds. Sponsored by the Southeast Bottle Club, the event had the same number of dealer tables (15) as last year. It's just hard getting dealers to setup bottles outside. But for those dealers that brought bottles and flea market type items, that found a strong buying crowd. Donnie Medlin reported buying some "killer bottles", as did Scott Berry and many others.
This year the club provided a courtesy table for guests to lounge at and a cooler of drinks for the dealer. For lunch, Reggie's wife Linda delivered hamburgers from Char Grill (the best burgers in Raleigh). The weather cooperated wonderfully, with overcast skies, temperatures in the low 80s, a light breeze, and not a drop of rain.
Responding to the newspaper ad for free appraisals, quite a few bottles were brought in including a nice Indian Queen Bitters and a 1/2 pint Louisburg NC Dispensary flask. The number of flea market dealers was down this year - maybe due to the spiking gas prices? But there was a good stream of buyers throughout the day. Our bottle dealers reported good to excellent sales. Reggie sold all 8 of his dealer box lots, plus a lot of other nice individual bottles. Sure helps make room around your house when you unload those box lots. My kids were happy to get my overflow boxes out of their play room.
Below are some pictures from the festival. To see all the pictures taken, click here.
| | |
| --- | --- |
| Buyers checking out the many bottles offerred by Paul Valenti of Lumberton NC. | Donnie Medlin showed this recent find: a strap-sided flask embossed R.P. CORRELL / FINE LIQUORS / GREENSBORO, N.C. |
| Jake Hudson of Greensboro showing bottles to a buyer. | While the D.R. HUFFINES / GREENSBORO, N.C. crown top soda is seen, this is the only known example of a D.R. HUFFINES from FAYETTEVILLE, N.C.. Since the Fayetteville example is an earlier blob top, we might assume that Huffines started in Fayetteville then moved to Greensboro. This example was dug by Jimmy Caudill, who sold it at the festival to a happy Scott Berry. |
Richmond VA Bottle Show October 1, 2005
2005 may be remembered for its hurricanes, but the weather was perfect in Richmond on the day of the 34th annual bottle show. There were 46 dealers at 70 tables ready to sell and trade their wares. Attendance was steady almost all day, with 20 early buyers and 127 regular admissions. A number of children happily picked up their free bottles and bags of toys and other goodies.
There were 3 displays for the public to enjoy: Bottle Books by Rick Burchfield (1st Place and Most Educational), Taka-Kola by Dave Tyree (2nd place and People's Choice), and Paper Weights by Lubby Croker (3rd place).
One of the things that makes the Richmond show stand out is the treatment of the dealers. Dealers are provided pizzas at the setup supper on Friday night. Club volunteers help carry boxes from the car to the table for setup and back again after the show, which is especially helpful for the elderly dealers. Coffee, orange juice and Krispie-Kreme donuts are provided during the Sat morning setup. There are prize drawings for the dealers only, and goodie bags containing snacks as well as useful items such as rulers and cup holders. They do like their dealers!
To see all the pictures taken at the show, click here.
| | |
| --- | --- |
| The "Jar Doctor" Wayne Lowry (left) demonstrates his bottle cleaning machine to a collector. | Part of the bottle books display by Rick Burchfield. It was interesting to see all the different books available on different categories of the hobby. |
| Marvin Croker about to get a kiss from his wife Libby. | Tony Townsend offerred this Indian Rock / Ginger Ale / COCA-COLA / BOTTLING CO. / SO. BOSTON, VA. ten pin style soda. |
Savannah GA Show October 21-22, 2005
The annual Savannah GA Bottle Show was held in the regular armory location. With 80 dealer tables and 50 early buyers, there was a nice offerring of bottles and stoneware. There was a cobalt pyramid style ALFS / CHARLESTON soda offerred by Vic Svendsen, along with some rare John Ryan bottles being offerred from the collection of the late Wayne Gray.
The theft that occurred last year was absent this year, thanks in part to a letter that show chairman David Powell distributed to dealers advising how to watch for suspicious people without badges and insure someone was always watching your table. The number of dealers and collectors was down from previous years, an unfortunate trend being seen at many shows since gas prices spiked.
To see all the pictures taken at the show, click here.
| | |
| --- | --- |
| Dealer Billy Holland showing a prospective buyer his rare LaGrange GA Pepsi bottle. | As always, local collectors brought in an impressive array of bottles to display in the lit show cases provided by the club. |
| Sue Milam selling a bottle to a happy collector. | Ray Davis holds an impressive item brought in for show, a signed Dave the Slave jug dated Valentine's Day in 1863, two years before Dave died. |
Recent Finds
This section includes recent items sold on eBay and other items shared by collectors. If you have a recent find to post here, or just want to share a favorite bottle, please submit info to the Southeast Newsletter Editor. Most pictures can be clicked to see the original full size view before it was cropped to fit here.
| | | |
| --- | --- | --- |
| Dan Jordan found this sample size CHECKER'S / MAKES PEOPLE NEW ALL OVER / CHECKER MED. CO. WINSTON-SALEM, N.C. with paper label for Zulieka Whiskey by Casper's showing a topless reclining lady. | Torpedo style soda embossed STAR BOTTLING WORKS HOUSTON / TEXAS with pic of star sold on eBay for $566 by expensivejunk. | Lime green hutchinson soda embossed PENNA BOTTLING CO. / LYNCHBURG / VA. sold on eBay for $366 by grbottleguy. |
| Cobalt 6 1/4" poison embossed F. & E. BAILEY & CO. / Lowell Mass. sold on eBay for $610 by afs. | Deep green blob top soda embossed C. CORNEHLSEN / WILMINGTON / N.C. sold on eBay for $612 by joewiggs50. | Small 1 5/8" sample size CARTER'S INDELLIBLE INK in rare amber color sold on eBay for $108 by artcc601. |
| Rare clear glass Mountain Dew with Barney and Alley in white letters sold on eBay for $1,675 by mixintl. | 2 1/2" locomotive figural ink embossed Trade Mark / Pat. Oct. 1874 sold on eBay for $911 by rc5536. | This aqua Jenny Lind flask in unusual form with open pontil base sold on eBay for $2,402 by will_en2. |
| Reggie won this 3 gallon beehive style E.A. LACKEY / HAMLET, N.C. jug from Mebane Antique Auction. | 8 1/2" two-tone, half gallon jug stencilled BUY YOUR WHISKIES & WINES / BERNARD LEVY & CO. / CANTON, MISS. sold on eBay for $385 by plan2010. | Unembossed cobalt blue barrel shaped bottle sold on eBay for $2,012 by bottlesandbooks. |
| Clear quart SPEAS VINEGAR wine bottle sold on eBay for $178 by twelve23. | Amber S-S Coca-Cola from WILLIAMSPORT, PA. sold on eBay for $820 by barbchuck17901. | 8" coffin style whiskey embossed Rock Pastore / Fine Liquors / Denison, Tex. sold on eBay for $330 by cctrayders. |
| Dark amethyst embossed DR LEON's / ELECTRIC HAIR RENEWER / ZIEGLER & SMITH/ PHILDa. sold on eBay for $327 by mjf1320. | 9" amber cabin-shaped embossed PEILER MANUFACTURER OMAHA NEB / AMERICAN LIFE BITTERS sold on eBay for $3,500 by brokenbottles. | One of the rarest of the Imperial Levee bottles, this 10" FIGURAL CLUSTER OF GRAPES ON A STUMP in Cobalt Blue sold on eBay for $18,800 by sodanutt. Most examples are amber, with only a few known in cobalt. Some are embossed Hollywood, Mississippi, others are not. |
| Circa 1900 pocket mirror / watch fob that reads DRINK GAY-OLA and shows victorian lady with bottle sold on eBay for $191 by justbuyitall. | 4 1/2" sample size DR. HARTERS WILD CHERRY BITTERS ST LOUIS in light yellow sold on eBay for $294 by member95693. | 4 1/4" circa 1900-1910 etched flare glass with Dr. Pepper / King of Beverages sold on eBay for $1,500 by gvariz. |
Raleigh Show & Tell
Here are some pictures from the Aug/Sep meetings of the Raleigh Bottle Club. Click any picture below to see a close-up.

Note that the Raleigh Club meets the first Tuesday of each month. For more details, including directions to the meeting, see www.antiquebottles.com/raleigh/
The Raleigh club meets at the Glen Laurel Clubhouse at 4330 Galax Drive in Raleigh.

To see all pictures, click for August or September.
| | |
| --- | --- |
| David Tingen gave an informative presentation on his collection of jelly jars. | Reggie showed this ELLINGTON'S / MINERAL WATER / STONEVILLE, N.C. bottle in rare half gallon size that he picked up at the recent Norcross GA show. |
| Robby Delius shared some old B&W photos of Durham, NC. This picture shows an old City Beverage delivery truck on Carr St. beside the American Tobacco Company plant. There are stacked cases of bottles in the field. | Reggie Lynch showed this half gallon beehive style jug that reads Happy Patty / 113 Mangum St. / Durham, N.C. that he picked up recently at the Burlington NC Swap Meet. |
| Members chowed down on pizza, salad and desserts provided by the club. | Donnie Medlin showed this previously unknown pharmacy bottle that is embossed BRADHAM & BROCK DRUG CO. / 103 MIDDLE ST. / NEW BERN, N.C.. Bradham invented Pepsi, and this bottle must predate his other pharmacy bottles that have just his name on it. |
Member Ads
Text ads are posted here free of charge to paid Southeast Bottle Club members. Submit ad info to the newsletter editor for inclusion in the next newsletter. Ads run for 2 months, then must be renewed to continue. If your ad ran before and you want to run it again without changes, just request "repeat same ad".

To run a display ad in this newsletter, contact the newsletter editor. Ads can be submitted as a JPG picture attached to Email, or just mailed a printed copy. Note the inexpensive cost of running your display ad in the most widely distributed publication for antique bottle collectors:
| | | |
| --- | --- | --- |
| Ad Size | Single Issue | Three Issues |
| 1/4 page | $40 | $100 |
| 1/2 page | $70 | $180 |
| full page | $140 | $350 |
Wanted: early pre-1915 SS Coca-Cola bottles from Florence, Sheffield, and Tuscumbia Alabama. Premium paid for near mint to mint condition. Contact Tom at tom@tkilgo.com

Wanted: Montgomery, AL Brewery Bottles. Interested in other small Southern brewery bottles, blobs especially. Cash or trade. I've just a small collection and desire to add to it. Call Rowdy Barton, (334) 546-6987, Email thecoldestbeer@hotmail.com

For Sale or Trade: Bitters, Flasks, Poisons, Inks and miscellaneous antique bottles. Always interested in buying good bottles, one bottle, or a collection. Howard Crowe, PO Box 133, Gold Hill, NC 28071 phone: (704) 982-0305.

Wanted: PORCELAIN NORTH & SOUTH CAROLINA LICENSE PLATES - CITY & COUNTY ISSUES, PASSENGER, DEALER, MOTORCYCLE, ETC. TOP DOLLAR PAID FOR QUALITY EXAMPLES. PLEASE CONTACT: ERIC TAYLOR, 9921 GERALD AVENUE, NORTH HILLS, CA 91343; PH: 818-893-8221; CELL: 818-645-6172; EMAIL: erict4456@earthlink.net

Wanted: Colored blob top sodas from Georgia and South Carolina; historical flasks (especially Louisville double eagle and Corn For The World in color); green Drake's Plantation Bitters - Mike Newman, (706) 868-8391, Email: thenewm@aol.com

Wanted: Good GA and AL bottles & jugs including stencilled, incised, traditional alkaline-ash glaze, miniature & pottery pigs. Good colored blob top sodas and pontiled bottles of any type from any deep south state. Call Tom Hicks, (706) 485-9280.

Want to buy, sell or trade: any condition NC or GA advertising jugs or strap-sided flasks and southern pottery, face jugs, error fruit jars, and saloon advertising. Bill Wrenn at (706) 372-3793, Email: ncjugs@charter.net.

Wanted: HARRIS COUGH REMEDY sample bottle. Call Wyman Maner (803) 942-1404,

Wanted: Ohio and Kentucky 1/2 pint milk bottles, old glass baby bottles. Contact Barbara Cole, (919) 266-6579, Email: scolepac@att.net

Bottle Cleaning: painted label and embossed bottles, Glenn Gunnell in Rural Hall, NC. Phone (336) 969-9643.

Wanted & For Sale: Always looking to buy old bottles, even whole collections. Especially older Coke, Pepsi, inks, blob top sodas, and NC whiskey flasks. Would love to find a quart size Ellington Springs / Stoneville N.C. bottle. Reggie Lynch, Email: rlynch@antiquebottles.com, phone: (919) 789-4545. Check out my bottles for sale on the Internet www.antiquebottles.com/rl/ and in booth 615 at Granddaddy's Antique Mall in Burlington, N.C.
Calendar of Events and Upcoming Shows
Also see Antique Bottle Shows which has year round listings and more links to sites with shows.
Nov 20, 2005
Greensboro, NC
Southeast Bottle Club's 4th annual Greensboro Antique Bottle & Collectibles Show & Sale 9am-3pm on Sunday Nov 20, 2005 at the Farmer's Curb Market on 501 Yanceyville St, Greensboro, NC. Dealer setup 6am-9am, Early buyers 7:30am. Info: Reggie Lynch (919) 789-4545, PO Box 13736, Durham, NC 27709. Web: www.antiquebottles.com/greensboro
Nov 20, 2005
Springfield, OH
The annual Heart of Ohio Bottle & Jar Show Sun. 9:30am-3:00pm at the Heart of Ohio Antique Center, US 40 at I-70 exit 62, Springfield, Ohio. Info: JOHN BARTLEY, PO Box 53, North Hampton, OH. PH: (937) 964-8080, Email: jbartley@woh.rr.com
Nov 27, 2005
Bethlehem, PA
Forks of the Delaware Bottle Collectors Assoc. 32nd Annual Show & Sale, 9am-3pm, early buyers 7:30am, at the Bethlehem Catholic High School, Madison & Dewberry Aves, Bethlehem, PA. Info: BILL HEGEDUS, 20 Cambridge Place, Catasauqua, PA 18032, PH: (610) 264-5945.
Jan 8, 2006
Flat Rock, IN
Midwest Antique Fruit Jar & Bottle Club Winter Show & Sale, 9am-3pm at the Horizon Convention Center, Muncie, IN. Info: NORMAN BARNETT, PO Box 38, Flat Rock, IN 47234, PH: (812) 587-5560 or DICK COLE, 1200 Minnetrista Pkwy, Muncie, In 47303, PH: (765) 213-3549, ext. 117
Jan 21, 2006
Jackson, MS
Mississippi Antique Bottle Club's 21st Annual Show & Sale Sat. 9am-4pm at the Mississippi Fairgrounds, Jackson, Mississippi. Dealer setup Fri 3-9pm and Sat 7-9am. INFO: John Sharp, P.O. Box 601, Carthage, MS 39051, PH. (601) 267-7128, E-mail: johnsharp49@aol.com
Jan 28-29, 2006
St. Petersburg, FL
Suncoast Antique Bottle Collectors Association's 37th Annual Show & Sale Sat. 9am-5pm, Sun. 9am-3pm at the St. Petersburg National Guard Armory, 35th St. at 3601 38th Avenue South, St. Petersburg, FL. Early admission $15 Fri 4pm. Info: GEORGE DUEBEN, PO Box 11001, St. Petersburg, FL 33733, PH: (727) 393-8189, or CHRIS CUBE, PH: (727) 541-5229.
Feb 5, 2006
South River, NJ
New Jersey Antique Bottle Club (NJABC) 11th annual show Sun 9am-2pm at the Knight's of Columbus Hall, 88 Jackson St, South River, NJ. Info: Joe Butewicz, NJABC, 24 Charles St, South River, NJ 08882, or call Joe Butewicz (732) 238-3238, Email: botlman@msn.com
Feb 11, 2006
Sarasota, FL
The 20th Annual "Tail-Gators" Bottle Show sponsored by the Sarasota-Manatee Antique Bottle Collectors Assn., is scheduled for 9am-3pm Saturday, Feb. 12, 2005, at the Florida National Guard Armory, adjoining the Sarasota County Fair Grounds, at 2890 Ringling Blvd, Sarasota, FL. Info: Perry Houston, (941) 925-1020.
Feb 17-18, 2006
Columbia, SC
South Carolina Antique Bottle Club's 33rd annual Show & Sale Fri/Sat at Meadowlake Park Center, 600 Beckman Rd, Columbia, SC. Showtimes Friday 12-6pm and Saturday 9am-1pm. No early admission fee. Show located off I-20 at exit 71. This is the North Main St exit on Hwy 21. Travel north to the first stoplight after the intersection. Turn right on Beckman Rd and the gym is there on the right. This location is only 3/8 of a mile off I-20 which will make it an easy find. Info: Marty Vollmer, 1091 Daralynn Drive, Lexington, SC 29073 Phone: (803) 755-9410, Email: Martyvollmer@aol.com or Eric Warren, 238 Farmdale Dr., Lexington, SC 29073, Email: scbottles@aol.com
Mar 5, 2006
Baltimore, MD
Baltimore Antique Bottle Club 26th Annual Antique Bottle Show & Sale, Sunday 8am-3pm at Essex Community College, 7201 Rossville Blvd., Baltimore, Maryland. Info: Bob Ford, phone: (410) 531-9459, Email: bottles@comcast.net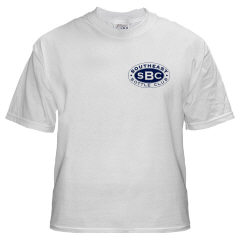 Southeast Bottle Club T-shirts, Caps, Tote Bags
Show your pride in Southeast bottle collecting by buying one of the t-shirts, caps, tote bags, or other items bearing the Southeast Bottle Club logo. These items can be ordered online at:
www.cafeshops.com/sebottleclub
If your club would like to setup their own site to sell stuff with their logo, contact my wife Linda Lynch at Email llynch@nc.rr.com

The Southeast Bottle Club newsletter is hosted by the Antique Bottle Collectors Haven.