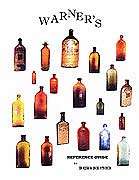 Warner's Reference Book

Announcing the new "Warner's Reference Book" by Ed Ojea and Jack Stecher. Picking up where Michael Seeliger left off with his "H. H. Warner His Company & His Bottles" book, this is the newest reference guide for Warner's collectors. Utilizing the same familiar classifying techniques employed in the original work, Ed Ojea and Jack Stecher have created a more comprehensive guide including new variants that have come to light since the original work in 1974. Ninety-nine listings in all.
Color images now replace the classic drawings. And a new updated price list is included. This book will quickly become the new bible for Warner's Bottle Collectors.
As the book's foreward so aptly implies, this guide can be a useful tool to all collectors of Warners bottles world-wide. It is the authors' hope that this format, being an update to the information in Seeliger's original 1974 work, will make collectors aware of the many variants that have now surfaced and to reestablish those doubtful variants in a manner of historical significance. As a price guide, it should be used only as a general reference, as prices do vary for many reasons. However, it can also be quite useful when comparing one bottles relative scarcity to another, particularly when color enters the picture.
Jack Stecher, chief editor and researcher for this publication, has collected and studied "Warner" for over 30 years, publishing several bottle related and historical articles on HH Warner, and Dr. Chas. Craig (Warner's predesessor). Jack finds Warner the epitome of the 19th century medicine- man's pitch - "trust me, I've got a cure for whatever ails you!".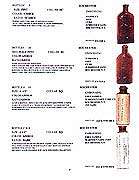 Ordering Information: Send Check or Money Order for $19 ($16 plus $3 postage) to:
Ed Ojea
1192 San Sebastian Ct.
Grover Beach, CA 93433
International customers (outside the US and Canada): please inquire for specific postage rates.
For further information, contact the authors:
---
See Antique Warner's Bottles for more info.
Welcome visitor
since Jan 26, 1999.
This web page hosted by Antique Bottle Collectors Haven