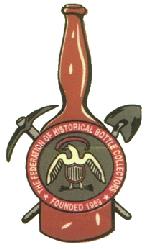 WNC ABCC: Western North Carolina Antique Bottle & Collectibles Club

The members of the WNC ABCC are a friendly bunch of people who collect many types of bottles and collectibles. Some members go on digs for bottles. The meetings and newsletters are a forum for questions/info about bottles and other collectibles. The club is a member of the FOHBC.
The club meets at the Enka Library, usually on the 3rd Thursday night of each month at 6:30pm. Call Tim Branch for directions. Meetings include guest speakers, refreshments, show and tell by members, and always an auction. Guests are invited to attend.
Their 15th Annual Antique Bottle & Collectibles Show & Sale will be Sep 14-15, 2007. Dealer setup times: Fri 11:00am-noon, Sat 7:00am-8:00am. Public: Fri noon-7:00pm, Sat 8:00am-2:00pm. Free Appraisals. Free Admission. Directions: I-40 to Asheville, then take I-240 to 19-23N to Exit 24 Elk Mountain Road. Then left on Penley Ave., then left on Communtiy Drive. Recommended hotel: Days Inn (828)645-9191, 10% Discount for the Show. For more info: Tim Branch: 828-669-5486 Email timothy.branch@att.net, Roy Smith: 828-667-1396, Larry Glenn: 828-667-2049
For questions about WNC ABCC, contact Tim Branch or one of the other members listed below.
Some members of the WNC ABCC:
President: Roy Smith
Vice President: Tim Branch.
Show Chairman: Larry Glenn (828) 667-2049 or Tim Branch (828) 669-5486.
Treasurer: John Smith.
Secretary: Briana Branch, Email: timothy.branch@att.net
---
This web page hosted by Antique Bottle Collectors Haven