Raleigh Bottle Club - August 2001 Newsletter
Club meets the first Tuesday of each month.
Next meeting: Tuesday September 4, 2001
Meeting will be at Clancey & Theys Construction - see directions below
Presentation: Pem Woodlief.
Topics in this Newsletter Issue:
The Raleigh Bottle Club is a non-profit organization that provides a forum for area antique bottle collectors to get together, talk bottles, buy/sell/trade, organize club digs, and just have fun. The club also serves the community by answering bottle questions and sponsoring an annual Bottle Show and Sale. Next event: Saturday November 3, 2001 Festival at the NC State Fairgrounds. Current 2001/2002 officers:
David Tingen
President
John Arnold
Vice-president
Frank Bishop
Secretary
Reggie Lynch
Treasurer
Newsletter Editor
Show Chairman
Ronald Hinsley
Co-Show Chairman
All past newsletters are stored on the club web page for quick&easy reference, so there is no need to print and save them.

Meetings are open to the public, so drop by and check us out. We hope you'll consider joining the club. Club members receive the monthly newsletter, run free ads, and participate in all the fun/benefits the club has to offer.
Business
22 people attended the August 7 meeting. We added 3 new paying members in August: Russell Griffin, David Griffin, and Don Stringfield. Total paid members: 75. July minutes were approved, along with club and show treasurer reports. The club made a small profit on the April 2001 Show.

Plan for Nov 3 Festival was approved. Separate section below in newsletter for festival details.
Dealer Survey Results of April 2001 Show
Donnie Medlin presented results of Dealer Survey from our April 2001 show. Of the 65 surveys sent out, 36 were returned. Survey participants ranked each question as 1-low, 2-ok, 3-satisfactory, 4-good, and 5-super. Donnie presented some nice charts that tabulated the survey results. Here's a summary of the responses to the 10 survey questions. Big thanks to Donnie for collecting and compiling this info.
Your overall satisfaction with the show.
24 goods and 3 supers, we scored well here. Some complaints were low public turnout and early buyer problems.
Your satisfaction with the flow of buyers.
Only 11 goods and many negatives, some of which were we should not charge admission, need to draw local traffic, too few buyers, and mostly a dealer show.
Our responsiveness to your need and concerns.
19 goods and 10 supers, we scored very well here.
Our communication to you on information regarding registration, location, and other pre-show needs.
12 goods and 17 supers, we scored great here. Only negative was that table covers were not provided as promised.
Were directions to the NC Military Center clear and helpful?
15 goods and 10 suppers, we scored well but had some vocal negative responses like directions and signs were poor, and got lost.
Your opinion of the facility: location, unloading/loading, lighting, parking, etc.
15 goods and 9 supers, we did ok here. Negatives were location not visible from main road, need to move to fairgrounds, and had to wait to get in (meaning doors did not unlock till 6:15 instead of 6:00).
Your opinion of early admission and table set-up schedule.
The 12 goods were overshadowed by the 8 low, 5 ok, and 8 satisfactorys. Most notable concerns: need more time for setup before public enters, dealers in at 6:00am and early in at 7:30am, no early admission, and prefer Friday setup.
Hours for the show. Did they meet you needs?
18 good and 10 super, we did well here. Notable complaints: Friday setup, end at 2pm.
Your opinion of the food vendor service.
6 satisfactory, 17 good, and 5 super. Notable complaints: need local fast food, more choices on food.
If you could change things about the show to make it better, what would it be?
No ranking for this question, but here's some of the notable comments:

Early buyers got first choice before dealers
More promotion needed
Unload and wait a problem
Location not good, need more ads
Setup before early buyers - not enough setup time
Same time as flea market and that's good
No admission, hurts attendance
Attitude of some club members a problem
For our first show, the overall consensus was that we did a very good job. But we have some areas to work on. Club agreed that if we do early admission again, the dealers would have a 6:00-7:30 setup time (during which they could shop other tables), early buying would be 7:30-9:00 am, and general admission would be 9:00am (and hopefully free). We are trying hard to get on the fairgrounds, but renting one of the buildings is too expensive until we get more money in the show budget and draw a bigger crowd. The upcoming Fall Festival will get us on the fairgrounds (although it's outside) and will address the majority of concerns from our Spring Show. As long as we remember that satisfying our dealers is our top priority, our future shows should be successful.
Other Club Business
Club voted and approved funding of up to $220 for a digital camera. Reggie's old camera does well in sunlight, but the flash pictures inside at meetings often come out too dark when flash doesn't work right. The new camera should help provide better indoor pictures for inclusion in the upcoming newsletters. This camera can be checked out for personal use to current members, but person must be financially responsible if camera is damaged and must return it by next club meeting.

Approved releasing next club directory in Oct 2001.

Membership renewals were sent to those who needed them with this newsletter. Dues are $10 individual, $15 family. Please insure your dues are renewed so you will appear in the Oct 2001 Club Directory.

Our club membership to the FOHBC was renewed.

I talked with Charna Sansbury, who provided the new URL for the The American Collectors of Infant Feeders (i.e. baby bottle club): http://acif.org/. Charna, the club's current president, has over 700 different nurser bottles in her collection. I didn't realize this category could be so diverse. Further info on baby bottles (including link to above club) can be found at: http://www.antiquebottles.com/nurser/

Looking for other people to sign-up for presentations at future meetings, so let us know what you would be willing to present. Presentations can be 5 to 60 minutes in length. David Tingen may do a presentation on photographing bottles for the Internet. May get Jimmie Wood to do ACL's and Charlie Perry to do White House Vinegar in the Fall.
Raffle
The August raffle lost $24 for the club, a disappointment.
Late report: June raffle raised $62. Way to go, guys.

September raffle bottles: Two BIM slug plate NC sodas: Lee Taylor of New Bern and Columbus Bottling of Chadbourn. Also two White House bottles donated by Charles Batton. Plus other bottles to be furnished at meeting.

Club members are encouraged to bring in bottles for the raffle we will have at each meeting. The raffle is fun for everyone and helps add money to the club treasury. For nicer bottles, the club treasury can reimburse the wholesale cost to the donator. Contact the treasurer before the raffle to make arrangements.
Show & Tell / Bottles For Sale
Members are encouraged to bring bottles into meetings for show and tell. These bottles are good candidates for pictures and maybe stories in our newsletter. But it's also a lot of fun to share and is a big part of what our hobby is about.

Members are also encouraged to bring in bottles for sale, since the opportunity to buy nice bottles is another reason people come to meetings.
Festival Report
Club voted and approved sponsoring a Nov 3 Raleigh Bottle Festival beside the Flea Market on the NC State Fairgrounds. Reggie will be show chairman, and Ronald Hinsley show co-chairman. A new web page has been created that contains full info about the Festival:
www.antiquebottles.com/raleigh/NovFest/
This page has a prominent link off our main club page.

Reggie, Ronald, Pem, and Whitt met Aug 18 at the Flea Market site and reviewed the dealer package, flyers, proposed budget, and layout. Everything was approved with these modifications:
Extra table will be added at the end of each dealer aisle along the front side to "box in" dealer row facing the road. The back side will also have room for end table.
Will fill up the middle island first (since it is closer to the antique section of the Flea Market), then overflow to the end island.
Price per 8 foot table will be $25
1 chair will be provided per dealer (even if they have multiple tables). Contract notifies them to bring extra chairs if needed.
Flea Market manager Joan Long has agreed to let us open the Festival to non-members.
Pem will look into cost of buying 2 large banners that read "Antique Bottle Festival / this Saturday". We can put these banners up on the Fairground fence on Friday morning before the Festival. Will put one up on Hillsborough Rd side, and other on Blue Ridge Rd side. Date being left off banners so we can reuse them.
Measure middle island and found that it is only 150 ft wide instead of the expected 160 ft (10 x 16). The spaces are only 9 1/2 ft wide instead of 10 ft. Confirmed that end island was 220 ft as expected.
Usuable depth on front part of middle and end island is 21 ft, which allows the required 5 ft buffer between road and tables so people have room to step off curb. Usuable depth on back part of middle island is 25 ft.
Dealer packages will only be mailed to dealers from our last show and those who request one. Email announcement will be sent to the 450 people on Email distribution. Postcards will be mailed to everyone who does not have Email and was not a dealer at our last show.
Reggie has requested that our event be listed (for free) in the event calendars of these publications:
Antique Bottle & Glass Collector Magazine, published by Glass Works who also publish their show calendar on the web.
Bottles & Extras magazine, published by FOHBC who also publish their show calendar on the web.
Antique Bottle Collectors Haven web site
Southern Festivals web site
Carolina Antique News paper
Southern Living magazine
Antique Shoppe newspaper
Antiques & History newspaper out of Raleigh
Spectator Magazine
Independent Magazine
If I've forgotten any publications, please let me know.
Requested a listing in the NC State Fairgrounds Calendar of Events but they refused since we weren't renting one of their buildings. Also found we cannot put up a banner during the NC State Fair in October. Maybe someone can place some of our postcards at the fair - possibly at entrance to Scott Building.
Plan to run an ad in Raleigh News & Observer for the 3 days preceeding the show.
Smyrna GA Show
Reggie setup at the Smyrna GA show on Aug 25. Was lucky enough to setup beside Charles & Cynthia Batton of Louisburg, NC (by the way - they are the ones with the mystery bottle booth at Granddaddy's that was pictured in last months newsletter).

Was a small show but had fun meeting the dealers in the area and the hospitality could not be beat. Here's a few PICs from the show:
Show Chairman Jack Hewitt with his wife and mom.

J.M. DIXON / ROCKY MOUNT & / TARBORO, N.C. half pint strap sided flask was dug recently by Charles Batton and a friend. Very hard to find a NC whiskey flask with two small town names. The flask was a quickly purchased by Steve Brown of SC.

JACOB'S PHARMACY / ATLANTA, GA

Charles Jackson of Lawrenceville, GA shows his Jacob's Pharmacy jug. Email: crmr@mindspring.com

F.M. ROSE CO. / DISTILLERS / ATLANTA, GA

Another nice jug for sale by Charles Jackson.
Recent Finds
If you have any recent finds to post here, or just want to share a favorite bottle, please submit info to newsletter editor Reggie Lynch.
| | |
| --- | --- |
| Better check those old bottle caps! This white cap with Pepsi:Cola in alternating red and blue sold recently on eBay for $158. | High Point Bottling Co. / High Point N.C. mug-based hutch was won on eBay by member Randall Kiger. |
| Here's the wooden injector used to insert the wire closure into a hutch bottle. Was made of rock hard maple wood. | Accompanying advertising sheet for hutch injector. |
| BIM crown top soda embossed PERKINS / LITHIA SPRINGS / LYNCHBURG, VA in oval slug plate sold recently by Ed Glover on eBay for $205. | BIM medicine embossed DR D M McCANLESS / PROPRIETOR / ASHEVILLE, N.C. was found recently by Reggie in an antique shop. |
| 1/2 gal Casper's jug that sold recently on eBay to Corky Shore. | Ronald Hinsley shows off a sample size Loew's Stomach bitters that he picked up at the Knoxville show. Nice green bottle with ladies leg neck. |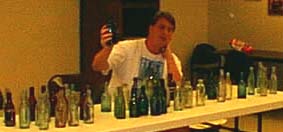 Presentation
Member Reggie Lynch of Raleigh NC gave a presentation on soda bottles. Sorry for poor picture quality - we really need that new camera.
My deadline is approaching, so sorry that I don't have time give more details on the presentation. But it was enjoyed by the members in attendance, who especially liked the NC examples.
---
Meeting Location
Club meetings are held 7-9pm on the first Tuesday of each month at Clancy & Theys Construction Company where club member John Arnold works. Company is located at 516 W. Cabarrus Street in downtown Raleigh (near the AmTrak station). Park in back of building. Call John Arnold on his mobile phone at (919) 427-0334 if you get lost.

Directions from the 440 Beltline: Take Glenwood Ave exit and head in town (away from Crabtree Valley Mall). Cross bridge over Wade Ave and turn right to "clover leaf" onto Wade Ave heading downtown. Merge right onto Capital Blvd heading downtown. Capital Blvd becomes N. Dawson St. Continue 0.7mi and turn right onto W. Cabarrus St. Cross railroad tracks, and just pass the Amtrak Station on right is #516 "Clancy & Theys Construction Co" - park behind building.

Directions from I-40: Take S. Saunders St exit and head North into downtown Raleigh. S. Saunders will turn into S. Wilmington St. Go pass Memorial Auditorium, then 2 blocks later turn left on W. Davie St., left on Dawson St, and right on W. Cabarrus St. Cross railroad tracks, and just pass the Amtrak Station on right is #516 "Clancy & Theys Construction Co" - park behind building.

You can also see directions on the Internet via www.mapquest.com by entering the "516 W. Cabarrus St, Raleigh, NC" address.
---
Agenda for the next meeting
Sign in on sheet - introduce newcomers.
Approve treasurer report and previous minutes in newsletter.
Request articles for upcoming newsletters.
Collect ads to run in the next newsletter.
Confirm date of next meeting.
Have someone solicit News & Observer to do article on new club.
Report on Nov 3 Bottle Festival - handout dealer packages, flyers, and postcards for distribution at area antique shops.
Report by Frank Bishop on status of non-profit application.
Report by Freddie Edwards on club T-shirts.
Collect dues for those that joined August 2000 or before.
Vote to approve max $220 club funds to purchase digital camera for club use.
Club Directory will be published October 2001.
Meeting presenters - sign-up people to do presentations of their collections at future meetings.
Open discussion, announcements, digging stories, show & tell, latest bottles aquired, show reports, ...
Setup/announce any raffle bottles. The club can reimburse a nominal amount for nicer bottles - see treasurer in advance.
Setup/announce any auction bottles. The seller can set a minimum bid with the amount above the minimum going to the club. So please bring any bottles you want to auction (limit 5 per seller).
Sell raffle tickets ($1 each) while presentor gets ready. Also a good time to examine the auction and raffle bottles.
Presentation.
Auction any bottles being offerred.
Draw winning tickets for the raffle. 1st winner gets first choice and so on till all bottles are gone.
Conclude with Swap Meet - each person is encouraged to bring bottles for sale/trade. Please limit yourself to a 4 box maximum. Tables will be provided where bottles can be displayed for show or sale.
---
Joining
To join the Raleigh Bottle Club, please use this Membership Application web form or contact Reggie for a printed copy.
---
Member Ads
Ads are posted here free of charge to club members. Submit ad info to club secretary for inclusion in the next newsletter. Ads run for 2 months, then must be renewed to continue.
Wanted: EMBOSSED OR PAINTED NORTH CAROLINA MILK BOTTLES. SCARCE TO RARE WANTED ESPECIALLY. TOP DOLLAR. JOHN PATTERSON,JR., 412 SOUTH BALDWIN AVENUE, SPENCER, N.C. 28159. (704) 636-9510, Email: jarnut@dantana.com

Wanted: NC medicines and drug store bottles. Come see my booth at Art-Antique Mall on Peters Creek Pkwy in Winston Salem. Scott Berry (336) 946-2020.

For Sale: bottle cleaning machines, including an economy table top machine for $300. Contact Bob Roberts, (704) 482-7200, 166 Zeb Cline Road, Shelby, N.C. 28150-8110, Email: mailto:5stam@twave.net

Wanted: U.S.A. Hospital Dept. bottles, dug Civil War relics, rare Pepsi bottles & go-withs. Contact Vernon Capps, 2216 Rosewood Rd., Goldsboro, NC 27530. (919) 734-8964.

For Sale: Bottle Books by author: "The Illustrated Guide to Collecting Bottles" 1970 in used condition for $30, "The Illustrated Guide to the Collectibles of Coca-Cocla" 1972 in used condition for $35, and "Would You Believe" 1968 in new condition for $15, shipping+handling included, autographed by request. Contact Cecil Munsey, 13541 Willow Run Road, Ponway, CA 92064-1733. (858) 487-1733, Email: cecilmunsey@home.com

Wanted: "HICK'S CAPUDINE CURE" in mint condition, label+box a plus. Contact John Wolf, (937) 275-1617, 1186 Latchwood Ave, Dayton, OH 45405.

Wanted: newsletters from the old Raleigh Club (or any other NC club) to use as historical reference for upcoming club newsletters. Loan to Reggie or any club officer and we will make copies and return originals to you.
---
Upcoming Shows
Also see Antique Bottle Shows, NC State Fairgrounds Calendar of Events, NC Festivals and Fairs, Southeastern Antiquing & Collecting.
Aug 31-Sep 3
Hillsville, VA
36th Annual Hillsville Antique Show Aug. 31-Sept. 3 � Hillsville, VA, at 440 West Stuart Drive. 4 big days-Labor Day weekend. Over 2000 vendors! For more information call Riley Horne at 919-553-4457 or Email: usatrapper@aol.com
Sep 7-8, 2001
Asheville, NC
"September in Asheville" show of Western North Carolina Antique Bottle & Collectibles Club annual club show (2nd weekend of every Sept) at Best Western (formerly the Holiday Inn West) at 275 Smokey Park Hwy (exit 44 on I-40), Asheville, NC. Fri noon-8pm, Sat 8am-2pm. Will have about 106 8ft tables, $25 each, limit 3 per dealer. No admission charge. Info: Larry Glenn, PO Box 1391, Candler, NC 28715, phone (828) 667-2049. or Tom Mattox, phone: (828) 298-8137.
Sep 9, 2001
Lewes, Delaware
Delmarva Antique Bottle Club 8th Annual Antique Bottle, Advertising, & Collectible Show & Sale Sunday at Cape Henlopen High School. Info: Alan Wesche, (410) 352-5975 or Ferd Meyer, Phone: (302) 945-7072, Email: jfmeyer4@cs.com.
Sep 16, 2001
Kirtland, OH
The Ohio Bottle Club 33rd Annual Show & Sale, (9 AM to 2 PM, early buyers 7 AM), at the Lakeland Community College, I-90 & Rt. 306, Kirtland, OH. Info: TIM KEARNS, PH: (440) 285-7576, or ROBERT SMITH, PH: (440) 285-4184, or email: tkearns4@aol.com.
Sep 16, 2001
Winchester, VA
Apple Valley Bottle Collectors Club 28th Annual Show & Sale Sunday 9:00 a.m. to 3:00 p.m. Early Entry available at 7am for $10. Show will be at the National Guard Armory, U.S. Rt. 50 West, Winchester, VA (I-81 to U.S. Rt. 50 West, Exit #313). INFO: FRANK KOWALSKI, 3015 Northwestern Pike, Winchester, VA 22603-3825. PH: (540) 877-1093 (after 5:00 p.m.), Email: polishbn@shentel.net
Sep 22, 2001
Jacksonville, FL
Antique Bottle Collectors of North Florida 34th Annual Show & Sale, (Sat. 8 AM to 3 PM, early buyers Fri. 6 PM), at the Fraternal Order of Police Lodge, 5530 Beach Blvd., Jacksonville, FL. Info: WAYNE HARDEN, 3867 Winter Berry Rd., Jacksonville, FL 32210. PH: (904) 781-2620, Email: abcnf@juno.com.
Sep 28-29, 2001
Liberty, NC
Liberty Antique Festival has over 300 dealers. A few bottles can be found. From I-85 in Burlington, take the Hwy 49 exit and head south to Libery. Then follow signs. Put on by Janmar Promotions, PO Box 939, Liberty, NC 27298. Call Vito or Mary Ellen Sico or Janet Hill at (336) 622-3040 or 622-3535.
Oct 6, 2001
Richmond, VA
RABCA's 30th annual bottle show Saturday 9am-3pm in Richmond, VA at the Show Place Annex, Rte 360 (3002 Mechanicsville Turnpike). Show chairman: Judy Foles, phone (804) 798-7502, Email: judyfoles@mail.com
Oct 21, 2001
Findley, OH
Findley Ohio 25th annual Antique Bottle and Collectibles Show. Sunday 9am-3pm at "The Old Barn", Route 224, (1 mile west of I-75 exit 159), Findley, Ohio. Info: Fred Curtis, 1635 Washington Ave, Findley, OH 45840, phone (419) 424-0486.
Oct 27, 2001
Savannah, GA
4th Annual Antique Bottle and Collectibles Show & Sale in historic Savannah, Sat 9am-3pm at the National Guard Armory on Eisenhower Drive in Savannah GA. Info: David Powell, 2617 Salcedo Ave, Savannah, GA 31406, phone: (912) 354-3576, or Russ Butler, PH: (850) 627-4909, Email: oldglass99@yahoo.com.
Oct 28, 2001
Baltimore, MD
Mid-Atlantic 3rd Annual Bottle Show & Sale, (9 AM to 3 PM), at the Maryland State Fairgrounds, I-83 North of Baltimore, Timonium, MD. Info: HOLIDAY PROMOTIONS, PO Box 845, Abingdon, MD 21009, or BILL THOMAS, PH: (410) 538-5558, or RICK LEASE, PH: (410) 239-8918.
Nov 3, 2001
Raleigh, NC
Raleigh Bottle Festival hosted by the Raleigh Bottle Club. Sat 7am-3pm outdoors at the NC State Fairgrounds on the corner of Blue Ridge Rd and Hillsborough Rd in Raleigh, NC. Co-located with the Flea Market, which will have just reopened following the NC State Fair, so a huge crowd is expected. Free admission - no early buying. Free parking. Dealer setup: 6am. Rain date: Nov 10. Info: Reggie Lynch, (919) 789-4545, PO Box 13736, Durham, NC 27709, Email: raleigh@antiquebottles.com, Web: www.antiquebottles.com/raleigh/
---
This web page hosted by the Raleigh Bottle Club