Raleigh Bottle Club - July 2001 Newsletter
Club meets the first Tuesday of each month.
Next meeting: Tue August 7, 2001
Meeting will be at Clancey & Theys Construction - see directions below
Presentation: Reggie Lynch soda bottles.
Topics in this Newsletter Issue: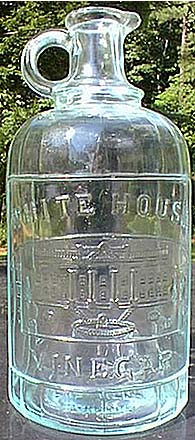 The Raleigh Bottle Club is a non-profit organization that provides a forum for area antique bottle collectors to get together, talk bottles, buy/sell/trade, organize club digs, and just have fun. The club also serves the community by answering bottle questions and sponsoring an annual Bottle Show and Sale. Next club show is April 27, 2002. Current officers: President: David Tingen Vice-president: John Arnold, Secretary: Frank Bishop, Treasurer / Newsletter Editor / Show Chairman: Reggie Lynch, Co-Show Chairman: Ronald Hinsley. Info: Raleigh Bottle Club, Web: www.antiquebottles.com/raleigh/. All past newsletters are archived on this web page.
Meetings are open to the public, so drop by and check us out. We hope you'll consider joining the club. Club members receive the monthly newsletter, run free ads, and participate in all the fun/benefits the club has to offer.
Business
21 people attended the July 3 meeting. We added 5 new paying members in May/June/July: Scott Berry, Hank Parks, Jerry Hall, Robby Rodwell, and Leverne Eatmon. Total paid members: 72. June minutes were approved.

A fall bottle festival has been proposed for Nov 3, the first Sat after the flea market reopens following the NC State Fair. Location will be outdoors at the flea market. See details at: http://www.antiquebottles.com/raleigh/Nov2001showProp.html. The club will vote during the August 7 meeting on whether to go ahead with this fall festival.

The July raffle raised $59 for the club. Do not have a report yet on results of June raffle.

August raffle bottles: WHITE HOUSE VINEGAR quart in aqua blue (pictured above), labeled HICKS' CAPUDINE / FOR HEADACHES, HENRY T. HICKS / RALEIGH, N.C. (predecessor to Hick's Capudine), and other bottles to be provided.

Club members are encouraged to bring in bottles for the raffle we will have at each meeting. The raffle is fun for everyone and helps add money to the club treasury. For nicer bottles, the club treasury can reimburse the wholesale cost to the donator. Contact the treasurer before the raffle to make arrangements.

Members are encouraged to bring bottles into meetings for show and tell. These bottles are good candidates for pictures and maybe stories in our newsletter.

Looking for other people to sign-up for presentations at future meetings, so let us know what you would be willing to present. Presentations can be 5 to 60 minutes in length. David Tingen may do a presentation on photographing bottles for the Internet. May get Jimmie Wood to do ACL's and Charlie Perry to do White House Vinegar in the Fall.
| | | |
| --- | --- | --- |
| | | |
| This pint size SC DISPENARY rum bottle was sold recently on eBay for $370. Note the unusual double collar lip. | This 8 1/2" flask embossed "N. B. FREEMAN / GREENVILLE, S.C." was auctioned recently on eBay but reserve was not met. Not sure if it ended up selling. | This blue and white Pepsi cap in usused condition was won on eBay recently by club member Bill Owen. Note the cap is by Woodard Bros & Co from Wilson, NC. |
| | |
| --- | --- |
| | |
| This Casper's jug from Winston-Salem sold recently on eBay for $283. The picture has been added to the Casper's Whiskey page: http://antiquebottles.com/caspers/ | This jug embossed FROM / A. LACY HOLTS / DISTILLERY / GRAHAM, N.C. was spotted for sale recently in Granddaddy's Antique Mall. While not in the best condition, it was fully intact and represents a popular jug among NC whiskey collectors. |
| | |
| --- | --- |
| | |
| This 5 1/2" pint size White House apple jug with two handles sold recently on eBay for $321. | This near mint example of the "Barney and Ally" Mountain Dew sold recently for $350 on eBay. It was touted as one of the six rarest Mountain Dew bottles. |
| | |
| --- | --- |
| | |
| The beautiful honey amber "EXCELSIOR GINGER ALE / 1852 / JOHN RYAN SAVANNAH GA" sold recently on eBay for a whopping $760. | This rare Speas Vinegar U-Sav It half-gallon jar sold recently on eBay for $341. It is a paneled jar with alternating clear and stipled panels. |
Here are two cases full of bottles at Granddaddy's Antique Mall in Burlington, NC. The one on left belongs to an area collector (sorry, can't remember who) and the one on right belongs to Reggie Lynch and displays a poster advertising our Raleigh Bottle Club. I know we have other members with display cases in area antique malls. Can post picture of your case here in the newsletter if the case has a good number of bottles. And if you can display a club poster (just an 8&1/2x11 inch piece of paper in size) in your display case, then contact Reggie for a copy or click here.
Presentation
Member John Patterson of Spencer NC dropped in and gave a presentation on Raleigh milk bottles. There are 18 known different Raleigh milks, the toughest one to find being the "JEFFREY / J / RALEIGH, N.C.".
There are 3 NC State milks, two of which are "N.C. STATE COLLEGE CREAMERY" and "NORTH CAROLINA STATE DAIRY".
---
Meeting Location
Club meetings are held 7-9pm on the first Tuesday of each month at Clancy & Theys Construction Company where club member John Arnold works. Company is located at 516 W. Cabarrus Street in downtown Raleigh (near the AmTrak station). Park in back of building. Call John Arnold on his mobile phone at (919) 427-0334 if you get lost.

Directions from the 440 Beltline: Take Glenwood Ave exit and head in town (away from Crabtree Valley Mall). Cross bridge over Wade Ave and turn right to "clover leaf" onto Wade Ave heading downtown. Merge right onto Capital Blvd heading downtown. Capital Blvd becomes N. Dawson St. Continue 0.7mi and turn right onto W. Cabarrus St. Cross railroad tracks, and just pass the Amtrak Station on right is #516 "Clancy & Theys Construction Co" - park behind building.

Directions from I-40: Take S. Saunders St exit and head North into downtown Raleigh. S. Saunders will turn into S. Wilmington St. Go pass Memorial Auditorium, then 2 blocks later turn left on W. Davie St., left on Dawson St, and right on W. Cabarrus St. Cross railroad tracks, and just pass the Amtrak Station on right is #516 "Clancy & Theys Construction Co" - park behind building.

You can also see directions on the Internet via www.mapquest.com by entering the "516 W. Cabarrus St, Raleigh, NC" address.
---
Agenda for the next meeting
Wear name tags.
Approve treasurer report and previous minutes in newsletter.
Request articles for upcoming newsletters.
Collect ads to run in the next newsletter.
Confirm date of next meeting.
Have someone solicit News & Observer to do article on new club.
Vote on whether to go ahead with Fall Bottle Festival Nov 3 at flea market.
Report by Frank Bishop on status of non-profit application.
Report by Donnie Medlin and Freddie Edwards on club T-shirts.
Report by Donnie Medlin on dealer show surveys.
Dues Renewal status.
Vote to approve max $220 club funds to purchase digital camera for club use.
Decide on date when next Club Directory should be released. Recommended date is Oct 2001.
Meeting presenters - sign-up people to do presentations of their collections at future meetings.
Open discussion, announcements, digging stories, show & tell, latest bottles aquired, show reports, ...
Setup/announce any raffle bottles. The club can reimburse a nominal amount for nicer bottles - see treasurer in advance.
Setup/announce any auction bottles. The seller can set a minimum bid with the amount above the minimum going to the club. So please bring any bottles you want to auction (limit 5 per seller).
Sell raffle tickets ($1 each) while presentor gets ready. Also a good time to examine the auction and raffle bottles.
Presentation.
Auction any bottles being offerred.
Draw winning tickets for the raffle. 1st winner gets first choice and so on till all bottles are gone.
Conclude with Swap Meet - each person is encouraged to bring bottles for sale/trade. Please limit yourself to a 2 box maximum. Tables will be provided where bottles can be displayed for show or sale.
---
Joining
To join the Raleigh Bottle Club, please use this Membership Application web form or contact Reggie for a printed copy. Printed copies of the newsletter will have a blank application form on the last page.
---
Member Ads
Ads are posted here free of charge to club members. Submit ad info to club secretary (Reggie) for inclusion in next newsletter. Ads run for 2 months, then must be renewed to continue.
Wanted: EMBOSSED OR PAINTED NORTH CAROLINA MILK BOTTLES. SCARCE TO RARE WANTED ESPECIALLY. TOP DOLLAR. JOHN PATTERSON,JR., 412 SOUTH BALDWIN AVENUE, SPENCER, N.C. 28159. (704) 636-9510, Email: jarnut@dantana.com

Wanted: NC medicines and drug store bottles. Come see my booth at Art-Antique Mall on Peters Creek Pkwy in Winston Salem. Scott Berry (336) 946-2020.

For Sale: bottle cleaning machines, including an economy table top machine for $300. Contact Bob Roberts, (704) 482-7200, 166 Zeb Cline Road, Shelby, N.C. 28150-8110, Email: mailto:5stam@twave.net

Wanted: U.S.A. Hospital Dept. bottles, dug Civil War relics, rare Pepsi bottles & go-withs. Contact Vernon Capps, 2216 Rosewood Rd., Goldsboro, NC 27530. (919) 734-8964.

For Sale: Bottle Books by author: "The Illustrated Guide to Collecting Bottles" 1970 in used condition for $30, "The Illustrated Guide to the Collectibles of Coca-Cocla" 1972 in used condition for $35, and "Would You Believe" 1968 in new condition for $15, shipping+handling included, autographed by request. Contact Cecil Munsey, 13541 Willow Run Road, Ponway, CA 92064-1733. (858) 487-1733, Email: cecilmunsey@home.com

Wanted: "HICK'S CAPUDINE CURE" in mint condition, label+box a plus. Contact John Wolf, (937) 275-1617, 1186 Latchwood Ave, Dayton, OH 45405.

Wanted: newsletters from the old Raleigh Club (or any other NC club) to use as historical reference for upcoming club newsletters. Loan to Reggie or any club officer and we will make copies and return originals to you.
---
Upcoming Shows
Also see Antique Bottle Shows, NC State Fairgrounds Calendar of Events.
Aug 11, 2001
Vicksburg, MS
4th Annual VIcksburg Antique Bottle Show & Sale, 8am-4pm at the Battlefield Inn, 4137 I-20 N. Frontage Rd, Vicksburg, MS. Info: Cason Schaffer, 107 East View Drive, Vicksburg, MS 39183 phone (601) 638-1195.
Aug 12, 2001
Muncie, IN
The Federation of Historical Bottle Collectors National Show & Sale, (9 AM to 3 PM, early buyers Sat. 12:30 PM), at the Horizon Convention Center, Muncie, IN. Info: NORMAN BARNETT, PO Box 38, Flat Rock, IN. 47234. PH: (812) 587-5560.
Aug 25, 2001
Smyrna, GA
31th Annual Bottle Show & Sale of the Southeastern Antique Bottle Club. Show will be 9:00am-4:00pm Sat at the Smyrna Recreation Center, 200 Village Green Circle, Smyrna, GA (just north of Atlanta). Dealer setup Sat 7-9am. Over 80 sales tables available. For info, contact Jack Hewitt, 1765 Potomac Court, Lawrenceville, GA 30243. PH: (770) 963-0220, Email: mailto:hewittja@earthlink.net, Or contact Fred Taylor, Email: fredtay@bellsouth.net
Sep 7-8, 2001
Asheville, NC
"September in Asheville" show of Western North Carolina Antique Bottle & Collectibles Club annual club show (2nd weekend of every Sept) at Best Western (formerly the Holiday Inn West) at 275 Smokey Park Hwy (exit 44 on I-40), Asheville, NC. Fri noon-8pm, Sat 8am-2pm. Will have about 106 8ft tables, $25 each, limit 3 per dealer. No admission charge. Info: Larry Glenn, PO Box 1391, Candler, NC 28715, phone (828) 667-2049. or Tom Mattox, phone: (828) 298-8137.
Sep 16, 2001
Winchester, VA
Apple Valley Bottle Collectors Club 28th Annual Show & Sale Sunday 9:00 a.m. to 3:00 p.m. Early Entry available at 7am for $10. Show will be at the National Guard Armory, U.S. Rt. 50 West, Winchester, VA (I-81 to U.S. Rt. 50 West, Exit #313). INFO: FRANK KOWALSKI, 3015 Northwestern Pike, Winchester, VA 22603-3825. PH: (540) 877-1093 (after 5:00 p.m.), Email: polishbn@shentel.net
Sep 22, 2001
Jacksonville, FL
Antique Bottle Collectors of North Florida 34th Annual Show & Sale, (Sat. 8 AM to 3 PM, early buyers Fri. 6 PM), at the Fraternal Order of Police Lodge, 5530 Beach Blvd., Jacksonville, FL. Info: WAYNE HARDEN, 3867 Winter Berry Rd., Jacksonville, FL 32210. PH: (904) 781-2620, Email: abcnf@juno.com.
Sep 28-29, 2001
Liberty, NC
Liberty Antique Festival has over 300 dealers. A few bottles can be found. From I-85 in Burlington, take the Hwy 49 exit and head south to Libery. Then follow signs. Put on by Janmar Promotions, PO Box 939, Liberty, NC 27298. Call Vito or Mary Ellen Sico or Janet Hill at (336) 622-3040 or 622-3535.
Oct 6, 2001
Richmond, VA
RABCA's 30th annual bottle show Saturday 9am-3pm in Richmond, VA at the Show Place Annex, Rte 360 (3002 Mechanicsville Turnpike). Show chairman: Judy Foles, phone (804) 798-7502.
---
This web page hosted by Antique Bottle Collectors Haven