 Raleigh Bottle Club
September 2000 Newsletter
The club meets the first Tuesday of each month.
Next meeting: Tue Oct 3, 2000.
Topics in this Newsletter Issue:
Business
22 people attended the Sept meeting, including some new faces. We added 5 new members in September. Total paid members now: 37

Dave Tingen gave a report on the Denver expo. About 350 tables and a shortage of nice stuff. People were grabbing the stuff as it came out of the dealer boxes - the good ones never touched the table.

Reggie reported on the Hillsville VA antique extravaganza. In 3 days, you could not see all the dealer tables. Rain dampened attendance a bit, but suprisingly there were some good bottles to be had if you looked carefully. Some notables picked up by Reggie and shown during the meeting: hutch embossed in circular slug plate "VALER & CO / ELECTRIC BOTTLERS / CHARLOTTE, N.C.", squat ice blue crown top soda embossed in circular slug plate "PROPERTY OF SALT LAKE Coca Cola BOTTLING CO.", and a 12" tall cathedral pickle in perfect condition that just missed being pontilled.

Talked about the upcoming Asheville show on Sept 8/9 and Richmond show Oct 7 - details on these shows (and others) are at the bottom of this newsletter.

Our current meeting place is scheduled for rebuilding soon, so we need to find another place for the Nov meeting. Please keep checking for other locations we can use.

There was more discussion about planning the Raleigh Bottle Show. President Jack Murdock assigned a show committee to come up with a plan for doing the show that the club can vote on. Committee members are Reggie Lynch (show chairman), David Tingen (co-chairman), J.B. Young, John Arnold, Rex McMillan, and Pem Woodlief. Committee will be meet Tue Sep 19 7pm at the K&S cafeteria at Olde Raleigh Shopping Center (corner of Duraleigh and Edwards Mill). Reggie has drafted an initial proposal for doing the show which can viewed on the web. This proposal was distributed to the committee members for review at the Sep 19 meeting.

David Tingen will present "Blob Beer Bottles" at the Oct meeting. Frank Bishop will present "Richmond and Savannah Sodas" at the Nov meeting. Reggie Lynch is on standy to present "Colorful pre-1900 Inks". Looking for people to sign-up for presentations at future meetings.

Presented idea of having a club table at the fairgrounds before the fair starts in Oct. Last weekend of Sep is our last chance to do this. If anyone can drive this activity, let Reggie know and he can furnish club materials and even pay the $16 space rental from the club treasury. This would be a good way to solicit new members during our membership drive.

There was an auction of Fayetteville Pepsi bottles by Bill Clark. Reggie Lynch auctioned a blown McGee pharmacy bottle from Raleigh that fetched $6. Jack Murdock offerred 6 bottles for a club raffle that raised $90 for the club (thanks Jack). The bottles included an emerald green soda with graphite pontil, blown peppersauce with unusual double bulb shape, gravitating stopper beer bottle from Cuba, Arnold stoneware ink, and others. Everyone was happy with their wins, especially John Arnold who got the ink with his name on it and Dave Tingen who got the unbroken version of the Cuba beer that he had dug years ago with Jack. Sure we will be looking forward to other raffles in the future.

A belated thank you to Freddie Edwards who paid $75 for the Raleigh script Pepsi sold at the last meeting. This was a nice contribution to the club treasury. Freddie is also working on a logo for our club.
---
Presentation
Jack Freeman gave a great presentation on his collection of Wilson bottles. First picture shows Jack holding a "Wilson Ice Service / Health Guard" sign while surrounded by many of the nice bottles he presented from around his home area of Wilson.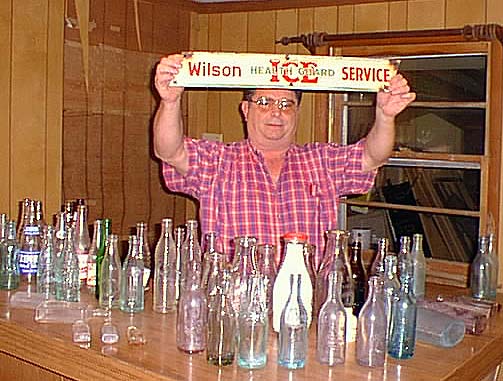 Jack begin his presentation with good stuff right off the bat: two 1/2 pint NC dispensaries - one from Wilson, and the other from Toisnot (which is now part of Elm City).
And things got better, as the next picture shows Jack holding two quart-sized strap-sided flasks: "SMITH & RHODES LIQUORS / WILSON, N.C." (on left) and a "LUCAMA DISPENSARY / LUCAMA, N.C." (on right).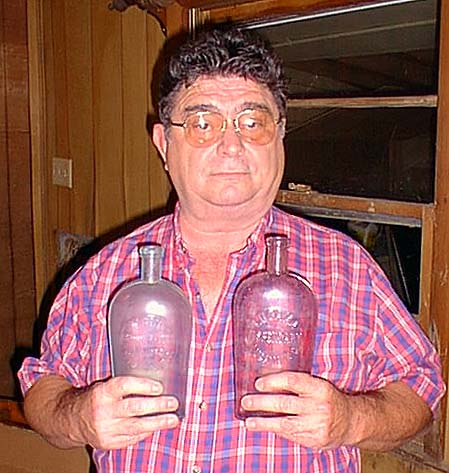 Jack showed the first two bottles he bought 30 years ago at a coin show: SS Coke and script Pepsi. He explained how he overpaid $6 each (going price then was $3 each), but he's been hooked on bottles ever since.
Next came the crown jewell of his collection: a perfect example (and only one known) of a mini jug stamped "Compliments of E.B. Bass / Black Creek, N.C." which is in Wilson County. Jack turned down a $650 offer for this keeper.
Jack showed his "J.R. FRYER" blob top beer from Wilson and a blown Hargrove pharmacy bottle from Wilson. A blob soda from E. Dannenberg that once held chocolate milk. Dannedberg became the first bottler of Coca-Cola in Wilson. Also a E. Dannenberg Coca-Cola with "Made in U.S.A." which is the only S-S Coke with the U.S.A. embossing. An amber script Pepsi from Wilson. A script slug plate S-S Coke from Wilson that also has Coke in block. Several rare Wilson slug plate milks, including a W.H. Johnson that was blown.
3 different sizes of the "Cocktail Special" crown soda with embossed rooster. 2 different tall bottles and a rare short bottle that is the earliest. These were bottled in Sugar Hill which is outside Elm City.
And finally a "Taka Cola" bottle that is just like the 8-sided Richmond Pepsi bottles. In fact, Taka Cola would grind down the embossing on some of the Richmond bottles to use as their own. Taka Cola bottles are rare because the company was only in business 5 weeks before Coke shut them down for copyright infringement.
Everyone got to come up afterwards and talk with Jack and see these treasures up close. Quite a collection - thanks for sharing it, Jack.
---
Treasurer Report
Previous Balance:
$429.42
Income:
$50 dues from new members Skinny Medlin, Bill Clark, Frank Bishop, George Cullom, and Susan Jones.
$90 raffle by Jack Murdock
$6 auction by Reggie Lynch
Expenses:
$5.76 postage
$13.21 copies
$10 reimburse Jack for Sep/Oct meeting room rent
Current Balance:
$546.45
---
Next Meeting Location
The next club meeting is Tuesday Oct 3, 2000 7-9pm in the same location at the Laurel Hills Club House (this is not the Laurel Hills Recreation Center). The club house is located at 4330 Galax Drive in Raleigh NC.

Directions from the 440 Beltline: take Crabtree Valley Mall exit and head west on Hwy 70 / Glenwood Ave. Will pass mall on your left. At end of mall past the Sears, turn left onto Creedmoor Rd. Go 1.2 miles and turn right onto Laurel Hills Road then an immediate right onto White Pine Drive. Follow road 0.5 miles along high power line and then road ends, where you turn right onto Galax Drive. Go 0.3 miles, club house is #4330 - the cinder block building on left at bottom of hill.

Directions from I-40: take Wade Ave exit and head east on Wade Ave towards the State Fairgrounds. Take Blue Ridge Road exit and turn left on Blue Ridge (turning right would take you to the fairgrounds). Go past Rex Hospital then turn right onto Edwards Mill Rd (at Olde Raleigh Shopping Center). Go 1.0 miles (will pass Laurel Hills Recreation Center) and turn left onto White Pine Drive. Follow road 0.5 miles along high power line and then road ends, where you turn right onto Galax Drive. Go 0.3 miles, club house is #4330 - the cinder block building on left at bottom of hill.

You can also see directions on the Internet via MapQuest
---
Agenda for the October meeting
Update membership list - add any new members. Everyone insure their info and collecting interests are correct for the upcoming club directory.
Treasurer report.
Ask people to volunteer articles for upcoming newsletters.
Collect ads to run in the next newsletter. Each member may run a free 35 word ad for 2 months. Ads can be renewed for free after the two months. Ads might be something like the types of bottles you want to buy or sale, organizing a carpool to a bottle show, bottles you have for sale in an area antique shop, etc. Anything goes as long as it is antique bottle related.
Discuss location of next meeting.
Distribute meeting flyers for members to post in area antique shops/malls.
Have someone solicit News & Observer to do article on new club. Run article after we have a show date set.
Show report by show committee.
Meeting presenters - sign-up people to do presentations of their collections at future meetings.
Setup/announce any raffle bottles.
Setup/announce any auction bottles. The seller can set a minimum bid with the amount above the minimum going to the club. So please bring any bottles you want to auction (limit 5 per seller).
Sell raffle tickets ($1 each) while presentor gets ready. Also a good time to examine the auction and raffle bottles.
Presentation by David Tingen on Blob Top Beer Bottles.
Auction any bottles being offerred.
Draw winning tickets for the raffle. 1st winner gets first choice and so on till all bottles are gone.
Open discussion, announcements, digging stories, show & tell, latest bottles aquired, ...
Conclude with Swap Meet - each person is encouraged to bring bottles for sale/trade. Please limit yourself to a 2 box maximum. Tables will be provided where bottles can be displayed for show or sale.
---
Joining
To join the Raleigh Bottle Club, please use this Membership Application web form or contact Reggie for a hard copy.
---
Member Ads
Wanted: Standard size Pyro Quarts with City & State. Frank Elske, 212 Wilson St., Eden NC 27288, Phone (336)627-0057, Email: pelske@interpath.com

For Sale: script Pepsi=Cola bottles $50 each in near mint condition. Pick from Ayer codes FA-1, FA-4, and FA-5. Bill Clark, 105 Sorrel Grove Church Rd, Morrisville, NC 27560, Phone (919) 467-0488, Email: awsum@mindspring.com.

Looking for person to share ride to Asheville show Friday Sep 8. Leave Raleigh 7:30am, return 9:00pm. Also looking for someone to share dealer table at Richmond VA show Oct 7. Contact Reggie Lynch, (919) 789-4544, Email: rlynch@antiquebottles.com
---
Upcoming Shows
Sep 8-9, 2000
Asheville, NC
"September in Asheville" show of Western North Carolina Antique Bottle & Collectibles Club annual club show (2nd weekend of every Sept) at Best Western (formerly the Holiday Inn West) at 275 Smokey Park Hwy (exit 44 on I-40), Asheville, NC. Fri noon-8pm, Sat 8am-2pm. Will have about 106 8ft tables, $25 each, limit 3 per dealer. No admission charge. Info: Larry Glenn, PO Box 1391, Candler, NC 28715, phone (828) 667-2049. or Tom Mattox, phone: (828) 298-8137.
Sep 10, 2000
Lewes, Delaware
Delmarva Antique Bottle Club 8th Annual Antique Bottle, Advertising, & Collectible Show & Sale at Cape Henlopen High School. Info: Alan Wesche, (410) 352-5975.
Sept 17, 2000
Winchester, VA
Apple Valley Bottle Collectors Club 27th Annual Show & Sale Sunday 9:00 a.m. to 3:00 p.m. Early Entry available at 7am for $10. Show will be at the National Guard Armory, U.S. Rt. 50 West, Winchester, VA (I-81 to U.S. Rt. 50 West, Exit 313). INFO: FRANK KOWALSKI, 3015 Northwestern Pike, Winchester, VA 22603-3825. PH: (540) 877-1093 (after 5:00 p.m.), Email: polishbn@shentel.net
Sep 22-23, 2000
Jacksonville, FL
Antique Bottle Collector's of North Florida's 32nd Annual Show & Sale. Saturday 8am-3pm. Early admission Fri 6pm-9pm and Sat 7-8am. At the Fraternal Order of Police Lodge, 5530 Beach Blvd, Jacksonville, FL. Info: Wayne Harden, 3867 Winter Berry Rd, Jacksonville, FL 32210, phone (904) 781-2620, Email: abcnf@juno.com.
Sep 25, 2000
Pacific Glass Auction ends
Sep 29-30, 2000
Liberty NC Antique Show. Over 300 antique dealers. For more information call (336) 622-3040.
Oct 7, 2000
Richmond, VA
RABCA's 29th annual bottle show Saturday 9am-3pm in Richmond, VA at the Show Place Annex, Rte 360 (3002 Mechanicsville Turnpike). Show chairman: Judy Foles, phone (804) 798-7502.
See some great pictures from the 1997 show.
Oct 8, 2000
Keene, NH
Yankee Bottle Club's 33rd Annual Show & Sale (Sun. 9 AM – 3 PM) at the Keene State College Spaulding Gymnasium, Main St. (north of Route 12 & 101), Keene, New Hampshire. INFO: CREIGHTON G. HALL, 382 Court St., Keene, NH 03431,PH: (603) 352-2959.
Oct 15, 2000
Findley, OH
Findley Ohio 24rd annual Antique Bottle and Collectibles Show. Sunday 9am-3pm at "The Old Barn", Route 224, (1 mile west of I-75 exit 159), Findley, Ohio. Info: Fred Curtis, 1635 Washington Ave, Findley, OH 45840, phone (419) 424-0486.
Oct 15, 2000
Bedford, PA
Bedford County Antique Bottle Club/s 25th Annual Show & Sale (Sun. 9 AM - 3 PM) at the Bedford High School gymnasium, 330 Bedford St., Bedford, Pennsylvania. INFO: CHARLES HAZLETT, R. R. 3, Box 605, Hollidaysburg, PA 16648, PH: (814) 695-0128, E-mail: BedfordAntqBottl@aol.com
Oct 20-21, 2000
Savannah, GA
3rd Annual Antique Bottle and Collectibles Show & Sale in historic Savannah, Sat 9am-3pm at the National Guard Armory on Eisenhower Drive in Savannah GA. Info: David Powell, 2617 Salcedo Ave, Savannah, GA 31406, phone: (912) 354-3576, Email: oldglass99@yahoo.com.
Oct 27-28, 2000
Union, SC
Antique Bottle & Collectibles Show & Sale, setup Fri noon-8pm, show Sat 8am-2pm, 125 dealer tables available, free admission, Hwy 176 Bypass, Union County Fairgrounds, Union, SC (was formerly held at the Buffalo Elementary School). Held in conjunction with the Uniquely Union Festival, 1st table $25, each additional table $10. INFO: Mike Sanders, 1008 Bishop Road, Union, SC 29379, (864) 427-3367/9340 (day/night), or Russ Sanders, 193 Bailey Rd, Buffalo, SC 29321, (864) 427-4167.
Nov 5, 2000
Elkton, MD
Tri-state Bottle Collectors & Diggers Club's 28th Annual Show & Sale (Sun. 9 AM - 3 PM) at the Singerly Fire Hall, Routes 213 & 279 (I-95 exit 109A), Elkton, Maryland. INFO: DEAN SHIPPY, PH: (302) 368-0549
Nov 12, 2000
Oakland, NJ
South Jersey Antique Bottle Collectors Association's 31st Annual Show & Sale (Sun. 9 AM - 2 PM, early admission 8 AM) at Valley Middle School, Route 202, Oakland, New Jersey. INFO: PAUL BOREY, 251 Vista View Dr., Mahwah, NJ 07430, PH: (201) 934-7486, E-mail: njabca@juno.com
Nov 18, 2000
Walhalla, SC
Dixie Jewels Insulator Club's Fall Swap Meet (Sat. 9:30 AM - ?) at the home of Ed & Zandra Overstreet. INFO: ED OVERSTREET, 428 Holloway St., Walhalla, SC 29691, PH: (864) 718-1919, E-mail: eko4@innova.net
Nov 19, 2000
Timonium, MD
The Great Mid-Atlantic Bottle Show & Sale is a new show that will be held Sunday 9am-3pm at the Maryland State Fairgrounds, Timonium, MD off I-83 North of Baltimore. Over 150 table of all types of Bottles, Stoneware, Early Glass, Breweriana, Advertising, and Go Withs. Admission $2, no early buyers. Put on by Holiday Promotions, P.O. Box 845, Abingdon, MD 21009. Contacts: Bill Thomas 410-538-5558, Rick Lease 410-239-8918.
This show is not sponsored by the Baltimore Antique Bottle Club and certainly does not replace their show which will still be held in March.
---
This web page hosted by Antique Bottle Collectors Haven