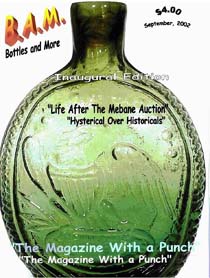 Southeast Bottle Club
September 2002 Newsletter
Topics in this Newsletter (click topic to jump there):

We welcome articles, stories, finds, or pictures for upcoming issues of the newsletter. All past newsletters are stored on the club web page for quick and easy reference, so there is no need to print them (save a tree instead).

The Southeast Bottle Club is a non-profit organization serving the Southeastern United States. All meetings and events are open to the public, so drop by and check us out. We hope you'll consider joining the club. Club members receive the monthly newsletter via Email or postal mail, run free ads, and participate in all the fun and benefits the club has to offer. Free Email-only membership is also available - just ask.
Bits, Pieces, and Happenings
The inaugural September 2002 issue of the B.A.M. (Bottles And More) magazine is now available. Got my issue and really enjoyed the historical articles and color photos of some great bottles. They have many powerhouse bottle collectors signed up to do monthly articles, so should see some great features in upcoming issues. Check out their website or write to them at B.A.M. Magazine P.O. Box 6, Lehighton PA 18235. Magazine subscriptions are $40/year for US residents.
David Jackson and Reggie Lynch are hosting the first Greensboro bottle show on Sun Nov 10, 2002. For details, see the Show Calendar at end of this newsletter.
Peyton Youmans is suffering from terminal cancer. Our thoughts and prayers go out to him and his family.
Show Report
This section provides reports on any recent shows, auctions, or other events where bottles were sold.
Syracuse NY National FOHBC Show August 10
Ed Faulkner of Richmond VA was kind enough to provide this story and pictures on the recent National Show in Syracuse.

The 2002 National Bottle Show, sponsored by the Federation of Historical Bottle Collectors, was held at the Convention Center in Syracuse, NY on August 10-11. A lot of planning went into this show and everyone seemed to be having a good time. There were 170 dealers and 249 sales tables, plus 23 exhibitors with 29 exhibits. They had about 100 early admissions and 600 regular admissions.

One display was a single rare Hostetter's Stomach Bitters - in a puce color. This is thought to be only one known. When the displayer bought it, he said he had no idea what color it was. It was caked with a glue like mess which took him quite a while to clean through constant soaking.

The facility was spacious and very brightly lighted. A nice feature was a thick carpet so the terrible sound of a dropped bottle was not heard. A nice feature was the glass enclosed displays on a pedestal used for smaller displays. It made the bottles secure but easy to see close up.

One thing that surprised us was the lack of pontiled and high end bottles. We thought a National Show held in the North would produce quite a bit of really old bottles. Although a few dealers had some pieces of quality, the majority was similar to shows all over the East - low to medium price medicines, sodas, etc. The few high end bottles were priced sky high and most seemed to still be there when we left.

It seemed to us most of the buying was done by dealers and early admission. But, overall, it was fun and we enjoyed it and glad we went. We met up with a lot of "ebay" friends and others we have met through the years. Half the fun of these shows is meeting old bottle friends and just talking bottles! Next year's National Show is in Louisville, KY.

Here are some pictures from the show:
| | |
| --- | --- |
| Display of Flavoring bottles by the H. G. Hotchkiss Essential Oil Co. | Display of Orange Crush sodas |
| Display with the puce colored Hostetter's Bitters | Display of Mt. Pleasant Glass Works bottles |
| Display of Atlas fruit jars | Display of Lancaster Glass Works bottles |
| Display of Clyde Glass Works bottles | Show floor during setup. |
Norcross GA Show August 23-24
Reggie setup at the August 23-24 Norcross GA show. The show was moved to a new location at the North Atlanta Trade Center, and was done in conjunction with the monthly Pride of Dixie Antique Show. About 80 dealer tables were filled with some great antique bottles. And the adjacent antique show added to the crowd.

On the way down, Reggie stopped in Augusta and got a first hand look at the amazing collections of Mike Newman and Bill Baab. Above right is a picture of the peach water tower that you see while traveling I-85 thru Gaffney, SC.

Here are some pictures from the show:
| | |
| --- | --- |
| Show chairman Jack Hewitt recently bought this Lilly Pad pitcher at auction for $20. Attributed to Mt. Vernon Glass Works, 1840. Also see picture of iron pontil base. Despite some cracks, he's already turned down an offer of $5,000. | Another of Jack's recent finds: open pontilled "INDIAN / HOUSES TONIC / PREPARED BY / Geo W. HOUSE" with picture of Indian. The bottle is normally seen with CLEMENTS instead of INDIAN. Only a couple known with the word INDIAN. Company was based in Nashville, TN. |
| Scene at the show. That's Reggie's new bottle shelf to the left, which slots together with no tools. Hand it to Jack for arranging the dealer tables to provide very spacious aisles for the dealers and public. | Bob Simmons gets pranked by the Hewitt brothers, who replaced one of his prize bottles with a junker. |
| Bob Jochums shows his DR STEPH JEWETT'S CELEBRATED PULMONARY ELIXIR / RINDGE, N.H. bottle, and the pharmacy ad that inspired his desire to find one. As Bob prepared to graduate pharmacy school, his wife Shari contacted Reggie about getting the bottle in the picture. Reggie put out his feelers, and Jeff & Holly Noorsdy came up with the bottle (and at a great price) in time for Bob's graduation, which was also his 50th birthday. | Ken Jones brought in this amazing item to the show: a S-S Coca-Cola bottle from Atlanta with envelope sealed inside by cork and wax. The Atlanta Brewing envelope is dated April 5, 1906 and signed by Alfred someone. As prohibition approached, Atlanta Brewing switched to bottling Coca-Cola. This bottle was one of the first off the production line and commemorated the event. There appears to be a letter inside the envelope, but Ken did not want to break the seal on the bottle to find out what is says. |
| Jim Hewitt (Jack's brother) shows this circa 1900 face jug from northern GA is attributed to the Cheever Meaders, the father of famous potter Lanier Meaders. | A closer look at the incredible Meaders face jug. Also see back side of jug that is incised "JAA", which are the initials of the person the jug was made for. |
| Stacy Hewitt (Jim's wife) shows two recent additions to her viobot collection: two milk glass examples in the large and small size. The small size is unique, and only one other known example of the large size. See closer look of these viobots. | Bob Simmon's showed this unembossed green quart cylinder whiskey with applied lip and paper label reading "Pure / Corn Whiskey / For Sale By / Red Elephant Saloon / Seawright & Campbell / Proprietors / 161 & 163 Peters St / Atlanta - Georgia". A previously unknown saloon. Also see full size view of bottle. |
Recent Finds
If you have any recent finds to post here, or just want to share a favorite bottle, please submit info to the newsletter editor Reggie Lynch. Most pictures can be clicked to see the original full view before it was cropped to fit here.
Note: this section was shortened this month to make room for the additional show report info. Look for more finds here in next month's issue.

F BOLES / PORTSMOUTH, VA.

7¼" teal green smooth base soda, one of the first bottles ever dug by Tom Salvatore. Also see picture of base.


This S-S Coke from Dawson, GA was sent in by Mindy. Listed as rare in Porter's book.

Circular slug plate Pepsi from Richmond, VA sold $168 on eBay.
Raleigh Bottle Club News
This section is provided as a courtesy to the Raleigh Bottle Club to report their public news. Business news (e.g. minutes, financials) will be available at the regular club meetings.
Raleigh News - President's Message
Our club is ever changing and every growing, as those who attended the last meeting can attest. We have accomplished a number of goals in the last two years and have come to the point where some changes are needed to support future growth. Those changes include more organization and structure as well as new opportunities for members.

The board has approved By-Laws to be voted on at the September meeting. These By-Laws set forth the purpose and structure of our club. Those who received a copy, are encouraged to review the articles carefully and prepare to ask any questions at the September meeting.

Among the items covered in By-Laws are the elections of officers and the beginning of the club year in January. Due are now $15 and due in January rather than August. Those who pay dues between August 2002 and January 2003 will be paid current through December 2003. The term of officers expired in May and all have continued their term until the end of August. Beginning in September, there will be officers serving an interim period. All have agreed to have their name placed in nomination for the January election. The interim officers are:
| | |
| --- | --- |
| David Tingen: President | Donnie Medlin: Vice President |
| Janie Raper: Secretary | Sterling Mann: Treasurer |
I know all members will pledge their support of the officers.

Reggie Lynch has decided not to run for reelection in order to spend more time with the organization of a regional collectors club and newsletter. Our club is very thankful for the time and energy Reggie has invested in the club. Reggie will continue as a member of the Raleigh Bottle Club and will continue to support our club and the effort to keep all members current through the newsletter and web site. Reggie will continue to report on club happenings with his camera and keyboard.

The show plans are confirmed and a deposit has been placed on the Holshouser building for late March 2003. A show chairperson will be chosen as soon as possible. Volunteers are always accepted.

See you all in September. Good luck with the collections.

New postal and Email address: Raleigh Bottle Club, P. O. Box 18083, Raleigh, NC 27619-8083 Email: rbc@antiquebottles.com
Raleigh Show & Tell
Pictures from the August 6th meeting of the Raleigh Bottle Club. Mike Newman of Augusta GA sat in on the meeting and did some great show & tell. He also brought in some great bottles for sale. Mike was on his way to the FOHBC National Show in Syracuse.
| | |
| --- | --- |
| Some of the crowd at the August meeting. | David Tingen talks about his trip to the Dr Pepper museum in Texas and shows the Dr Pepper book he donated to the raffle. |
| Mike Newman showed this rare metal figural Indian pipe that he dug near Charleston. He sold the pipe at the Syracuse show. | Close-up of the Indian figural pipe. Shows what else can pop up when you're digging for bottles. |
| Mike Newman showed this rare Coca-Cola jar with unusual top that he was carrying to Syracuse to put in the Petretti auction. | Pem Woodlief showed this "F. N. Egerton / Louisburg, N.C." crock that he was proud to aquire. |
| Michael Trinidad and Joel Young of Rocky Mount NC tell about digging bottles along the Tar River and show some of their finds. | Some of their river finds, including a NC soda bottle with embossed rooster that noone has seen before. Embossed "COCKTAIL SPECIAL BEV / ELM CITY, No.CARO." |
Member Ads
Ads are posted here free of charge to paid Southeast Bottle Club members. Submit ad info to the newsletter editor for inclusion in the next newsletter. Ads run for 2 months, then must be renewed to continue. If your ad ran before and you want to run it again without changes, just request "repeat same ad".
Calendar of Events and Upcoming Shows
Also see Antique Bottle Shows, AntiqueNC.com, NC State Fairgrounds Calendar of Events, NC Festivals and Fairs.
Aug 30-Sep 2, 2002
Hillsville, VA
37th Annual Hillsville Antique Show Aug. 30-Sep. 2 · Hillsville, VA, at 440 West Stuart Drive. 4 big days-Labor Day weekend. Over 2000 vendors! For more information call Riley Horne at 919-553-4457 or Email: usatrapper@aol.com
Sep 7, 2002
Austin, TX
Austin Bottle & Insulator Club Annual Show & Sale, 9am-3pm, at the North Austin Lions Club, 1103 Justin Lane, Austin, TX. Info: GARY INGRAM, 3504 Indian Point Dr., Austin, TX 78739. Email: gdingram@hotmail.com
Sep 13-14, 2002
Asheville, NC
"September in Asheville" show of Western North Carolina Antique Bottle & Collectibles Club annual club show (2nd weekend of every Sept) at Best Western on 275 Smokey Park Hwy (exit 44 on I-40), Asheville, NC. Fri noon-8pm, Sat 8am-2pm. Will have about 106 8ft tables, $25 each, limit 3 per dealer. No admission charge. Info: Larry Glenn, PO Box 1391, Candler, NC 28715, phone (828) 667-2049, or Tom Mattox, phone: (828) 298-8137.
Sep 15, 2002
Winchester, VA
Apple Valley Bottle Collectors Club 28th Annual Show & Sale Sunday 9:00 a.m. to 3:00 p.m. (Always on the 3rd Sunday of September) Early Entry available at 7am. Show will be at War Memorial Building, Jim Barnett Park, East Cork St. & Purell Ave, Winchester, VA. INFO: FRANK KOWALSKI, 3015 Northwestern Pike, Winchester, VA 22603-3825. PH: (540) 877-1093 (after 5:00 p.m.), Email: polishbn@shentel.net
Sep 21, 2002
Jacksonville, FL
Antique Bottle Collectors of North Florida 35th Annual Show & Sale, Sat. 8am-3pm, early buyers Fri. 6-9pm and Sat 7am, at the Fraternal Order of Police Lodge, 5530 Beach Blvd., Jacksonville, FL. Info: WAYNE HARDEN, 3867 Winter Berry Rd., Jacksonville, FL 32210. PH: (904) 781-2620, Email: abcnf@juno.com.
Sep 22, 2002
Lewes, Delaware
Delmarva Antique Bottle Club 9th Annual Antique Bottle, Advertising, & Collectible Show & Sale Sunday at Cape Henlopen High School. Info: Alan Wesche, (410) 352-5975 or Ferd Meyer, Phone: (302) 945-7072, Email: jfmeyer4@cs.com.
Sep 27-28, 2002
Liberty, NC
Liberty Antique Festival has over 300 dealers. A few bottles can be found. From I-85 in Burlington, take the Hwy 49 exit and head south to Libery. Then follow signs. Put on by Janmar Promotions, PO Box 939, Liberty, NC 27298. Call Vito or Mary Ellen Sico or Janet Hill at (336) 622-3040 or 622-3535.
Oct 5, 2002
Richmond, VA
RABCA's 31st annual bottle show Saturday 9am-3pm in Richmond, VA at the Show Place Annex, Rte 360 (3002 Mechanicsville Turnpike). Next door to Antique Extravaganza. Show chairman: Judy Foles, phone (804) 798-7502, Email: judyfoles@mail.com
Oct 5-6, 2002
Point Pleasant, WV
Point Pleasant Antique Bottle Show & Sale, (Sat 9am-5pm, Sun 9am-3pm), at the West Virginia State Farm Museum Fall Festival, Fairground Rd., 4 miles north of Point Pleasant, WV. Info: CHARLIE PERRY, 39304 Bradbury Rd., Middleport, OH 45760, PH: (740) 992-5088, Email: perrycola@eurekanet.com
Oct 19, 2002
Savannah, GA
The 5th annual Savannah Georgia Antique Bottle show and sale will be held at the National Guard Armory, Eisenhhower Drive, Savannah, GA. INFO: David Powell 2617 Salcedo Ave., Savannah, GA 31406 Phone (912) 354-3576 or Russ Butler P.O. Box 264, Havana, FL 32333 Phone (850) 627-4909, Email: oldglass99@yahoo.com.
Nov 3, 2002
Elkton, MD
Tri-state Bottle Collectors & Diggers Clubs 30th Annual Show & Sale (Sun. 9am-3pm) at the Singerly Fire Hall, Rts 279 & 213, Elkton, MD. Info: WARREN CAVENDER, PH: (302) 998-0690
Nov 10, 2002
Greensboro, NC
1st annual Greensboro Antique Bottle & Collectibles Show & Sale on Sunday Nov 10, 2002 at the Farmer's Curb Market on 501 Yanceyville St, Greensboro, NC. Public admission 9am-3pm for $1. Dealer setup 6am-9am, 5 ft table $15, 10 ft table $25. Early buyers $10 7:30am. Info: David Jackson (336) 288-2677 or Reggie Lynch (919) 789-4545, PO Box 13736, Durham, NC 27709. Web: www.antiquebottles.com/greensboro/
---
This web page hosted by the Southeast Bottle Club